Two false starts today. In draft 1, I made several bad decisions while drafting and playing; I figured if you wanted to see that, you'd watch Drafting With Conley, so I tried again after lunch. The second attempt started with Skaab Ruinator over Grasp of Phantoms (which I'm not even sure is right), then Splinterfright. Since I showed a blue/green draft last week, and since I started shamelessly raredrafting the very next pick when I took Hinterland Harbor over Armored Skaab, I scrapped that one too. Maybe the third time's a charm…
The clear second-best card in the pack is Dead Weight. Rough break.
I suppose I could see taking Torch here. I think Claustrophobia is sufficiently more powerful than Torch to dip my toes into another color, though.
Since I'd rather play my potential game-winner than my solid removal spell, I take the decent black card over the decent blue card.
Corpse Lunge is pretty inconsistent. Much of the time, it seems to be a three-mana Shock that you can't even cast reliably, plus it fights Stitched Drake and Makeshift Mauler for resources.
This seems about the right time for Harvest Pyre to get picked, though I believe it often goes later than it should. It's not outstanding unless you're blue/red, but it is considerably better than Corpse Lunge.
Hopefully this is the signal I've been waiting for, but I'm not holding my breath.
Considering the sixth-pick Prey Upon and all the mediocre red I've been passing, I feel more inclined to play green than red. I think Grasp is actually better than Bloodhall anyway; it's pretty underrated.
It's possible this one should have been a Scarecrow, though, since I rarely find room for two Grasps. Manor Skeleton is unplayable garbage, so IT'S certainly not the pick.
I really can't imagine a deck I'd want to board the Grimace in against.
This card is way better than it looks/should be.
Spare from Evil is also underrated and can be quite devastating. Relative to the other non-creature options in Innistrad, I suppose Inquisitor's Flail is simply "bad."
I strongly considered taking the Juggernaut, but I would rather play Instigator Gang and Harvest Pyre than Prey Upon and some Spidery Grasps. There's a reasonable chance I won't see much red this pack since it was the most prominent color I passed, but there's always The Dreaded Splash to fall back on.
There's nothing worthwhile in red or black, so I'm keeping G/B/r open as an option. I would hope I can pick up a fixer or two later at a better opportunity cost.
This pick represents the choice between continuing to waffle and just putting my head down and committing to G/B/r so I can end the draft with enough playables.
As was the case with a previous Drafting With, I'm not thrilled at the prospects of playing Pilgrim as just an accelerator when my curve's already pretty low. It's generally in people's best interest to trade with Patricians and get them off the board, so they work well with Lumberknot, Noble, and any other morbid stuff I pick up.
"Curve's pretty low," he says. "Don't need an accelerator," he says.
The Patrician was still right, you know. What kind of psycho would think, "Gee, I better take this Avacyn's Pilgrim for my green/black/red deck in case I get shipped a late Kindercatch?"
Pretty sure Moan is just better than Mystics, but it's not a pick that comes up very often since most people have the sense to stay out of green/black.
This wasn't a rare-draft, okay? It's worth like 64 cents. I certainly needed a fixer more than another decent three-drop, and Watchkeep was out of the equation because I would be loath to splash it without some fixers.
If the Volley weren't here, the decision between Mystics and Juggernaut would be pretty tough. I think I'd take the Mystics. Anyone have an opinion?
I'm glad I got another shot at a 2-drop after feeling obligated to take that Grotto.
This should have been Spider Spawning. While I don't have any ways to mill myself, enough creatures will die over the course of the game to make Spawning good, plus it's painless to flash back in my deck.
I prefer Fensnake to Brain Weevil as a "morbid enabler." I think "edicting" an opponent is generally more useful than making him discard two, and if he won't (or can't) trade with the Snake, he's down a significant chunk of his life total.
This draft converter created by Benjamin Peebles-Mundy.
Visit the draft converter today!
Decklist
Typhoid Rats
Walking Corpse
Vampire Interloper
Hamlet Captain
2 Markov Patrician
Villagers of Estwald
Screeching Bat
Falkenrath Noble
Lumberknot
Rotting Fensnake
Instigator Gang
2 Somberwald Spider
Grizzled Outcasts
Moldgraf Monstrosity
Prey Upon
Ranger's Guile
Cobbled Wings
Harvest Pyre
Spidery Grasp
Brimstone Volley
Moan of the Unhallowed
6 Swamp
6 Forest
3 Mountain
Woodland Cemetery
Shimmering Grotto
Round One vs. Red/Black
Game 1: On turn 5, I had a Cobbled Wings on a Fensnake and two Zombie tokens facing down two Village Ironsmiths and a Kessig Wolf. I was forced to Spidery Grasp my Snake on my next turn to get a second card in the graveyard to Harvest Pyre his freshly cast Rage Thrower. At 6 life, my opponent was finally able to kill the Snake with Dead Weight, but that just freed up use of Cobbled Wings for Markov Patrician, then Lumberknot.
Game 2: My opponent mulled, while I made a somewhat greedy keep for which I was instantly rewarded by two green lands on my first two draw steps. I played Hamlet Captain and Walking Corpse, and my opponent decided to race those with his Kessig Wolf. We both continued to play assorted dudes, but my Moan of the Unhallowed kept me ahead and soon let me alpha strike for lethal.
Round Two vs. Blue/Black splash Green
Game 1: We both spent the early game playing creatures and using cheap removal on our opponent's; I Preyed Upon a Mayor of Avabruck, while he Dead Weighted a Markov Patrician and Silent Departured a Howlpack of Estwald. After several turns, I was at 11 with a 1/1 Lumberknot, a Zombie token, and a 2/3 against his 18 life, Ghoulraiser, Deranged Assistant, and Stitched Drake. I was fortunate that he then blew his Departure flashback on the token, since it made my incoming Moldgraf Monstrosity more likely to stick. My first attack with Monstrosity left me ostensibly vulnerable to a lethal alpha strike, but I had Harvest Pyre to keep me alive at one. He had Spider Spawning for three after combat, but his optimal blocks when I attacked back with everything would leave him at exactly 0.
I got to bring in Curse of Oblivion (for Rotting Fensnake).
Game 2: I mulliganed into the rather unimpressive hand of Patrician, Ranger's Guile, Monstrosity, and one of each basic. I thought my topdecked Curse would let me stay ahead of his Armored Skaab in the graveyard war, but he had a second. While I did force him to remove Spider Spawning before he could flash it back, he had enough fuel left over for a Stitched Drake. He kept the ground locked up with multiple Ghoulraisers and Silent Departure while the Drake went to town. No Somberwald, Spidery Grasp, or Cobbled Wings appeared to save me.
I decided to bring in an additional Curse, this time for Hamlet Captain.
Game 3: I kept a speculative hand of Patrician, Screeching Bat, Curse of Oblivion, Guile, two Forests, Mountain. This is exactly why I hate splashing. When you mulligan, you're not just asking yourself, "Is this hand bad?" You're really asking "Would a six-card hand be better than this one, more often than not?" Because of the potentially wonky draws that this deck could serve up, and because the Curse really was that good against my opponent's deck, I decided to take my chances drawing a Swamp instead of spinning the roulette wheel. Ultimately, I think I should have mulliganed, but it was way closer than one would think. Fortunately, I drew a Swamp on turn 3, enabling me to make a game out of it.
I quickly got flooded, and my opponent was missing black mana, so after a couple trades, his Deranged Assistant was the only creature on the board heading into turn 7. Since he had four cards in hand to my grip of just Monstrosity and Brimstone Volley, I figured he'd win if he had Claustrophobia for my 8/8 and that I'd win if he didn't. Unfortunately, he had it, but his beatdown was just a 1/1 and a 1/4. I drew Falkenrath Noble, and he finally drew a Swamp, enabling him to cast… Manor Skeleton? All this time and THAT's the big finish?
I traded two damage for three for several turns while drawing more land, figuring that a morbid Volley would seal the game if he continued to have nothing. With the life totals tied at seven, he finally drew Dead Weight for the Noble (putting him to six). I drew a Lumberknot and used it to block one of his 1/xs after Volleying a Stitcher's Apprentice. He played Spider Spawning for two and an Unburial Rites on the Apprentice, threatening to swarm me and deal the last three or four the next turn. I figured there was nothing that could save me on my last turn, but I drew Spidery Grasp, noticed my long-dormant Moldgraf Monstrosity, and trampled over for lethal.
Round Three vs. Blue/White/Green mess
I quickly noticed my Japanese-named opponent had a 43-card deck. I would soon find out that within these 43 cards were Murder of Crows, Deranged Assistant, Darkthicket Wolf, Grizzled Outcasts, Unruly Mob, Moorland Haunt, and Gavony Township. No Bladewing the Risen, as far as I know.
Game 1: My first two plays were Patrician and Cobbled Wings; his were Galvanic Juggernaut and Murder of Crows. I drew my first Forest on the following turn and used Spidery Grasp on my Patrician when he blocked with the Crows. He played a Thraben Sentry and killed my Patrician with Prey Upon, and I could only answer back with Grizzled Outcasts. On his turn—and this was before I understood the full scope of the opposing deck's madness—my opponent played Stitcher's Apprentice and Mulch. I flew over with Outcasts and played Falkenrath Noble after combat, knowing I'd get hit back for a billion. He even had a morbid Festerhide Boar after combat. After I untapped, the board state was: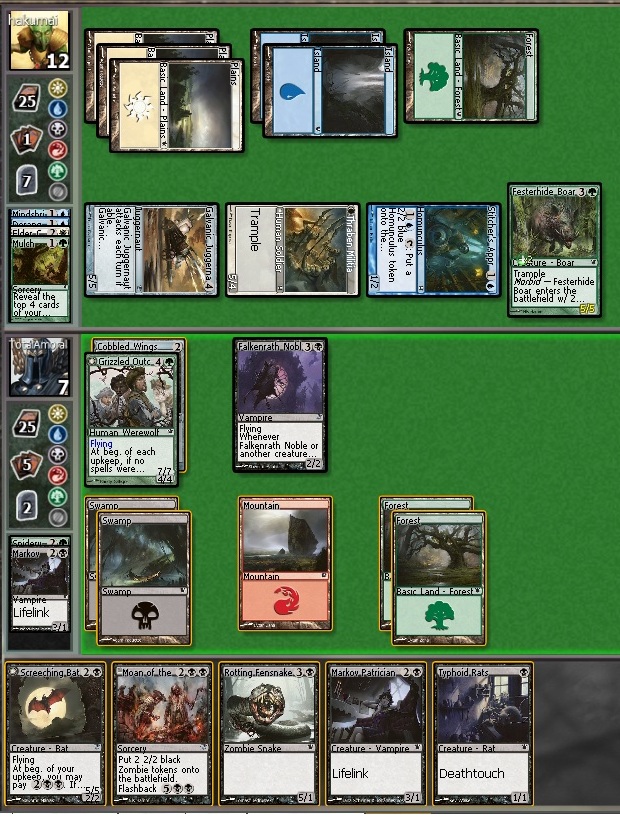 I attacked with just Outcasts before playing Rats and Patrician. After the dust settled on his next turn, I was ahead 9-2 with a 4/4 flier to his 5/4 and 1/2. He played a Moorland Haunt to chump block, but my Bat joined the air force to finish my opponent off.
I boarded in Naturalize for Hamlet Captain, figuring in addition to Juggernaut, he'd have Bonds or equipment or something. It should have been Bramblecrush instead of Naturalize, but I took the "land destruction" element for granted.
Game 2: He started off with Darkthicket Wolf and Juggernaut, and I was forced to trade two creatures for his 5/5. He added Grizzled Outcasts and played Travel Preparations, and I had to 2-for-1 myself again to take care of his 5/5, this time with Rotting Fensnake and Prey Upon. He soon had Moorland Haunt and Gavony Township along with a completely gratuitous Mentor of the Meek, and I was never in it.
In came the Bramblecrush for Naturalize.
Game 3: I sent some Typhoid Rats to the air with Cobbled Wings, and my opponent played his Mentor. I thought my Instigator Gang would be enough to make short work of him, but he had Travel Preparations and Prey Upon. I played Grizzled Outcasts and hit my opponent with it, but he started leaving up 2W every turn, even forgoing drawing a card off Mentor to do so. There was just no way he was bluffing, so I decided to hold my dude back until I drew Ranger's Guile or another big creature. After several turns of drawing lands, I drew Guile and used it to counter the Rebuke. He had a billion cards in his hand, but none of them could answer my 4/4 flier the next turn.
My deck wasn't the greatest, but then again, neither were my opponents'. I guess either the people with good decks got mana-screwed in the other bracket, or the packs were just weak/weird. Let me know in the forums if there are any specific archetypes you want me to walk through next time. (I'm not gonna take Ghoulcaller's Bell over Geist-Honored Monk or anything; I would wait until a good opportunity presented itself.)