Caleb Scherer stormed into the SCG Tour® spotlight at the end of 2014, reaching his first Top 8 on the circuit at the Season Four Invitational in Seattle. Though he bowed out in the semifinals to the eventual champion, Dylan Donegan, the finish pushed him to play more and become one of the Tour's most recognized players in 2015. A year later, Scherer completed the transition from unknown player to SCG Tour® mainstay by winning the Season Four Invitational in Las Vegas.
The marquee win earned Scherer a nice chunk of change, his own custom-made token, and an invite to the year-end Players' Championship – a goal he dedicated his year of playing to in 2015. But with his first-place prize money safely secured in his bank account and his Top 8 finish in the Players' Championship in the rear-view mirror, Scherer looks forward to an important moment this weekend as the SCG Tour® visits Columbus: the debut of his Invitational-winning Storm token. Scherer's ready to see the token in action and to sign as many as he can.
"I'm definitely going to have to bring a Sharpie this weekend," Scherer said. "I am so excited to be there the first day people get to physically hold it. People in Charlotte and Atlanta wanted them, so I can't wait to make someone's day by signing the token."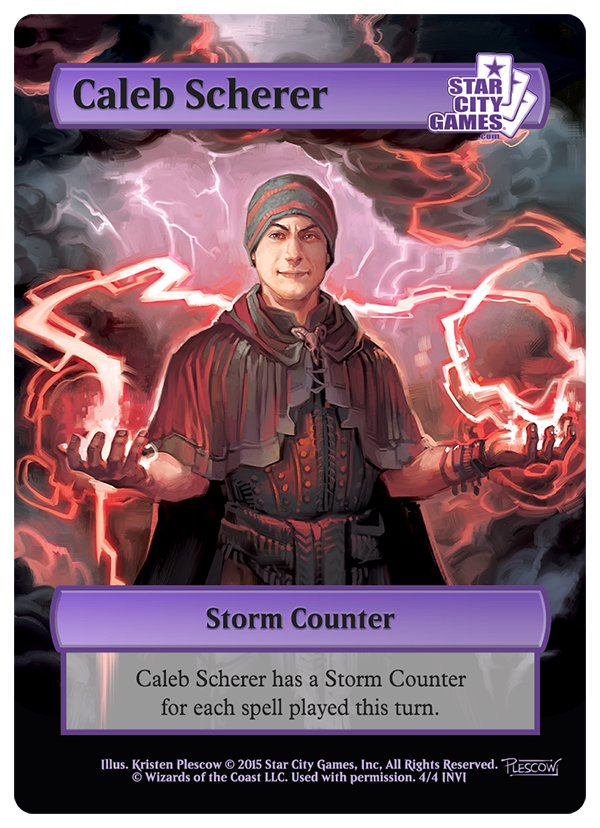 Scherer's emergence as a player on the SCG Tour® started after his Top 4 finish in the last 2014 Invitational, leading him to map out his next couple events following his big score. He planned to hit a couple of the Opens in January of 2015, paying off with another Top 4 finish in the Indianapolis Legacy Open on the back of his signature Storm deck. His proficiency with his deck of choice also contributed to his previous success in Seattle, where he combined Storm and W/U Heroic. After his success in Indianapolis, Scherer decided he would make a run at the Players' Championship and hit as many Opens as he could. Scherer continued to develop his Standard and Modern game while racking up eight Legacy Classic Top 8s, including two wins, across 2015.
As the end of 2015 neared, Scherer faced an almost impossible task of qualifying for the Players' Championship as an at-large points earner, needing to rattle off at least a Top 8 in the final three events of the year to have a shot. Knowing the odds were against him, Scherer didn't give up and focused on the Legacy Open in New Jersey at the end of November. Scherer sleeved up Storm and blew through the Swiss rounds, locking up his second Open Top 8 of the year at the right time. While he missed out on a trophy, Scherer finished second and earned enough points to keep him in contention for a Players' Championship qualification.
Two events remained before the Players' Championship and Scherer still had an outside chance, but if he would qualify it would require two great finishes in non-Legacy events. Scherer flew to Denver the next weekend for a Standard Open and would depend on Siege Rhino and the rest of Abzan Aggro to keep his dream alive. Scherer cruised through Day 1 with an 8-1 record, setting himself up for a great shot at another Top 8 if could avoid losing more than two matches in the final six rounds. Unfortunately, Scherer stumbled on Day 2 and finished 11-4 for a tenth-place finish, leaving him in an unfavorable spot heading into the Invitational. Scherer would need a Top 4 finish and some variables to go his way or he would have to win the whole thing to qualify via an Invitational victory.
"Looking back as I went into New Jersey, knowing I had to spike three events in a row, I mentally conceded that this will be a great last hurrah," Scherer said. "Being able to do well in Denver in Standard for once was nice and going into the Invitational I knew I still had a shot, no matter how slim, so I was going to take it."
The three-day Invitational in Las Vegas held eight rounds of Standard and Modern along with a Standard Top 8, and Scherer stuck with Abzan Aggro and Affinity, the two decks he was most familiar with in those formats. After Round 6, Scherer had his back to the wall sitting at 3-3. To even have a shot at the Players' Championship, Scherer couldn't lose another match. Scherer needed to win a minimum of nine matches straight, possibly 10, to make the Invitational Top 8. Round by round, Scherer kept fighting and kept winning. Scherer defeated Jeff Hoogland in Round 15 to improve to 12-3 and the win allowed him to get paired with Joe Lossett in the next round, setting up an intentional draw with his friend and fellow Nerd Rage Gaming teammate to secure both of their spots in the Top 8.
With Lossett also in the Top 8, two roads to the Players' Championship opened for Scherer. Winning it all was still an option, but if Scherer could reach the semifinals and Lossett won the Invitational, Scherer could backdoor into a Players' Championship invite, as Lossett's would qualify as the Invitational champion and his at-large berth would pass down a spot. The scenario looked quite similar to the 2014 Season Four Invitational, where Donegan won and brought Steve Mann to the Players' Championship with him.
Scherer's options were halved in about 30 minutes, however, as Lossett dropped his quarterfinal 0-3, leaving Scherer in another can't-lose situation. Scherer didn't flinch, taking the quarterfinals and semifinals in thrilling five-game sets, setting up the finals against Vidianto Wijaya. While Scherer dropped the first game of the finals, he gathered himself and won the next three, completing an unbelievable three-week run.
"The Invitational win has finally sunk in as I didn't really have a chance to think about it before the Players' Championship," Scherer said. "It's crazy to think about as I had to win literally everything for 48 hours. Looking back now, I can't believe I actually found a way to accomplish a goal I set at the start of the year."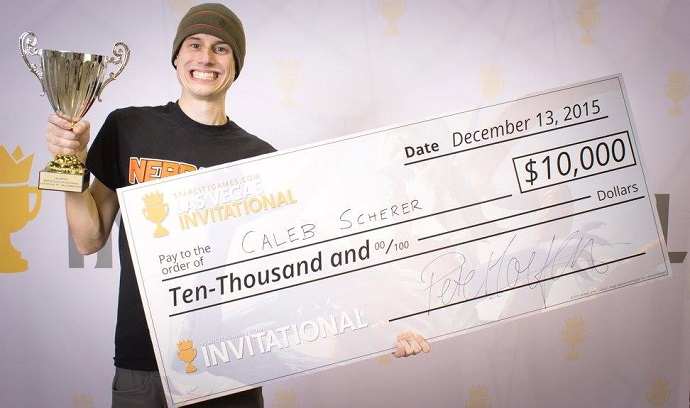 The Invitational win capped a long year of traveling and playing Magic with the best that the SCG Tour® has to offer for Scherer, who played 422 matches – the most of anyone on the Tour in 2015. That number becomes even more impressive considering Scherer balances playing with working on a Ph.D. program in differential geometry at the University of Missouri, where he is also a graduate teaching assistant in the field of finite mathematics.
With such an affinity for math, it comes as no surprise to see Scherer lean toward decks like Storm and Affinity, decks that revolve around math and complex sequencing. In fact, Scherer looks at most parts of his life in terms of math problems, whether it be traveling or living life on a minimalist approach. Scherer, for the most part, lives out of a backpack and has his packing for trips down to a science.
On top of living and traveling with as little as possible, his diet is incredibly simplified. Scherer estimates that roughly 80 percent of his diet is made up of peanuts, calling them the most efficient form of nutrition. When he splurges on a meal, he'll opt for a salad or seafood, leaning toward calamari. His typical week involves teaching Monday through Friday and leaving for a tournament when he wraps up at 2 PM. When he or his travel partners finish up the Open or Sunday Classic of choice, they head back and he repeats the process starting Monday morning.
"Teaching is a bigger constraint on time than studying and it can lead to very difficult travel days as I don't have the luxury of having days off," Scherer said. "It's actually kind of fun, even though it's stressful; it presents a huge optimization problem. I enjoy the whole process and like thinking about it. Just like how I live out of a backpack, it keeps me thinking and using my brain for something instead of sitting around twiddling my thumbs."
Even before Storm was a mechanic in Magic, Scherer has been playing decks that allow for him to play Solitaire. He started playing the game in 2000 and acquainted himself with the Extended TurboLand deck, constantly goldfishing the combo deck that could take infinite turns. A few years later, Storm was introduced to the game and he never looked back. Over the years Scherer has played Storm in Vintage through Modern, only breaking from the deck when he stepped away from the game to focus on school.
Scherer believes a big reason he is successful with the deck is from endlessly testing the deck on his own in his free time. With so many games under his belt, he's no longer surprised by a scenario from the deck and can go on autopilot. The process of learning the deck and becoming part of the Storm community has been a major factor in his Magic career. After playing the deck and working on it with others, he now gets to give back to the community with the release of his personalized Storm counter.
"Having the Storm token is the coolest thing ever, especially after I thought about it and wanted something that would represent how I got where I am and what I enjoy doing," Scherer said. "Even if this is the highest thing I achieve in my entire Magic career, winning an Invitational – which is completely awesome – I have made it. I have this token and it is totally worth it. I have left my mark on Storm and the community. I get to talk to people across the country, even the globe, about my favorite deck."
Part of what comes with success, is notoriety, especially if that success comes from a certain style. At this point, Scherer is adjusting to becoming a player people know and recognize on the SCG Tour®. As the No. 2 player on the SCG Tour® leaderboard and a "Player to Watch" on coverage, Scherer has built quite the following. Now that players are coming up to him and looking up to him, Scherer remembers an earlier time when he did the same, with the greatest player the game has ever seen.
"I've always looked up to Jon Finkel, and when I was twelve, I got to go to a Junior Super Series event and saw him and got him to sign a token. It was crazy, because I know I'll never be as good as he is at anything ever, but it meant a lot," Scherer said. "It's still setting in that I am known in this game. I live a pretty normal life and am pretty introverted so I'd never thought I'd be followed or known. It's all our dreams to be awesome at Magic and win tournaments, but when someone shakes your hand and says 'hi' it's an amazing feeling. Being asked to sign a Grapeshot or a Tendrils of Agony is just unbelievable."
For 2016, Scherer has his sights on returning to the Players' Championship after starting the year with 50 SCG Points from winning the Season Four Invitational. On top of that, he plans on going to every Open and Invitational in 2016, trying to improve on last year's appearance at 28 of 35 possible weekends. Of the 28 Open weekends Scherer attended last year, he made the Top 8 of a Classic, Open, or Invi at ten of them. This year he wants to do better than that.
"My main goal is to make it back to the Players' Championship and my minor goal is to go to every Open and Invitational," Scherer said. "But more importantly, this year is for improving as a player. I am learning how to play Standard and Modern not terribly, branching out and becoming a better player. I want to be able to say I am decent at Standard and Modern at the end of the year. Of course I want to be Player of the Year, but I love the SCG Tour® and want to continue grinding and playing as much as I can."