Last week, I told you what I thought about the new Commander cards. This week, we'll discuss the difficult decisions I'll make in order find room in my existing decks for the best of the new cards. Along the way, we'll see if there are other changes to make in these decks.
At the Commander Celebration in Atlanta, Mark Globus ran a Progenitus deck which had all of the experience-counter generating creatures in it. It seemed like loads of fun (hrm…maybe that's my Child of Alara Do Over deck?), so I tried to work more than one of them into a deck. It didn't work out, so I'll have to hope for more cards like them in the future (although I'm not holding my breath).
Of course, the big question about the Commander 2015 update is which deck will win the Blade of Selves Sweepstakes? Is it about generating the most value or the most absurdity? You'll have to read all the way to the end to find out. Or, you know, it being the 21st century, just scroll down past everything else—suddenly, this is a terrible idea. I wish I hadn't even brought it up. Guess I'll just tell you now.
In the end, I went with a combination of both utility and ridiculousness. It put Blade of Selves into Halloween with Karador since it has the most enters-the-battlefield triggers. If the original dies, so what? I'll just regrow it on a later turn. I expect optimal silliness.
In: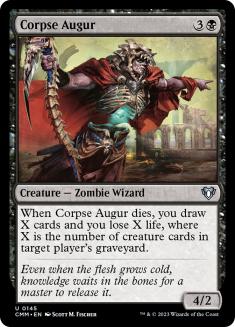 Out: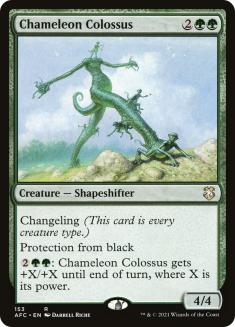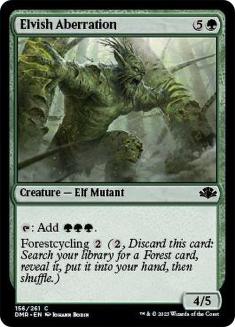 Corpse Augur could have gone in the proper Zombie deck (Lord of Tresserhorn), but I think I'll get more action out of it here. It'll get cast and recurred and ending up drawing me a fair number of cards. A nice way to have it die is sacrifice it to cast the Scourge of Nel Toth, one of the few big beaters in the deck. Chameleon Colossus needs to find a home somewhere; I'm just not quite sure where that is at the moments. Elvish Aberration was doing fine double duty as a graveyard-filler and eventual beater, but I liked the Scourge better in that role.
In: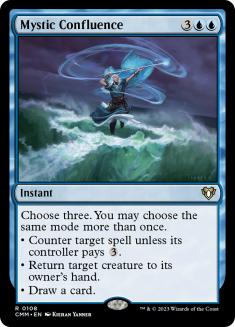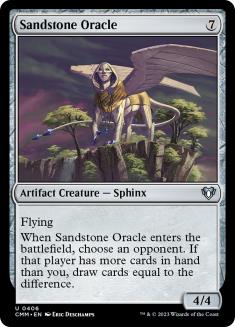 Out: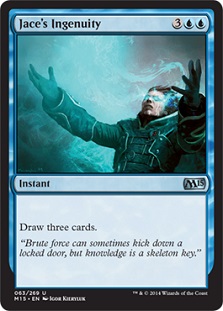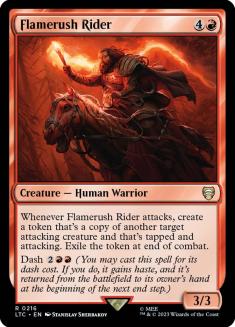 Mystic Confluence is just a straight-up replacement for Jace's Ingenuity, since it can do everything and more, to include bouncing Sandstone Oracle back to my hand for more card-drawing and Animar-charging power.
No changes. It would seem that the Wade into Battle deck goodies would go here, but Rith needed some punching up and it's the deck to give them the platform to run on.
No changes.
In: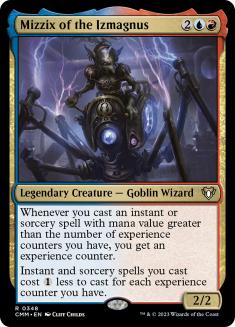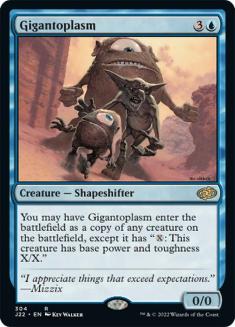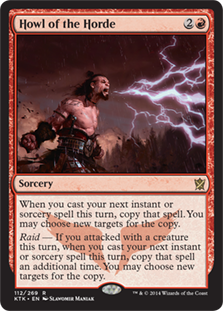 Out: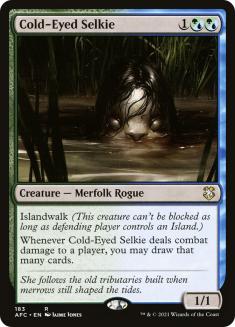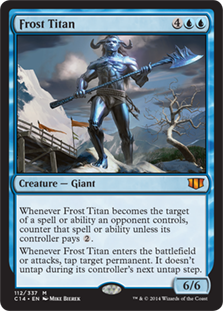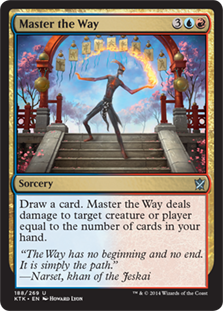 Increastingly played at Riku of Two Reflections (should I just make the formal change?), the deck has left behind its roots as top of the library control (which goes with Intet). Perhaps I should just be honest with myself, surrender to my Temur passion, keep this one as is and remake Intet, going back to its "cast it from the top" sensibility. Look for the big change soon.
The deck casts some instants and sorceries in order to later cast big ones. Mizzix of the Izmagus seems like a perfect friend for that. Keeping him alive might be a bit of a problem, but we'll deal. Howl of the Horde makes the big boom easier. Gigantoplasm gets pretty dangerous in a deck which can produce loads of mana and will always have good things to copy. Cold Eyed Selkie probably deserves a home elsewhere, and we'll find one. Frost Titan gets played in other decks and doesn't really fit thematically here. Master the Way ended up as a constant disappointment.
EREBOS and the HALLS OF THE DEAD
No changes
No changes
In: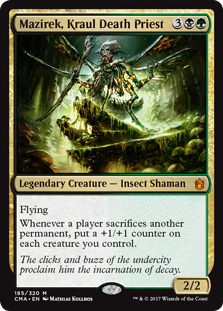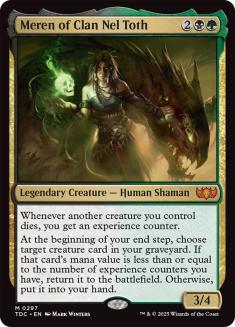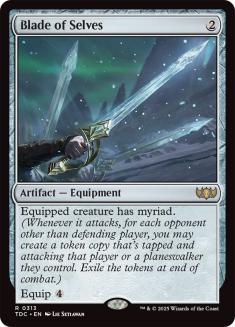 Out: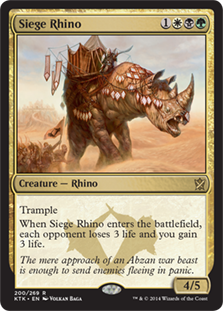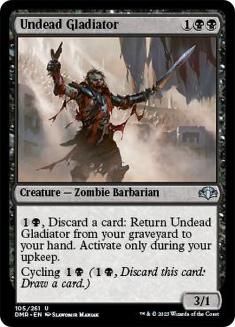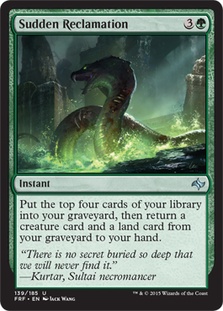 The Plunder the Graves deck is my favorite of the Commander 2015 product because it's my favorite style of thing to do. Mazirek, Kraul Death Priest and Meren of Clan Nel Toth belong in one of my signature decks. Because things keep coming back out of the graveyard, Meren will do nearly as much work as if it were the commander. Sacrifices happen, so Mazirek will do plenty of work. Getting persist counters off of Puppeteer Clique and Woodfall Primus is some of that work (although I'll want to be careful not to create infinite loops with the latter; no one wants to play that way). Even though Siege Rhino did some good for me last weekend in Atlanta, I thought it would be a card I'd bring back more often. Turns out I like using the other utility stuff better. Undead Gladiator was okay, but since it sees play in other decks, I'm okay with benching it here. Something had to go for Blade of Selves, and Sudden Reclamation is nice but a little janky. And all must be sacrificed for Blade of Selves.
In: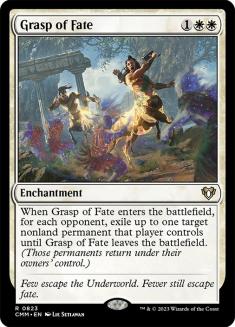 Out: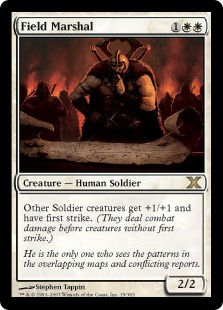 Not even sure why Field Marshal was in the deck, so it was an easy cut for a strong enchantment to go into an enchantment deck.
No changes. I'd put Void Winnower in here, but Fracturing Gust has an odd cost anyway.
KARRTHUS, WHO RAINS FIRE FROM THE SKY
No changes. Not a fan of Dream Pillager in this particular deck because the casting cost of things in the deck is a little too high to cast more than one or two things it exiles; I'd rather not have to make the difficult choices.
No changes
In: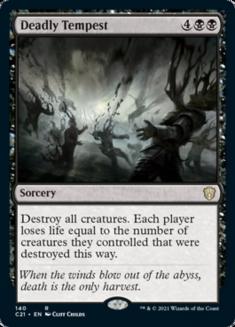 Out: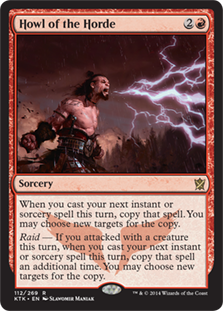 Deadly Tempest required careful consideration because it can go into numerous decks. Kresh was a little light on creature destruction, plus it has enough lifegain to offset anything lost to the spell. Howl of the Horde was nice, but I'm not losing it–just shipping it over to where it will make a bigger difference.
In: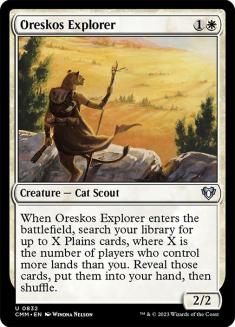 Out:
Mycosynth Wellspring usually nets two lands into hand. Oreskos Explorer will likely start with at least two (and I won't have to wait for it to go away to get the second one), more often three, and be a threat to do it again with blink tricks. This is what we call an upgrade.
LAZAV, SHAPESHIFTING MASTERMIND
No changes. I like the way this does deck what it does and nothing in the set inspired a change.
In: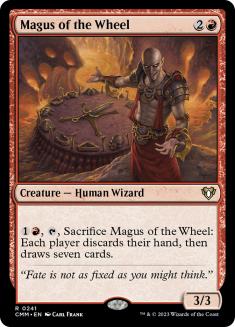 Out: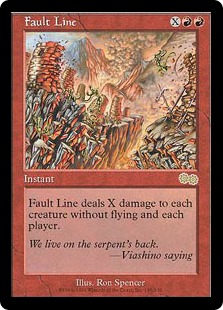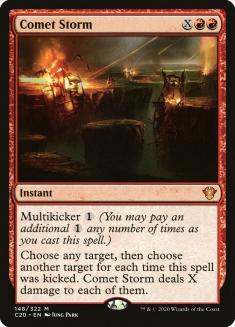 Committing to the mind grind, Arjun and Magus of the Wheel are simple replacements for damage-dealing spells like Fault Line and Comet Storm.
In: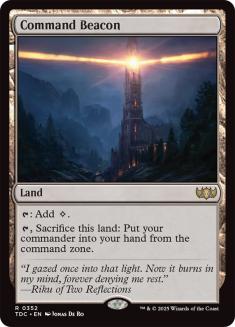 Out: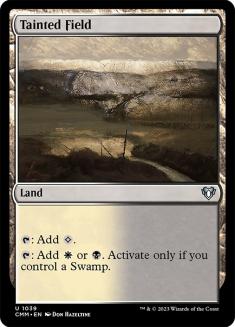 The sweepstakes for Command Beacon was second only to that for Blade of Selves. I finally asked myself the question "which commander does it get super-annoying to pay an extra four or six for?" and the answer came down to Merieke or Animar. The Animar deck plays a little better without the commander than Merieke does, although it is certainly wilder with it. Down the road, this will likely be a card that I put into multiple decks, just like Command Tower. I'm not 100% sure it's an auto-include, but it's close. Tainted Field was the choice because I'm not playing enough Swamps to reliably turn it on.
No changes.
No changes
In: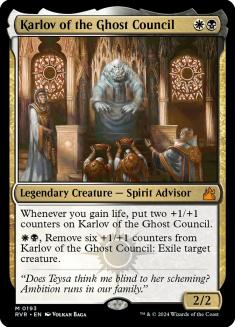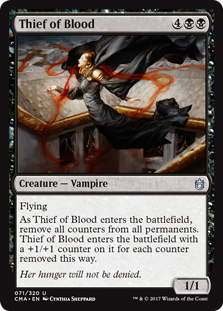 Out: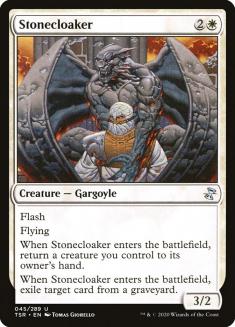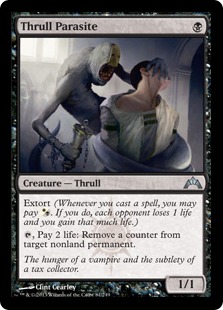 No changes
PURPLE HIPPOS and MARO SORCERERS
In: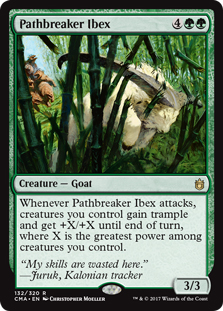 Out: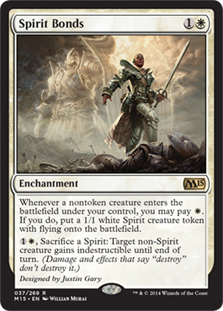 Simply put, I've been waiting to take Spirit Bonds out of the deck since I put it in. It belongs in a deck that has a different way to make Spirits was well (or maybe even has some non-token Spirits, which shouldn't be difficult since there are more than 400 of them in Magic). It's a fine card, just in the wrong deck. Pathbreaker Ibex always attacks at least as a 6/6, or in this deck + my hand size. It's the best Goat ever.
In: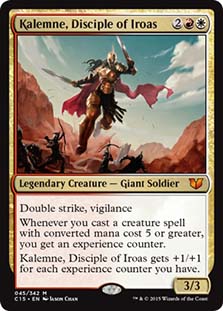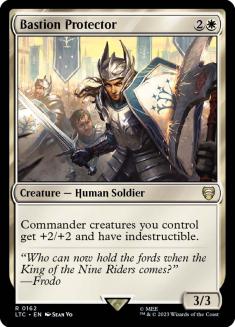 Out: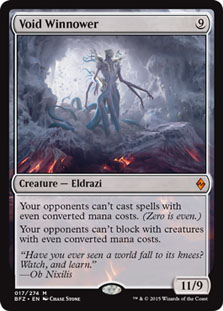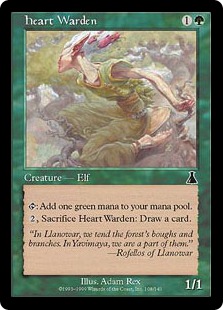 Kalemne seems like a Voltron commander in its own right, and would also probably find a nice home in a Mayael, the Anima deck. It goes into Rith because Rith is a Soldier deck and she is a (Giant) Soldier. It'll be a fine single card strategy. Bastion Protector is obviously there to protect the big guy, because I also want to make lots of tokens. The deck didn't really need Heart Warden, so I'll eventually put that into one of the Karadors, where it can do double duty. After playing against Void Winnower in Atlanta, I realize that I don't want to subject my friends—or maybe I'm just making up an excuse to fit it into my own Animar deck when no one is looking.
RURIC THAR AND HIS BEASTLY FIGHT CLUB
In: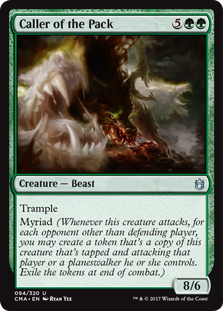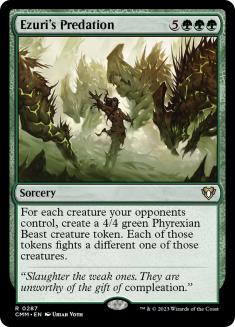 Out: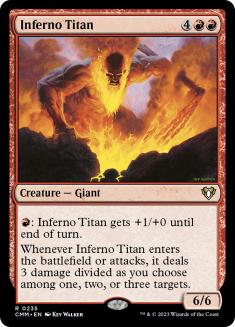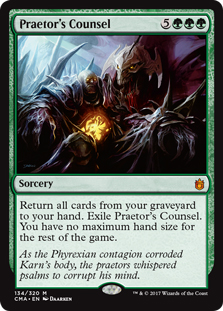 This is a Beast deck, so making more of them seems better. Caller of the Pack is super spicy trampling goodness. It's also a fight deck, so Ezuri's Predation makes double sense. Any Beast which lives can battle in future turns or be sacrificed to Ravenous Baloth if the need arises. Inferno Titan isn't a Beast, so it was an easy cut. The deck can only maintain so many noncreature spells. Since Ezuri's Predation fits the theme way better, Praetor's Council can go (and be available to another deck when I get around to it—probably Intet).
No changes
No changes, which surprised me just a little. I figured beforehand that something in the set would be right for the deck.
Ditto here.
In: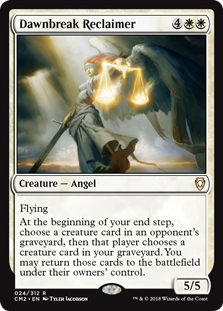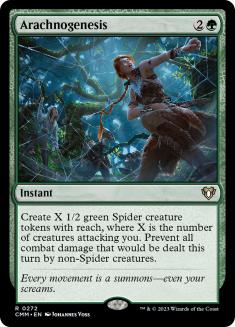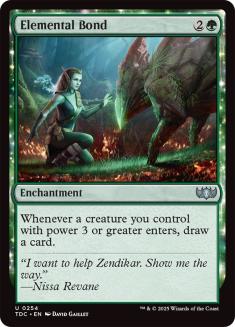 Out: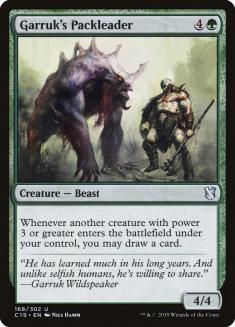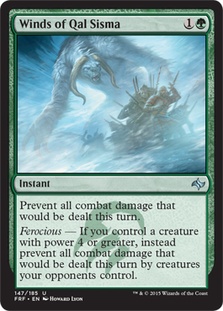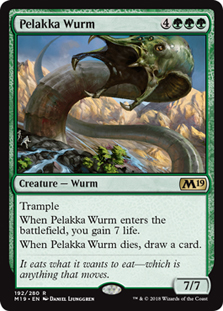 A few dilemmas here. First, I want to really trim the non-Angel cards in the deck—but Arachnogenesis creates Spider tokens. Still, I want to play it. Guess I'm just setting up some future Angel-Fog, so I have something to take out. In other news, there still isn't an Angel-Fog. Garruk's Packleader isn't an Angel, but I'm going to lose the card draw. Hopefully Dawnbreak Reclaimer makes up the difference (reusing stuff from the graveyard is effectively card draw). I put in Elemental Bond to make up for the loss of Packleader; in forwarding the theme, I took out the much-loved Pelakka Wurm.
In: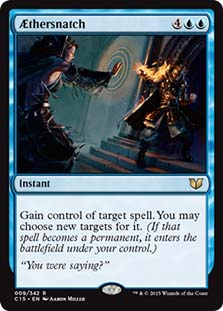 Out:
Just like "hey, can I borrow that creature," Aethersnatch lets you borrow a spell. Yeah, okay, it's more than borrowing. Dragonrage never worked out the way I had hoped, so when it came time to make room for something way cooler, I did.
In: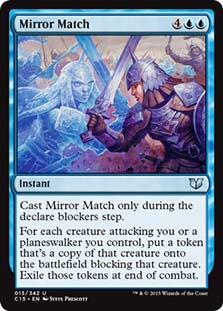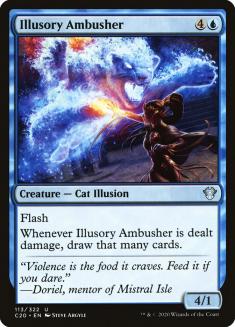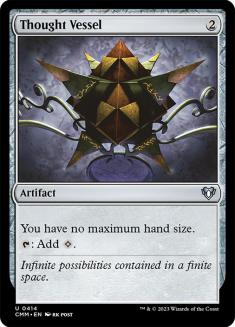 Out: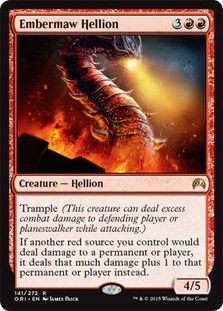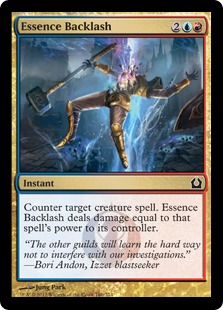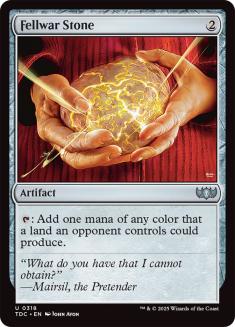 Mirror Match has "you did this to yourself" written all over it. It fact, I might just Sharpie up the one I play. Dream play with Illusory Ambusher: flash it in at end of turn, battle with it, then have it help pay for Blasphemous Act. Embermaw Hellion needs to be in a deck which deals damage more frequently. Fantasies of Essence Backlash on Lord of Extinction never materialized. I made the Thought Vessel/Fellwar Stone switch because I find myself too frequently discarding cards with this deck, but I couldn't justify a zero-action card like Spellbook. When Thought Vessel became available, I knew I could live with it not making colored mana.
In: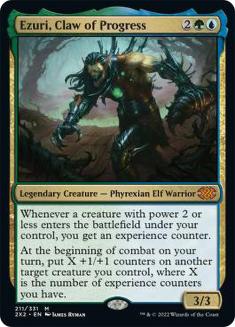 Out: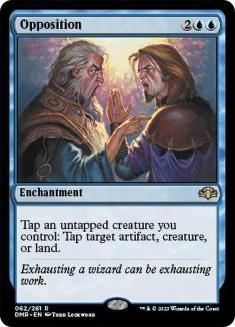 Certainly, experience counter creatures are better commanding their own decks, because you get to reuse the resource. Ezuri is good enough that I might not make a second Zegana version, but use it instead. Until then, I'll play it here. This isn't really an Opposition deck, which I need to make good on the threat to build (wait—I already did; it's the Ruhan Do Over).
No changes.
No changes because I haven't played it enough to see if I don't like anything.
In: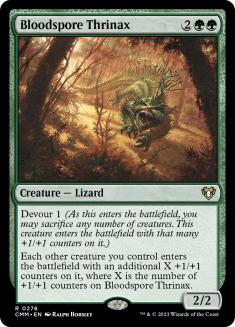 Out: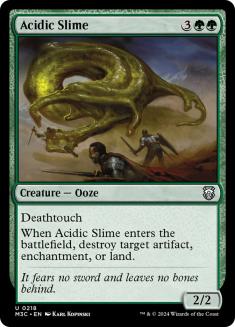 This is a +1/+1 counters deck, and Karador decks also love devouring things. This is what synergy must be like. Taking out Acidic Slime is probably not the value play, but sometimes theme is more important than value.
No changes, since I've only played the deck twice.
No changes because there are no new morph cards.
***
A card which I love that I haven't found space for is Kalemne's Captain. It's great in the format—my evidence is that it will wreck any deck that I put it in. Guess I'll have to build some enchantment/artifact hate bears in order to make some decent use of it.
There are immediate impact cards in this set. If you haven't already seen them in games near you, I imagine you soon will. I'm fond of the individual cards in the set and of the decks as whole units—so much so that I'm brewing up some ideas for a Commander 2015 League. I'll let you in on the details as soon as I'm finished dreaming it up.
This Week's Deck Without Comment offers you three decks which haven't yet made it into the database but will be there soon:
Creatures (39)
Lands (18) Creatures (22)
Planeswalkers (2)
Lands (8) Creatures (32)
Lands (19) Check out our awesome Deck List Database for the last versions of all my decks:
ADUN'S TOOLBOX;
ANIMAR'S SWARM;
AURELIA GOES TO WAR;
CHILDREN of a LESSER GOD;
DEMONS OF KAALIA;
EREBOS and the HALLS OF THE DEAD;
GLISSA, GLISSA;
HELIOD, GOD OF ENCHANTMENTS;
DREAMING OF INTET;
FORGE OF PURPHOROS;
KARN, BEATDOWN GOLEM;
HALLOWEEN WITH KARADOR;
KARRTHUS, WHO RAINS FIRE FROM THE SKY;
KRESH INTO THE RED ZONE;
LAVINIA BLINKS;
LAZAV, SHAPESHIFTING MASTERMIND;
ZOMBIES OF TRESSERHORN;
MELEK'S MOLTEN MIND GRIND;
MERIEKE'S ESPER CONTROL;
THE MILL-MEOPLASM;
MIMEOPLASM DO-OVER;
NATH of the VALUE LEAF;
NYLEA OF THE WOODLAND REALM;
OBZEDAT, GHOST KILLER;
PURPLE HIPPOS and MARO SORCERERS;
ZEGANA and a DICE BAG;
RITH'S TOKENS;
YOU DID THIS TO YOURSELF;
RURIC THAR AND HIS BEASTLY FIGHT CLUB;
THASSA, GOD OF MERFOLK;
THE ALTAR of THRAXIMUNDAR;
TROSTANI and HER ANGELS;
THE THREAT OF YASOVA;
RUHAN DO-OVER;
KARADOR DO-OVER;
KARRTHUS DO-OVER
If you'd like to follow the adventures of my Monday Night RPG group (in a campaign that's been alive since 1987 and is just now getting started with a new saga called "The Lost Cities of Nevinor"), ask for an invitation to the Facebook group "Sheldon Menery's Monday Night Gamers."