We're at an interesting spot in Modern. The deck to beat isn't necessarily broken. There would seem to be an extremely vast array of strategies cashing events, including quite a few rogue brews. It is definitely an exciting time to be a brewer in this Modern format.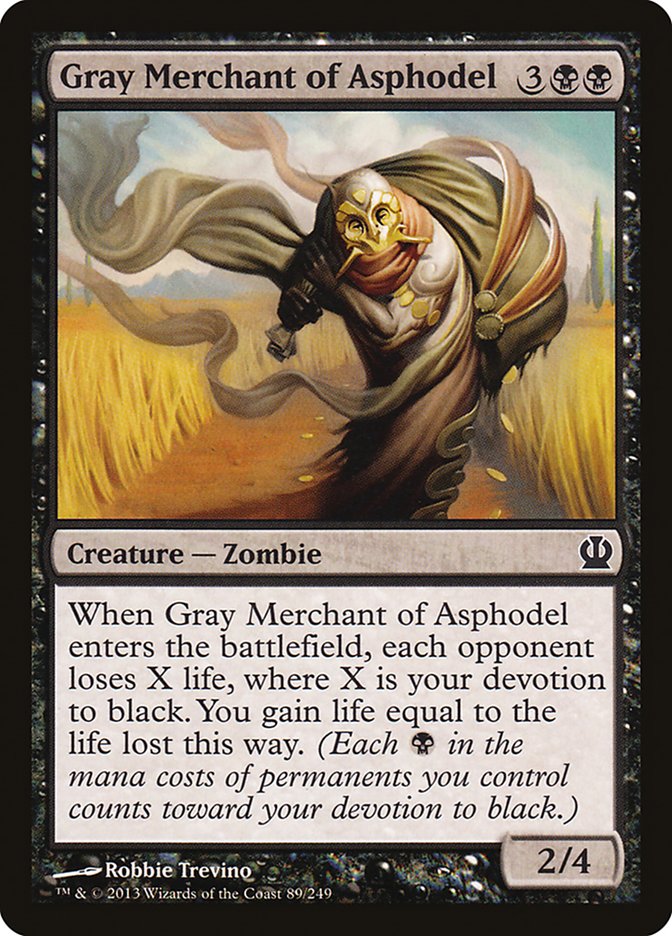 A surprising starting point? Maybe. However, I'm not sure anyone's actually figured out the full of ramifications of the recently printed and format-defining Fatal Push.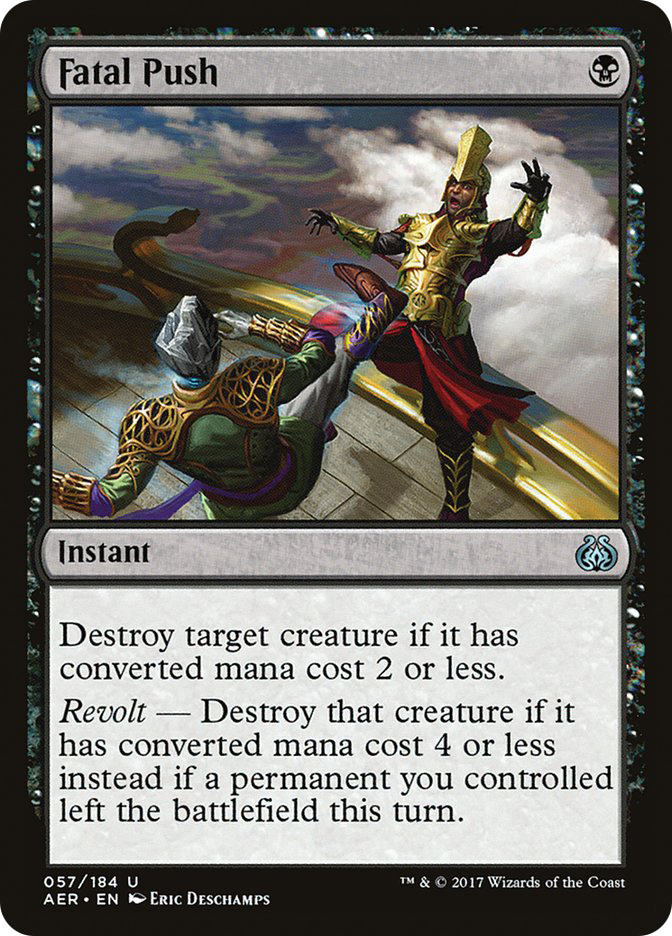 Fatal Push really opens up the range of dedicated black decks that are possible. Besides, the recent push towards Death's Shadow makes the life-drain of Gray Merchant start to look a lot more attractive, particularly when you load up the deck with creatures that are resilient against removal.
Two big beneficiaries of the path Modern decks have been taking away from Path to Exile and the subsequent push they're making towards Fatal Push are Bloodghast and Geralf's Messenger. They're not the greatest at blocking, but hopefully we can stack up enough copies of Gatekeeper of Malakir, Fatal Push, and Victim of Night to keep creature assaults at bay.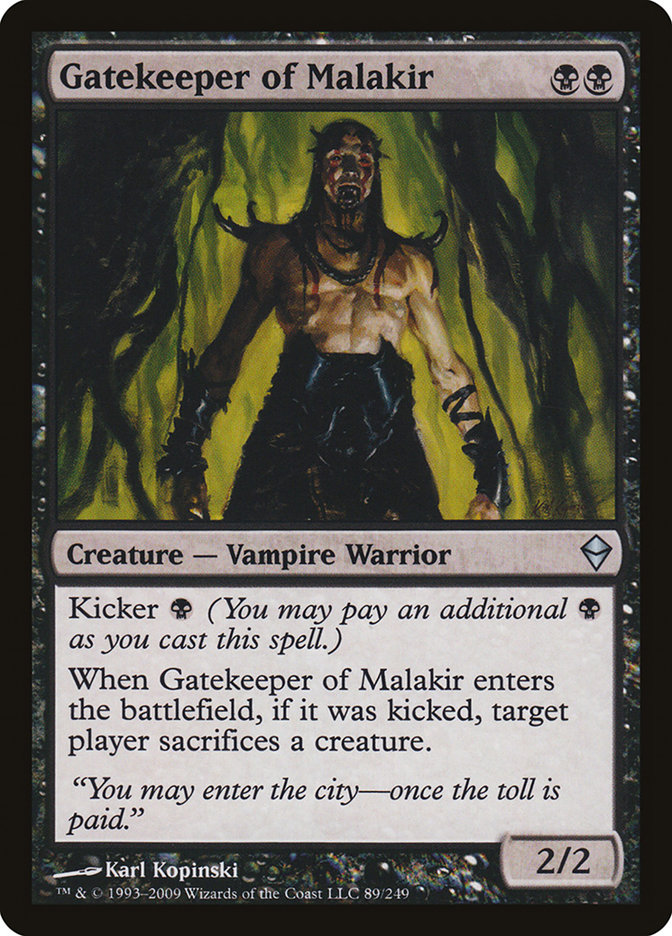 Gatekeeper of Malakir is a perennially underrated card in Modern that happens to be particularly well-suited to combating Tarmogoyfs and Death's Shadows. It's also just totally fine to run out as a 2/2 for two against a lot of opponents. You gotta beat down with something!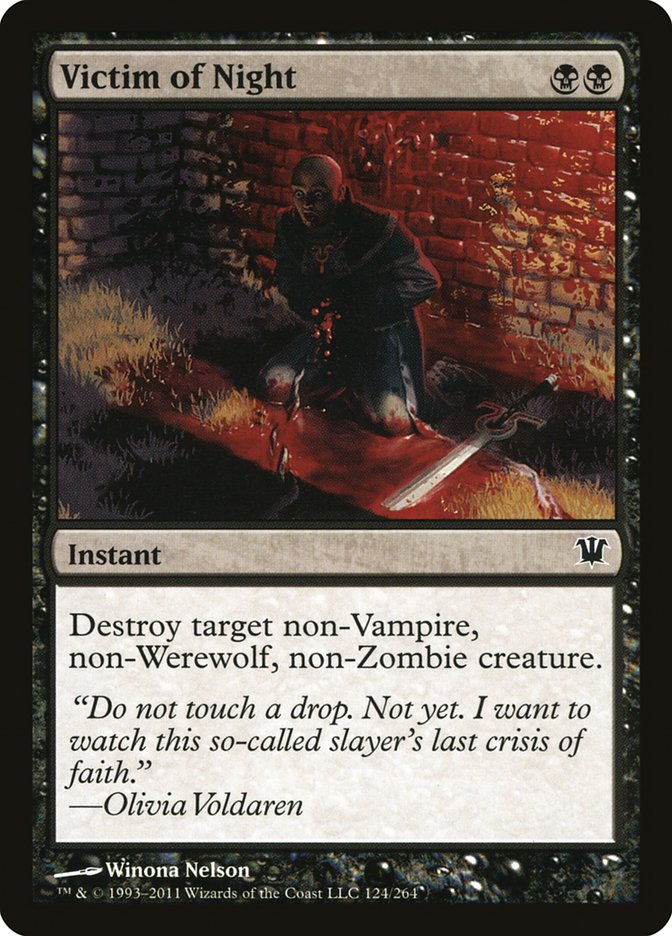 Victim of Night is an oft-overlooked alternative to Go for the Throat, Doom Blade, Smother, Dismember, and the like. Its main cost is the potential inconsistency that goes along with trying to use it in a deck with lands that can't cast it. A Black Devotion deck, however, should have absolutely no problem playing it on turn 2. In terms of the creatures it can't hit, outside of the numerous ones we're running, they are few and far between. Kalitas, Traitor of Ghet; Huntmaster of the Fells; Olivia Voldaren…there really aren't all that many creatures that Victim of Night can't hit, and Fatal Push is usually sufficient for taking down whatever creature may occasionally slip through the cracks.
Here's a first draft:
Creatures (23)
Lands (23)
Spells (14) One of the most exciting ways to power up our Gray Merchants is Phyrexian Obliterator. It brings a whopping four extra devotion to the table, not to mention just generally kind of being a badass.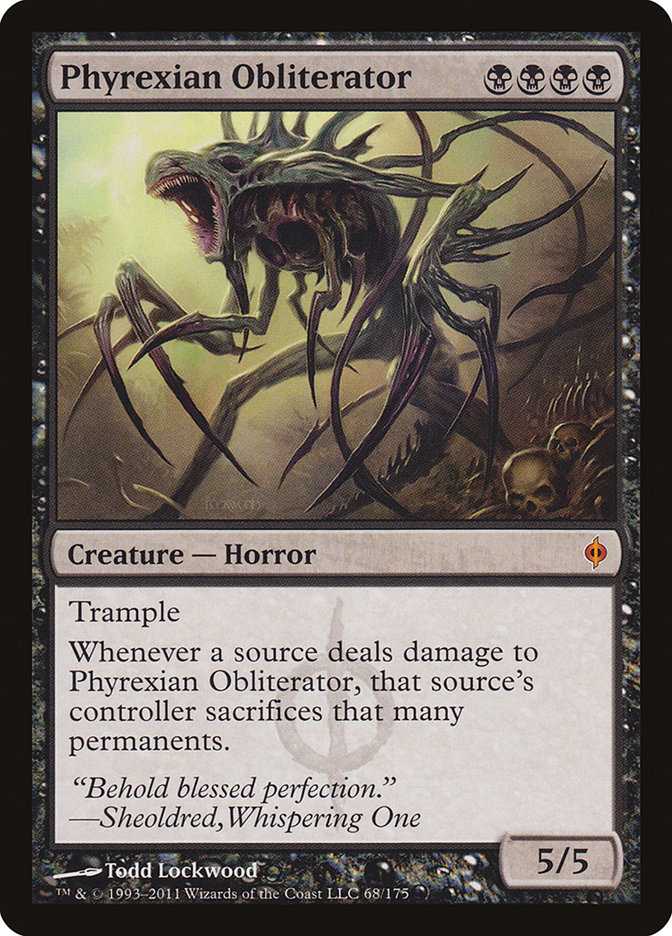 It's a little unfortunate that Fatal Push can be made to kill the Obliterator, but the combination of Inquisitions and Thoughtseizes can help increase the odds the Obliterator sticks around. Whenever it does, it has a tendency to completely take over the game.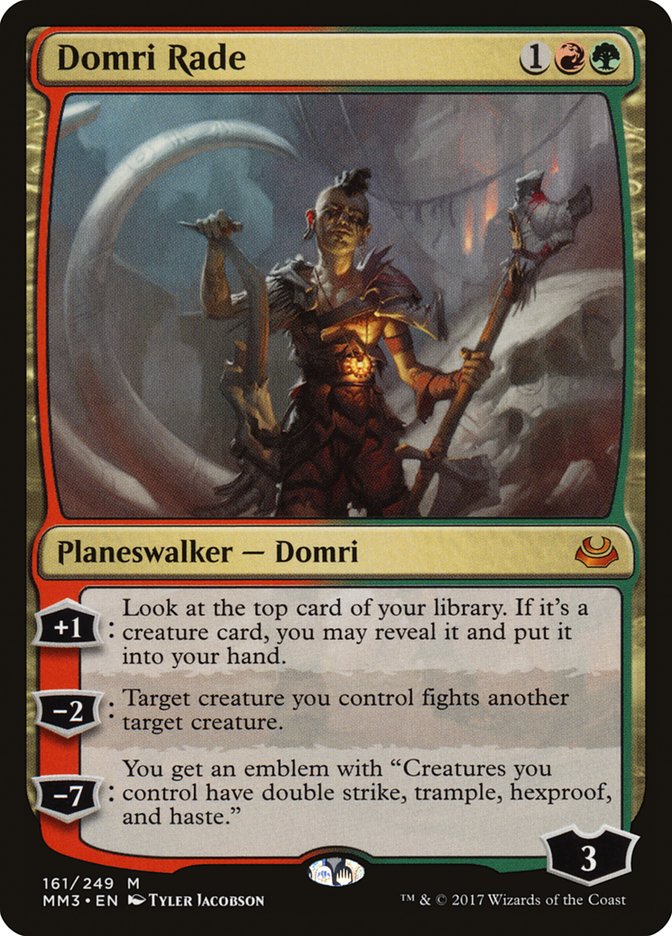 There is a part of me that kind of fantasizes about finding a way to put Phyrexian Obliterator alongside Domri Rade, taking advantage of Domri Rade's fighting ability. I don't think this is the place for that kind of fanciness (and Gruul-ness), but it's an interesting option to keep in mind. Adrian Sullivan would be proud.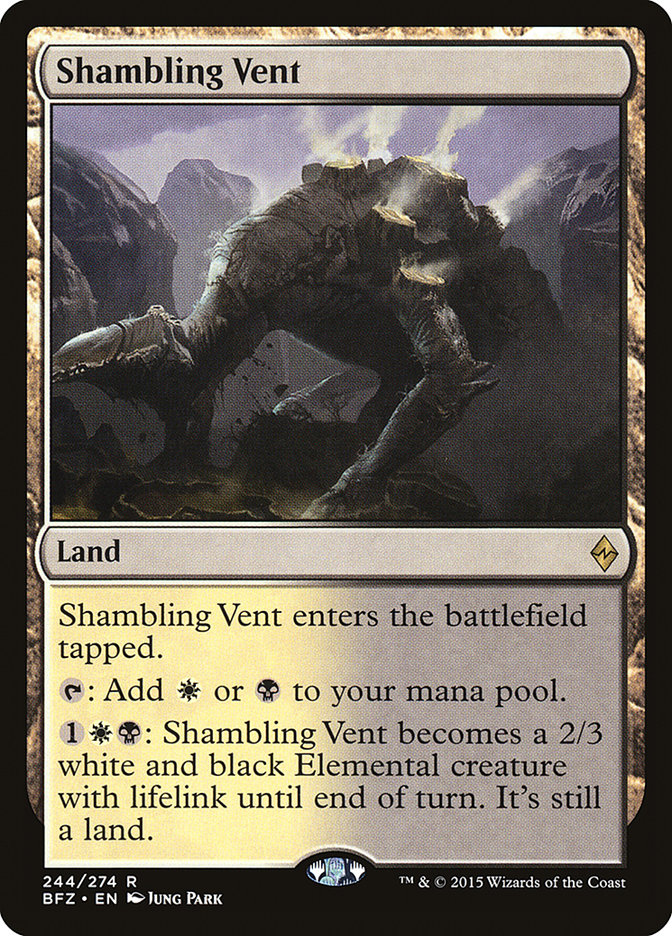 Instead, you're splashing two Shambling Vents?
Well, not really. I mean, the main thing is the ability to sideboard in Lingering Souls. Besides, Stony Silence is kind of nice, too.
Lingering Souls is just such an amazing card in its own right, and when games get grindier after sideboarding, it shines especially brightly. So many of the best cards against stuff like Phyrexian Obliterator and Dark Confidant are not what you want against Lingering Souls. That said, people might want graveyard hate against us anyway, since we have Bloodghast and Geralf's Messenger, in which case we might be walking into some collateral damage.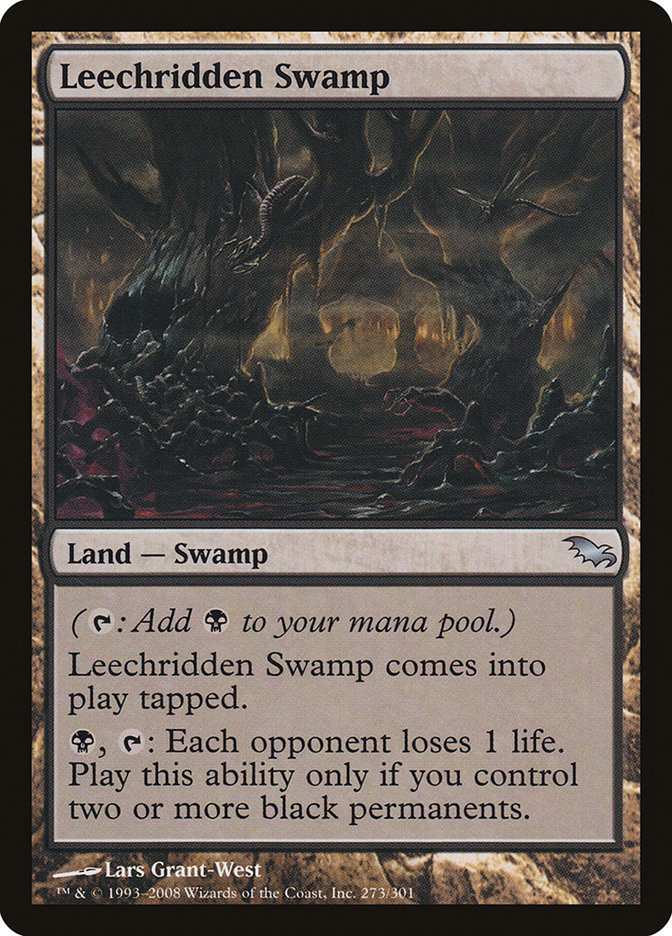 Yeah, it's not exactly the most ruthlessly efficient card legal in the Modern format. However, it is kind of a cool option to search up with our fetchlands. Typically, we'd be discouraged from trying such a move because of wanting our tapped lands to produce multiple colors, or having a lot of one-drops we want to play on turn 1, or lack of confidence that we'll reliably have two black permanents to trigger it (and have it still matter). This list is functionally mono-black, has no actual one-drops, and has 23 black creatures to help trigger it.
It's still a tapped Swamp until you start being able to use it, so it might not be worth it. However, I wonder if the opportunity cost is actually that high, since it effectively upgrades seven of our lands into potential threats. That little extra damage could make the difference, particularly when stacking with Gray Merchants.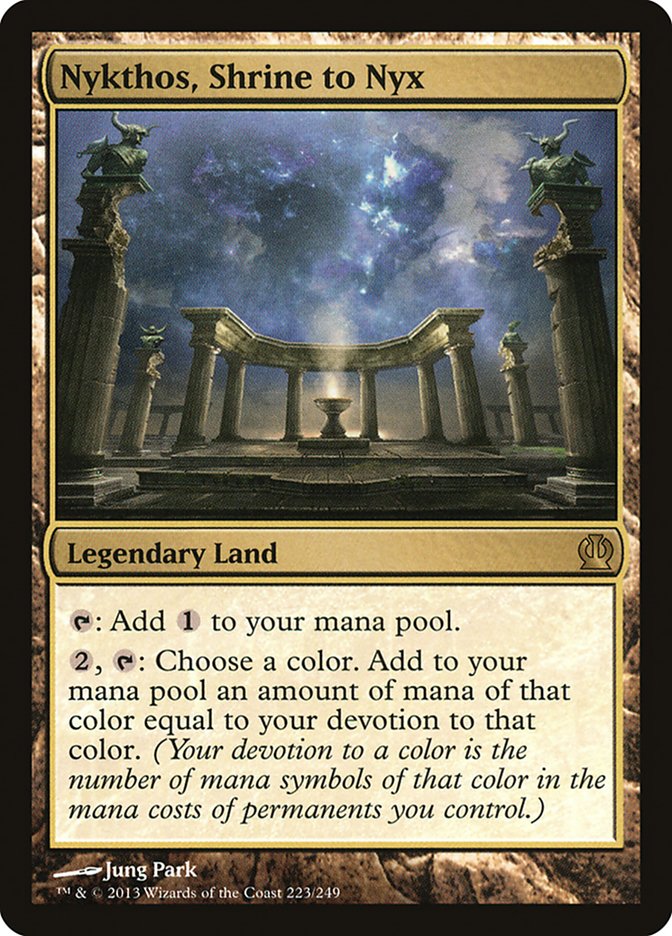 I want to be careful about playing too many lands that might mess up my Geralf's Messenger, Gatekeeper of Malakir, and Phyrexian Obliterator; however, Nykthos does open up some potentially exciting turn 4s and turn 5s. Whenever we untap with two or more creatures, we're basically assured of coming out ahead, which is especially nice when trying to play five-drops, like Gray Merchant, in a deck with just 23 lands.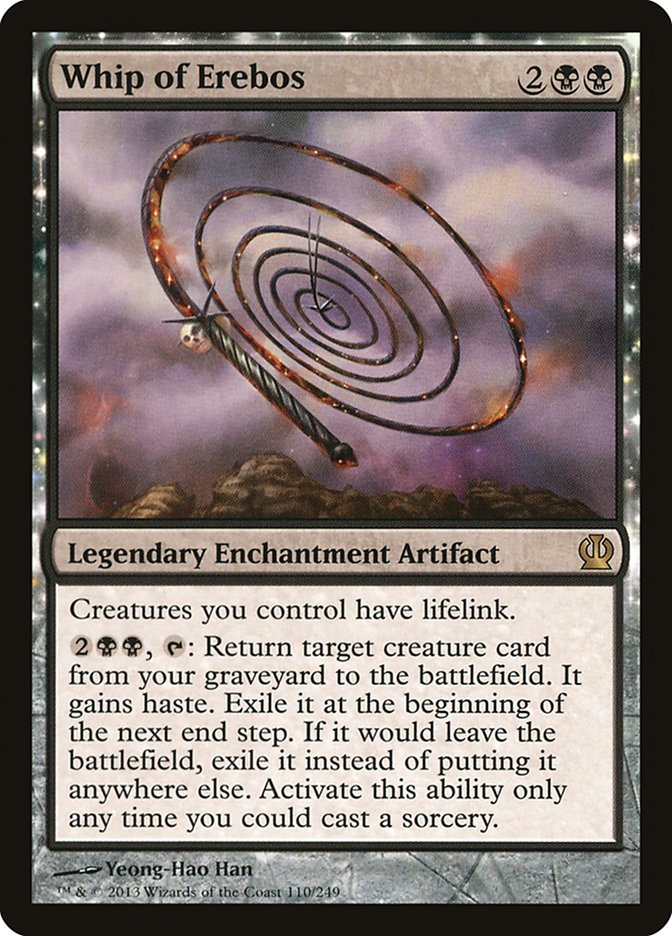 Whip of Erebos is a super-sweet piece of tech employed by MTGO Modern Championship League competitor VICTOR. It can be absolutely game-ending against Burn and some aggro decks, and its ability to help grind out midrange decks works perfectly with Gray Merchant. We do need to be careful not to accidentally get ourselves stuck on account of our Stony Silences, though. I love that it dodges Abrupt Decay and Inquisition of Kozilek…
The printing of Scrap Trawler has led to quite a large number of Modern brews, ranging anywhere from Eggs to Ravager to Tezzeret. One other home for Scrap Trawler is in a Krark-Clan Ironworks deck, taking advantage of how easy KCI makes it to always get maximum value from each of our artifacts.
For instance, imagine the following sequence:
Turn 1: Darksteel Citadel, Terrarion.
Turn 2: Sanctum of Ugin, Scrap Trawler.
Turn 3: Land, Krark-Clan Ironworks.

Now we're off to the races!

We could sacrifice the Mox Opal to get two colorless, sacrifice the Terrarion to get two mana, draw a card, and return Mox Opal. We can then cast the Mox Opal, tap it for one, and sacrifice it for two mana (bringing us up to seven).

Then we cast Ichor Wellspring and draw a card. Next, we sacrifice Ichor Wellspring for two more mana (back to seven) and another card, plus we return the Terrarion. We recast the Terrarion (going to six mana) and sacrifice it to go up to eight mana, draw another card, and return the Mox Opal. After replaying the Mox Opal, we're at nine. At this point, we cast Myr Battlesphere, sacrificing our Sanctum of Ugin to go get Emrakul, the Aeons Torn.

We still have two mana floating, and we can sacrifice the four Myr tokens, the Mox Opal, the Darksteel Citadel, and the Krark-Clan Ironworks (getting back whatever we want); and then just hardcast Emrakul. We even still have Scrap Trawler and Myr Battlesphere, as if the Emrakul wasn't enough.

Here's a first draft:




The Thopter Foundry / Sword of the Meek combo is going to win some games on its own, but it takes on a whole new meaning in a deck with Krark-Clan Ironworks.

Normally, the Thopter/Sword combo lets us convert each mana we want into a 1/1 flier and one life. However, Krark-Clan Ironworks lets us sacrifice those Thopters for two more mana, meaning we can gain as much life and make as many Thopters as we want.

Another benefit to Thopter Foundry is giving us another sacrifice outlet to jump-start our Scrap Trawlers. Since it costs mana, there's only so quickly we'll be able to do all our stuff, but it is a nice way to generate some solid card advantage while establishing a battlefield presence.

Aside: Myr Battlesphere's tokens have no problem picking up a Sword of the Meek and getting busy!

Obviously this card is insane, and it's one of the most likely cards to get banned in the next year. While it can find Scrap Trawler, Krark-Clan Ironworks, Myr Battlesphere, Sword of the Meek, and many more, it cannot find Thopter Foundry. While Thopter Foundry is an artifact, it is not colorless (no matter how much it may sort of look like a devoid card).

I still think Chromatic Sphere is worth using, helping fix our colors and get back Moxes and Baubles, but Chromatic Sphere is meaningfully worse for us than Chromatic Star or Terrarion. While Star and Terrarion draw a card however they are sacrificed, Chromatic Sphere only does so when sacrificed for its mana ability.

One possible replacement for Chromatic Sphere is Implement of Combustion, which functions just like a Terrarion for the purposes of fueling our Krark-Clan Ironworks. It's even got the option to go upstairs for one!

Maybe this should just be a Faith's Reward deck, but we do only have so much room. It's hard to fit a Faith's Reward package and the Thopter/Sword package in the deck while still having the right fuel for Scrap Trawler plus Krark-Clan Ironworks.

Okay, one last card I wanted to try to make work this week:

Crackdown Construct is all about the infinite combos. What little fringe play it has seen in Standard has typically involved Wandering Fumarole, but Modern has quite a few more options to consider.

Like Wandering Fumarole, Lavaclaw Reaches transforms into a creature with an activated ability that can be activated for zero as many times as we want (just say X = 0). That it only costs three to animate instead of four is a nice improvement; but I kind of just want to play both.

Shuko is cheap and easy to get down and can re-equip to the Construct as many times as you want, which will hopefully be enough. Lightning Greaves has the added advantage of granting haste, which can be very exciting. However, it cannot actually re-equip to the same creature over and over, since it grants shroud instead of hexproof. That said, if we have any other creature, we're good to go, since we can move the Greaves back and forth, over and over.

Making an arbitrarily large Construct is all well and good, but Modern is a format with a lot of good instant-speed removal. While the Equipment can only be activated at sorcery speed, Wandering Fumarole and Lavaclaw Reaches can be activated over and over in response to removal, eventually ending with a really big Fling while the removal spell is still on the stack.

Spellskite gives us another potent way to beat removal, but it also gives us kind of an interesting way to convert our life and/or mana into Crackdown pumps. Every two life we pay, we can activate the Spellskite again (proactively, even with nothing useful to redirect, since it can target basically whatever it wants), leading to another +1/+1 for the Construct. That's not exactly going to deal twenty to someone trivially; however, Fling can finish the job if our opponent isn't already low enough.

Here's a first draft:




Ceaseless Searblades acts like Crackdown Constructs five through eight, since both Wandering Fumarole and Lavaclaw Reaches are Elementals.

It's unfortunate that it doesn't work with the Equipment, but it's kind of nice having someone to move Greaves to anyway. If we do want to up the Elemental theme a little, Mirror Entity is kind of an interesting option (once you reconfigure the manabase to support it).

Mirror Entity won't let Ceaseless Searblades attack for arbitrarily large damage, since letting those million zero-cost activations resolve will turn it into a 0/0. That said, if we've got a Fling in hand, we can Fling the Searblades before any of them resolve, winning outright. Additionally, if we actually pay one mana and let a Mirror Entity trigger resolve, our Spellskite will now be an Elemental, which might get us there, depending on how much damage we actually have to do.

Flamekin Harbinger is definitely cheap, which is nice for getting something down that can help with Greaves duty. Finding Ceaseless Searblades or Mirror Entity is already something, but we might actually give ourselves a little Elemental toolbox once we're going down this road. Lotta interesting Elementals…

Modern is a crazy format.

I'm looking forward to seeing what kind of craziness people come up with this weekend. What's your prediction for most unusual card to cash this weekend? I've got a feeling this is going to be a highly competitive weekend for such a dubious honor…