Attacking is the nut low. The strategy simply is not viable.* Obviously, I knew this already. What I didn't know is that this is not a matter where one can make exceptions. This is not a concept one can take lightly. It took something as big as unadulterated failure in the 2005 World Championships for me to understand this, but mark my words, the days of me casting Arcbound Ravagers or Isamarus are over.
John Pelcak, Gerry Thompson, and I flew out to Japan on Sunday ready to battle in the biggest tournament of the year. Well, except me. My testing was limited to about ten games of Extended and I hadn't played a game of Magic Online in several months. That said, it wasn't too hard for Gerry and Cak to convince me to run their R/w list in Type Two in between making fun of the fat stewardess and "The Perfect Man." After that was established, they convinced me to, at least probably, play Affinity in Extended. How I got tricked like this, I will never know, but this is only time to relay the facts.
When we arrived in Japan, I was unexplainably relieved to finally have reached our destination, but my bubble was quickly burst when I found out about the two-hour, 40,000-yen train ride from Narita Airport to Yokohama. After checking in to our admittedly awesome hotel and walking around a bit, we had several options. Thinking things through thoroughly lead us to decide to blow fifty bucks a head at the Hard Rock. In the present, writing this, it helped me come up with that awesome alliteration.
When we got back to the hotel trying to just grasp how badly we got destroyed we met up with Antonio De Rosa and Alex Lieberman in the lobby. Ant was on his way to bed, but Alex was bored and the three of us headed to the Red Light District to see what it was like. None of us hooked or anything, but it was still quite the experience and it bargaining with the pimps and pissing them off with lowballs was pretty fun.
Waking up the next day it was back to business as usual. For me, it meant acquiring the cards for the little R/w number I was preparing to duel with on the following day. This would prove to be much harder than expected. Even still, I was able to get everything that day but the Orcish Artilleries for my deck. More on this later.
The worst part of Worlds, other than Day 3, was the player dinner on Tuesday night. The orchestration of it was absolutely horrible, and the food was hardly edible. The biggest beating of all, though, was that it replaced the Player's Lounge.** In addition, having to sit while the Champs practiced the flag ceremony was just another thorn in my side. I mean, being bored for a half hour or so isn't going to kill me, but why do they force it on you when it's so unnecessary? Magic is not the Olympics. Flag ceremony, please.
This leads me to the fact that, in addition to not being the Olympics, Magic is also not a real pro sport. Hall of Fame, please. I, for one, found it ironic that the best Hall of Famer's performance was Olle's 149th. None had a winning record. Now that is pretty embarrassing. Obviously Finkel would have just full blown won the tournament but he had more important matters to attend to on the home front. But seriously, the whole Hall of Fame concept is fairly ridiculous. All I did while sitting through the ceremony was wish it would end.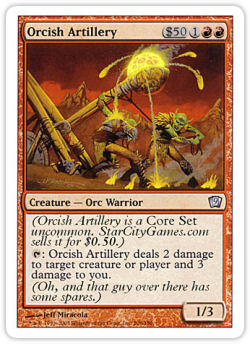 I mentioned earlier that the Orcish Artilleries had been particularly hard to acquire and, in fact, I had only picked up two of the four I needed the day before the tournament. I went to the site early to ask around for them, but for over an hour I had no luck at all. With less than a half hour to go before the tournament, I was starting to get fairly desperate. It just so happened that Craig Krempels found himself in a similar situation. Craig, though, needed a pair of Tidings to complete his U/b deck. With time running out, we made a big decision. A very painful decision. We decided to just move all in and go halfsies on a box of 9th Edition. Any Orcish Artilleries would be mine, any Tidings would be his, and we would sell back and split the rest. As we cracked our packs, I could see myself flushing dollars away but continued doggedly. A crowd gathered and everyone in the room seemed to know that these two American idiots had just bought a box looking for uncommons. As we started getting deep into the box and no Tidings or Artilleries had been opened, we had a problem we didn't think we'd have to face. Were we going to rebuy? After we completely missed, I was just about ready to go again. I didn't come to Japan to play a deck without the right cards, even if they were Orcish Artilleries and no matter how much they would cost me.*** Luckily, one of the many that had gathered to watch us chuck money in the garbage decided to tell us, after we missed, that he had the cards and we could both borrow. I mean, thanks, but come on. Did you have to make us go through the whole box? Was it really necessary, man?
Now ready with Artilleries and everything, I sat down for the first round of standard with the following decklist:
4 Savannah Lions

3 Isamaru, Hound of Konda

3 Frenzied Goblin

4 Hearth Kami

4 Boros Guildmage

4 Orcish Artillery

4 Zozu, the Punisher

4 Char

4 Shock

4 Lightning Helix
1 Eiganjo Castle

1 Shinka, the Bloodsoaked Keep

1 Mikokoro, Center of the Sea

4 Sacred Foundry

4 Forge[/author]"]Battlefield [author name="Forge"]Forge[/author]

8 Mountain

3 Plains



Sideboard:

4 Faith's Fetters

4 Flames of the Blood Hand

4 Kami of Ancient Law

3 Bottled Cloister
Round 1 vs. Takuya Oosawa w/ Japanese G/W

Game one I lost the roll but he mulliganed. I started with Frenzied Goblin and Boros Guildmage but stalled on two lands. I did have some more one and two-drops though, and I continued to damage him thanks in no small part to my pair of Frenzied Goblins allowing me to get through such things as Arashi. He played Glare and started tapping down my Frenzied Goblins but he was already low enough where peeling my third land for Char was good for the game.
Game two I mulliganed to five and never really had a shot. He had a quick Jitte and I had neither Hearth Kami nor Faith's Fetters to put a stop to that. I played on a little bit to try and learn as much as possible about their deck even when all was lost. Remember, it was still round one, so no one knew the details yet that didn't speak Japanese.
Game three he mulliganed and I started fairly strong with two Frenzied Goblins, which are pretty much the best card against his deck. His opening draw seemed quite poor as it consisted as nothing but land and different types of Elves. I was beating him into oblivion with the guys that followed up my Goblins but running Hierarchs off the top saved him just in time. This shouldn't have been enough though since I could still keep said Hierarchs from blocking and I blew some guys to put him down to six. Having done that, I would kill him the next turn if he did not draw Jitte or a third Hierarch off no cards. Even if he did, I could still draw any non-land for the win. This gives him roughly a one in fifteen to win, so needless to say he drew the Jitte in order to keep hope alive, I drew the land to fail to kill him, and went on to lose soon enough. The only thing that made me feel better about that bad beat is the fact that this is a pretty bad matchup and I had to get fairly lucky to even get in the position where he needed to catch a longshot draw to win the game.
0-1, 1-2



Round 2 vs. Wai Kin Au Yong w/BG

Game one I mulliganed on the play. Despite the great matchup, I lost the only way possible: his Jitte and my lack of Heath Kami. When that occurs, the R/w mage is practically drawing dead. When it doesn't, the opposite is true in this matchup.
Game two he was the one mulling and things went as they should. I dropped some quick beaters and backed them up with a pair of Faith's Fetters to take out a Jitte and an Arashi. Soon enough, we were heading to a decisive third game.
Game three was one in which decisions started immediately. My opening hand was Sacred Foundry, Mountain, Mikokoro, Orcish Artillery, Shock, Lightning Helix, and Char. At the time, I kept it pretty quickly. I proceeded to draw no creatures for the whole game and eventually lost to just random guys after my Artillery was killed. Should I mulligan that hand? I still feel like no. However, especially against a good matchup like this one, maybe it's more likely to win with six random cards than with this hand due to the risk of what happened to me. I am still leaning towards "I got screwed" on this one rather than "I blew it," but I can't say I've 100% ruled out the latter just yet.
0-2, 2-4
Wow. What a way to start my first Worlds. I had never before started a Pro Tour 0-2, and I had yet to due well after a bad start in my career. At this point, I was more sour than a sack of lemons and gave Randy a nice little interview chock-filled with monosyllabic answers to prove it.
Round 3 vs. Michael Patnik with R/w

Game one I won the roll but chose to draw since I knew I was playing against the mirror. All the games go long with this much burn involved and the extra card is more of an advantage than making the first move. He started with an early Genju and took the big risk of activating it. I had the burn spells and quickly he was mana screwed. From that point, the game was very easy for me. Genju just doesn't seem good in this deck as it's bad against the mirror, MUC, and any deck with Elves in it.
Game two he chose to play despite my decision to draw in game one. At first, I had the upper hand with multiple Lightning Helixes and more solid stuff. However, after a while I had built up a little collection of four-drops in my hand including two Bottled Cloisters and two Faith's Fetters. With only three lands in play and unable to cast any of those, he slowly started getting back in the game and gaining the upper hand. I got the fourth land before it was too late though. After shutting things down and gaining life on back to back turns with Fetters, I dropped down the bomb of the matchup in Bottled Cloister. Drawing two cards a turn proved to be too much for him, and soon enough the card advantage gave me the first win in seemingly years.
1-2, 4-4
Round 4 vs. Filip Popovic w/ UR Control

Game one I mulled into a subpar draw. However, his deck didn't really do anything. I just played some guys and pretty soon he just died after playing nothing but lands. I suppose he either didn't have maindeck Pyroclasm or didn't draw it. Regardless, his deck seemed pretty awful but I knew it was bound to have a bunch of Pyroclasms and Threads and stuff for the next game.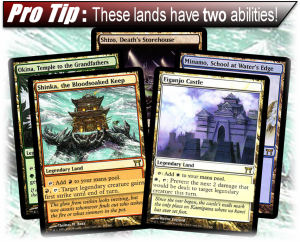 Game two showcased why playing against National Team Members is so nice. I played a turn 3 Zo-zu and a turn 4 Artillery. On the next turn I did nothing, since I had a gripful of burn and wanted to start unloading it. He thought about it for a second and then cast Pyroclasm, completely missing my Eiganjo Castle that I promptly used on my Zo-zu. He then passed the turn but stopped me when I went to draw my card to point out that I forgot to bin my Zozu. After I pointed to the Eiganjo Castle I had used, he just shrugged as if to say, "Oh yeah, good beats." Even with that and everything, he hung in there playing a Meloku and then another after the first died. Unfortunately, he saw that he could get aggressive with tokens since I had taken quite a bit of damage from Char and my Artillery. He was low as well but had all the counters for my burn spells and took me out with tokens.
Game three I mulliganed again and thought I might just lose to this master. I started with a few guys, but after his Pyroclasm and Threads I had no more pressure as I had drawn all burn. After several turns of draw-go, I had built up even more burn in my hand. He was at a million life (14), but I had two Chars, two Flames of the Blood Hand, and a Shock. I just needed to find the right moment to unleash because if I ran them into counters I was bound to lose. Luckily, he found a creature before he found a ton of land and happily slammed down Keiga as soon as he drew it. Then, well, he died. Oh, and he complained. Right.
2-2, 6-4
Round 5 vs. Andras Balogh w/ UGB "Critical Mass"

Game one he played first and had the Vineleasher Kudzu on turn 2 that is supposed to make his deck oh so awesome. I think whoever built it missed a little card named Shock as I cast that one and, "for all intensive purposes", ended the game there and then. I actually had to do stuff like attack a bit afterwards, but I'm serious. If they don't draw Kudzu or it dies, they can't win. I think that makes this, well, the best matchup ever. Yep, sounds about right.
Game two we both started off slowly with fairly bad draws. We were both fairly flooded and at high life. I was just sitting back behind an Isamaru that could have been attacking in case he drew Jitte. He did draw Jitte, which he cast triumphantly, attached to his Wood Elves, and attacked with them. I blocked and gave my Isamaru first strike with Shinka, and he sheepishly binned his Wood Elves. When this kind of thing happens in a game, I tend not to remember anything else about it. This game was no exception, but I followed up activating my legend land with a win. When I wished my opponent good luck the rest of the way, he told me he didn't want to hear that. He said I should just, "wish him better eyes to see my lands with." I did.
3-2, 8-4
Round 6 vs. Lovre Crnobori w/ Mono Black Control

Game one I lost the roll and after a few turns, I didn't know if I stood a chance in the matchup. His deck's removal spells included Last Gasp, Sickening Shoal, Cruel Edict, Hideous Laughter, Eradicate, Consume Spirit and any other Black removal spell you can possibly think of that I'm not remembering right now. I didn't see how I would ever get through his endless stream of removal combined with the life gain of Consume and the card advantage of Phyrexian Arena. Being unable to kill his finisher, Nightmare, I wasn't sure how I could even conceivably win game one, which I didn't do.
I did know that after sideboard I would have some game. I knew I could get him low and finish him with a well-timed Flames of the Blood Hand. I also thought there was a fairly good chance that Faith's Fetters on his Nightmares was something he could only deal with by just drawing more Nightmares than I drew Fetters. Last but not least, I knew that my Bottled Cloisters were, well, much better Arenas than his Arenas.
Game two all I know is I attacked him for a bit of damage and then finished him off with a ton of burn that I had drawn. I know I had like three or four Chars/Flames of the Blood Hands.
Game three really brought out the best in my sideboard. As per usual, I started out with some guys that died to his plethora of removal. For the third game, though, he had brought in Distress and promptly used one on me. He made a big mistake and made me discard Flames of the Blood Hand instead of Bottled Cloister. I played the Cloister soon enough and started pulling ahead. He played Arena, but a second Cloister made it look silly. Even though I was pulling way ahead on cards, things were close as I was pulling lots of blanks. He, on the other hand, quickly got two Nightmares on the board. Two turns later, it got to the point where I needed any burn spell or a Boros Guildmage in three draws for the win. The two Cloister draws were lands… but the draw for my turn was a Boros Guildmage and I killed him.
4-2, 10-5
Was I happy to be 4-2 after starting 0-2? Obviously. Was I happy to be 4-2, though? Nope. You see, the bad thing about not preparing for a tournament is that when you're actually at the tournament it's like, "Man! I'm stupid!" This feeling is magnified in a multi-day tournament such as Worlds – you manage to do well in one day you weren't prepared for, and all of a sudden you are facing six rounds of a whole new format that you don't even have the previous six rounds of preparation for.
With all this in mind, I was not entirely excited about the prospect of drafting tomorrow. Despite all this, I still had a good strategy ready for action. I had been told that G/W/x Convoke was something like the old MDF Affinity decks and I was sold on forcing the archetype. I had some people tell me what the key cards were, and I was ready to go. Well, as ready as a person could be when they only have a cool two drafts experience with a set.
I sat at a pretty easy pod with only Masashi and Das Hopper as people I recognized. Big Hops was to my right, and he likes to draft U/B, so that turned out very well for me and lead to most of my picks not being too hard. After drafting some more of this set, I have found that this is the exception and there does tend to be a lot of decisions. This time, though, the deck I was looking for just came perfectly and the packs didn't make me have to think. Here it is:
2 Seeds of Strength

2 Golgari Brownscale

2 Conclave Equenaut

2 Fists of Ironwood

2 Guardian of Vity-Ghazi

1 Elves of Deep Shadow

1 Caregiver

1 Votary of the Conclave

1 Selesnya Evangel

1 Transluminant

1 Veteran Armorer

1 Conclave Phalanx

1 Screeching Griffin

1 Scatter the Seeds

1 Siege Wurm

1 Faith's Fetter

1 Firemane Angel

1 Boros Signet
1 Boros Garrisson

8 Forest

8 Plains
Round 7 vs. Masashi Oiso

Cool! The one known player at my pod is obviously my first round opponent. I don't know why they made this a fake feature match and covered Karsten/Kaji and Ruel/Cloete, but everyone sure missed a lot.
Game one I lost the roll but he mulliganed. I had three one-drops in play by turn two, but lacked a third land. I played Fists of Ironwood instead, and the next two turns churned out a pair of Conclave Equenauts. I beat down a bit, but Masashi started to stabilize and then get ahead with a Primordial Sage, one of just five good rares in his deck. As soon as he got that going, I started getting some lands and was able to quickly empty my hand. Pretty soon, he decided to start attacking and get random damage in here and there. I took the opportunity at this point to attack with all my guys. He made some pretty ballsy blocks that just didn't respect a possible Seeds of Strength at all, and that all went well with the fact that I had been holding Seeds the whole game. After that, the top of his deck was dry for two turns and he succumbed to my creatures.
Game two I started off better than in game one. I had the affinity-esque draw again, this time including the lands necessary not to stumble. Unfortunately, Masashi had a really good draw as well. For several turns, it looked like my blazing start would trump his slow and solid one. The problem was that he kept peeling to prevent this. When he drew a flyer to block my last man he couldn't deal with (an Equenaut), the game had devolved into a total stalemate. I knew I couldn't beat his deck in a long game, but there was nothing I could do, so I just kept passing. Soon enough, he tapped eight mana and played the Red and White 6/3 Angel whose name escapes me right now. He attacked with it, and I thought he must have a trick. I considered my options at this point for a long, long time. The only way Masashi could have nothing here is if he just overlooked my Caregiver that could counteract his angel's prevention. The problem with this becomes apparent, though, when you reread the last sentence: It involves Masashi being the person who overlooks something. Even with this in mind, I finally came to the conclusion that I didn't have a chance in the game unless he didn't have a trick here. So I blocked. And Masashi redirected…
I sacked to Caregiver and he just agreed to letting damage resolve but didn't yard his angel. It took five minutes, several judges, and two languages to establish that if the creature wasn't there, the damage wouldn't get redirected and, instead, would stay on it's original creature and that therefore his Angel was dead. Despite this moral victory, I was still nowhere near busting through his wall of giant guys. On the bright side, though, he was nowhere near busting through mine, either. On the next two turns, he played Primordial Sages. Yes, two. The only thing that made them not as bad was that he could only draw a limited amount of cards, since our decks were becoming smaller and smaller. He was going to deck himself! I thought I had him, until eventually, he drew yet another rare. This time, it really did do me in; it was Ursapine. Of all things, a goddamn Ursapine would be in his deck at a time like this and allow him to kill me with no cards left in his library. Bad beat.
Game three started off with me getting another strong start and him getting one also. Mine should have gotten the better of his. It was about to, I swear. The turn before I was going to kill him, I thought, no matter what, he went all in. Since I had attacked with all my guys also the turn before and not attacking wouldn't help him, I didn't find this all that strange. When he left all his lands up and said go, I started getting suspicious. You have to remember, though, that I had only played this format twice before. I tried to think of anything he could possibly have, but nothing helpful came to mind. I mean, I had way more than enough to kill him. Boros Fury-Shield was no good. A simply burn spell was no good. A pump spell certainly did nothing useful. I just couldn't see it, so I attacked. If you've read the coverage, you already know that he had Dryad's Caress for ten and an untap, and I died shortly thereafter. I probably would have played it a bit different if I knew he had that… As I said, at the time I didn't even stop to think about Dryad's Caress. However, looking back on the situation I don't think I had any outs to it, so I'm not too upset.
4-3, 11-7
Round 8 vs. Filip Polasek

Game one, he played first and quickly showed Boros. Boros tends not to be very well equipped to deal with big creatures like 5/5's and 4/7's, and his deck was no exception. In this battle of two mediocre starts, my gigantic guys won out over his 2/2s and such.
Game two was very different from game one. While I had the same clumsy opening as in game one, he had the stone nuts. His one-drop, two-drop, three-drop, four-drop, Fetters, Char, Rally did me in faster than, well, something pretty fast.
Game three was the opposite of game two. I my curve of one-drop, Evangel, Fists, Scatter, gigantic guys with double Seeds backup was not something any deck could have dealt with, much less my opponent's bad deck.
5-3, 13-8
And now comes the time where I have to ask Am I Getting Tricked Again? By this I mean tricked into thinking I am getting a Player Card and not getting one. Tricked by having my picture taken and having to fill out a form with my stats and info and whatnot and having whoever's in charge throw them away. I ask this because after round eight, the photographer grabbed me real quick and whisked me away to a side room to get my picture taken, presumably since I finished the round really quickly. I think the cards are stupid. However, if they are going to have them, and I am going to deserve one, then I want my damn card. All I can say is that whoever's in charge better hope they aren't tricking me again.****
Round 9 vs. Andrew Klein

It seems like each and every time I write about a tournament, there ends up being a round or two where I say something along the lines of "In long tourneys like this one, you tend to forget the details of a few rounds and this is just one of those rounds." While by now it may seem like a cunning ploy to get away with reports that are that much shorter, it is actually nothing of the sort. This round, as are all the previous rounds in which I've written something to this effect, are actually this way. This particular time, I played against Boros again and won 2-0. I have absolutely no clue what happened, but I do remember coming to a big realization: Boros just [censored – ethnic crackwhore slur]. I mean, the deck is flat unplayable. To stand a chance casting Lightning Helixes and Skynight Legionnaires you need to be the only Boros drafter at the table… to stand a chance! Even when you have an ideal Boros deck straight out of the movies, you need to curve out perfectly to beat any archetype. So, in conclusion, please, please draft Boros when you're sitting at my draft pod. I won't feel bad in the least when I bash you and you complain about some bad beat.*****
6-3, 15-8
At this point, I basically just went back to my regular arrogant, over-confident self. Did it matter that I had never drafted this format? Of course it didn't, this was me we are talking about, remember? Sure I only 2-'d, but I only lost to Masashi, was kind of able to trick him, and he had five rares! I didn't get openly excited yet. By this, I mean when Adam Chambers asked me every five minutes if I was excited****** I still answered no, but inside I kind of was. It turned out I was right – as far as the draft portion went. After that, though, everything just went downhill.
Tune in tomorrow to catch the most exciting portion my main event and, probably, the most bitter day of slinging spells in my ever-lengthening career. Until then, go hang out with a girl or something. It'd probably do you good.
-Gadiel
* Clearly, this does not include attacking with such things as Psychatogs, Akromas, or Decree of Justice tokens.
** The Player's Lounge isn't even that great, but taking it away isn't the way to fix it. Instead, they should limit it to level threes and above and have the person at the door know who those people are so they don't make you pull your badge out every time you want to go in there.
*** In Philly, I was missing a large part of my Gifts deck the morning of the tournament. I bit the bullet and just bought over 200$ worth of cards. It worked out and I will never not play a deck because I don't have the cards.
**** Footnoting there makes the reader think I might actually have a threat planned out. Yeah, I'm soooo clever!
***** This is not meant as some kind of bashing of my opponent in this round for drafting Boros. Don't get me wrong, he made a mistake when he picked the reds and whites, but it's a mistake that has been made and will be made by players much better than him and even me.
****** "Are you excited!!??" is pretty much his greeting to anyone he remotely knows.