As I write this, I have Top 8 results have nine different locations that held #SCGRegionals this weekend, giving 72 decks that made the Top 8. While I know it's not the best sample size, it's still a pretty good representation for the current Modern metagame, so let's take a look at the decks that made the Top 8 of those various #SCGRegionals and see what we can discover today.
| | |
| --- | --- |
| Archetype | Number of Top 8 Finishes |
| Jeskai Control | 7 |
| Affinity | 7 |
| | 6 |
| Burn | 4 |
| U/R Gifts Storm | 4 |
| U/W Control | 4 |
| Bant Company | 3 |
| Counters Company | 3 |
| Eldrazi Tron | 3 |
| Elves | 3 |
| Humans | 3 |
| Abzan | 2 |
| Infect | 2 |
| Jund | 2 |
| U/G Merfolk | 2 |
| Abzan Company | 1 |
| Bant Eldrazi | 1 |
| Death and Taxes | 1 |
| Four-Color Company | 1 |
| G/B Tron | 1 |
| G/R Ponza | 1 |
| G/R Tron | 1 |
| G/W Company | 1 |
| G/W Hexproof | 1 |
| Grixis Control | 1 |
| | 1 |
| Mono-Green Tron | 1 |
| Naya Company | 1 |
| R/G Vengevine | 1 |
| | 1 |
| Skred Red | 1 |
| W/B Eldrazi | 1 |
The first thing that jumped out to me when looking through the decks that made Top 8 was the sheer number of Collected Company decks. A whopping 18% of the 72 decks had four copies of Collected Company in the maindeck, which many of them having vastly different gameplans for the Dragons of Tarkir instant. Looks like it's not a bad time to be packing Grafdigger's Cage in your sideboard!
Let's start by taking a look at some of the Collected Company decks for innovations.
Creatures (28)
Lands (23)
Spells (9) Michael Preminger was the lone pilot of my favorite Modern deck, G/W Company, to Top 8 a Regional Championship. Everything looks to be in order for the most part, except one card that I love that I hadn't even thought about for the deck: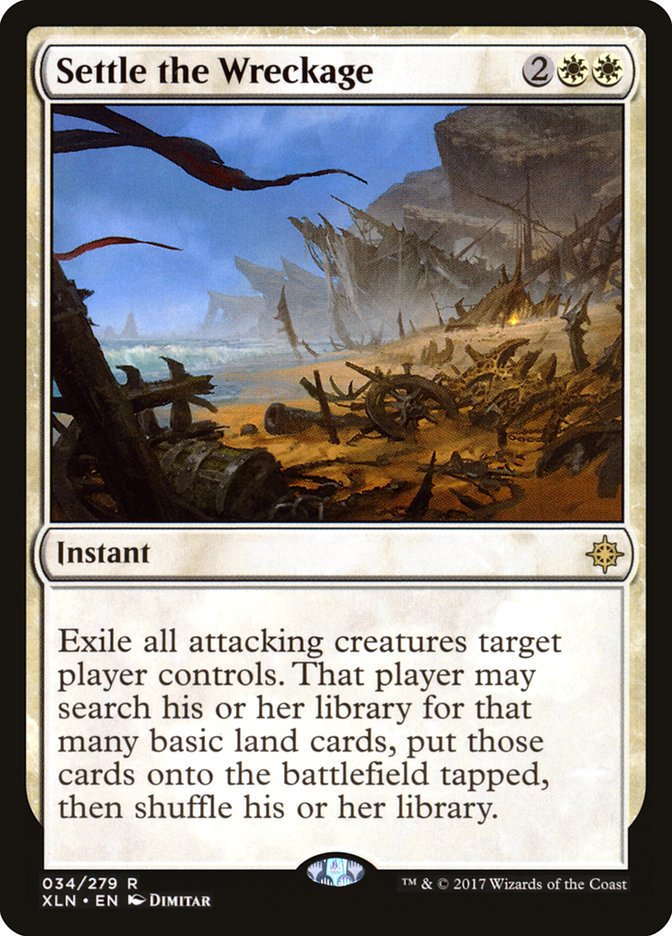 At its heart, G/W Company is a control deck that uses creatures with built-in card advantage to wear down its opponent. One of the weaknesses to that lies with aggressive decks that can end the game in a hurry, whether by using Death's Shadow, Signal Pest, or Champion of the Parish. Settle the Wreckage is a perfect instant against these aggressive decks, and one I'm sure Michael's opponents didn't see coming. It's also incredible against G/W Company's worst matchup, Elves. I'm excited to try out Settle the Wreckage for myself!
I've long said that G/W Company would most likely be a better deck if it had a third color in it as well, as the options for the deck increase drastically with a third color. I've been stubborn to a fault with adding a third color, though, and prefer to play my simple two-color deck. Thankfully we saw some innovation at #SCGRegionals from other pilots who added in red, blue, and/or black to the mix.
Creatures (33)
Lands (23)
Spells (9) Billy Savarin has just the slightest of red splashes in order to support Kessig Wolf Run in his G/W Company deck. It's a card I would love to have access to at some points, yet I didn't want to make the concessions to fit it in. Archangel Avacyn is a nice card to have to either save your creatures from a Wrath effect or let you play on your opponent's turn, and five mana isn't unreasonable with this deck. I was wondering how they fit in the deck with all the other creatures still; then I realized it was 65 cards. If the list is correct, then Billy has more guts than I do.
Creatures (29)
Lands (23)
Spells (8) Riley Curran not only has the red splash for Kessig Wolf Run, he also added in blue to give the deck much-needed counterspells against the unfair decks of the format. Unfortunately, Supreme Verdict can't be countered, because that was a necessary clause for the card or something, but there are still plenty of good targets from some of the toughest matchups the deck faces. Riley also went heavier on the two-drop slot, including Jace, Vryn's Prodigy to the maindeck, which similarly saw play in Standard Bant Company decks that also only had a removal spell (Dromoka's Command) and Collected Company to Flashback as well.
Matthew Tickal won the Minneapolis Regional Championship by taking the deck and adding in the Devoted Druid / Vizier of Remedies combo to be able to add an arbitrarily large amount of mana, as seen in traditional Counters Company decks. Those decks have struggled against opponents that have access to plenty of removal, so combining it with the Courser of Kruphix shell gave Matthew much-needed card advantage in those matchups.
I like how Walking Ballista isn't in the deck. It's the normal win condition that most people have with Counters Company, but I've never been sold that it's necessary. Instead of using Duskwatch Recruiter to find it, Matthew chose to put tons of creatures on the battlefield, gain an arbitrarily large amount of life with Kitchen Finks and Viscera Seer while setting up his next draw step, and then win through combat the following turn.
You can find Azusa, Lost but Seeking to play extra lands to always be able to cast Viscera Seer, or cast Tireless Tracker first and get Clues to be able to draw and cast Abrupt Decay if needed. It's not as flashy, but it's just as effective in almost every game and you don't need to put Walking Ballista in your deck, which makes your bad matchups better. I've played one League so far with this deck and I noticed that everyone sideboarded in tools to fight the Devoted Druid combo, which made them slower and allowed me to use the regular value package to take over the game.
Moving away from Collected Company decks, we see that Jeskai Control and Affinity were tied for the top spot with seven decks each, with Grixis Death's Shadow right behind them at six copies. The metagame has evolved into tons of decks that play small creatures, which has allowed Jeskai Control to rise up and be one of the best ways to combat that.
A good friend of mine that I used to play at the local game store every week, Guo Quan (or John) Lim, wanted nothing more than to say "go" to his opponents all day. Every card in the maindeck can be cast on his opponent's turn, including Archangel Avacyn, which is the perfect threat to cast when your opponent is trying to play around Cryptic Command. It looks like he really wanted to beat Eldrazi Tron, known as one of the worst matchups for Jeskai Control, with the addition of Abrade in the maindeck to destroy a Chalice of the Void, as well as three copies of Dusk in the sideboard. Dusk does a fantastic job of clearing Eldrazi or other large creatures out of the way while keeping Spell Queller and Geist of Saint Traft safely alive.
Travis Perlee added in a splash of black to his Jeskai deck and was rewarded with a second-place finish at the Philadelphia #SCGRegionals, and as long as the mana works, then I like a lot of the card choices here. Kolaghan's Command into Cryptic Command isn't the easiest curve, but no one said Magic was an easy game!
I've been playing plenty of Search for Azcanta in different Sultai decksrecently, and I have to say I've been thoroughly impressed with the card, especially the Rampant Growth effect it has. I also like the planeswalker suite in the maindeck, as Gideon Jura and Nahiri, the Harbinger are both incredibly hard to beat and underplayed in general, but I'm less confident about the sideboard Ajani Vengeants. I also have a hard time believing that playing Mystical Teachings is better than simply another Cryptic Command, as paying four mana for a tutor can be difficult to pull off in Modern. It's hard to imagine a game where Mystical Teachings was the reason why the deck won, and on the other hand it's easy to imagine games that were lost while there wasn't time to take off to cast Mystical Teachings.
As far as Affinity goes, all the decklists look the same to me. I have seen an uptick in both Hope of Ghirapur and Thoughtcast when playing against Affinity online, but as for what that means, I'll leave up to the Affinity players out there. This is one of the very few decks in Modern I've never played and don't really plan on playing, as it's a deck from before my time that I've never been interested in. I'll just keep playing Stony Silence and hope I draw them.
As far as Grixis Death's Shadow is concerned, I really like the look of Korey McDuffie's first-place list from the Atlanta #SCGRegionals. The maindeck looks incredibly consistent with access to ten cantrips, including two copies of a new card:
I like how Opt complements Thought Scour as another card that can be cast at your opponent's end step with the mana you were holding up for Stubborn Denial, or with Flashback from a Snapcaster Mage. Korey isn't fooling around with any planeswalkers in the maindeck; he only wants to find as many big threats as possible and end the game quickly, but has the ability to bring them in post-sideboard. I even like the copy of By Force in the sideboard to help the Affinity matchup, which is known as one of the tougher ones for Grixis Death's Shadow. If I played a tournament tomorrow with Grixis Death's Shadow, this would be the 75 I would register.
U/R Gifts Storm looked to be taking over Modern just a couple of weeks ago until Humans emerged as a huge thorn in the side of Storm pilots everywhere. At the time I thought U/R Gifts Storm would have to adapt to not be cold to a Game 1 Meddling Mage naming Grapeshot, but now I'm not so sure, as Jake Alexander won the Philadelphia #SCGRegionals despite not being able to beat a Meddling Mage in the maindeck. The reason why I'm not so sure anymore is because it's still such a bad matchup for U/R Gifts Storm, maybe the better approach is to try to dodge the matchup entirely instead of sacrificing the power and consistent of your gameplan. Humans is still taking time to catch on, especially in the paper metagame.
Of course, that won't stop Collins Mullen from winning tournaments with the deck. Humans is the Zoo deck of the future, as it has an explosive start but is also filled with disruption. The hardest part of piloting this deck is being able to know when to mulligan if your opening hand is too slow; since your deck is built on speed and not card advantage, you need to have a fast clock. Although there are still non-believers in the archetype, I expect Humans to be a part of the Modern metagame for a long time, as every new set made has the potential to add to this archetype.
Joe Ambrosio entered his Regional Championship with a solid plan, which was to play a Jund deck that was built to beat the other midrange decks. We've seen Goblin Rabblemaster as the newest addition to most Jund decks, but Joe went even bigger with multiple four-drops as well.
We've seen how dominating Hazoret the Fervent is in Standard, and I think it's a good enough card to see Modern play as well, even with Path to Exile being in the format. It's the perfect threat to pair with Liliana of the Veil, which can help strip resources from both you and your opponent, letting Hazoret finish the game with ease. Hazoret the Fervent could even be the card Jund Death's Shadow was looking for to beat Grixis Death's Shadow, as it's a much better Traverse the Ulvenwald target in that matchup than splashing for Ranger of Eos.
G/R Land Destruction is a deck that keeps on putting up results despite being played in very small numbers while not being taken seriously by most players. There's hardly an easier way to win games than a Turn 2 Blood Moon, and playing four Tireless Trackers gives the deck plenty of card advantage to outlast midrange decks. I like how clean George Baboussis's decklist looks, as it doesn't have a lot of the fluff that you see from other G/R Land Destruction decklists.
At #SCGNY, Julian Grace Martin debuted R/G Vengevine, which was a deck no one was prepared for at the time. Turns out people still aren't ready for it, as James Townsend took virtually the same maindeck all the way to a Top 8 finish this past weekend. I can't say I'm not surprised people aren't ready for it, as I've actually never played against this deck, even with the amount of Magic Online I play, and I remember from Standard how hard it is to play against Become Immense and Temur Battle Rage. So even though I don't have any experience with this deck as I just mentioned, I'm quite interested to see where it goes from here and if it will start to pick up in popularity, as it was a fan favorite when debuted.
The last deck I wanted to touch on today is one that has a soft spot in my heart, Bant Eldrazi. It hasn't been a good year for the deck, as Eldrazi Tron has taken over as the Eldrazi deck of choice recently, but with the rise of Humans into the metagame, it's possible Bant Eldrazi is the way to go again.
The biggest strength to Bant Eldrazi is its ability to control the combat step. The more people are attacking and blocking to win matches, the better Bant Eldrazi is. I really like the three copies of Engineered Explosives in Matt's maindeck to help fight the plethora of creature decks. I'm not sold on the three copies of Leyline of Sanctity in the sideboard, but besides that, I like the look of the list.
With 32 different archetypes in the 72 slots of #SCGRegionals Top 8s seen so far this past weekend, the diversity of the Modern metagame is a strong as ever, something I've been saying for almost the entire year. It's truly fascinating to me how self-correcting the format is, and when one deck gets too popular, there are other decks that pop up to fight it. Each weekend there are new innovations among the archetypes, and the best way to continue to stay ahead of the game is to keep adapting your deck week after week.