Over 2016 I played in eighteen Professional-level events: four Pro Tours and fourteen Grand Prix. Even in my eighth year on the Pro Tour, there is still always something to learn about the game. At the least, every event is unique for the various reasons, and I'm the maniac who remembers almost every round I play across them.
Grand Prix Oakland (Standard)
The Story: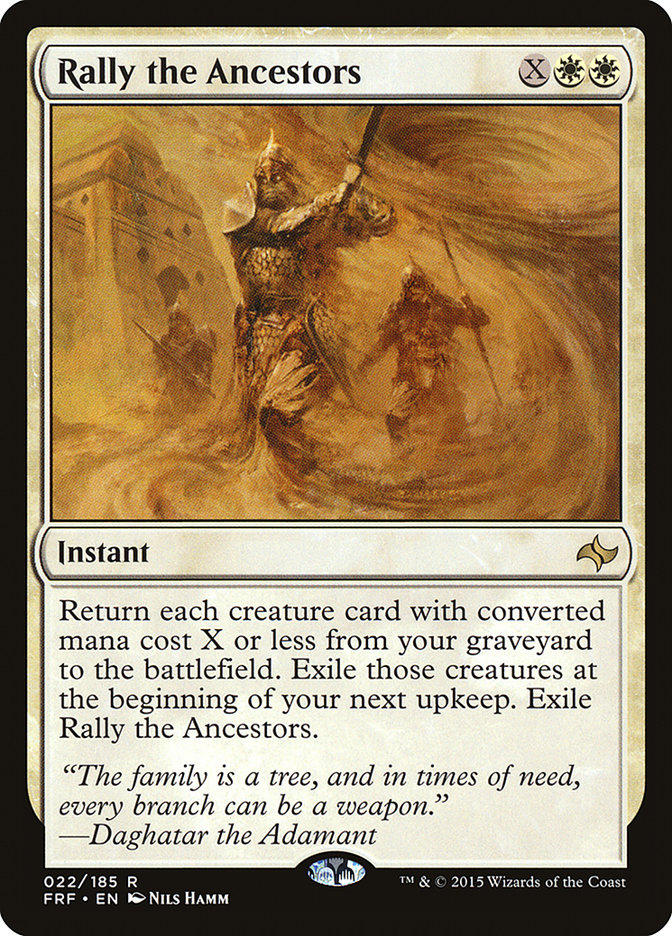 I played Rally the Ancestors to a lost win-and-in for Top 8, beating all of my opponents not playing Atarka Red.
The Anecdotes: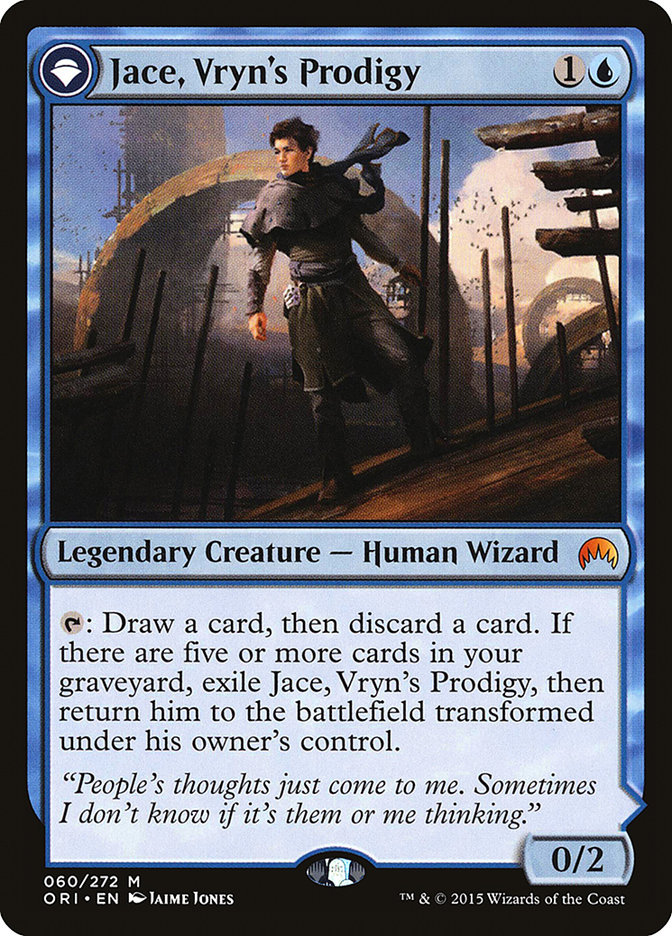 I won a game at this event via Rally the Ancestors without Nantuko Husk while my opponent was at fifteen life. Jace, Vryn's Prodigy is a legendary creature and Catacomb Sifter plus Sidisi's Faithful added the last couple of drains.
I got in my one double face card game win for the year before Shadows over Innistrad was even printed. White sleeves are real loose.
Jake Mondello had to take a cab back to San Francisco because they found a foot on the BART. The owner had lost it earlier in the week and did not want it back.
The Takeaway:
People are really bad at understanding how difficult a deck is or isn't to play. Rally looked daunting due to the sheer number of events that happened at once, and Magic Online certainly reinforced that, but the strategy behind what was going on was really simple. I avoided it at first due to this and that was just wrong/bad. Actually try stuff; don't get scared off.
Pro Tour Oath of the Gatewatch
The Story:
Based on a ton of Magic Online data showing insane win percentages, I played Abzan Company to a great Constructed result. My Limited didn't hold up and I ended up outside the money on tiebreakers.
The Anecdotes:
If a Goryo's Vengeance player keeps a seven-card hand and you aren't a super-interactive deck, your life is going to suck.
I switched teams for this Pro Tour to Team UltraPro. One of the things I joked about was no longer having to go to The Cheesecake Factory, a place I'm pretty low on but Brad Nelson and Chris Fennell love. The Atlanta Pro Tour site is way out in the middle of nowhere by a mall with few options for food…. bar The Cheesecake Factory.
The Takeaway:
For Limited, this event really finalized the procedural turnaround I wanted. Half of this was the UltraPro ideology of really defining the divides in card power level to make comparison of cards in different colors easy. The second was derived from my losses at the Pro Tour. Instead of just defining card quality, I needed to focus on archetype goals: how do you get into each color pair, what are the goals for your deck if you have to be in them, and so on. Maybe it wouldn't have saved me because W/U was so bad in Oath of the Gatewatch Draft, but I would have been able map out what my deck should have been instead of the pile it was.
For Constructed, I think this was a case of me not being the best teammate. I should have pushed harder to get more people testing Abzan Company, but I emphasized the Magic Online issue with the deck. My comments should have been more "Fully scrying your deck isn't reasonable in time, but you can do most of the things" than "You can't do some of the combos; are you fast at clicking?". Different connotations, different results for everyone but me.
Grand Prix Detroit (Modern)
The Story:
I went 12-3 with W/U Eldrazi, going 1-2 in the mirror and 8-1 against everything else. The loss was to Abzan Company.
The Anecdotes:
Grand Prix "Sleep at my parent's house and eat their food" is really a great thing.
Don't accidentally book a hotel in Canada for events in Detroit. It looks like it's an Uber ride away, but generally Ubers don't like crossing international borders en route.
The Takeaway:
Eldrazi was messed up, and I think it will be forgotten quicker than similarly messed-up formats because it's just creatures and so many people just stopped playing events because of it knowing it would be gone.
Bant Eldrazi is still really really good in Modern. Don't dismiss it, because "just creatures" are still a powerful thing to do.
Grand Prix DC (Team Sealed)
The Story:
Teaming with Trent Jones and Stu Somers from Pittsburgh, we opened a mediocre Sealed pool and lost very quickly. Me being kinda sick didn't help much either.
The Anecdotes:
Getting fuzzy-headed mid-event is just the actual worst. Doing it when you let down two other people is the actual double worst.
The Takeaway:
I got nothing. Sometimes stuff doesn't work, and I'm pretty sure that even if I was 100% this would have been a failure.
For those who didn't play this event or Grand Prix Atlanta, the StarCityGames.com pre-registered pool system is great. It's super great for Team Grand Prix because dealing with the giant base card list is a huge hassle that it eliminates.
Grand Prix Barcelona (Sealed)
The Story:
I opened a mediocre pool and lost playing for Day 2 to Simon Gortzen.
The Anecdotes:
Two players were playing a round in Day 2. One player attacked with a Spirit equipped with True-Faith Censer and was told by the opponent the card only grants vigilance to Humans. English wasn't their primary language, they believed them, and continued holding back the flier to block. They lost, and were asked why they didn't freely attack with the creature. They yelled at their opponent, calling them a horrific cheater and saying they didn't deserve the finish the win granted them.
Both of these players are people who have been or are banned from the DCI for cheating, with the more notorious one being the one yelling. I still have no idea if this is horrible or hilarious.
The Takeaway:
Shadows over Innistrad was a horrible Sealed format. The number of blank synergistic cards meshed with the potential for huge numbers of rares with double face cards lead to tons of unplayable Sealed pools and a few that were just comically absurd. Kaladesh has a similar profile but more open-ended linears, making things like Panharmonicon viable in Sealed where Shadows over Innistrad left stranded unplayables.
Pro Tour Shadows over Innistrad
The Story:
I cashed this tournament after a great 5-1 Limited performance despite my mediocre 5-5 Constructed finish with G/B Company.
The Anecdotes:
I won a match against Reid Duke because he didn't Languish two 1/1s in two consecutive games. The first was Elvish Visionary and Zulaport Cutthroat, and he died to double Collected Company finding Nantuko Husk and more Zulaport Cutthroats. The second involved hitting so many Zulaport Cutthroats that his Languish was now self-lethal and really his only line.
In my second draft I opened an Always Watching in a bad pack while drafting G/B self-mill. I almost hate-drafted it but opted to take some mediocre card and accept losing to it. I played the player I passed it to Round 1 and beat their U/B deck. They also passed a Descend Upon the Sinful that pack… to the player I played the next round. I beat their also G/R Werewolf deck and headed to the finals of the pod to face…. a B/R aggro deck. That had kindly beaten a mana-screwed W/U player Round 1 of the draft.
I had Epitaph Golem in my second draft. In Game 3 of my draft finals I was excited to finally establish the loop and drew the last unknown card in my library. It was a Mindwrack Demon, which I realized was just going to win the game without needing any recycled cards. I just wanted to do cool things, and instead I had to win.
The Takeaway:
While I knew the mechanics with the G/B Company deck, I didn't know my tactics. I definitely overexposed Zulaport Cutthroat. I played the deck without a real breakdown of matchup tactics and it showed. I had stopped putting the effort I was putting in for Limited, and the pendulum had swung in the wrong direction.
Another one: a sick opponent started the match by pulling out a used handkerchief, blowing their nose, and offering a handshake. Their excuse was "I've been sicker at an event and if it was contagious my team would be sick."
I'm not faulting someone who traveled super-far to an event playing while feeling a little under the weather. Just do the right thing. Don't shake hands, wash your hands, tell opponents, offer them hand sanitizer, etc. People coming home with con-crud shouldn't be promoted.
Grand Prix New York (Standard)
The Story:
I played a Cryptolith Rite deck, but missed Day Two after losing to a bunch of Kalitas decks.
The Anecdotes:
We almost were prevented from leaving the parking lot of the New Jersey strip mall where the event was held because the people in car in front of us had dead stopped and decided to take it outside…. of the car they were both in.
The Takeaway:
I made a weird mistake Round 1 of this event: not calling a judge enough. I had an opponent make a beneficial GRV involving planeswalker loyalty and corrected it, only for them to make multiple more beneficial GRVs in the next few turns that I did involve the judge on.
I don't know if they were trying to cheat. They probably weren't, and the majority if not vast majority of beneficial GRVs are accidents. But on a fundamental level, involving the judge when that kind of thing happens is what the system counts on to catch the people trying to be dishonest. If you can't establish a pattern, a lot of the small cheats just fly under the radar. My old policy used to be that the odds of accumulated warnings leading to a win weren't worth wasting the time, but thinking more about it here led me to realize not recording these things is doing the game a disservice.
Again, cheating is super-infrequent, but a smattering of non-event-changing warnings is a small price to pay for having a basic defense system for when someone decides to go down that road.
Grand Prix Columbus (Legacy)
The Story:
I made Day 2 with Death and Taxes but was quickly eliminated from contention by combo and well-built midrange.
The Anecdotes:
The first round of Day 2, I lost to Belcher. Funny, considering I almost played Belcher at that event. I went to grab food only to find the Columbus North Market opened at approximately when the round ended, leaving me to sadly meander around with no breakfast and no win. I chose the wrong round to get crushed. I should play better next time.
The Takeaway:
I didn't play particularly poorly at this event, but I was not metagamed super-well. Honestly, I don't think I could be. I just don't have the same weekly interaction with Legacy I did back when I felt I was good at the format. Keeping up with Legacy, Standard, Modern, and Draft is just too much, and if I'm going to drop one, it's easy for it to be the least-supported one. I'll show up to Legacy events it if is easy, but if I have to make any effort, staying home and testing for the next week is going to win out.
Grand Prix Pittsburgh (Standard)
The Story:
I lost playing for a borderline-irrelevant Pro Point and no cash with Bant Humans.
The Anecdotes:
I showed up to this event with four Thalia's Lieutenant and no dice. This is so pathetic I received free dice from an opponent who felt bad for me.
The Takeaway:
While I felt fine in midrange mirrors at this event, I struggled against control and aggro. I didn't have a good plan, and it was partly because the cards I sideboarded in were "good" but low-impact.
Don't try to beat a more linear deck with low-impact upgrades. It never works.
The Story:
I received my first unintentional draw at a Professional-level event. I missed my first Day 2 at a Pro Tour since Dark Ascension after going 0-3-1 with Temur Emerge. Didn't matter, still hit Gold.
The Anecdotes:
No one caught a Kangaskhan in Pokemon Go in Australia. This was good beats value for a while back in America.
The Takeaway:
Even if you think you have a good rapport with your opponent about the pace of play, you need to be proactive about making things proceed. I had played against David Ochoa before and we both were pretty open about the issue, but I held back on really pushing as a result and drew when a couple of extra turns would have been a win.
Making things hard to win with sucks. We should have had an easy-mode Emrakul, the Promised End, but we didn't and it was bad.
Grand Prix Indianapolis (Modern)
The Story:
While I made Day 2, the wheels fell off and I lost a few too many matches with G/R Valakut to get any Pro Points.
The Anecdotes:
I tapped fifteen lands to cast Emrakul, the Aeons Torn through a Magus of the Moon. My opponent was not amused.
The Takeaway:
This was the event where I gave up on actively metagaming for Modern. There's too much random nonsense going on; comfort with your deck, mulligans, sequencing, and sideboarding are just too key. There are maybe five decks I would say have the raw power to audible to, and half of them are a bit too intricate to switch. If you are throwing away your top choice, play B/G or Eldrazi or a pet deck. Don't try to get ahead of the metagame or Infect on zero practice.
Grand Prix Louisville (Team Limited)
The Story:
Ben Friedman won a million matches. I won some. Calcano got stuck with a bad deck and lost infinite. It didn't line up perfectly, so we ended up with a mediocre finish.
The Anecdotes:
Ben Friedman made us wear cowboy hats. None of them really fit me, which is probably a joke by itself, but you look less stupid if you don't care about looking stupid and if your friends look just as dumb.
The Takeaway:
I'm pretty sure my entire Team Sealed practice approach was flawed. While I was correctly able to identify what the general themes of Eldritch Moon Team Sealed were, I ignored the specifics about what archetypes missed the boat. As a result I didn't know G/W was terrible and we gave Christian an unplayable deck Day 1 when we had more than enough to make a fine U/W deck using my U/R deck's sideboard.
Grand Prix Atlanta (Sealed)
The Story:
I opened three Renegade Freighter in my Sealed deck but only finished 7-2 after punting against Chris Pikula. After a first-round loss in draft, I got creative and tried out some wacky stuff in Limited before the Pro Tour.
The Anecdotes:
My draft decks were G/W Inspired Charge triple Panharmonicon and U/G Electrostatic Pummeler combo. I got all of the buck-wild out of the way before the Pro Tour.
The Takeaway:
Caffeine sucks. I'm off it. Falling asleep in the middle of Round 9 is horrible.
The Story:
Similar to Pro Tour Shadows over Innistrad, a poor Constructed performance tempered a great Limited one. Sadly, this time Aetherworks Marvel let me down with a 3-7 and no prize.
The Anecdotes:
I maindecked a Revolutionary Rebuff in my first draft but only drew it when my opponent was too manascrewed to play a spell into it. I was so excited to get them and instead had to settle for an easier 3-0.
The Takeaway:
Sometimes you swing and you miss.
I don't think the Aetherworks Marvel decks were fundamentally bad for this event. They just saturated the room and became the deck to beat.
Grand Prix Providence (Standard)
The Story:
After a 9-0 start with Mardu Vehicles, the wheels fell off and I went 1-5 on Day 2.
The Anecdotes:
See below.
The Takeaway:
I kept four one-landers over the course of this event. The last one was the one that finally failed. I think that in the dark I'm very good at evaluating land-light hands for keeps and that people in general snap mull too much, but I can tend towards the looser side for irrational reasons. I think the last hand I kept was definitely the worst one and also still borderline okay, but the mulligan really should have been considered more than I did.
The Story:
I played my "fun deck" Restore Balance to a 10-5 finish.
The Anecdotes:
Pascal Maynard and I played the worst match of Magic I've ever played. There was a game loss for a misregistered deck…. one round into the event…… with a card I drew the previous round and didn't realize shouldn't be there. There was a warning because I put my Emrakul, the Aeons Torn into my graveyard instead of my hand after Nahiri, the Harbingering for it… a turn after the reshuffle….. when I had Nahiri still on the battlefield, so being down the card was a strict negative. Pascal played a fifth land and an Eldrazi Displacer into a Nahiri on ten counters….. because he thought Emrakul had annihilator five.
There was a Cavern of Souls on Badger. I would rather forget it all happened.
The Takeaway:
I actually think Restore Balance is a great deck, but it needs a lot of tuning. The problem is that you just have too many options because you can't play the obvious best cards. Maybe you want three Anger of the Gods, or a Maelstrom Pulse, or I have no idea because all the three-cost interaction is so diverse and similar in power level. I just know I'm going to put in a lot of hours to figure it out.
The Story:
Despite almost skipping the event due to illness, I ended up 12-3 with Jeskai Control.
The Anecdotes:
I consumed Gatorade, Cheetos, and pretzels for 60 hours straight. There are no anecdotes. Food poisoning and the aftermath are not fun.
The Takeaway:
One, Jeskai is great. Two, again this is a case where the deck was fundamentally a lot easier than people would assume. Well-built, well-positioned control is a cakewalk; it's the awkwardly built or positioned one that is hard. Lesson in the form of a question I've asked many times: "Is the deck hard to play, or is it just hard to win with it?"
Grand Prix Milwaukee (Limited)
The Story:
I lost in Top 8 but still love Kaladesh draft.
The Anecdotes:
True to form, I won three games due to the Magic Tournament Rules this event: one "beginning of combat" shortcut, one missed trigger, and one hidden card violation with Self-Assembler. Magic is really easy when you get spotted free games.
The Takeaway:
I'm back on track. I definitely ran well this weekend, but I didn't put myself into spots where things could go horribly. I knew the Limited formats and to some extent it showed, with me going undefeated in the Swiss with literally polar-opposite decks. If I can keep this style of format knowledge up, it's a great start for every event in the near future.
The Year
It was a bit of a rough year for Magic for a number of reasons, but I think I came out ahead in the end. I finally rooted out an issue I had struggled with for years (Pro Tour Limited), found my way back to a team that works for me with great people, and capped it off with good finishes on a relatively fresh season. There are all sorts of new challenges coming up, including navigating the new Pro Tour Team Series, but for now I'm playing and learning Magic the best I can.