Yesterday, Wizards of the Coast made an

organized play announcement

that I've been patiently waiting for and it came with the caveat that there
would be more announcements forthcoming. Overall, I think it's a good but
not great announcement and today, I'll go through each one individually and
share my thoughts.
Pro Club Lifestyle Improvements

We've heard a lot of feedback over the past year about the uncertainty
caused by Pro Club status lasting just one cycle (three months). Like
the Grand Prix attendance caps of recent years, we're looking to help
alleviate some of these difficult lifestyle choices players have to
make, so we're increasing the duration of member benefits from three
months to six months.


This change starts with statuses gained by the end of the 2017-18
season. So, if a player achieves Platinum by the end of this season (in
September), that status will last for the next six months into March
2019. This is a small improvement we believe will immediately help
players, and we'll be looking at potential longer-term changes to the
Pro Club system in the future. Until then, we wanted to make sure to do
what we could to alleviate some of the issues pros have been having
with the cycle system.

When I watched the organized play announcement live on Twitch and saw the
first announcement included an alteration to the pro points cycle system,
my jaw dropped to the floor immediately. The cycle system is abhorrent, and
I would like to see it abolished as quickly as possible. It's caused
consternation in the pro player community for as long as it's existed, and
we haven't been shy about it because we hate it. I also hate how Wizards of
the Coast has made no effort to make the information easily digestible and
the onus is on the players to track their own points. Evidence of this
difficultly is that the best way to track your points is through a

fan-made spreadsheet

by Sveinung Bjornerud (@Sene1 on Twitter).
By the way, Sveinung Bjornerud is an animal. He enters 100% of Magic
results manually and he maintains this spreadsheet out of the goodness of
his heart, and I greatly appreciate his efforts. Using myself as an
example, look at this hideous eyesore (of which there is no alternative)
that we're expected to learn the ins and outs of this spreadsheet to help
plan travel and accumulate points.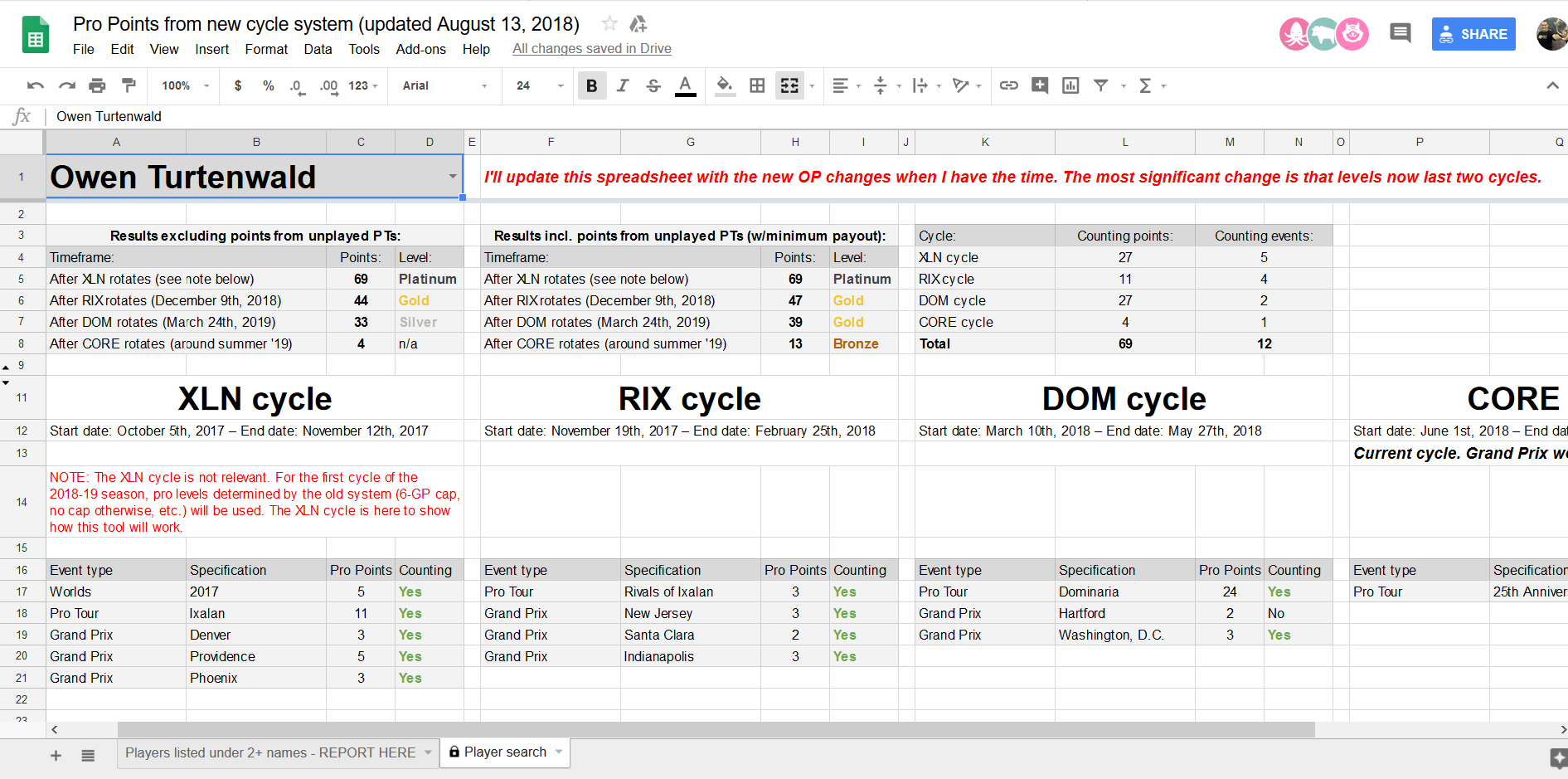 Can you think of a better way to rip the fun out of playing in Magic
tournaments than to make people study this document so they don't fall of
the gravy train by misremembering exact dates of points earned? I certainly
can't.
Now to the positive aspects of this aspect of the announcement, which
should be clear at first glance: they're giving the pro players more money.
They're outright stating that they do hear us, they're aware of our
thoughts and feelings on the issue and to help extend the olive branch,
they're showing us that because the cycle system sucks so much, they'll be
granting us additional time on the Pro Tour based on the status we earned
over the past twelve months. We wanted more money and although this isn't
long-term prize added but instead a temporary band aid solution, I still
like it.
I've seen a lot of talk on social media lately about professional Magic
being too hard and the reward for our efforts is too little. Personally, I
love the fact that I'm a full-time professional Magic player and I do not
feel as if I'm underpaid. I'm proud to say I love my job and I hope I can
do it for the rest of my life.
Team Series Rules
You can find updated Team Series rules

posted here

. There are two items in particular we want to highlight.

The Top 8 teams after the third Pro Tour in the 2018-19 season (the
second Pro Tour of calendar year 2019) will receive invites and airfare
to the fourth Pro Tour of the season. This is not actually a change in
rules, but we wanted to call it out because the Top 16 were invited
this past season due to the special nature of Pro Tour 25th
Anniversary.


Finally, the Top 8 teams after the final Pro Tour in the 2018-19 season
will receive invites and airfare to the first Pro Tour of the 2019-20
season.

This was billed as two different announcements, but it's just one, and the
way it reads to me is a huge sign of dedication to the Team Series. Maybe
I'm biased, since

Ultimate Guard Pro Team

crushed all year and made it as

one of the top 2 teams at the end of the season

, which are invited to compete in a special team finals event at the World
Championship to see who will be crowned Team Series champions.
I feel like the Team Series was a huge hit, and on Pro Tour Sunday even
Team CFB seemed to care more about making the Top 2 teams rather than win
the entire PT. I don't think anyone fully appreciated how much they would
care about it until the time came, but it was huge and I personally can't
wait to play. Good luck to Hareruya Latin because me and the rest of
Ultimate Guard Pro Team are bringing our A-game.
As a member of the Hall of Fame, I receive invitation to every Pro Tour for
the rest of my life so announcements like this do not affect me in anyway
whatsoever. In fact, this is a change that puts money into the hands of new
players, but I still like it. I was a grinder once and staying on the Pro
Tour can be tough with the amount of randomness there is in tournaments,
but when you get knocked down you must get up again, and I always looked at
adversity as an opportunity to show my dedication once more. I wouldn't
want to say Magic is too hard or that being a pro player sucks. Instead, I
would try my best and when something like this announcement happens, I
would be thankful.
For the record, all the extra invitations to the Pro Tour that are
accompanied by airfare will actually end up giving more money to pro
players. When I won Grand Prix DC in 2013 first prize was $3,500, and when
I won Grand Prix Houston in 2016 first prize was $10,000. When I got second
at Worlds in 2015 first place was $50,000, and when William Jensen won
Worlds in 2017, first prize was $100,000. The prize pool for a normal Pro
Tour is $250,000 and for Pro Tour 25th Anniversary the prize pool was
$850,000.
The prizes are going up. They are paying the pros.
First Pro Tour of 2019

We'll be rolling out the full schedule for Pro Tours in 2019 in
September. In the meantime, we can say that the Pro Tour will be taking
its talents to Cleveland, Ohio, United States, February 22-24. So, mark
your calendars!


The format will be determined at a later date after consultation with
our new Pro Player Advisers.

The real kicker on this part of the announcement is that they're
intentionally not announcing a format of the Pro Tour. They expressed
displeasure with committing to a format too early which hinders excitement
and overall hype and hurts their ability to be flexible. Allowing
themselves more time to make a better-informed decision seems clearly
great, and I'm surprised it took this long to adapt. Kudos!
As for the full PT being announced in September, I dislike an announcement
to make an announcement, but hey, I'm not the target audience since I
barely plan my own travel more than a couple weeks in advance. This barely
registered as news to me at all and when it came up I was seen yelling
"Boring!" at my TV.
Pro Player Ambassadors

We are currently in the process of reviewing pro player candidates to
work with Wizards of the Coast as consultants and help us shape the
future of the Pro Tour and Magic pro gaming. These players will be
direct conduits to the pro community, but will work with us at Wizards
of the Coast to provide a consistent, open feedback loop to make our
competitive gaming experience awesome at all levels. We will be
selecting up to three players to come work on the Pro Tour and the Pro
Club structures with us. This will not affect those players'
eligibility for the Pro Tour.


This is part of the reason we are staggering our announcements about
the 2018-19 season. Aspects of that season will be discussed with these
players, and we want to provide space for those players to give some
level of input before we announce final plans. While the bulk of their
work will be looking beyond that season, we want to get those players
inside the door before we make any final announcements.

The takeaway here is they do care about what the pro players think, and
they now realize we're in a unique position to give the best possible
feedback. Almost every time Wizards of the Coast announces a change that's
negative or easily worked around, it takes the Pro Players a very short
amount of time to poke holes in these plans. The professional players I've
met in my travels and ten-year long career on the PT are the smartest
people I've ever met and continue to be my pack 1 pick 1 of quality human
beings, so I see no reason why they wouldn't use professionals as a
resource. I personally intend to apply for this position and believe I
would be of great help, but there are a ton of qualified candidates who I
know would perform beautifully at this job.
I hyped up the announcement to others and myself, and it ended with more of
a fizzle than a bang. Anyone dancing on the line between qualification and
not got a serious boost as a result of the Team Series, and I think anyone
in the middle of the pack better gather their allies and submit a roster. I
like wearing the same shirt as my friends, and I like rooting extra hard
for others because it does benefit me to see them do well. I'm proud to
represent Ultimate Guard.
There was a period of time where we were finalizing our sponsorship deal,
but it was not yet public and during that time I went to Nationals and a
few GPs. Each time my opponent would sit down and pull out an Ultimate
Guard Xenoskin deckbox I would ask them what they thought of it and each
time they would light up, smile, and explain to me exactly how much they
loved that deck box. People all over the world use this product and many
swear by it. I think the Team Series is an effective way to promote the
social aspect of Magic at the highest level while also allowing for a
perfect situation for branding for the players.
Closing Thoughts
I forget where I heard it, but I recall that Magic has doubled in size
recently and may double in size again, and I firmly believe that. I decided
to go pro in 2011 after I won Player of the Year, and I started the year
with a small amount of money in my bank account. After a record-breaking
season with seven GP top 8s, a Nationals top 8, twelfth place at Pro Tour
Paris, and 33rd place at Worlds, I had the exact same amount of money I
started with.
Each year that's passed that I've continued to be a pro, I've been at the
highest level of the Pro Players Club every single year, and I show no
signs of stopping. Each year I find new ways to improve as a competitor, a
human, and a self-employed Magic player. Magic is the best game in the
world, I love being a pro, and announcements like these show that it just
keeps getting better and better.