Everyone has Mike Noble to thank for my tournament win. Two years ago I had no idea what Vintage was or knew anyone who played it, except my good friend Mike Noble. I am Mark Hornung, a random guy who likes flipping decks over and making 2/2s. My favorite card of all time is Psychatog, so I want to play this guy somewhere in my 75 every chance I get. I obviously ran him in Dredge when it was an Extended deck, and that led me to play Dredge in Vintage… minus Tog of course.
I really wasn't sure what I wanted to play for Vintage Champs. I usually run Dredge decks and have been since I started playing Vintage two years ago. However, after a string of really bad finishes and life tilting, I felt that my Bazaar of Baghdad would stay home for a while. I really wanted to try and play a deck with Stoneforge Mystic in the months leading up to the tournament. I was at a point where I had not touched my Bazaar of Baghdad for months, and my new love affair was with Stoneforge Mystic. I Top 8ed at the one of the local Bloomsburg Vintage tournaments with a list very similar to the one Patrick Chapin had suggested except I decided to add a Bloodghast–Intuition package to complement the Skullclamp.
Creatures (13)
Lands (19)
Spells (28) After the tournament I felt I wanted to play something that was bluer in nature so I would have access to counterspells. I still wanted to keep the Stoneforge package and to just build around that core. In testing, I started using Azorius Guildmage. I found out that the Guildmage was surprisingly effective; both of the abilities are extremely relevant to Vintage. The tap effect can lock down Blightteel Colossi and the capacity to counter abilities allows you to counter the Time Vault activation. It was a very fun deck to play to say the least. I am not sure if it's possible for the deck to be a contender or not, but if you are looking for something fun and different I suggest giving it a whirl.
Creatures (17)
Lands (16)
Spells (27) I tested it for about two weeks before I shelved the idea and decided I was going to play ANT, Ad Nauseam Tendrils. After speaking with a lot of people about the deck and the lack of Workshop pilots in the current metagame, I felt that it was going to be a good call for Vintage Champs. A few of my friends have had past successes with ANT and told me if you don't expect many Mishra's Workshops on the table across from you, it is probably the right call. I was going to use the list Ashok Chitturi ran at The Mana Drain Open 14 as a start and try to get Gitaxian Probe in the 75. I was able to secure Power from the great Matt Elias and was locked in for ANT, despite some concerns about some of the blue decks adapting Mental Missteps. Testing was going well into the weeks leading up to the tournament, and I felt really confident in my ability to pilot ANT to at least a Top 8 finish this year.
I decided before the tournament that I was going to play with Bazaars. The week before the tournament, I decided to dust off the Bazaars and run it at the NYSE tournament (hosted by the great Nick Detwiler in NY). I decided to run the 74/75 that Matt Elias had played at the previous Blue Bell tournament in which he Top 8ed with Sun Titan Dredge, or as I like to call it… It's Always Sunny in Philadelphia.
Creatures (27)
Lands (13) Breaking Down the Deck
The deck is powered by the interactions of Sun Titan, Bloodghast, Fatestitcher, and lastly Bazaar of Baghdad. Because of the deck's build, it is even more reliant than other Dredge builds on needing to have a Bazaar of Baghdad in the opening hand. Literally for your game ones, you go all in on mulliganing until you have a Bazaar of Baghdad. It is really that simple game one. You also have Serum Powder, which not only gives you a "free mulligan," but thins your deck if you need to actually mulligan. Evaluating Serum Powder potential hands can sometimes be trickier in post sideboarded games, but as a general rule of thumb for game one, as long as it doesn't have more than two of the following cards, Powdering the hand away for game one is usually the correct play:
Bridge from Below
Narcomoeba
Cabal Therapy
Bloodghast
Once you have Bazaar in hand, you then begin the process of milling yourself via Bazaar activations and using the dredge ability on your cards. Cards like Black Lotus, Lion's Eye Diamond, Lotus Petal, Mox Sapphire, and the lands that actually tap for mana all help fuel this process by allowing you to unearth Fatestitcher. This allows you to untap your Bazaar of Baghdad and get multiple activations a turn. The really dirty part is when you have at least three Bloodghasts, two or more Sun Titans, and multiple Dread Returns in your graveyard.
What happens is you sacrifice—if you're lucky enough, three Bloodghasts—or three other creatures to Dread Return targeting Sun Titan. With Sun Titan's come-into-play effect, you are able to target a Bazaar of Baghdad, which will then trigger and return your Bloodghasts back to play. Note that sometimes if you have multiple Fatestitchers in your graveyard and/or no Bazaars in your graveyard, you should target another mana source (land or artifact) to unearth Fatestitcher to get more activations out of your Bazaar. Your main kill condition is forming an army big enough to deal lethal in conjunction with a Dread Return targeting Flame-Kin Zealot. The key lesson is mulliganing to Bazaar; you don't have to start making cute plays and decisions until games two and three.
I decided that I wanted Flame-Kin Zealot (not in Elias's Blue Bell list) in the deck so I would not give my opponents an extra turn after I went crazy making Zombies. I felt that Yixlid Jailer was slightly easier to play against than Leyline of the Void (Both are really hard!!), so I cut the maindecked Darkblast and inserted in the Flame-Kin Zealot. With a Jailer on board, you are still able to dig through your deck to find an answer, so I was confident the maindecked Darkblast would not be missed too much.
As for the tournament, I got beat pretty hard and was now auto-locked for ANT next week. I was life tilting pretty hard, close to the point where I was just going to sell my Bazaars at Gen Con. I was able to have a really successful talk with the highly underrated and underappreciated Raffaele Forino, who was able to get me refocused (and back from the ledge) for the week's preparation for Vintage Champs. I spent the rest of the day talking about the dredge list with another highly underrated and underappreciated player, Dave Gans. 
Challenge Accepted!!
Then I saw the Tweet that would change the course of the whole tournament. This prompted me to read the article…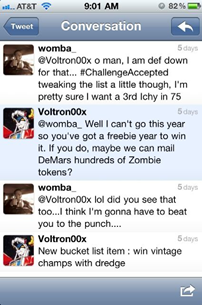 The article is linked here, but more specifically is full of extremes, such as "never" and the literal word "extreme." This isn't a knock on the player or his other articles, which I find to be quite good usually. I feel Mr. DeMars is an extremely talented writer and player, but as the saying goes… "Never Say Never."
"Of all the major Vintage archetypes that exist and have existed for a significant period of time, Oath of Druids is basically the only one that has never won Vintage Championships and never will (the other being Dredge, which will never win either).

Neither one of these decks is actually capable of beating three good decks, piloted by three good players, in three consecutive rounds of Magic.

Since neither of these decks can possibly win I am sure this won't actually matter, but in the near-impossible event that Oath or Dredge does win, I reserve the right to cite extreme variance."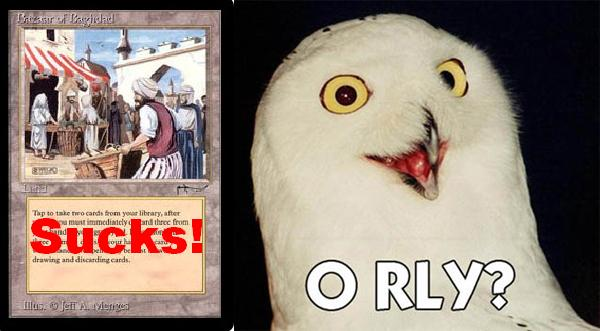 Sick Variance Bro!
Well I decided since I had been running so badly for about six months now, minus my Top 8 in Bloomsburg, I might have some extreme variance in me… needless to say, Challenge Accepted! With only three days until the tournament, I wanted to tweak the list, but I felt I would not have enough time to test the changes I wanted to. So with the time constraints, I decided to run the same 74 I ran the week before and hope it would be without the life tilt this time. Matt Elias gets a lot of the credit here also for telling me why I should play this list (Sun Titan Dredge) and for allowing me to be powered up for this event. Â 
I figured I might see some Dredge decks in Champs so I knew I wanted an Elesh Norn, Grand Cenobite in the 75. My logic for it was that since I am just as fast as or faster than most of the Dredge builds that I would be able to land a fast Elesh Norn and lock it up. Also, Elesh Norn is a pretty amazing card that can pick you up from behind in the mirror.
I cut the City of Brass with the reasoning I would just use Black Lotus as my extra mana source. I never got to use Elesh Norn (never played the mirror), nor did the issue of my falling land light affect a match or game result, so I am still unsure if this is correct or not. However, I first wanted to play my second favorite format, Block.
The night before Vintage Champs was a long one for me, some MWM (Mistakes Were Made), but it was totally worth it to play Block Champs. The Block tournament started at 6 pm; I was a bit nervous if I top 8ed that sleep would catch up with me some time tomorrow, but my love of Block ignored all concerns, and we were battling. I played Tezz and managed to pilot the deck to a Top 8 finish.
After losing in the first round of Top 8, I looked to see what time it was… 3:38 am. I was pretty annoyed with myself that I didn't do better after wasting most of my sleep. I was also annoyed that I stayed up so late only to receive 24 M12 packs for my efforts. So much so that I wasn't even sure if I was going to play Vintage Champs. I just kind of wanted to sleep Friday and find other things to get into, but it wasn't meant to be. I finally hit my bed a little after 4 am and then was shortly awake at about 8 am. Great, fewer than four hours of sleep, but since I was up, I guessed I would be battling.
For only having four hours of sleep, I felt surprisingly energetic to start the day and play my favorite format, Vintage. And so began my challenge to win the tournament with Dredge!!!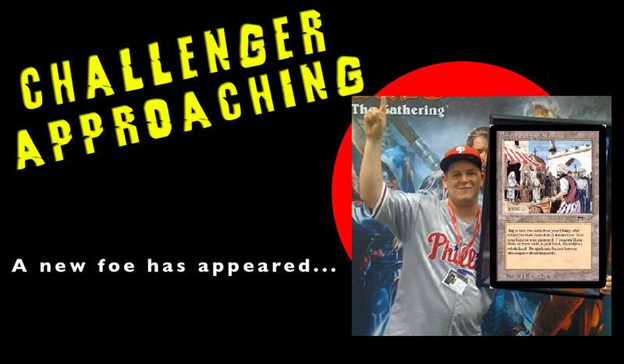 Rd 1. Raymond Robillard – TMD Open Shot Caller AKA Baller
Ah, a familiar face for round one. I felt pretty confident in this matchup, as I had successfully put Ray on his Prototype Portal Workshop list; I mulliganed to Bazaar, and Ray, who knew to put me on Dredge, mulliganed to a hand fast enough for the matchup. The only scary part for me game one was that Ray was able to start with a turn one Voltaic Key, but my Zombies ate his brains out before he could find a Time Vault. I felt it was a safe assumption Yixlid Jailers would not be in his sideboard so I boarded only for Leyline of the Void and artifacts.
SB
+2 Ancient Grudge
+4 Nature's Claim
+4 Chain of Vapor
-3 Sun Titan
-3 Fatestitcher
-1 Lion's Eye Diamond
-1 Dread Return
-1 Lotus Petal
-1 Ancestral Recall
I wanted to keep some Dread Returns in because under a sphere effect, it is the easiest spell for the deck to cast; also sometimes you will just get free wins by keeping in a Dread Return and Flame-Kin Zealot. I also kept in some of the artifact mana sources to help against an early Lodestone Golem or sphere effects. Against a shop deck, it's pretty easy to board out Fatestitcher, since your reliance on Bazaar of Baghdad is decreased due to the fact they can just lock you out from keeping Bazaars on the table.
I boarded out the Ancestral Recall here because I knew that Ray's list is more prone to creating sphere effects thanks to Prototype Portal, more so than most Workshop lists. I figured that if there was a window for me to cast a spell, I would want it to be a haymaker (Dread Return) or help clear the way for me (Grudge, Claim, Vapor). I felt that mostly given his build, it would be a grind, and I did not want to take out the Golgari Thug (Ichorid food), the usual card that comes out, against such a potentially heavy sphere build. Â 
Game two was rather uneventful, as Ray mulliganed to five and then passed turn without playing anything. I had a pretty spicy opener, so instead of going all in, I put Ray on either Ravenous Trap or Tormod's Crypt. I Cabal Therapy-ed naming Crypt to see if the coast was clear, and he revealed… Crucible of Worlds, Grim Monolith, Sol Ring, Time Vault, and Voltaic Key. I activated Bazaar and dredged like crazy to find another Cabal Therapy but failed to find one. With no other Therapies in the bin, I reluctantly passed back the turn and hoped he didn't hit the land he needed to win. His peeled off the top… not a land.
1-0Â 
Rd 2. Brian L. Eason
It felt good knowing that I was going to be playing against an opponent who was not going to immediately put me on Dredge. He was playing a Dark Confidant Vault-Key deck with Jace aka Suicide Jace Vault. He had the turn-two win. Lucky for me, I won the die roll, and my Therapies ate his hand away on my turn two, shortly followed by his brains.
SB
+2 Ancient Grudge
+2 Firestorm
+4 Nature's Claim
+2 Darkblast
+4 Chain of Vapor
-3 Sun Titan
-3 Fatestitcher
-1 Lion's Eye Diamond
-2 Dread Return
-1 Lotus Petal
-1 Golgari Thug
-1 Mox Sapphire
-1 Black Lotus
-1 Dakmor Salvage
This is how I sideboarded for all of my game twos, since I was unsure of what hate cards I would see played against me.
Game two I saw a Leyline of the Void, Pithing Needle, and Tormod's Crypt before he assembled Time Vault and Voltaic Key. Tinker for Blightsteel Colossus then allowed me to enter scoop phase, and we moved on to game three. Now I knew I wanted a little more juice in my deck being on the play game three; also I felt that he did not have Yixlid Jailer, so I figured the Firestorms were going to be cut again, but I would keep in a Darkblast just in case; the fact they also actually dredge helps.
SB
+1 Fatestitcher
+1 Sun Titan
+2 Dread Return
-2 Firestorm
-1 Darkblast
-1 Chain of Vapor
Game 3 he ran out his Crypt too early, which allowed me to play around it. I began to hardcast two-drop creatures, Bloodghast and Narcomoeba, to bring the pain. He began to hit more hate cards as I began to hit all of my anti-hate cards. Thankfully no Jailers were in sight. In the critical turn of the game, he resolved a Tezzeret, the Seeker, but I still had my Bloodghast and Narcos on board in addition to an Ancient Grudge in the bin. He retrieved a Time Vault instead of another Crypt, which would have bought him some more time. My team had no problem dealing with the planeswalker or the artifact, and the Zombie army was then able to take it down from here.
2-0
Rd. 3 Joe "Joe" Brown
Obviously I was playing someone else who knew exactly what to put me on as well. Joe is a good friend—so good of a friend (spoiler alert!!) that he even drove home the Time Walk painting for me on Monday. I was almost positive that on Sunday night he tried to pick up some chicks with it…
I actually don't remember when specific events took place in the match, just that they happened. I do remember he Pyroblasted my Bazaar of Baghdad after he resolved a Painter's Servant in one of the games, and I didn't hit any dredgers before he destroyed my Bazaar, which prompted my loss.
SB
+2 Ancient Grudge
+4 Nature's Claim
+4 Chain of Vapor
-2 Sun Titan
-2 Fatestitcher
-1 Lion's Eye Diamond
-1 Dread Return
-1 Lotus Petal
-1 Golgari Thug
-1 Mox Sapphire
I knew Joe Brown's list, and I knew that I would not have to worry about Yixlid Jailer making an appearance this round. I sideboarded a little differently in preparation for this. Game two he tipped me that he had Painter and Grindstone in hand, so I had no choice but to Cabal Therapy turn one and hit the Grindstone. I believe that it was game three where I fell to a Leyline of the Void and a topdecked Tinker after he aggressively mulliganed for a Leyline as well.
2-1
Rd 3.5 2011 BREAK KEY and Milkshake Spiking World Champ Craig Berry
At this point in the tournament I found out that my buddy, Craig Berry, is the 2011 World BreakKey Champion. I decided that it was my duty to also defeat the BreakKey Champion and potentially leave with two trophies today. After an intense battle, which endangered the spectators and my wallet, I came out victorious and wore the winning BreakKey for the remainder of the day, my first trophy of the day. I knew now that I had it in me to run the rest of the day undefeated and claim a second trophy.
Rd 4. William Rosa
I have played Mr. Rosa a couple of times before; he is a very nice player, but I was hoping he wouldn't put me on Dredge, as I knew I was paired against a Vault-Key deck. Game one I unfortunately mulliganed to oblivion and knew I had a real uphill battle. I was close to tilted and defeated at this point but decided to keep my head up for one more game. I decided to go with my standard game two sideboard plans even though I was very reluctant after dropping game one. Â 
SB
+2 Ancient Grudge
+2 Firestorm
+4 Nature's Claim
+2 Darkblast
+4 Chain of Vapor
-3 Sun Titan
-3 Fatestitcher
-1 Lion's Eye Diamond
-2 Dread Return
-1 Lotus Petal
-1 Golgari Thug
-1 Mox Sapphire
-1 Black Lotus
-1 Dakmor Salvage
Game two he kept a hand with no hate and got rolled pretty hard. He Tinkered up Sphinx of the Steel Wind, which I assumed was just in there in case he fell behind on life or something.
Game three, since I was on the draw and was unsure of what he brought to the party, I decided not to sideboard. He led off with a Leyline and then Tinkered… I was pretty sure I just lost and got ready to pack it up and call it a day, but then he revealed a Sphinx of the Steel Wind… Now we were off to the races!!
I was able to dispatch the Leyline and stabilize on board; however his life total was now at 40 or 50 plus, and I was at 6. I hardcast a Stinkweed Imp and left a Narcomoeba back, so if he resolved a Jace or a bounce spell, I would have more than one blocker. I grinded out some more Narcomoebas to prevent death for a few turns, and I was eventually able to get an army big enough to punch through the Sphinx and his massive life total…
3-1
Rd 5. Alex A. Franson
I saw him last round playing Joe Brown with ANT, so I knew I was in for a total coin flip of a match. This match lasted a total of five turns; the crazy part is it went three games. I won the die roll, which was pretty huge in this matchup and then proceeded to turn one him…
I opened with Bazaar of Baghdad and Black Lotus; I was then able to discard two Fatestitchers and a Golgari Grave-Troll. I cracked the Black Lotus to unearth both Fatestitchers, and then I was able to activate Bazaar two more times hitting two Golgari Grave-Trolls and essentially drawing 24 cards in turn one. I hit a couple of Narcomoebas, which I was then able to sacrifice to bring back a Sun Titan targeting a Bazaar of Baghdad, which allowed me to return two Bloodghasts. The Bazaar then gave me just enough fuel to find Flame-Kin Zealot and another Dread Return for lethal damage…
After the game, he told me that he only had three cards for this matchup, and they weren't even really dedicated graveyard hate cards. I immediately assumed Extirpate but decided to bring in two Darkblasts and two Firestorms just in case it was Jailer.
SB
-1 Golgari Thug
-1 Lotus Petal
-1 Dread Return
-1 Sun Titan
Game 2… and now it was my turn to get killed on turn one… sick format!
Game 3… I got a good seven and just hoped he doesn't have the turn one kill. He said he was one mana short and passed back the turn; he was dead on my turn 2. I asked him after the match what three cards he had for the matchup, "…three Extirpates…"
4-1
Rd 6. Ryan J. McKinney
I am very hazy on the details for this match. I remember playing against a very quiet fish player. I won game one in typical Zombie fashion and just assumed that it was something similar to Mike Noble Fish where he would bring in four Ravenous Traps.
SB
+2 Darkblast
+2 Firestorm
+1 Elesh Norn, Grand Cenobite
-1 Fatestitcher
-2 Sun Titan
-1 Dread Return
-1 Golgari Thug
He didn't hit any hate cards game two, and I was able to play Firestorm on his team for the blowout!! I really wanted to see Elesh Norn in action, but I guess it was not meant to be.
5-1
Rd. 7 Josh Butker
Another friend who knew exactly what I was on, and I knew what he was on also, Turbo Tezz. At this point in time, standings were also posted, and I noticed I was essentially paired down against Josh, so I did what any normal person would do and asked if he would scoop to me. We went and double-checked the standings, and being the gentleman and scholar he is… we headed to Baskin Robins for some scoops. We then played it out for the LOLs, and I won 2-1. He mentioned to me that his sideboard was rather light to Dredge today anyway.
6-1
Rd. 8 — ID
At this point, I made my first big mistake in not taking this time to eat or drink anything since breakfast. I was on such an emotional high from Top 8ing consecutive Champs that I just wanted to go around and give literal as well as virtual high fives and watch the other matches. In the long run, it led to some very sloppy play in my quarterfinal match against Nick Coss and semifinal match against Ryan Glackin. It was the first time in two years of playing the deck I'd ever missed Narcomoeba triggers. I felt like a total donkey…
Being very emotional and physically drained, I actually do not remember most of the details for these matches. I do remember not sideboarding against Nick Coss since I knew his 75 and knew he had no hate. It was literally like rolling dice to see who would go on to the semis. I was also very nervous playing in front of everyone and on camera for the first time. Also, the judge incorrectly tried to give me a warning when I sacrificed my Zombie token for not triggering Bridge from Below. This led to my playing ultra-nervously that match and far from optimally.
Quarterfinals — Nick Coss — A GDC!!
Like I said, I really don't remember much from this match, so I would read Mr. Coss's report for a more accurate account of what happened. After defeating him, I should have walked away a bit when the judge asked if I was okay to continue. I grabbed a drink from Coss and said, "Whatever, let's go!!"
Semifinals — Ryan "Slash Panther" Glackin
It was really cool to be playing against another good friend in top 4. As Ryan mentioned before the match began, I was currently undefeated against "Al Punto" lifetime. I felt really good about my chances as long as I didn't give him the win myself. Ryan has really made a name for Mike Noble as well as himself piloting four Slash Panther. I am pretty sure he was pumped to not lose in the first round of Top 8 again, like he did last year. I really don't remember much of the details for this one also; fatigue was becoming a serious factor for me at this point as well as the nerves. Game one I got demolished pretty hard by waste and strip effects. I knew Glackin's list also, so I sideboarded slightly differently than I would against a random shop deck. Â 
SB
+2 Ancient Grudge
+4 Nature's Claim
+4 Chain of Vapor
+2 Firestorm
-3 Sun Titan
-3 Fatestitcher
-1 Lion's Eye Diamond
-1 Dread Return
-1 Lotus Petal
-1 Golgari Thug
-1 Mox Sapphire
I figured I would have a chance to grab some value with the Firestorms against his Precursor Golems, so I brought those in as well. Game two went according to plan for me; I hit double Bazaars, and Ryan was unable to get them off the table and quickly fell to a Zombie army.
Game three Glackin went first and exploded with a Chalice of the Void for one and a Thorn of Amethyst. Glackin then followed up with Precursor Golem to really get a clock on me. I was able to dredge a lot into the bin though, and with only one Thorn out, I was able to cast a Dread Return to send the whole team in for lethal before Glackin could get there.
I caught a big break after dispatching Glackin; Steven and Paul's match was still going, and I had enough time to pound an energy drink, get some food, relax, and get focused. None of the previous misplays, missed triggers, topdecks, mulls to oblivion mattered now. None of it mattered. All that mattered was getting focused and playing perfectly for one match. I was waiting for at least thirty minutes to see which Meandeck end boss I would have to defeat, and by that time, the food and the energy drink had me feeling warm inside.
I would be lying to you if I said I was happy to play against Paul in the finals; he has been a bit of a boogeyman for me. I really wanted to play against Menendian for the first time ever in the finals. However, it was awesome to see yet another familiar face across the table from me. Â 
Heading into the match, I was somewhere close to 1-5 against Paul, with my one win coming in very dramatic fashion. It's one of the few matches I will never forget; back two years ago when I was playing in the Dan Herd Memorial Vintage tournament (second Vintage tourney ever), I was paired up against Paul and needed to win in order to secure my first ever Top 8. Game 3 I mulled to one on the play and drew the only card I needed… Bazaar of Baghdad.
Fast forward to the present, and it seemed like a fitting end boss. Paul Mastriano is also the current point's leader for the player of the year race for both the NYSE and Blue Bell Vintage circuits.
Thus began the match I would never forget. I would say that the first couple games played out how most Dredge vs. Gush games end up playing out. Here is the coverage to read how most of it played out.
My sideboarding strategy for game two was fairly typical.
SB
+2 Ancient Grudge
+2 Firestorm
+4 Nature's Claim
+2 Darkblast
+4 Chain of Vapor
-3 Sun Titan
-3 Fatestitcher
-1 Lion's Eye Diamond
-2 Dread Return
-1 Lotus Petal
-1 Golgari Thug
-1 Mox Sapphire
-1 Black Lotus
-1 Dakmor Salvage
We were onto game three and pretty much the roller coaster ride of my life… For game three, I knew I wanted to try to be faster on the play, and having seen Paul's sideboard from last week's NYSE tournament, I convinced myself he did not have Yixlid Jailer and was going to sideboard again as if he didn't have it.
SB
+1 Sun Titan
+1 Fatestitcher
+1 Dread Return
Mastriano dropped to five cards on the play and opened up with what he surely thought was going to get there—Leyline of the Void followed up by a Pithing Needle—and then followed up with a topdeck Mystical Tutor (the coverage says Vampiric Tutor, which is wrong) for Tinker for Blightsteel Colossus to slam the last nail in the coffin. I was down to literally one draw.
The Pithing Needle paralyzed my Bazaar allowing me to only have access to one card off the top for all the marbles… Before drawing it, I felt like I should just windmill slam it in Craig Jones fashion, but I decided against it and just plucked. It was blue. I couldn't believe my eyes, and I shuffled it back through my hand twice, just to make sure it was real. Now the moment of truth: Paul had one card in hand, so I played the Chain of Vapor that I just miraculously ripped off the top and prayed that Paul would be scooping up his Blightteel to his hand. When he did… the rest was history… Paul, being the amazing champ he is, signed my Chain of Vapor…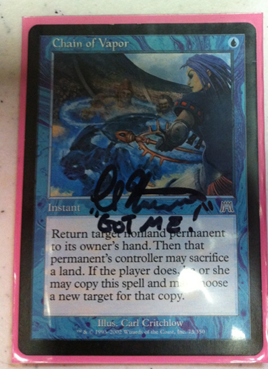 2011 Vintage World Champion!
So I took the Challenge and won. I still don't think I have fully processed the victory, but this victory is definitely for all of the amazing players that play in the PA/NJ/NY corridor, where the best Vintage players in the world gather week in, week out to battle each other in our favorite format. I hope to be able to continue and grow the Vintage community in Central PA now in a similar fashion that Nick Detwiler has in NY.
I tried to go for three consecutive Champs Top 8s on the weekend, but it wasn't meant to be, so I guess I'll just have to be content with two Top 8s and one win. I learned a lot about myself as a player and what it takes to handle the pressure of all the eyes watching you, even digitally now. Hopefully I will be back battling in a Top 8 soon, but for now I think it's time to let this amazing week and experience soak in…
Any questions just hit me up on Twitter @womba_
Props-
The Entire NY/NJ/PA Vintage Community; I could name everyone, but that list would be DI long. You guys know who you are. They are easily the biggest reason I was even able to come close to winning this thing. The level of skill at these Vintage tournaments is unreal.
I would like to point out two in particular though: Nick Coss and Nick Detwiler for being some champions and creating two very successful Vintage tournament circuits.
Matt Elias for powering me up and for being the class act of a person he is.
Top Deck Games opening soon in Westmont, NJ—the painting will be on display there for some time when it opens!!
Joe Brown for getting the painting safely back home to me.
And OBV(!) Ryan Glackin because he loves name-drops, and name-drops love him!!
Finally the best Dredge player in the world… JAKE GANS!!!
Slops-
Narcomoeba triggering… Obv!
Variance
The word "never"