If you enjoy your graveyard being an extension of your hand, then you're in luck! Those strategies are great in Standard.
The resiliency of Haunted Dead, Prized Amalgam, and now Scrapheap Scrounger cannot be understated. Your creatures don't brawl as well as everyone else's, but they don't die either. Instead of your efficient creatures taking a bunch of mana, you end up paying some mana but a lot of cards. Since you want most of your cards in the graveyard anyway, you're getting mostly upside.
You could just start with Zach Voss's second-place list from #SCGINDY, but I don't recommend it.
Creatures (24)
Lands (23)
Spells (13) Since #SCGINDY was the first tournament after Kaladesh was released, it's natural to miss something. That something turns out to be a pretty big deal.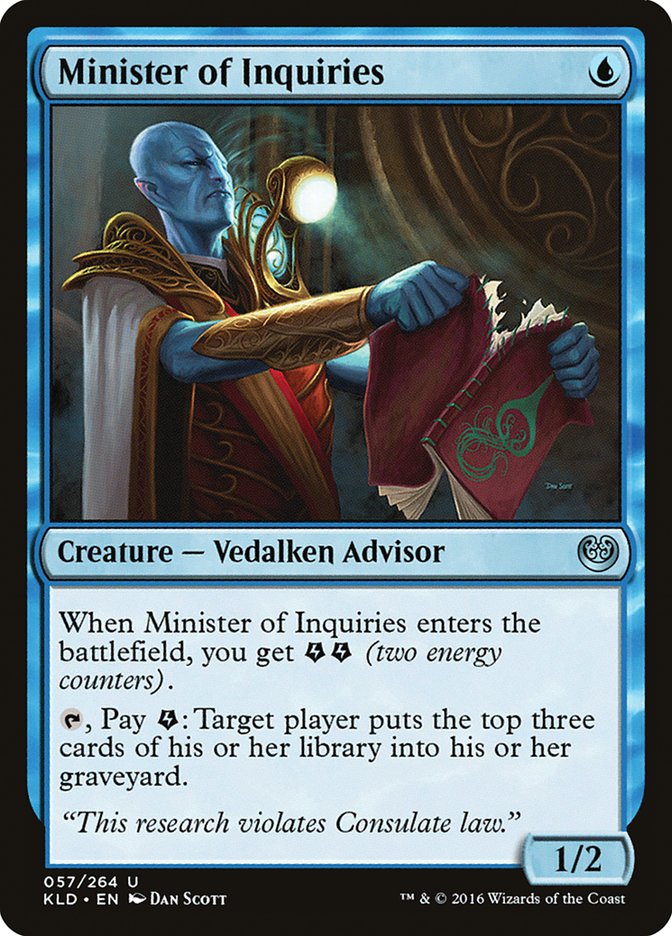 It might not make a lot of sense, considering Grixis Emerge isn't exactly interested in producing or using Energy, but there's no reason we can't change that. If Perpetual Timepiece is worthy of consideration, then Minister of Inquiries, even if it's only going to mill you for six, is at least in the conversation. Minister of Inquiries should be more than just a part of the conversation, though. There should be four copies in the maindeck.
Here's why:
I started here, going 5-0 in a Magic Online League:

Creatures (25)

Lands (24)

Spells (11)




This list is far from perfect.

Spirebluff Canal is basically worse than additional Aether Hubs. Both mess with your Battle lands, but Aether Hub enters the battlefield untapped on turn 4 and provides all three colors of mana regularly. You don't have to use the Energy often, but there are games where you need every colored mana you can get.

The fourth Kozilek's Return is likely a necessity at this point. Initially there weren't many W/R Aggro (either Humans or Vehicles) players in the Leagues, but as more players have been joining, that has been rectified. Call the Bloodline is likely horrendous.

It's worth noting that my Smuggler's Copters did not get activated very often, which was something I was worried about. Once I increased the one-drop creatures, I definitely didn't think that would be the case. Somehow, it was, and it makes me question Smuggler's Copter's inclusion in the first place, at least in such high numbers.

As I mentioned earlier, the manabase is dicey. To that end, I cut Sanctum of Ugin. While it removes a powerful element from the deck, I think it's a necessity. While chaining Elder Deep-Fiends is at times the only way you would win some games, it absolutely demolishes the manabase. This deck already struggles to keep up with its opponents due to a very low card quality, so I don't want to take anymore unnecessary risks.

Against the various W/R decks, I found it difficult to race them. Sure, you could do it with your best draws (often involving multiple Elder-Deep Fiends), but most of the time, their clock coupled with removal to slow yours down was more than enough. In order to truly put them away, I needed to assemble a big turn with a Kozilek's Return out of the graveyard. Even then, that was no guarantee because of Selfless Spirit.

Given enough time, you can emerge, force the Selfless Spirit activation, and set up another emerge later. There aren't many W/R draws that give you the time for that, though, even if you're using Elder Deep-Fiend to slow them down. Their plethora of removal weakens your traction, forcing you to always play from behind.

If there were something that removed Selfless Spirit from the battlefield for value, I'd be willing to try it. Afflict is basically the card you want, if it actually worked on Selfless Spirit. Repeal, maybe? It might trick them into not sacrificing it. Cycle a Slice and Dice?

Tooth Collector is an option, but it's sorcery-speed and isn't likely to live. You can emerge off it; it's less likely to die than Liliana, the Last Hope; and you can't potentially removal several creatures with it.

So, yeah, there were some holes to fix. Most parts of the Grixis version looked good, but all it did was make me want to explore other options.

Creatures (24)

Lands (24)

Spells (12)




Sultai Emerge was kind of a deck last season. I'm sure many would say it was the best deck no one was playing.

Overall, I prefer the green spells to things like Perpetual Timepiece. They find the missing pieces, fill your graveyard, and replace themselves, which matters a lot when you're trying to activate Haunted Dead multiple times per game. The filtering spells end up being much better than the permanents because of it.

Without card advantage or self-mill cards that replace themselves, you're often short on resources for the entire game. Most of the time, that's not a concern. However, there are games where you mulligan once or twice, looking for a hand that has each of the pieces you want. In those games, you're unlikely to bring back Haunted Dead twice and have enough mana to cast an emerge creature.

Green makes the deck smoother but less explosive. Because of that, I tried to stick with a solid mix with Minister of Inquiries alongside Grapple with the Past, but it didn't feel like enough. I wanted to fit Vessel of Nascency in the deck if possible.

With Noose Constrictor in the deck, I wouldn't be surprised if Just the Wind ended up being good. Bouncing Kalitas, Traitor of Ghet or Selfless Spirit seems excellent, and madnessing it through Haunted Dead has got to feel great. It's a good way to protect your Prized Amalgams from Declaration in Stone too!

Traverse the Ulvenwald is so powerful. Not only does it fix your mana early, but in the mid-game it's functionally extra copies of whatever you want. Have a pile of Prized Amalgams and no discard outlet? Find your Haunted Dead or Noose Constrictor. Need to Flashback that Kozilek's Return, but milled over your Elder Deep-Fiends instead of drawing them? Go find one. Need access to some powerful sideboard options? Done and done.

With Traverse the Ulvenwald in the deck, emerging consistently becomes reality. With the Grixis version, I often considered playing something like Corpse Churn or Mortuary Mire because there were so many games that I couldn't win unless I was doing powerful things. As it turns out, a pile of 2/2s and 3/3s doesn't beat everyone. Traverse fixes all those problems.

While these Prized Amalgam decks are great against control, Kiora, Master of the Depths is still an excellent sideboard plan against them.

There are several matchups that are grindy and you want a way to pick up additional resources. Those matchups are typically the ones where you want Emrakul, the Promised End as inevitability, and Kiora is perfect for that plan. If she's not helping you make land drops, she's untapping your land or counting toward delirium. Returning Haunted Dead multiple turns in a row becomes comically easy.

Ceremonious Rejection is going to be a huge card at this Pro Tour. Decks built around Aetherworks Marvel and Metalwork Colossus are sort of an unknown quantity. They exist, and they're doing well on Magic Online, but are they breakable?

Either way, they're going to show up. Ceremonious Rejection may seem like a narrow card, but for most of the decks you'd want to have a counterspell against, such as Negate or Summary Dismissal, Ceremonious Rejection is better.

For example, in the mirror matches, I'm only concerned with Elder Deep-Fiend's body, not the tapping and Kozilek's Return. Against decks like U/W Control, you don't need Negate. In fact, if you did want a counterspell, it would be to stop Torrential Gearhulk or Archangel Avacyn. Descend upon the Sinful is scary, but it isn't played in very large numbers.

For this Pro Tour, Ceremonious Rejection would be my sideboard counterspell of choice.

After deciding that the aggro plan was falling a little short due to the green not being as explosive as the red, I wanted to try a version with more green self-mill instead of Minister of Inquiries.

Creatures (20)

Lands (24)

Spells (16)




With no Minister of Inquiries, I decided to drop the Aether Hubs.

If you're finding that Haunted Dead and Scrapheap Scrounger aren't enough ways to trigger your Prized Amalgams, Advanced Stitchwing is where you want to be. There are plenty of versions of these graveyard decks that could use an additional way to discard from hand, especially ones that don't have access to red.

I started with Stitchwing Skaab, but it was far worse. Advanced Stitchwing is enormous and blocks most Smuggler's Copters with ease. Meanwhile, Stitchwing Skaab dies to your own Kozilek's Return, opposing Spirit tokens, Lilianas, and more. It's just not worth it. The flip side of that coin is that I've hard-cast several Advanced Stitchwings and never been upset about it.

You want the Mountain in the sideboard of this deck because you don't have Aether Hub. With Aether Hub, I'm comfortable in my ability to hardcast Kozilek's Return every once in a while, and that's good enough for me. Without Aether Hub, you don't have that ability at all, and there are definitely games with this slower version that would love nothing more than to be able to Traverse the Ulvenwald for a Mountain.

This deck was a bit slower, but it was excellent at accomplishing the same goal every game: fill your graveyard and Flashback Kozilek's Return.

Still, there was more work to be done.

Creatures (18)

Lands (24)

Spells (18)




This version is purely trying to set up a Kozilek's Return out of the graveyard, which is basically how I built the deck above it. I can appreciate that, but I found it too difficult to actually kill my opponent, even after doing so. You could wipe their battlefield, tap them down, and start hitting them for five, but once your Elder Deep-Fiend was removed, you'd have no clock. Oftentimes, your engine cards would have spent as well, leaving you with nothing but air.

If you're going to focus your deck around Elder Deep-Fiend and Kozilek's Return, you either need some early aggression or a powerful late-game like Emrakul, the Promised End. This deck had neither.

And then the real treat happened. KelMasterP started crushing everyone with their take on Zombies.

Creatures (22)

Lands (23)

Spells (15)




So far, KelMasterP is the only person to 5-0 three individual Leagues.

Rather than rely on Elder Deep-Fiend, KelMasterP has a tiny madness package with Voldaren Pariah, which I like a lot. For the most part, Voldaren Pariah fits the deck much better than Elder Deep-Fiend, and that's even aside from the mana considerations. It's like an Elder Deep-Fiend and Kozilek's Return package rolled up into one card, and one that's on-color as well.

Yes, there are some decks that Voldaren Pariah is poor against, but those are typically the decks that don't want to sit down across from Haunted Dead in the first place. Control decks with Torrential Gearhulk look pretty good, but they happen to be absolutely atrocious against Zombies.

On Monday, I played against Travis Speth with an R/B deck that looked much cooler than my own, which was a take on KelMasterP's ideas. His deck kind of went off with Perpetual Timepiece, Ovalchase Daredevil, and a host of other graveyard synergies. I liked what was happening, but I also wanted to try an aggressive version.

After cutting all the durdly cards, I had this:

Creatures (24)

Lands (20)

Spells (16)




This is no-nonsense aggression backed up with various different ways of filtering through cards.

Lightning Axe is the best removal spell in Standard, at least if you can realistically cast it without the massive downside. On top of having the best Murder, you have the best Lightning Bolt, and certainly the most resiliency.

The downside? You probably need ten sideboard cards to fight W/R. They're better at maintaining traction and removing yours. That's not the end of the world, since I typically want five to seven cards against the combo/big mana decks in the format, so we could probably figure it out. The aggressive nature of this version means you probably don't need as many Transgress the Minds (or whatever) for the combo matchup anyway.

This deck is solid, and one I want to work on further, but there's no more time. I just arrived in Hawaii and I'm going to spend Thursday relaxing, drafting a few more times, and working on sideboard plans.

As I expect there to be a Skysovereign-sized amount of W/R at the Pro Tour, playing a deck with Haunted Dead is going to make things difficult for me. The tools exist to make the matchup manageable, but "manageable" isn't where I want to be. I enjoy playing these graveyard decks more than I should, so I'm going to do that regardless.

Here's hoping there are three Prized Amalgams in the top fifteen cards of my deck!