In my last article, I gave a little teaser for this article with the following deck:
Don't worry. Having a companion isn't the secret to Izzet. But this is neither a spells deck nor a cycling deck, which are the archetypes expected for Izzet in Ikoria. This deck utterly destroyed my opponents. I mulliganed almost every game, but the play-pattern was the same: cast a Frenzied Raptor and attack my opponent five times. After the League, a light bulb went off in my head.
These four common three-drops are all capable of singlehandedly winning the game. They each do it in slightly different ways, but with four commons it's clear that getting multiples is easy. I immediately decided to try to draft the deck again. My next two drafts were both Izzet decks in this fashion, and both went undefeated. One is the draft we will go over today.
But wait, there's more!
The secret about the cycling deck is out and people are fighting for it. This means that players are not only cutting each other out of red, but they're also prioritizing different red cards. The cycling deck would rather take Drannith Stinger or Prickly Marmoset than Rumbling Rockslide, but this deck would rather have Rumbling Rockslide. I'm wheeling great red cards for this deck frequently. I got a great version of the deck on Tuesday, and in that draft a Flame Spill wheeled. Too many people got cut out of red in Pack 1 and then the other red drafter took a Reptillian Reflection instead. Here's the final product of that deck:
Now that you have a good idea what the archetype looks like, let's dive into a draft!
Pack 1, Pick 2
The Picks So Far: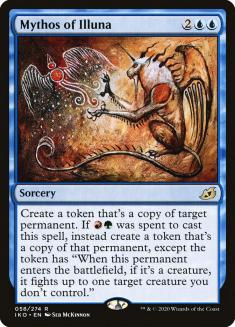 The Pack:
The Pick:
Pack 1, Pick 3
The Picks So Far:
The Pack:
The Pick:
Pack 2, Pick 5
The Picks So Far:
The Pack:
The Pick: