Wizards of the Coast (WotC) Head of Story and Entertainment for the past three and a half years, Nic Kelman, announced on Sunday that he is no longer at the company.

Kelman posted the status "Thanks to Wizards of the Coast for a great 3.5 years – excited to start a new career chapter!" to his Linked In profile over the weekend and updated the experience section of his page to "Narrative and IP Development Consultant."
Some of his responsibilities in his role at WotC included: Executive Producer of the upcoming Magic: The Gathering Netflix animated series; work with eOne to develop and produce film and television offerings for all WotC brands; develop narratives for new WotC and Hasbro game IP; and more. See the whole description of his position at WotC below from his profile.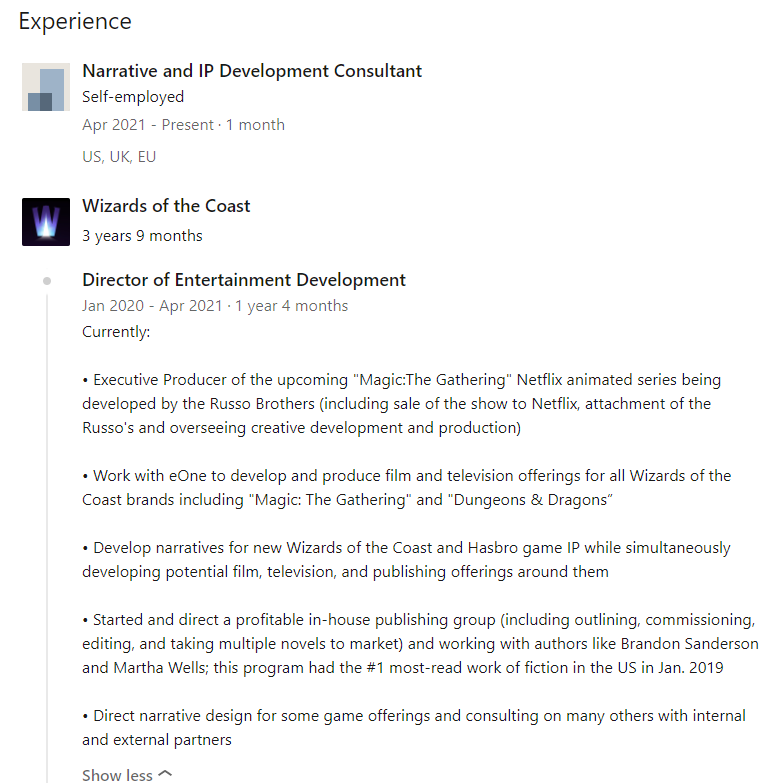 Kelman was the center of attention in the Magic community back in October of 2019 when A. E. Marling wrote a piece criticizing WotC for employing Kelman due to his previous work that explicitly wrote about adult men having sexual relationships with pubescents girls. Marling pointed out the hypocrisy of WotC, which has made a push to be more inclusive and open to non-males lately, while working with Kelman and his history. Neither WotC or Kelman responded to the article.
WotC hasn't posted anything confirming Kelman's exit from the company.