Elias Watsfeldt won Players Tour Online 1 with Temur Reclamation, winning three mirror matches in the Top 8 that was filled with six copies of Temur Reclamation and two copies of Bant Ramp.
Quarterfinals
1
Joonas Eloranta
Temur Reclamation
8
Kazuhiro Noine
Temur Reclamation
4
Elias Watsfeldt
Temur Reclamation
5
Simon Goertzen
Temur Reclamation
2
Louis-Samuel Deltour
Bant Ramp
7
Jeongwoo Cho
Temur Reclamation
3
Dominik Goertzen
Temur Reclamation
6
Shinsuke Hayashi
Bant Ramp
Creatures (3)
Lands (28)
Spells (29) Between defeating both Goertzen brothers in the quarterfinals and finals, Watsfeldt beat Joonas Eloranta in the semis after entering the elimination rounds as the No. 4 seed. Watsfeldt topped Simon Goertzen 2-0 in the quarters, but went three games against the other two, including a fast finals against Dominik Goertzen. While Dominik got Game 1, he didn't have answers for Watsfeldt's Nightpack Ambusher in Games 2 and 3. In fact, Watsfeldt was able to sneak his Ambusher onto the battlefield in Game 3 while Goertzen held a grip of Negate and two copies of Mystical Dispute.
This title marks the first major tournament win for Watsfeldt, who prepared for the event with Joel Larsson (who finished 16th with Temur Reclamation as well). Watsfeldt tuned his build of the deck more for the mirror with four copies of Aether Gust and three copies of Mystical Dispute in the maindeck, and it paid off.
To no surprise, Players Tour Online 1 was dominated by Temur Reclamation, a deck that was strong and winning events during the Yorion Jeskai Lukka and pre-nerfed companions metagame. Not only did Temur Reclamation remain strong, it got improvements in the form of Shark Typhoon and Ketria Triome (Typhoon itself being an instant-speed and uncounterable answer to Teferi, Time Raveler).
Temur Reclamation was the most played deck on Day 1, making up 40.5% of the field, and improved its numbers as the event progressed. It had a 55.7% conversion rate, making up 45.8% of the field on Day 2, eventually converting to six of the Top 8 decks and both decks in the finals. The next most popular deck, Jund Sacrifice, totaled 17.7% of the Day 2 field, only putting one copy in the Top 16.
Growth Spiral decks made up nearly 57% of the Day 1 field and 66% of the field on Day 2. The metagame breakdown from Magic.GG can be seen in full below.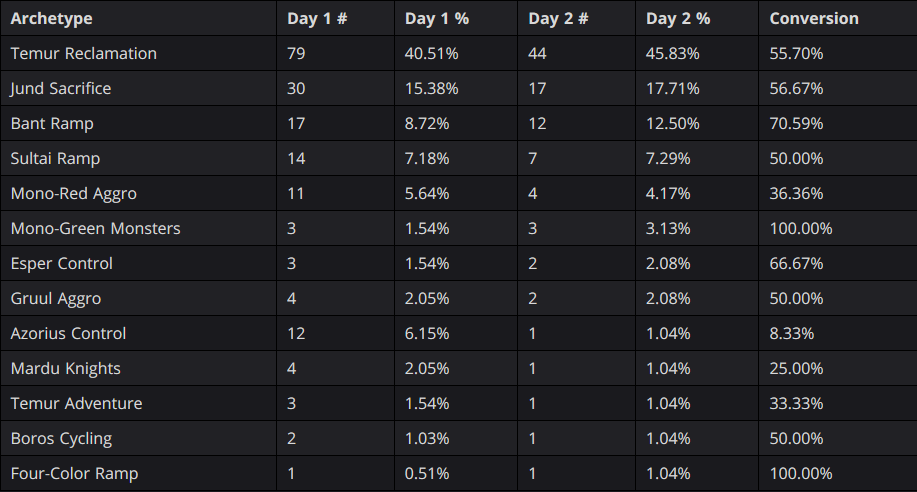 View the Top 8 decklists.