The first of twelve upcoming Secret Lair drops in The Astrology Lands series will be the Capricorn Swamp with art by Jeanne D'Angelo.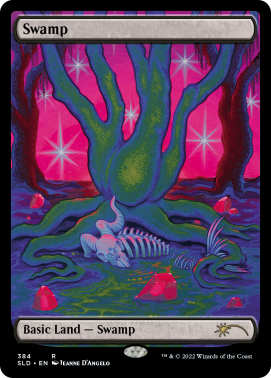 The series will have one full-art basic land for each astrological sign, starting with the Capricorn Swamp. Each month will feature a new sign and they will all be available throughout the end of 2022.
The Astrology Lands: Capricorn is available in four different order options. The non-foil edition includes five Swamps for $29.99 while the foil edition costs $39.99. Foil and non-foil bundles are available that include five copies of the drop, costing $119.99 for non-foil and $159.99 for foil.
Order at the Secret Lair site.