Upon launching our new Star City Games website late last year, we immediately discovered that its "Quick Search" functionality (the search bar appearing atop most Star City Games website pages) wasn't working as it had during testing, and set out to address the problem. Although it ended up taking us longer than expected, I'm excited to announce that we finally got there!
Quick Search… Now with Auto-Complete! 
As you enter a card name into the Quick Search bar, new auto-complete functionality now presents you with suggestions for the Magic: The Gathering singles that our software "thinks" you may be looking for. These suggestions are listed in alphabetical order based on card names containing the exact string of characters entered into the Quick Search bar, so the more characters you enter, the more specific your auto-completed suggestions will be.

Improved Quick Search Results Pages
Although previous Quick Search result pages usually displayed all versions of the item you had entered before any others, they were not displayed in a logical order, and there was no option to further sort and/or filter those results. 
In addition to Quick Search results now being far more accurate overall, result pages now display all items alphabetically by set with all conditions and languages offered for each item listed together within that item's listing.We have also added a variety of filters so that you can further narrow your search results, along with several sorting options so that you can reorder your search results in multiple ways. This includes two features that have been among our most requested for years: options to sort search results by price and view only items that are in-stock.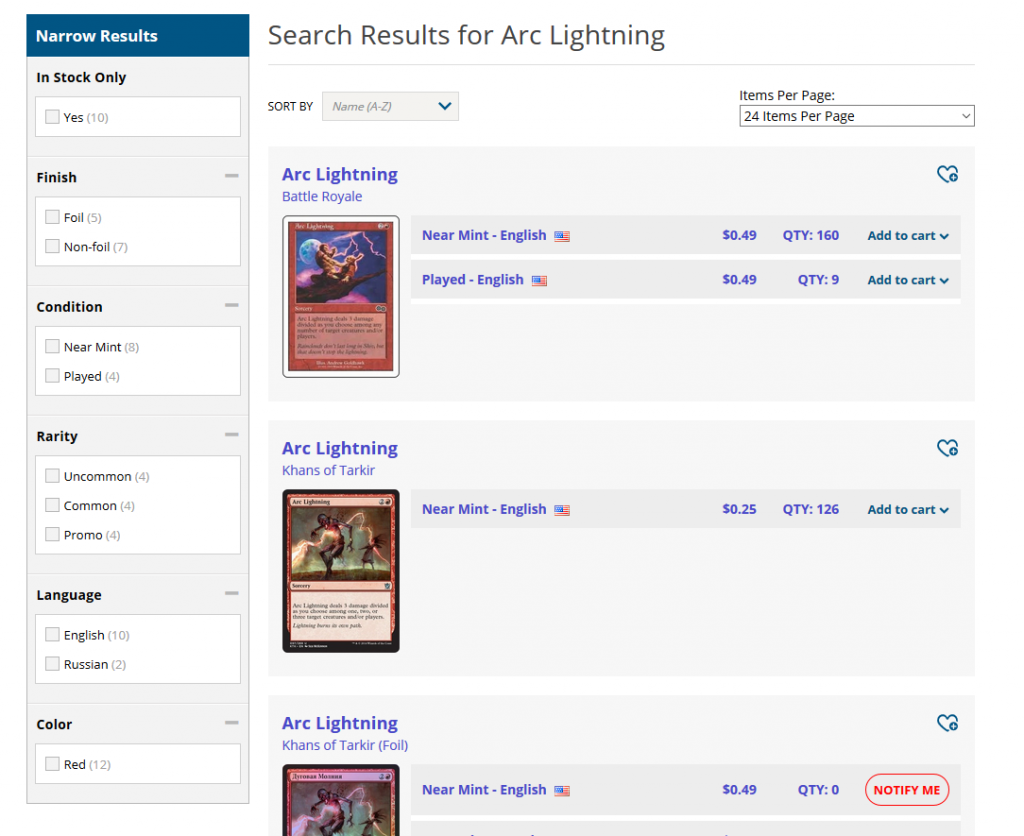 Improved Mobile Shopping Experience
We are committed to offering our customers the absolute best mobile shopping experience possible, so while we worked to resolve each of the search-related issues discussed above, we decided to make a few additional improvements to the mobile shopping experience as well. If you're reading this on your phone, check them out when you're done, and let us know what you think!     
80,000+ Non-English Singles Now Available!
In order to address some of our previous search-related issues, we had to temporarily disable our entire Non-English Magic: The Gathering singles category. Since then, we have significantly increased both the quality and quantity of its contents, and I am excited to announce that our massive Non-English Magic: The Gathering singles inventory is now back online and available to purchase!    
Thank You
Now that we have a solid foundation in place upon which to build, the next features we upgrade will be our Deck Builder and Advanced Search. Both are already in the works, and should be completed sometime within the next couple of months.
In the meantime, our entire team is committed to providing you with a Star City Games website that exceeds your expectations in every way possible, so if you have any suggestions on how we may be able to better do so, wish to report a bug(s) and/or have thoughts regarding any of our new search-related features, I invite you to please share them with us in the comments below or by emailing [email protected].
Thank you again for all of your patience, understanding, feedback and continued support while we addressed these issues. We appreciate it more than you'll ever know, and consider ourselves beyond fortunate to be part of such an amazing community.