Wizards of the Coast (WotC) has provided a series of important details about updates for MTG Arena.
Standard All-Access
This week's Midweek Magic features Standard All-Access, giving players a chance to build decks with cards that aren't a part of their collection. This event will run from Tuesday at 8 AM PT through Thursday at 8 AM PT and has no entry fee to play.
Arena Open
Day 1 of the Arena Open begins at 9 AM ET/6 AM PT on July 31 with the signup period ending at 6 AM ET/3 AM PT August 1. Entry to the July Arena Open costs 20,000 gold or 4,500 gems and comes with a Lair of the Hydra card sleeve.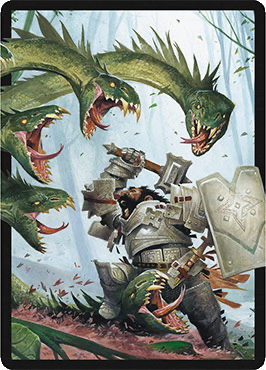 Players competing in the Best-of-One flight need to reach seven wins before three losses to reach Day 2, while players in Best-of-Three need to hit four wins before one loss to move on to the second day of competition. All prizes will be awarded as gems until reaching six or seven wins on Day 2, with cash prizes of $1,000 and $2,000 going to the top players.
Prizes for records on Day 1 break down like this:
BEST-OF-ONE
BEST-OF-THREE
7 wins: 2,000 gems, Make Day 2
4 wins: 5,000 gems, Make Day 2
6 wins: 1,600 gems
3 wins: 5,000 gems
5 wins: 1,200 gems
2 wins: 2,500 gems
4 wins: 800 gems
1 win: 1,000 gems
3 wins: 400 gems
0 wins: no rewards
0-2 wins: no rewards
Jumpstart: Historic Horizons
Coming to MTG Arena on August 12, Jumpstart: Historic Horizons introduces 782 cards to Historic, many of which are reprints, but also included among that massive number are 31 new cards that are not only "unique" to MTG Arena, but also introduce digital-only mechanics. You can read more about Jumpstart: Historic Horizons below.
Yawning Portal Event
From July 30 through August 10, players can participate in Standard Singleton for a chance to win rulebook card styles from Adventures in the Forgotten Realms. This event grants players an On a Quest! emblem with "Whenever you cast your second spell each turn, venture into the dungeon."
Upcoming Events
Midweek Magic
July 27–29: Standard All Access
August 3–5: Singleton
August 10–12: Momir
Quick Draft
August 10–August 27: Kaldheim
July 23–August 10: Adventures in the Forgotten Realms
August 27–September 10: Adventures in the Forgotten Realms
Other
Read the original article from Wizards of the Coast.