Some in-store Prerelease events for Core Set 2021 may be cancelled, but you can still enjoy the excitement of one with Star City Games' Core Set 2021 Prerelease Party!
Next Saturday, June 27, watch LIVE as a variety of fan-favorite Magic: The Gathering content creators gather (digitally of course!) to crack packs, discuss exciting new cards, and get back to basics for this event!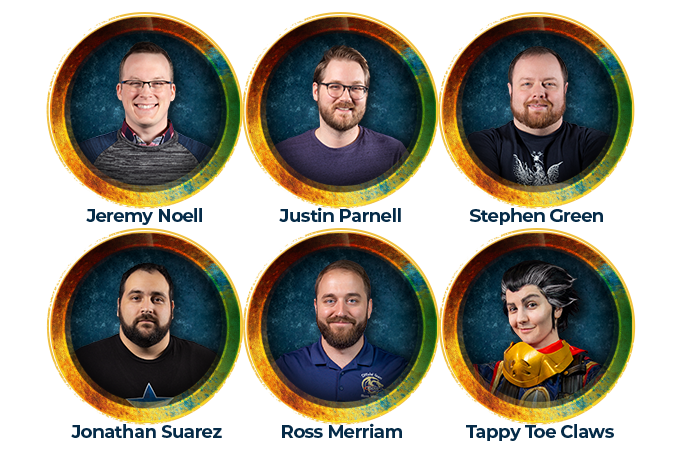 Jeremy Noell
When he's not ramping up his mana on Commander VS, Jeremy Noell is a guiding mind for all Star City Games video content.
Justin Parnell
Justin Parnell of Commander VS is the maestro of Mono-Black. When not playing 100-card decks, he is the Acquisitions Department Manager for Star City Games.
Stephen Green 
On the set of Commander VS, Stephen Green is an agent of chaos. Outside the studio, he is a familiar face behind the Star City Games sales booth at major Magic: The Gathering events.
Jonathan Suarez
On Commander VS, Jonathan Suarez is "All Gold Everything." Beyond Commander, he has four Star City Games Open Top 8s, including a win with his beloved Legacy Painter deck.
Ross Merriam
Ross Merriam is among the most familiar faces on the SCG Tour™ and the host of VS Live! Ross has more than twenty SCG Tour Top 8 finishes, and his Open win at SCG Baltimore in December 2018 with Izzet Phoenix popularized the deck in Modern.
Tappy Toe Claws
Tappy Toe Claws is a cosplayer, streamer, and fanartist best known for her unique portrayal of Jace Beleren and "casual cosplays." The dinosaur enthusiast came to prominence in 2017 at Grand Prix Las Vegas.
Watch this event LIVE at twitch.tv/starcitygames on Saturday, June 27 at 10 AM ET (7 AM PT), and get ready for  Core Set 2021!