Courtesy of Wizards of the Coast (WotC) and TeferiMagic, take a look at the founding Elder Dragon of the Quandrix College in Strixhaven: School of Mages — Tanazir Quandrix!
Tanazir Quandrix stands out immediately as an Elder Dragon that only costs five mana. Let's dive into the 4/4's many abilities.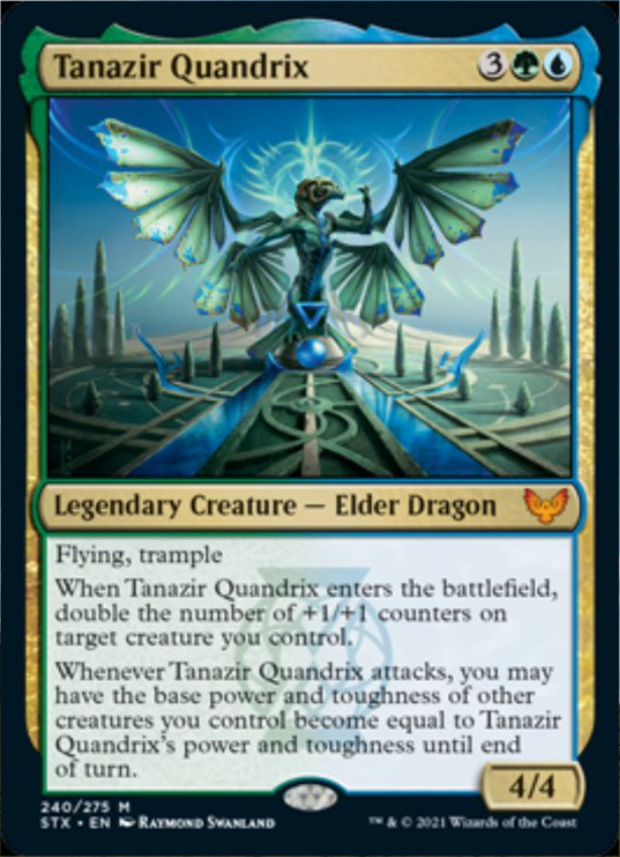 A 4/4 flying and trampling Dragon is already pretty good for five mana, but Tanazir Quandrix also pays you off for playing with creatures that gain +1+1 counters. And unlike previous +1+1 counter bonuses, Tanazir Quandrix doesn't just give them an additional counter — it doubles them.
Attacking with Tanazir Quandrix can buff your team in combat in a couple ways. If you simply have some smaller creatures out and curve into the Elder Dragon, they can all be 4/4s just by being alongside Tanazir Quandrix. However, if your team of creatures have some +1+1 counters, the base power and toughness will match Tanazir Quandrix then benefit from the +1+1 counters for a huge bonus.
Creatures like Stonecoil Serpent, Yorvo, Lord of Garenbrig, and any creature with escape can leverage Tanazir Quandrix. Throw Vorinclex, Monstrous Raider into the mix and the +1+1 counter shenanigans can get out of control.
What do you think of Tanazir Quandrix? Do you want to go off with +1+1 counters or beat down with an aggressive Simic deck topped off with an Elder Dragon?
Strixhaven: School of Mages releases April 23. Check out our official preview gallery.