Wizards of the Coast (WotC) and parent company, Hasbro, have announced plans to release Magic: The Gathering crossovers with fantasy juggernauts Lord of the Rings and Warhammer 40,000 as part of their new brand — Universes Beyond.
Announced during today's 2021 Investor Report, Magic will partner with Middle-Earth Enterprises and Games Workshop to bring the crossovers to life. Both crossovers will join as part of "Universes Beyond", a new brand within Magic that serves to incorporate unique intellectual properties into the Magic Multiverse.
In partnership with Middle-Earth Enterprises, WotC will gain access to iconic characters from both The Hobbit and the Lord of the Rings trilogy, and plans to feature them in a full expansion set. According to Hasbro, additional details including the timeline for this set's release will be provided later this year.
According to WotC, plans for the crossover with Games Workshop and Warhammer 40,000 include a series of Commander decks and the occasional "…associated Secret Lair products related to the main release." The release date for the Warhammer crossover is currently listed as 2022.
Universes Beyond
Cards included as a part of Universes Beyond will have a slightly different look compared to traditional Magic cards, and will feature a unique, holofoil stamp that can be seen on Secret Lair X The Walking Dead cards.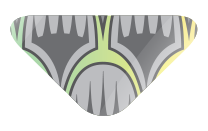 Cards included as part of Universes Beyond will not be Standard-legal, and will not impact the "normal cadence of releases for Standard." Also important to note, the upcoming Dungeons & Dragons crossover set — Adventures in the Forgotten Realms — is not included within Universes Beyond and will be part of a future Standard rotation.
Read the original article from Wizards of the Coast.