A Magic: The Gathering artist has admitted to using significant portions of another MTG artist's work without permission or credit.
Editors note: Wizards of the Coast has released a statement cutting ties with David Sondered. Read here.
David Sondered is the credited artist for a reprint of Wayfarer's Bauble in The Lost Caverns of Ixalan Commander. On November 18, 2023, another MTG artist, Lorenzo Lanfranconi, posted on X / Twitter that Sondered "stole one of my paintings to paste it as it is in the background of their illustration". The post contains side-by-side images of Wayfarer's Bauble and Lanfranconi's Morning walk to the city, part of his IAMAG Master Class.
On Reddit, user SordidDreams posted a GIF showing how Lanfranconi's image, mirrored right to left, appears in Wayfarer's Bauble's background with minimal alteration.
According to Lanfranconi, Sondered responded almost immediately, writing to him and to Wizards of the Coast (WotC), makers of Magic: The Gathering. Sondered also posted a public statement to Instagram and other social media sites, explaining that he had not adequately altered one of his references. Sondered wrote: "… it looks too close to someone else's original piece of art. It is 100% on me, and I made a very bad call on this one."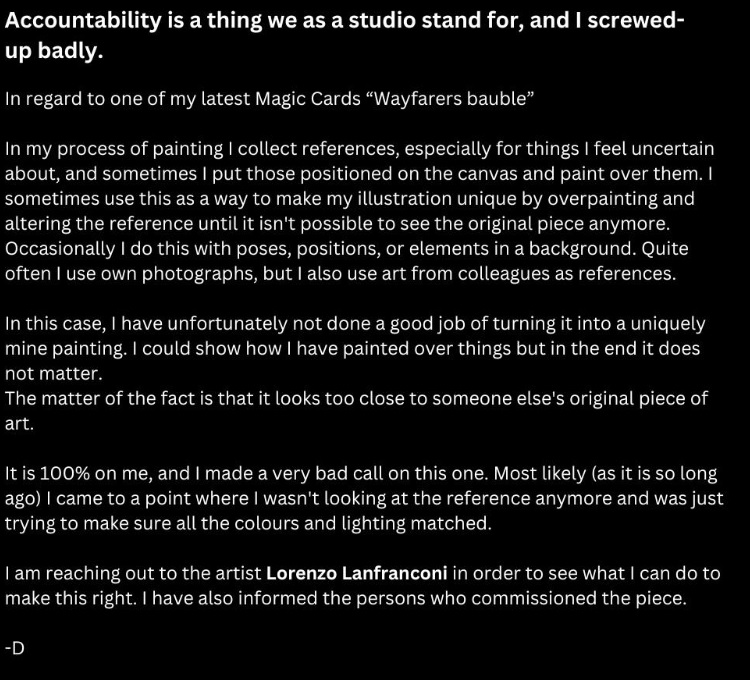 Sondered and his studio, Colrouphobia, have since closed several social media accounts, claiming online harassment of family members.
WotC has also issued a statement condemning plagiarism and has cut ties with Sondered until further notice. The company dealt with a similar instance of plagiarism in March 2021, when artwork for the Strixhaven Mystical Archive version of Crux of Fate, credited on the card to Jason Felix, was found to have used both official MTG artwork by Raymond Swanland and fan art by Kitt Lapeña, alias "scarypet". In response to the plagiarism, WotC suspended its working relationship with Felix.