Wizards of the Coast (WotC) issued a statement on an error with the English printed version of Saiba Trespassers from Kamigawa: Neon Dynasty.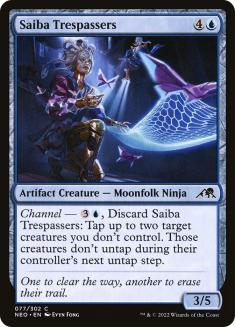 The English printing of the card has the wrong creature type listed, stating it is a Ninja when it is meant to be a Moonfolk Rogue. The correct creature type appears on all other languages and will be reflected on Magic Online and MTG Arena.
Read the original article from WotC.