Jason Fleurant won the MagicFest Online Season 2 Finals on Sunday with Temur Adventures.
Quarterfinals
1
Simon Goertzen
Obosh Mono-Red Aggro
8
Rigel Berg
Lurrus Boros Cycling
4
Yuta Hirosawa
Obosh Mono-Red Aggro
5
Gabriel Nassif
Yorion Jeskai Lukka
2
Garrison Fogt
Lurrus Boros Cycling
7
Jason Fleurant
Temur Adventures
3
Ivan Floch
Temur Reclamation
6
Paulo Vitor Damo da Rosa
Yorion Bant Control
Semifinals
Paulo Vitor Damo da Rosa
2-1
Creatures (24)
Lands (27)
Spells (9) Companions have been dominating the MagicFest Online Weekly Championships, but Fleurant showed that you don't have to have one to take down a big event. Fleurant's Temur Adventures capped Season 2 with a win, coming out on top of a bracket stacked with talent including Pro Tour champions Paulo Vitor Damo da Rosa, Gabriel Nassif, Ivan Floch, and Simon Goertzen.
Fleurant defeated Garrison Fogt on Lurrus Boros Cycling in the quarterfinals, leading to a matchup against the current world champion. The match went to a deciding Game 3 where it looked like Damo da Rosa had everything under control with Neutralize and Dovin's Veto available on the pivotal turn, but the Arena autotapper left him without three blue sources, leaving Fleurant all clear to finish the match with a lethal Explosion.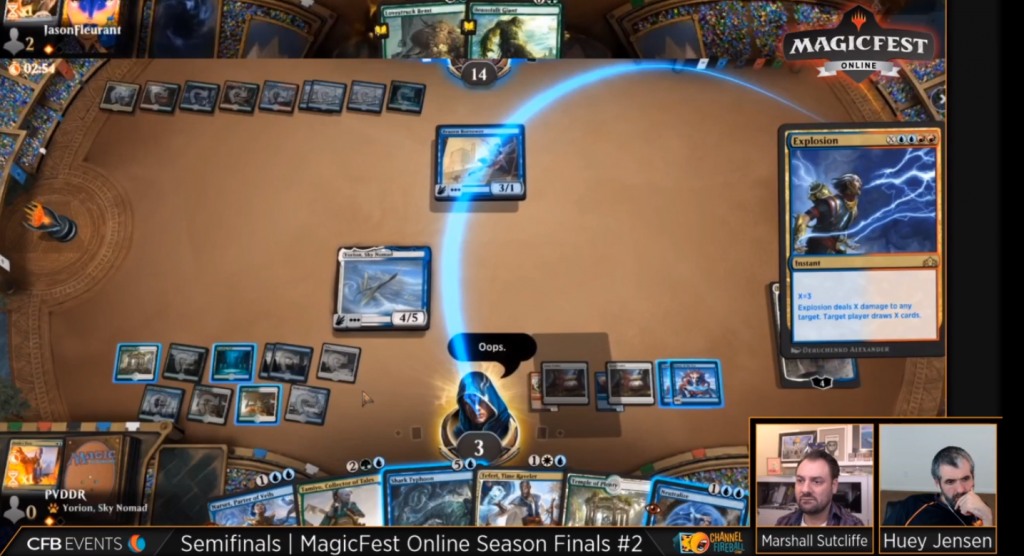 This left just Nassif and Fleurant remaining to determine a Season 2 Finals champion. The finals also went to a third game with Nassif being able to land an Agent of Treachery, but it wasn't enough to match the absurd levels of value Fleurant's deck generated. Despite Nassif getting Yorion, Sky Nomad and Fires of Invention online, Fleurant's three copies of Lucky Clover overwhelmed Nassif as the game went long, eventually securing the win for Temur Adventures.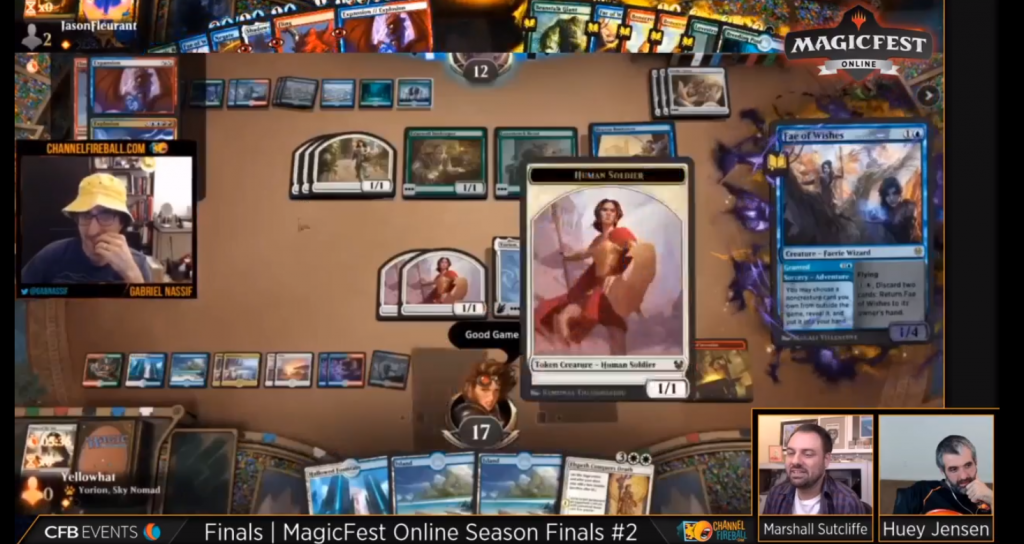 View the Top 8 decklists.