Grand Prix Dallas champion Austin Bursavich has allegedly been suspended from the DCI, Magic Online (MTGO), and Magic Arena (Arena) after failing to cooperate with a Wizards of the Coast (WotC) investigation, according to what appears to be an email from a support rep at WotC.
On May 13, Bursavich posted a series of tweets detailing an outline of the upcoming organized play changes a week before Magic.gg released the information. Bursavich claimed he had not seen the announcement, but had heard the information from elite players who leaked it to him to do the right thing and let the public know.
Included in his tweets was the information that the upcoming Players Tour event would be held exclusively on Arena along with serious prize cuts. Bursavich made the tweets because he claims the members of the MPL and Rivals were already alerted of the information coming in the announcement roughly five days prior to his posting. Bursavich wanted to balance the playing field, pointing out the head start the MPL and Rivals members got by knowing the format and structure of the Players Tour events in mid-June, weeks before everyone else.
While the official announcement didn't come until Wednesday, May 20 – a day after Bursavich predicted its drop – it did confirm everything he tweeted: Players Tour and Mythic Invitational events all were being moved to Arena and massive prize cuts of more than two million dollars were being made.
On Friday night, Bursavich received what appears to have been an email from a WotC support rep from the [email protected] account regarding his posting of confidential information. The brief email concluded by requesting his help in identifying who leaked the information so that WotC could prevent future leaks.

Bursavich posted a screenshot of the email on Twitter the next morning with a joke response.
Bursavich replied with a much different and longer email going over his frustrations with Magic organized play. It touched on his 50-10 record in the past four high level events, including a Grand Prix win and back-to-back Top 8s at Mythic Championship VI and Players Tour Phoenix, with almost nothing to show for it. He mentioned how he earned 18 Mythic points for the next year to try to make it into Rivals and that they were all now irrelevant. Ultimately, he did not provide WotC with the names of the sources who told him about the upcoming changes.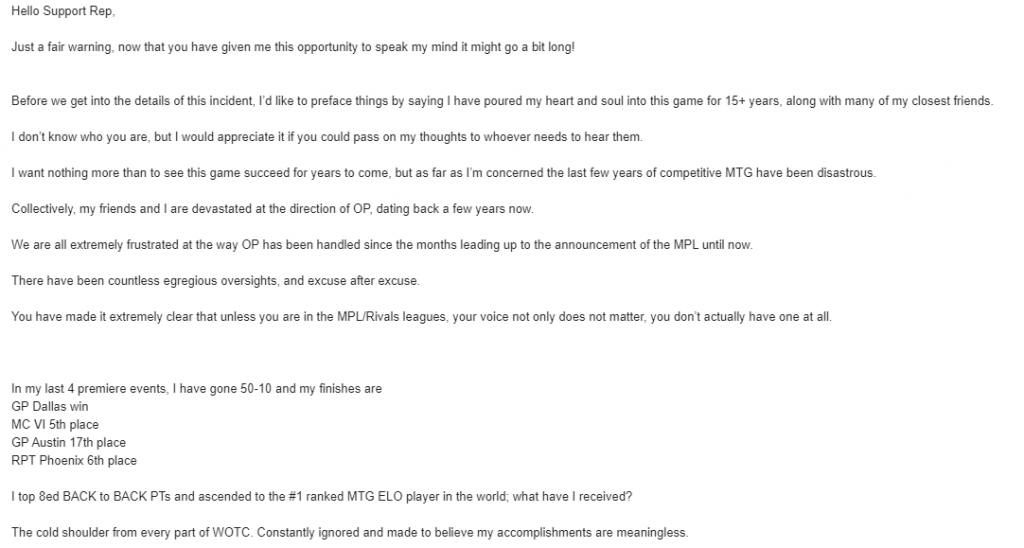 On Sunday, Bursavich felt it was time to start preparing for the Arena Open set for this weekend. At around 1:30 pm CT he began streaming his testing on Arena. Immediately after Bursavich completed his first match of testing he lost his connection to the Arena server around 2:15 pm. After trying to log back in, he noted he might have just been banned from the program and created a new account to see if he could log into Arena. After being able to log in on the new account he checked his email and saw another from the same WotC support rep allegedly notifying him of his suspension from the DCI, MTGO, and Arena.

After reading the new email and all the correspondence up to this point on his stream, Bursavich tried to log back into Arena with the new account, only to see it was also unable to sign in just twelve minutes after creating it.
According to the email, the reasoning for Bursavich's suspension was his failure to cooperate with WotC's investigation, though Bursavich claims he was unaware he was part of any investigation.
"I thought it was just a support rep because the email didn't say it was an investigation," Bursavich said. "When I saw it was from support, I didn't send them the joke email response I tweeted, because they obviously cared more than I thought."
Bursavich spent the next couple hours going over all the emails more and answering questions from his chat. To follow along with the timeline, you can watch his VOD from the stream below with the time stamps.
5:30 he connects to his opponent
44:05 he loses connection to the server
49:00 he makes a new account and logs in
51:00 he reads the suspension email and the original response he sent on Saturday to the stream
1:01:35 he tries to log into the new account
As of Monday, Bursavich has responded with his appeal to his suspension, but awaits more information. Since his suspension went viral on Twitter on Sunday, many Magic players have come out in support for Bursavich and are looking for answers. In fact, the suspension hasn't been confirmed by WotC as the webpage that used to show who was banned or suspended from Magic no longer is public.
"I don't know why they waited to do it when they did, waiting until 2:30 on a Sunday on a holiday weekend," Bursavich said. "Maybe they knew they were dropping five Secret Lairs the next day."