Courtesy of Wizards of the Coast (WotC) and Reid Duke, here's black's newest Nightmare from Ikoria: Lair of Behemoths – Grimdancer!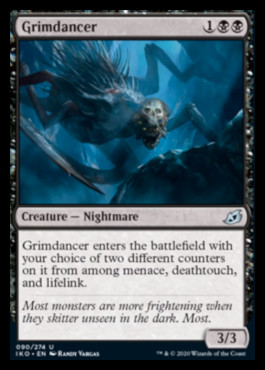 A 3/3 for 1BB, Grimdancer's enters the battlefield trigger gives its controller quite the decision:
Grimdancer enters the battlefield with your choice of two different counters on it from among menace, deathtouch, and lifelink.
Choosing the right two abilities on Grimdancer will be a unique challenge for players, but if anyone will get that decision right more often than not, it will be the person who previewed the card – Reid Duke.