An Artist Series: Mark Poole Secret Lair drop looks to be another inclusion in the All-Natural, Totally Refreshing Superdrop.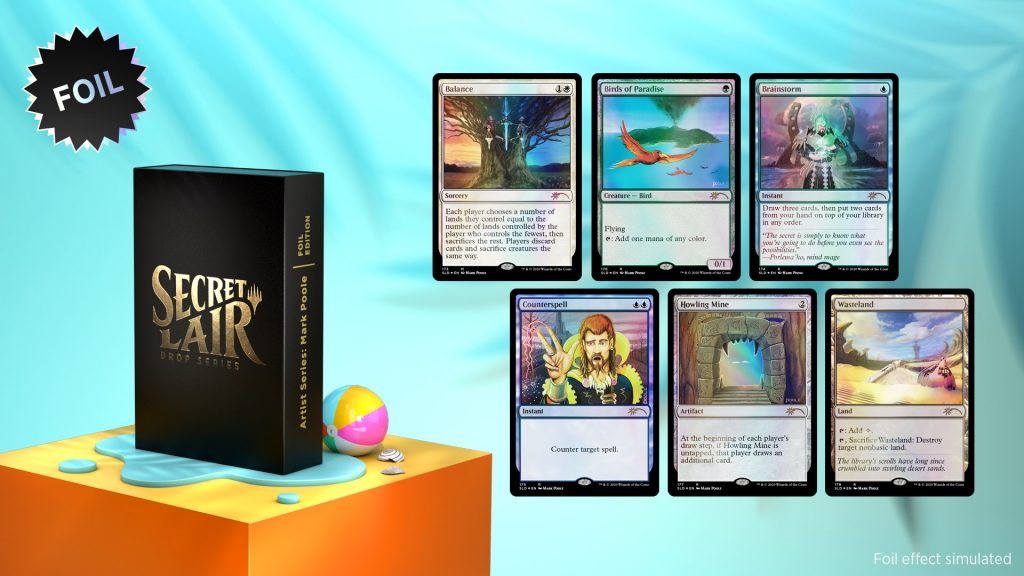 Similar to last year's Artist Series: Seb McKinnon drop, Poole gets to show off some new art for classic cards and some foil versions of his iconic cards. The drop includes new art versions of Balance, Brainstorm, and Wasteland along with reprints of Birds of Paradise, Counterspell, and Howling Mine. The drop comes in foil and nonfoil versions, with the foil set including first time foil versions of his art on Birds of Paradise and Howling Mine.
Poole made the original Balance art from Alpha, but has a new take on the card in this drop. He also got to try his hand at Brainstorm and Wasteland for the first time.
Poole's Counterspell art has already been available in foil once in the form of the FNM promo, but for Howling Mine and Birds of Paradise, this is the first chance to get Poole's original art in foil. The foil edition costs $39.99 and the nonfoil edition costs $29.99.
The Artist Series: Mark Poole drop can be ordered on June 21 separately or as part of a package with the entire Superdrop. Check out the Secret Lair site for pricing and ordering information on all the drops.