Wizards of the Coast (WotC) has provided a series of important details about updates for MTG Arena.
Arena Open Returns
The Arena Open makes its return on July 31-August 1, providing players the chance to win up to $2,000. Standard is the name of the game and players will have the option of playing Best-Of-One or Best-Of-Three on Day 1. Entry to the July Arena Open costs 20,000 gold or 4,500 gems and comes with a Lair of the Hydra card sleeve.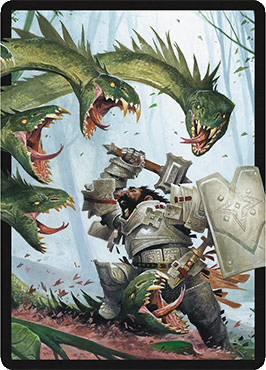 The Arena Open begins at 9 AM ET/6 AM PT on July 31 with the signup period ending at 6 AM ET/3 AM PT August 1.
Players competing in the Best-of-One flight need to reach seven wins before three losses to reach Day 2, while players in Best-of-Three need to hit four wins before one loss to move on to the second day of competition. All prizes will be awarded as gems until reaching six or seven wins on Day 2, with cash prizes of $1,000 and $2,000 going to the top players. Prizes for records on Day 1 break down like this:
| Best-of-One | Best-of-Three |
| --- | --- |
| 7 wins: 2,000 gems, Make Day 2 | 4 wins: 5,000 gems, Make Day 2 |
| 6 wins: 1,600 gems | 3 wins: 5,000 gems |
| 5 wins: 1,200 gems | 2 wins: 2,500 gems |
| 4 wins: 800 gems | 1 win: 1,000 gems |
| 3 wins: 400 gems | 0 wins: no rewards |
| 0-2 wins: no rewards | |
Day 2 entry period is 9-11AM ET/6-8 AM PT August 1 and sign up period ends at 11 AM ET/8 AM PT. Day 2 will be Best-Of-Three Standard.
| Wins | Rewards |
| --- | --- |
| 7 wins | $2,000 |
| 6 wins | $1,000 |
| 5 wins | 20,000 gems |
| 4 wins | 10,000 gems |
| 3 wins | 6,000 gems |
| 2 wins | 4,000 gems |
| 1 win | 2,000 gems |
| 0 wins | no rewards |
The Book of Exalted Deeds Banned in Standard 2022
The Book of Exalted Deeds will be no longer be legal in Standard 2022 on Friday due to the combo with a creature-land being so difficult to interact with in a reasonable way. The announcement states the combo and decks that play it aren't dominant or have an overwhelming win rate, but the difficulty to interact with element combined with the fact that if two players have a land with a enlightened counter the game can't end amount to be too problematic.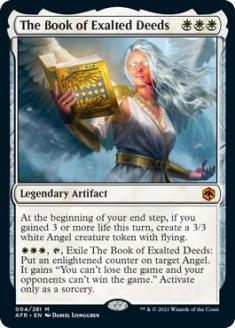 This announcement also says that this doesn't mean The Book of Exalted Deeds will be banned in Standard after the release of Innistrad: Midnight Hunt. Wildcards will not be reimbursed as the card is still legal in all other formats on MTG Arena.
Bug Fixes
Effects that search for lands by type fixed, mainly impacting Binding the Old Gods not being able to fetch Triomes and shocklands
Fixed bug that caused the screen to shake at inappropriate times (like whenever a land was played)
Fixed Level 3 of Paladin Class that caused wrong power/toughness buff
Standard Metagame Challenge This Weekend
The Standard Metagame Challenge returns on July 17-20. Pack awards will be Adventures in the Forgotten Realms and top prize for seven match wins nets 30 packs and 5,000 gold. Entry fee is 2,000 gold or 400 gems.
Adventures in the Forgotten Realms Cosmetic Bundles
The Module Treatment Land Bundle will provide the module card style for the eight lands in the set. The bundle costs 1,800 gems or 8,000 gold. Also available are the Beholder Bundle, which offers a Beholder pet and a Xanathar card sleeve for 3,000 gems or 15,000 gold, and the sticker bundle that gives an Ellywick sticker, Beholder sticker, and Mindflayer sticker for 1,000 gems or 5,000 gold.
Upcoming Events
Midweek Magic
July 13-15: Future Precons
July 20-22: Artisan
July 27-29: Standard All Access
Quick Draft
July 9–23: Zendikar Rising
July 23-August 10: Strixhaven: School of Mages
Other Events
July 17-20: Standard Metagame Challenge
July 24-27: Adventures in the Forgotten Realms Constructed
July 31-August 1: Arena Open
Read the original article from WotC.