Courtesy of Wizards of the Coast (WotC) and Yoshihiko Ikawa, a Return to Ravnica classic is back with a timeshifted frame in Time Spiral Remastered — Abrupt Decay!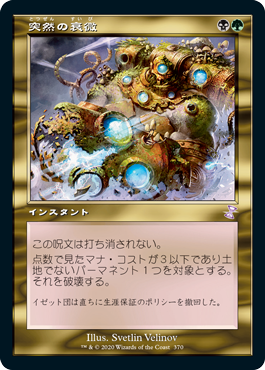 Originally printed in Return to Ravnica, Abrupt Decay has long been considered a premium removal spell and has settled into its role as a popular sideboard card in Eternal formats. Abrupt Decay has been printed four times, with the fifth coming in Time Spiral Remastered.
Time Spiral Remastered is currently scheduled to release on March 19, 2021. You can check out our official Time Spiral Remastered preview gallery here.