If you're anything like me, just seeing the deck name 'Five-Color Enigmatic Incarnation (Yorion)' is enough to pique your interest. Uro, Titan of Nature's Wrath was the Simic card from Theros Beyond Death that took Constructed by storm, but Enigmatic Incarnation offers one of the most delightful deckbuilding puzzles in recent memory – and is starting to show its Constructed chops in Pioneer too.
At first glance, Incarnation is just another riff on the ever-popular Birthing Pod effect, but when you try building around it, you quickly realize how different the conditions are. When each link in your chain shares the relevant card type, it's easy enough to build those branches without trying hard; the Elvish Mystic or Noble Hierarch that powers out your Birthing Pod can be fed to it to start that climb. If you just need any creature at a certain spot in the curve to get things going, your odds of having one are decent.
Incarnation asks a lot more of you. Instead of the most common card type, you now need the most obscure one. It's no surprise that Incarnation failed to make a mark in Standard, despite being in an enchantment-themed set. It took Pioneer's card pool, with two trips to Theros and a lot in between, to balance both halves of this equation.
What You Need and What You Get
We need enough enchantments that we can trigger Enigmatic Incarnation repeatedly and reliably – and immediately! These upgrades also need to be worth spending four mana on our namesake enchantment and jumping through all these hoops to enable it; the payoff isn't obviously there if we are just turning two-drops into three-drops, so we should aim higher up the curve, too. We care about both the quantity and the quality of our enchantments, and these have to link up to their creature partners at the right spot on that curve.
We also run into the familiar tension with these toolbox effects. You want these situational targets to maximize your coverage against the format, but you risk becoming overly reliant on the toolbox card and having more dead cards in your deck in any given matchup. A deck that's already going out of its way to pad its enchantment count is less able to mitigate that risk in other ways. This is a lot to ask, even if we could guarantee access to Incarnation every game. Does our deck even function when we can't rely on it?
With all that in mind, how do we attack this puzzle?
Enchantments as Removal
Enigmatic Incarnation pushes us to fill our deck with situational creatures that it can access in the mid-game. We want the enchantments that make that possible to be cheap and either generic or versatile so that our draw is at least somewhat functional earlier in the game and when we don't have Incarnation. With these competing demands on our slots, we can't really afford regular interaction, but otherwise uninspiring removal like Trial of Ambition or Omen of the Forge gets a look just because of the all-important enchantment type.
Enchantments as Card Replacement and Filtering
With this focus on a specific engine card, the likelihood of drawing the wrong narrow cards, and an ambitious manabase (whose true horror we will encounter shortly…), card replacement and filtering attached to enchantments is vital. Four-Color Control in Modern showed the world how good Abundant Growth can be, but there's a vast difference between one and two mana; even in Pioneer, you're not keen to play Nylea's Presence. Omen of the Sea is a much stronger card that makes the cut on rate and is a big reason to want blue mana early. Lithoform Blight has some applications against Nykthos, Shrine to Nyx and Old-Growth Troll from Mono-Green Devotion but also offers a creative out to Lotus Field – if you sacrifice it to Enigmatic Incarnation, Renegade Rallier can return it enchanting and disabling Lotus Field, as this doesn't 'target.'
Chained to the…Fblthp?
Chained to the Rocks highlights the issues here. It's a precious example of a cheap, interactive enchantment that you desperately want to play anyway – the 'normal' Four-Color Fires (Yorion) deck leans on it as perhaps the best removal spell in the format. You won't often want to sacrifice it (unless by the time you have that choice with Incarnation you can afford to free the Monastery Swiftspear or Llanowar Elves it locked up), and you want to sideboard it out against decks like Azorius Control or Lotus Field Combo where you can gladly toss it away. Given that, is it worth playing a marginal two-drop creature just in case that scenario comes up? Some older lists chose to chase that dream with Fblthp, the Lost. Now, Spirited Companion is a more sensible but less exciting choice.
Enchantment Creatures as Curve-Fillers
Enchantment creatures can fill some of these holes. The likes of Spirited Companion or Gloomshrieker can fill spots in the curve while giving you some value back – hate cards like Eidolon of Rhetoric or Arasta of the Endless Web act as both high-value creatures to search for with Incarnation in the relevant matchups and fodder for Incarnation otherwise.
This is part of why Kamigawa: Neon Dynasty was such a gold mine for this deck – it offered not just more good enchantments and creatures individually (with some extra options like Commune with Spirits for good measure), but more enchantment creatures. Until now, these were a special treat once every few years when we came to the right plane, but there are promising signs that we can expect more soon.
The 'Y' Factor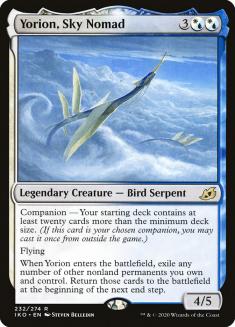 Decks like Azorius Control that could be perfectly content with 60 cards look for reasons to add more for Yorion, Sky Nomad, and we are already pushing up against that limit. The setup enchantments for Incarnation and a minimal toolbox for it take up a lot of space, so the extra slots are welcome, and you are less likely to draw a narrow toolbox card that is still relevant enough to merit inclusion for the right matchup.
This Yorion is highly effective. We want our Incarnation fodder to have value that doesn't require the enchantment itself to stick around, and the easiest way to achieve that are enchantments with 'enters the battlefield' triggers that work well with Yorion. Many of the toolbox creatures like Skyclave Apparition or Knight of Autumn follow this same template. Having a strong, guaranteed end-game in Yorion makes it easier to win the scrappy games where you never find Incarnation.
Light My Fire
Yorion also acts as a familiar combo piece of sorts with the deck's other powerhouse enchantment: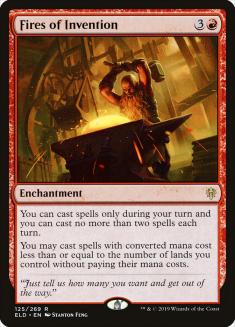 Fires of Invention is one of the few Eldraine-era menaces that still survives in Pioneer, and this is an excellent deck for it. You can cast a Turn 4 Fires of Invention and use it to cast Incarnation, which in turn trades the Fires for a five-drop – or just use it to unload a hand of clunky cards without caring about their mana or colour requirements. You're keen to cast Yorion, and Fires makes that easier on both ends; you can pay the three mana to pick it up since your other spells are free, cast Yorion for zero mana, and then use any untouched mana to cast a third spell manually.
To the Moon
Moon-Blessed Cleric ties this room together admirably, setting up Fires or Incarnation as well as one-ofs like Eidolon of Rhetoric. With Fires on the battlefield, you can cast a Cleric, draw the enchantment you found by cycling a Triome, and cast it immediately.
Cleric also tempts you with another deckbuilding sub-game: do you want to support yet another toolbox of enchantments that you can't find otherwise? Access to a card like Deafening Silence or Rest in Peace in Game 1 can pump up your equity in the matchup, yet doubles down on the inconsistencies covered already.
Turning Fables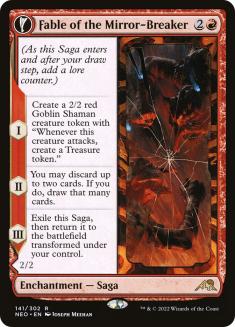 You've heard this one before – Fable of the Mirror-Breaker is a game-changer for this deck. Every part of the card is useful; it's a three-drop enchantment for Incarnation (as is Reflection of Kiki-Jiki once transformed), the Treasure tokens from the Goblin offer crucial fixing and ramp towards your four-drops and five-drops, you're likely to have subpar cards to ditch and specific cards to dig for with the second chapter, and you have plenty of high-value creatures to copy.
So…How Many Colours?
After all that, it's not even clear how many colours we want! You need at least a dash of red for Fires of Invention (and a lot of Mountains if you want Chained to the Rocks). Enigmatic Incarnation is squarely in Simic, but you could minimize either blue or green, since you just need a single source by Turn 4 for Incarnation. Many of the best enchantments and Incarnation tools are white. These requirements are at once restrictive and loose.
The big question mark is black. Successful lists in the past few weeks, including Sam Rolph's Pioneer Challenge Top 8 and Shibata Akira's winning list from a large tournament at Hareruya in Japan, have dipped into the whole color pie.
Black's Benefits and Drawbacks
Black offers useful cheap enchantments as well as unique Incarnation options ranging from hate cards to finishers. Nothing in any other colour can replicate the effect of Kambal, Consul of Allocation or Kotose, the Silent Spider.
The drawback is that building a sensible manabase becomes an impossible puzzle. These land sections look like a random grab-bag of the legal lands in Pioneer with a Mana Confluence or two to paper over the cracks. Against the aggressive decks of the format, it's highly dangerous to stumble on mana or deal yourself unnecessary damage when your deck is already prone to awkward or clunky draws.
My List
Creatures (18)
Lands (33)
Spells (29) I'd like to draw particular attention to the spells and the Incarnation selection, where almost every card has an immediate impact on the battlefield. Portable Hole shows up as another one-drop removal spell that can tag Elvish Mystic or Favored Hoplite, while Wolfwillow Haven is a two-drop enchantment that ramps into and enables Incarnation.
While it's hard to offer a concrete sideboard guide for a deck this flexible, we can take a quick tour of the common matchups.
Against Rakdos Midrange
The default 'fair' strategy in Pioneer, Rakdos Midrange is a popular and successful deck – and the best argument for playing Five-Color Incarnation (Yorion). They can't trade off with your cards and shrink the game when so many of your cards create card advantage, you can blunt their offense easily, and you exploit black and red's glaring and historic vulnerability to enchantments as hard as possible. If you expect to face a lot of Blood Crypts, there's no better choice.
Against Izzet Decks
The Steam Vents matchups are closer but generally positive – the biggest danger against Izzet Phoenix is that it's hard to stop them overwhelming you with Galvanic Iteration + Temporal Trespass in a longer game.
Against Mono-Blue Spirits
Mono-Blue Spirits is a nightmare matchup – your expensive, sorcery-speed spells are easy prey for their cheap disruption, and random creatures without flying are essentially worthless. By contrast, a matchup like Boros Heroic is closer, since they can't interact with your engine easily and both your removal and assorted blockers are more likely to be relevant.
Against the Sidesteppers
More generally, decks that sidestep the usual fights over the battlefield are tricky matchups. You can find hate cards like Eidolon of Rhetoric against Lotus Field Combo fairly consistently, but these are much less reliable now that they can tutor for Boseiju, Who Endures. In matchups like this where removal like Chained to the Rocks has few or no targets, it's hard to find a coherent sideboard plan given all the competing pressures on your deck construction.
Against Mono-Green Devotion
Mono-Green Devotion is somewhere in the middle. Their linear plan is faster and can overwhelm you quickly, but your interaction is actually relevant. I would rather be on the Devotion side, but Incarnation has a chance, and you can improve the matchup with more Disdainful Strokes.
For my money, this is one of the most fun decks in any format in Magic at the moment. With tough but rewarding deckbuilding decisions and a lot of variety and agency in-game, Enigmatic Incarnation will keep you busy and happy in Pioneer for quite a while.