Maybe I'm biased, but I think Planeswalker Party preconstructed deck is the best out of all the Commander Masters precons. Yeah, sure, Slivers and Eldrazi are flashy, but Superfriends brings me true joy. I've been piloting it as it and fiddling with upgraded variations for a while, and have come to love Commodore Guff and his new planeswalker pals dearly. Within this exciting list are ten brand-new cards that set my little Superfriends heart ablaze. Why not highlight each of them and share with y'all my professional planeswalker opinion?
Guff Rewrites History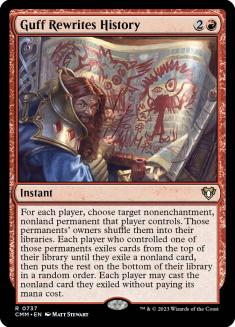 Let's start with my least favorite piece. In fact, it is the only piece in the entire precon I dislike. Why? Well, it's because Guff Rewrites History is quite literally a novel. Maybe it's naive of me to expect minimally worded cards in the year of our lord (Beyoncé) 2023, but when I first laid my eyes on this card, I found myself trailing off and having to restart.
After three attempts at reading this monstrosity, I was able to discover that it is essentially a mass Chaos Warp (that cares about the targets not being enchantments). I mean, yeah, it makes sense through the lens of it being in the same group as an enchantment precon. Players have to exile the top card of their library until they hit a nonland card and can cast that card without paying its mana value. Is it a good card? Yes. Does it take me forever to read it? Yes. Am I including it in my upgraded Guff deck? Probably not.
Onakke Oathkeeper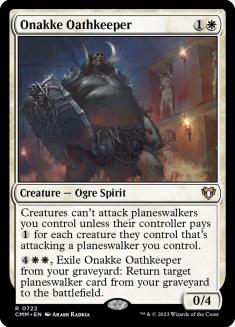 At first glance, I felt that Onakke Oathkeeper was lackluster. Then I played with it and was proved wrong. Onakke is a much-needed card in the Superfriends space, as there are very few pillow-fort effects that protect your planeswalkers. Stop typing, keyboard warriors: Propaganda and Ghostly Prison only protect you, not your planeswalkers.
Those are definitely the best ones, but they don't do what you need, and the ones that do what you need aren't exactly all-star cards. Norn's Annex is expensive, and people can just pay life; Sphere of Safety is good, but shines best in Enchantress decks; Forbidding Spirit is a temporary blip of an effect; and Baird, Steward of Argive is…not the best. When you look at Onakke's low mana value, coupled with the potent six-mana recursion ability, I find this card to be a welcome breath of fresh air into the Superfriends archetype.
Sparkshaper Visionary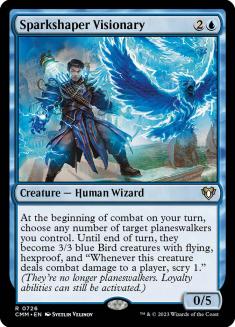 Oftentimes, planeswalker decks find themselves really lacking in the creature department. Sure, some planeswalkers make creature tokens, but they are either too few or too small. Sparkshaper Visionary helps answer this dilemma. How? It makes your planeswalkers into Birds with flying and hexproof! Plus the ability to scry?! It's another Sarkhan the Masterless ability, and one that wins games.
Flying attackers are just the chef's kiss in a combat scenario. Even Sarkhan's ability doesn't give them hexproof, but the Visionary does! In all honesty, I like to equate it to Cyberdrive Awakener but for planeswalkers. If you're running a Superfriends deck that has blue, I highly recommend this card as an alternate win condition.
Jaya's Phoenix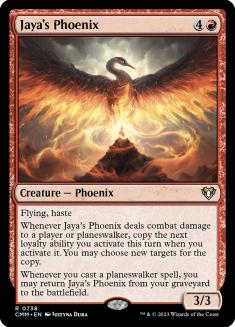 They took one of my favorite abilities and slapped it on a flyer with haste. Jaya's Phoenix is an all-star card with major impact. The ability to copy loyalty abilities can be lethal when you sequence things properly. It's like a Repeated Reverberation on a creature! Whether you're dealing more damage with Commodore Guff or simply adding more emblems with Elspeth, Sun's Champion, this card is on fire…literally. I know Phoenixes have recursion stapled to them, but with the threshold being "cast a planeswalker spell", getting it back will be easier than you think!
Leori, Sparktouched Hunter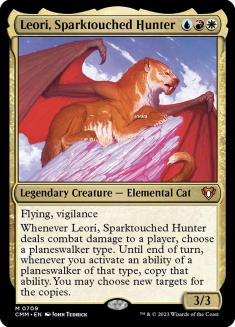 The alternate commander to this precon and an interesting one at that, Leori cares about planeswalker types. Like the Phoenix, the card also has one of my favorite abilities stapled to it. However, Leori does things a bit differently. See, she cares about specific Planeswalker types. If she makes contact with an opponent, she lets you copy loyalty abilities of the chosen Planeswalker type.
In the precon, I think Leori falls a bit flat. There aren't exactly a multitude of duplicate walkers. Two Chandras, two Narsets, three Jaces. It's not enough to see a specific type consistently. Yeah, you can maybe have one specific ability pop off a bit more than it usually would; however, I would personally love to see a Leori build dedicated to one or two specific planeswalkers. Her low mana value makes her a pretty attractive commander too. Who wants to give it a try?
Gatewatch Beacon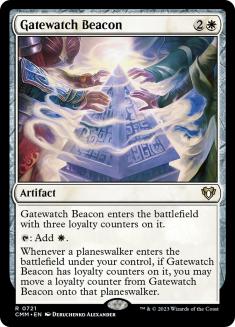 I am obsessed with this rock. Call me SpongeBob, because I love this rock (the young'uns will get the reference). [Copy Editor's Note: …oh no.] This is the kind of card design I love to see, as it enters the battlefield with loyalty counters on it (the first non-planeswalker card to do so ever). Other card types give additional loyalty, but this one comes in with loyalty, and I think that is so damn cool.
Many will ignore this rock simply for its mana value, but not I! No, this is my new favorite rock because it allows you to move a loyalty counter from it to a planeswalker that entered the battlefield under your control. While one loyalty counter may seem like nothing to you, this can make all the difference in the world to a skilled Superfriends player. One extra loyalty is one step closer to victory. For the Gatewatch!
Teyo, Geometric Tactician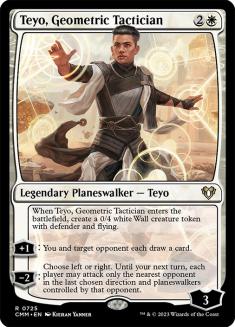 When I played Teyo against one of my friends, he loudly exclaimed, "Wow, we finally have a good Teyo?!" Yes, Dustin, yes we do. Teyo has saved my skin in many a precon game due to that -2 of his. Worried about your planeswalkers? Simply control whom people can attack. Easy enough!
What also makes Teyo stand apart from his initial printing is the fact that he comes in with a rather bottom-heavy flying token. Built-in protection is what a lot of Superfriends players like to see, and him coming with one as beefy as a 0/4 makes a big difference in early-game combat. You can also use him as a political piece, offering allies the occasional card draw. Sure, he's no Chandra, but he's come a long way from being the Shieldmage. All in all, don't sleep on him.
Vronos, Masked Inquisitor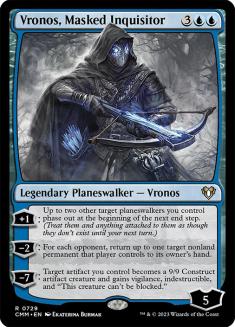 First things first, the art on Vronos is sick. Second thing is that the only abilities I care about on him are his first two. I know people say that you should never run a planeswalker for their ultimate, and they're right…especially for Vronos…because I don't really care for his -7.
His +1 is a friggin' godsend. Are you worried about your strongest planeswalker taking a beating? Worry not, because he can phase it and another planeswalker out! It adds another layer of interaction to a pretty tight and hard-to-interact-with archetype. His -2 is also useful because it can help temporarily remove big threats or problematic permanents from the battlefield. Vronos looks at some of Superfriends's biggest threats and says, "I don't give a Guff, you're good chief." You gotta love that about a guy.
Chandra, Legacy of Fire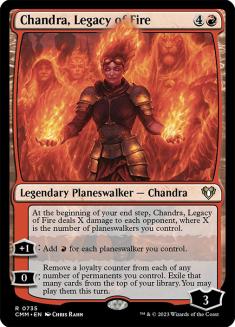 This card has me incredibly biased. Chandra is my favorite planeswalker ever. She is an absolute badass and her static ability wins games. She ramps you equal to the number of planeswalkers you control and turns loyalty counters into card advantage. This card is objectively good, and I refuse to hear any dissenting opinion. She's got a point, she's an icon, she's a legend, and she is the moment.
Commodore Guff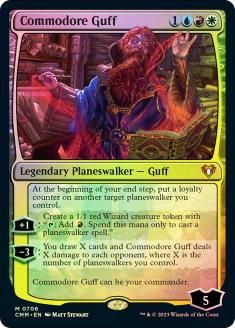 Last, we have the commander of the hour, the man, the myth, the legend: Commodore Guff. It pains me that so many people saw this face commander and just assumed the deck would be bad. I genuinely think this precon is one of the strongest ones in the bunch. It just takes a bit of know-how to pilot.
Guff is incredibly potent as a value generator. He generates mana creatures that can only cast planeswalker spells, and he deals damage and draws you cards equal to the number of planeswalkers you control. This number quickly ramps up thanks to your mana creatures and becomes a problem swiftly (even more so with the number of copy loyalty ability spells in the decklist).
When I played my first few games with Guff, he was almost always a problem and that's coupled with the fact that I would forget his end step trigger during each of my turns. No matter what way you slice it, the dude is a legend and a powerful card. He even has me wondering if I should take apart one of my Superfriends decks to have him take its place. However, that's another conversation for another time.
The Superfriends Spark
Planeswalkers are an interesting archetype in commander due to their glass cannon nature. They are either a huge problem or fall quickly due to combat and a lack of blockers. The ten new cards in this planeswalker precon help alleviate this problem just a bit with new copy abilities, new forms of protection, new ways to be aggressive, and political combat tricks that make the game that much more exciting and interactive.
I may be biased, but it's hard to deny that this deck is bonkers good and just plain good card design. If you see this precon in your area, I heavily encourage you to snatch it up and give it a try. You might just find a fun, new, and complex way to tackle your favorite format. Happy sparking, deckbuilders!