There aren't many of them, but the ones we have are exciting. Seven new legendary creatures come out of Commander Masters, and all of them have excellent possibilities for leading a new deck. As always, I'll try to find the Road Less Traveled for these commanders—ways of getting to the other 99 unconventionally, if not unusually. Let's dig right in.
Anikthea, Hand of Erebos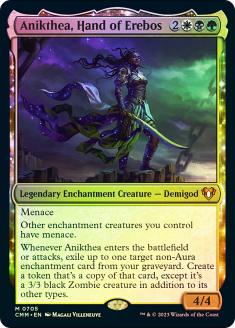 After we pass by my personal bias against exiling my own stuff, we can get down to business with the Abzan-colored Anikthea. Making non-creature (non-Aura) enchantments into 3/3 Zombies is cool. We can end up with a 3/3 Martyr's Bond or Aura Shards battling defiantly. There's a point at which Land Tax becomes less useful as an enchantment, and we can make it an offensive weapon instead. Some big enchantments, like Decree of Silence and Sagas, get sacrificed, so they're ready to get into the Red Zone post-haste. Anikthea also gives all of our enchantment creatures menace, so our team is going to be harder to block. This suggests a go-wide strategy, especially if some of those enchantments buff our creatures, like with Glorious Anthem.
At this point in Magic's long history, we seem to have powered through all the flavors of Enchantress. I'd want to do something really off the wall with Anikthea instead of another card draw/value train. Perhaps, since she's the Hand of Erebos, we could do a whole "body parts matter" theme. Defense of the Heart; Coat of Arms; Gwenna, Eyes of Gaea; Body Launderer; and so forth. The list could easily go on and be coherent. Snag a few Erebos cards and we could be on to something.
Leori, Sparktouched Hunter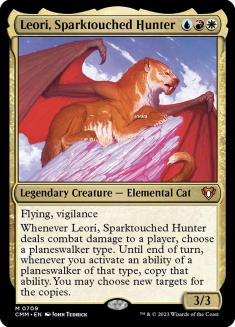 Doubling up on a planeswalker ability is nice, especially when it's an Anthem. Even getting in with some +1 abilities is nice. Jace, Unraveler of Secrets draws an additional card; Tamiyo, the Moon Sage locks down an additional creature; and Kiora, Master of the Depths (which would require that Leori not be the commander due to her color identity) will untap another creature and another land. Because it's a combat damage trigger, we can't use it precombat to get creatures out of the way, but will have to reap the benefits later. Also remember that since we're copying an ability and not an activation, we don't add or remove counters from our planeswalker.
Leori as commander puts us into Jeskai colors, which tends to push the spellslinger deck. Leori speaks more to me as an aggressive Cat-themed deck, which we can buff with cards like Regal Caracal or Jazal Goldmane. White will do the heavy lifting on the creatures in this deck, although Denry Klin, Editor in Chief will offer some long-rang benefit and Mischievous Catgeist will draw some much-needed cards.
Back in white, Seht's Tiger is always a great Hidden Gem. Trove Warden offers us the opportunity to bring back small creatures that hopefully have good enters-the-battlefield triggered abilities. There are plenty of nice mutate options if you want to run around with Vadrok, Apex of Thunder. While it's easy to get excited about Dreamtail Heron and Pouncing Shoreshark, I like to look outside the box and find the lockdown of Archipelagore, the creature creation of Cub Warden (and on our Cat theme!), and the artifact stealing, which is permanent, by the way, of Souvenir Snatcher. The latter is definitely worth the six mana you pump into it, as by the time you can afford to, it'll grab something spicier than Sol Ring.
Narci, Fable Singer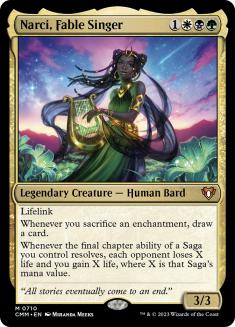 Narci, Fable Singer does a little bit of everything. That's just fine with me. It's in my favorite wedge, and I'm a little weary of just building Karador decks in it, so Narci is right up my alley. I'm focused on the offensive because of lifelink and the third ability (which I notice is life loss, so we don't gain anything). Narci pushes us towards Sagas, but since we're in reanimation colors, that made me think we could play five to seven of the best and just recur them.
Emeria Shepherd and Emeria, the Sky Ruin were the first that came to mind when it comes to recursion. The Praetor Sagas take care of themselves for coming back around, so getting Chainer's Torment back into Chapter 3 for the big Nightmare Horror or Chapters 1 and 3 of Elspeth Conquers for some nice targeted removal and then reanimating our best creature is super saucy. Of Herbs and Stewed Rabbits will be valuable all the way through, and so much more so on a second trip. One Ring to Rule Them All, possibly the Saga with the most raw power, hitting twice will put us ahead in a game. Song of Freyalise overperforms for its 1G cost. Tale of Tinuviel wraps around my heart, reanimating the creature early enough that on the second run-through we're more likely to have it not be the victim of enchantment destruction.
I'm not sure if I'd want to build Narci as an Enchantress deck, which would be the draw to it. It would certainly want lots of enchantments, which then suggests a suite of Enchantresses—pretty much an Enchantress deck. I suppose the trick in building the Road Less Traveled is that we'd have to concentrate on enchantments that don't often get played. From Accursed Witch to Zombie Infestation, we have 500-ish choices. We can definitely find a clever direction, like the Stax-y Contamination and Infernal Darkness or the monarch-bringing Court of Ambition or Marchesa's Decree. I'm personally in favor of the Hidden enchantments, like Hidden Predators or Hidden Guerrillas. Unfortunately, we don't sacrifice them because they become the creatures themselves. I wonder if that would be the case if the cards were made today.
Omarthis, Ghostfire Initiate
We don't really need to pay that much for Omarthis, since it'll gain counters as we're putting counters on our other creatures. Omarthis only gets one per creation, but it counts both creatures entering the battlefield and moving counters around, like with Forgotten Ancient. I'd be happy with X=2 (so costing four to cast) and then building from there.
I didn't really see the manifest part coming, but I like it. It'll be extra nice to help build back up after a battlefield sweeper, since we'll get a reasonable number of cards. Some of them will actually be creatures, so we'll be able to transform them back. Even if the creature count is three or four, we'll be at an advantage as other players try to recover.
If I were to make a deck with it as commander, I'd fill the deck with Arcbound creatures, featuring Arcbound Overseer and its ability to put a counter on each of our creatures with modular or Steel Overseer with it putting a counter on each artifact creature, thereby triggering Omarthis multiple times. We'd be in double digits in power in no time, in range of commander damage kills in two swings.
I don't really see Omarthis as a commander, since it limits us in color, but there's a janky little deck here that could be fun to play. Mostly I see it as a functionary in a +1/+1 counters matters deck, like in Ghave, Guru of Spores, since we get bonuses for moving the counters back and forth. There are enough cards that are good with +1/+1 counters that we probably have three or four full decks ready to be playable by now. It might be fun to lay out what that deck suite would look like.
Rukarumel, Biologist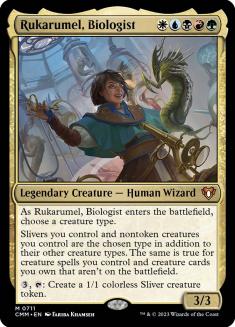 R U Emrakul? What's going on here? What's going on is a five-color Sliver commander that does something different from other Sliver commanders. We could play a bunch of disparate creature types, high on the functionality line, and just let Rukarumel turn them all into Demons to take advantage of Liliana's Contract, or Angels to get the buffs from Lyra Dawnbringer or the ability to cast things off the top with Sigarda, Font of Blessings.
Building a deck with Rukarumel is tricky. We can't use its ability to name Human if we want to play Winota, Joiner of Forces. We could rely on Coat of Arms effects; we simply have to remember that Coat of Arms is symmetrical and be prepared for the crackback. Best anti-CB card: Inkshield. Any other Fogs will do, but those Inklings will be huge.
While we're doing all that tricky stuff, we should remember that Slivers can just get out of hand on their own. We'll want to focus on the ones that help protect the squad, like Crypt Sliver, Crystalline Sliver, Hibernation Sliver, Opaline Sliver, Poultice Sliver, Psionic Sliver (plus anything that gives +2 or more to toughness), Pulmonic Sliver, Sedge Sliver, or Sliver Hivelord. Finding the right balance of offense and defensive Slivers has long been the challenge of Sliver deckbuilders. Giving a bunch of non-Sliver creatures Sliver abilities can get dangerous. I'd love to play with a stack of twenty placeholder creature cards in the deck that correspond to packs of creature cards which are chosen from randomly when we draw them.
Sliver Gravemother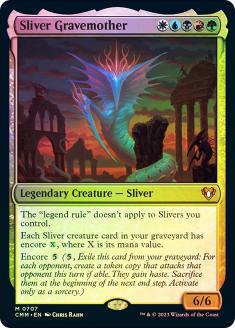 The legend rule not applying to Slivers is clearly there to make encore work better. Sliver Hivelord and Sliver Legion are really the only two of the six legendary Slivers of which we'd want multiple copies. Otherwise, the others don't do much, simply offering us overlapping abilities. Add into that any legendary creatures we'd add to our suite because of Sliver Gravemother's ability, and we might be talking.
My Sliver Gravemother deck would involve Clones. A few of the aforementioned legendaries; saucy legendary creatures from recent Magic history (All Will Be One, March of the Machine, and The Lord of the Rings: Tales of Middle-earth being particularly rich with choices); and seven or eight Clones, and we have some powerful creature-based stuff being hurled at our opponents. We still reserve the option to copy our opponents' things and get the Sliver bonus on top of it. Sliver Gravemother makes a sick deck.
Put Training Grounds in to reduce the cost of those Sliver Overlord and Sliver Queen activations, and we could be on fire in no time. Sliver Overlord and Manaweft Sliver / Gemshide Sliver already lead to some infinite combos. Training Grounds just speeds up that process and might remove one of the elements of the chain, making it easier. It certainly cuts into the costs of activating some of those Praetors, like the ones from March of the Machine. And we can Clone them, having them in different stages of development.
Zhulodok, Void Gorger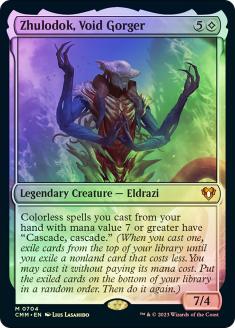 Okay, break out your Wastes, because we have something new to cast with them. A downside of Zhuludok as a commander is that we're once again on the colorless cards. This isn't a deal-breaker, but a significant limiting factor. I'd really love to be playing Blinky the Eldrazi, aka Eldrazi Displacer, as often as possible. Still, with Zhulodok as our commander, we can cascade, cascade big with Artisan of Kozilek; It That Betrays; Kozilek, Butcher of Truth; and Ulamog, the Infinite Gyre.
What might be cool is to play Animar, Soul of Elements as an Eldrazi commander. Animar wouldn't pay the colorless costs, just the generic mana. Still, some of those Eldrazi would be free, like the previously-mentioned Artisan of Kozilek; Kozilek, Butcher of Truth; and Ulamog, the Infinite Gyre. Playing Animar would give us access to green, blue, and red mana, allowing us to play World Breaker, Barrage Tyrant, or Deepfathom Skulker, just to name a few. We could play Primal Surge as our only non-permanent (although that's really been done before). Any way you slice it, we could make it into a pretty fun deck.
While all of these legendary creatures (not to mention an extremely saucy list of reprints) could put in some excellent work as one of 99, leading the deck is where they come into their own. They unlock strong powers that will soon have them soaring above their enemies. I suggest you give any of them a try.
Always remember we have a channel on the Commander RC Discord server dedicated to discussing my articles. I'd love to hear about features that you'd like to see, material you want more coverage on, ideas for subscriber/Patreon benefits you'd like to see, or even things that you think just aren't working—especially now that our revamped Patreon is live and ready to engage you with new benefits! Join nearly 10,000 friends for discussion of not just this piece, but on a wide variety of topics—both Commander-related and not. See you there!
Visit my Decklist Database to see my Signature Decks, the Chromatic Project, and more!