Hot on the heels of March of the Machine comes March of the Machine: The Aftermath, Magic's first "micro-set." Concepted as an epilogue to the huge "Phyrexian invasion of the Multiverse" story from previous sets, it focuses on the aftermath of the war and specifically what it means for many of the planeswalkers who were central to the story.
It's just 50 cards, with 21 of those 50 being legendary creatures you can Commander decks around. Many of these are legendary creature versions of planeswalkers who have now lost their spark due to story events, so if you ever wanted to build a legal Commander deck with, say, Sarkhan as your commander, now you can!
Many of these 21 legends feature abilities that are linear or niche, and fall outside what I normally look for when I do a "deep dive" on a new legendary creature, as I recently did for Kiora, Sovereign of the Deep. If you want to build a deck around Calix, Guided by Fate, you'll want a lot of enchantments and cards that care about enchantments; a deck helmed by Sigarda, Font of Blessings will be focused on Angels, Humans, or both.
So for this week, I'm shifting gears and giving some quick thoughts on a bunch of cards from this set that have caught my eye for Commander. I'll start with the legendary creatures, but there are a surprising number of other cards that I think will be a lot of fun or powerful for Commander decks. Let's jump in!
Jolrael, Voice of Zhalfir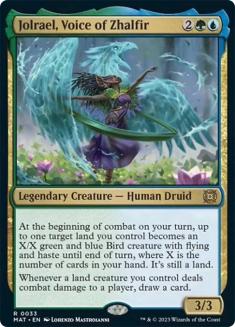 Jolrael, Voice of Zhalfir is the Buy-a-Box promo for the set, so if you pick up a box, you should get the cool alternate art for this interesting legend. It can certainly be the commander for a Simic deck chock-full of all your favorite cards, generating value by animating one of your lands and flying over ground blockers to draw you a card. On the other hand, it ties together a theme that we've seen before with Sylvan Advocate, Halimar Tidecaller, and Embodiment of Insight, giving land creatures you control various abilities. Tatyova, Steward of Tides made a stab at this, but Jolrael seems like the superior commander.
Animating lands can be a risky endeavor in the face of battlefield sweepers that are commonly played to destroy all creatures, but you can mitigate that with Awaken the Woods and Staff of Titania creating land creature tokens, as well as cards like Crucible of Worlds, The Mending of Dominaria, and Erinis, Gloom Stalker to bring lands back from the graveyard.
Narset, Enlightened Exile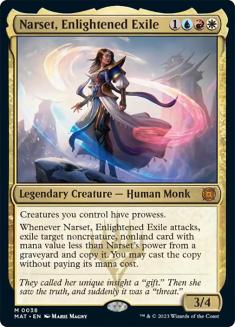 Have they finally created a Narset that people don't hate playing with in Commander? I suspect there might be some residual bad feelings due to Narset, Enlightened Master, and if you start milling various Time Warp-type cards into the graveyard in the hopes of chaining extra turns with Narset, then you should fully expect the table to hate you out, but I can see people building perfectly fair versions of Narset that can get quite aggressive with prowess triggers. I can see this leading fun "noncreature, nonland card tribal" decks for sure.
Nissa, Resurgent Animist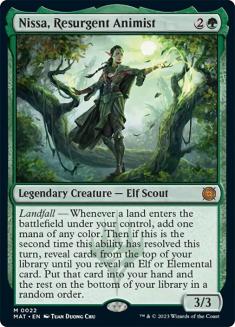 I built a Historic Brawl deck around Nissa, Resurgent Animist on Arena, and it definitely underwhelmed, but I could see it faring a bit better in Commander, where you can play a lot more lands that sacrifice to get another land to take advantage of Nissa's second landfall trigger. What's interesting to think about is just putting one single Elemental or Elf in the deck that you could go fetch up with that Nissa trigger, and then have ways to shuffle it back into your deck from the graveyard if it gets destroyed.
For Elemental candidates, I could see having Avenger of Zendikar if you're going the landfall route, or Nyxbloom Ancient if you're going big mana payoffs. Titania, Protector of Argoth is also a suitable Elemental with a big effect. Finding a singular Elf of big enough power to choose this path is a little trickier; maybe Yeva, Nature's Herald or Nissa, Vastwood Seer for some nostalgia for Nissa's planeswalker past. I could see peppering in three or four high-impact Elementals and Elves to keep things a little random, but also to ensure you're not just fetching up an Elvish Mystic or Fertilid.
Plargg and Nassari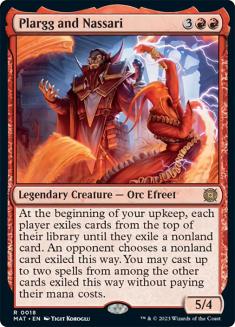 Plargg and Nassari looks like good, chaotic fun that scales nicely with the power level of your pod. The upkeep trigger creates a wild little mini-game where you've got to figure out which opponent gets to choose the nonland card you won't be casting. I expect wheeling and dealing aplenty, so if you like that sort of thing, put it in the 99 of your decks or build it as the commander.
Sarkhan, Soul Aflame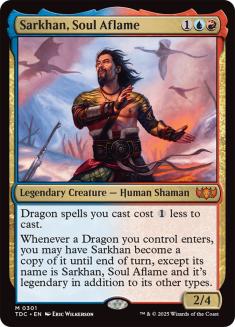 There have been so many incredible Dragon cards created in recent years that it's actual misery to try to build a five-color Dragon deck around The Ur-Dragon these days and cut the list down to 99 cards. But there are a ton of options now for Dragon tribal decks in more limited colors, and now Sarkhan, Soul Aflame brings another choice for Izzet fans.
Sarkhan reminds me a bit of Scion of the Ur-Dragon, transforming for the turn into whatever Dragon enters the battlefield (assuming you want him to turn into it). It's really exciting with something like Ancient Copper Dragon, which normally has to stick around to your next turn before it can attack, or gain haste somehow to unlock its amazing combat damage ability, but Sarkhan happily becomes a copy of it and can attack the turn you cast it.
Tazri, Stalwart Survivor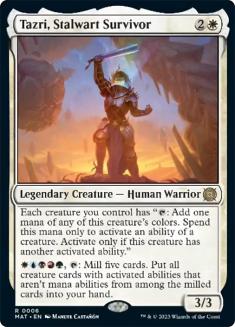 The newest version of Tazri brings us a five-color "activated ability tribal" commander, which is so open-ended I expect a lot of people will bring their own unique spins on their decks. There are so many different creatures with activated abilities across all five colors that it's a little overwhelming, but I think it might be fun to make a "mono-white" Tazri deck with only white creatures that have activated abilities, and rely on Tazri's ability to give all creatures with activated abilities the ability to tap for any color of mana as the way to use Tazri's activated ability.
Also keep in mind that you could use something like Skyshroud Elf and Soulbright Flamekin to "wash" that mana and then be able to use it for casting spells.
Okay, let's dip into the nonlegendary goodies!
Campus Renovation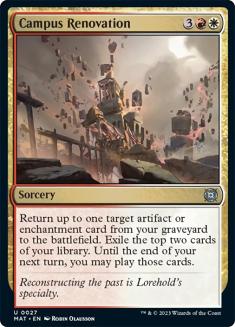 A reanimation spell for an artifact or enchantment is already quite reasonable for five mana, and it combines nicely with red's looting spells like Faithless Looting or Big Score to put a powerful and expensive target into the graveyard – think Portal to Phyrexia or Legion Loyalty. But then you get the bonus of two cards exiled that you can play until the end of your next turn on top of it? That seems really pushed for the mana, especially as an uncommon. Plus, it plays well with all the cards they've designed lately that care about playing cards from exile, like Commander Liara Portyr and Rocco, Street Chef.
Cosmic Rebirth
I'm not entirely sure what I'm going to do with Cosmic Rebirth, but I ordered a playset and I'm excited about it. First, it's an instant, which is awesome, and gaining that extra three life might mean the difference between living and dying through an alpha strike. Second, it doesn't exile itself on resolution, so if you use it to bring back something like Eternal Witness, you can do loops. I love that even if you don't have a permanent that has a mana value three or less, you can still get back any permanent and put it in your hand. Plus, the special Kaldheim-style frame looks amazing!
Deification
I just got some awesome goodies for my Estrid, the Masked deck with the Talent cycle from March of the Machine Commander, with Elspeth's Talent at the top of the list, and now I get to add Deification? It's pretty much perfect: not only does it help protect Estrid, Estrid's ultimate can bring Deification back from the graveyard! Further, any "planeswalker as your commander" commander with white in its color identity will want this card.
Feast of the Victorious Dead
There are a ton of combo-riffic engines to sacrifice a creature and redeploy it over and over again in Commander. Gravecrawler + Phyrexian Altar + another Zombie springs to mind. They designed the trigger to happen at the beginning of your end step, so you do have to wait until your end step to get the benefits. There are a ton of ways you can benefit from the lifegain, and the +1/+1 counters? Well, you can simply put them on a Walking Ballista and boom your way to victory! Plus, you gotta love that flavor text!
Filter Out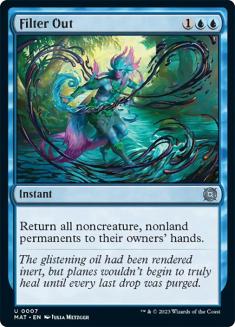 Filter Out is like a fixed and somewhat fair Cyclonic Rift, and quite nicely punishes people who cut lands in their deck for more and more and more mana rocks. As a big fan of creatures in Commander, this is exactly the sort of blue spell that I'm going to love slamming into my decks.
Harnessed Snubhorn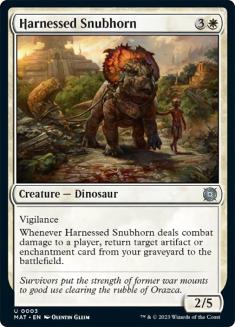 A 2/5 Dinosaur with vigilance for four mana seems very reasonable, and its combat damage trigger is rather bonkers. Earlier in this list, I was just talking about spending a card with Campus Renovation to reanimate a powerful artifact or enchantment, but Harnessed Snubhorn can potentially do it every turn!
The trick, of course, is that two power without any other evasion makes it a little tough to punch through defenses, but there are plenty of ways to work around it. A classic is the green Aura Rancor, but I also really love Power Matrix in decks these days, which provides flying, trample, and +1/+1. Both are also types of permanent that Harnessed Snubhorn can bring back from the graveyard!
Leyline Immersion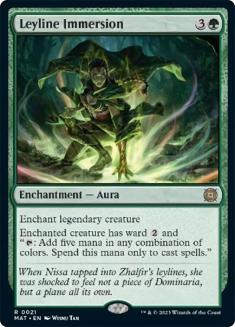 There have been a lot of "legendary creatures matter" cards of late, so Leyline Immersion plays right into that theme. I like that it gives a little bit of protection to the enchanted creature with ward 2, but what's really incredible is that it lets the enchanted creature tap for five mana, one more than the enchantment itself costs. And it's five mana in any combination of colors, with the only limitation that it be used to cast spells. I think we can work with that!
Metropolis Reformer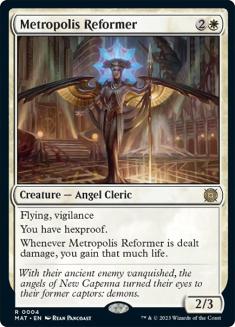 A 2/3 Angel Cleric with flying and vigilance that gives you hexproof for just three mana? I'd sign up for that already, but there's more: whenever it's dealt damage, you gain that much life too? Heck yes! If you've ever felt a little remorse casting Blasphemous Act and killing your own creatures in the process, Metropolis Reformer is here to help you feel better.
Nahiri's Resolve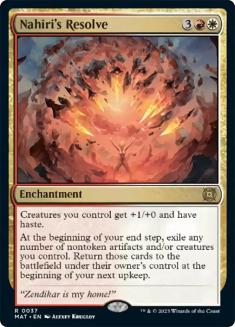 What a wild enchantment! Nahiri's Resolve is like Teleportation Circle on steroids. This seems perfect for protecting your aggressive creatures from sorcery-speed mass removal; most of the time, they'll be tapped from attacking anyway, so why not exile them and bring them back during your next upkeep? You can squeeze extra enters-the-battlefield triggers out of them, or in the case of Reveillark, get a "leaves the battlefield" trigger! It can even be a sneaky way to untap a Mana Vault without paying the iron price of four mana during your upkeep.
Open the Way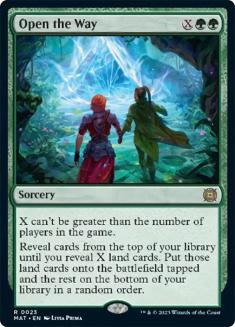 I'm kinda digging the random nature of Open the Way, especially since it takes away the whole "stop and search my deck for X lands" time suck and replaces it with a slightly less time-consuming way of finding those lands. I also like that it scales from three mana for one land up to six mana for four lands in a typical four-person game of Commander.
Rebuild the City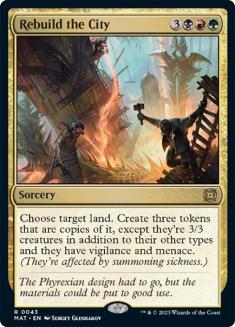 Since I'm an old guy, when I read this card, I say it as if I were singing the hit song from 1985, "We Built This City" by Starship. Maybe now you will too? I'm fascinated at the possibilities of Rebuild the City, copying cool lands and making 3/3 land creatures. Some lands that came to my mind to copy include Mosswort Bridge, Golgari Rot Farm, and Drossforge Bridge. If I've got three copies of Cascading Cataracts that are 3/3 creatures with vigilance, menace, and indestructible, I can copy one of them with Thespian's Stage and get all the benefits! I can't wait to see what people do with this card.
Tolarian Contempt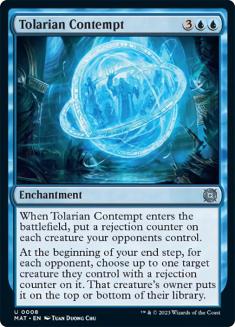 Tolarian Contempt is yet another wild card. Assuming an opponent doesn't immediately destroy this enchantment, you get to "reject" the best creature for each of your opponents on your end step, and then if it comes around to your turn again, you get to pick off another creature, and so on. Sure, they can put the card on top of their library, but that makes them waste a draw step and the mana it takes to cast it again. And if you really don't want to see it again, combine Tolarian Contempt with milling!
Tranquil Frillback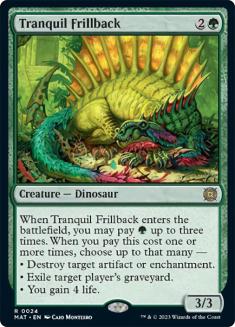 Tranquil Frillback seems like a custom design for Best-of-One games on Arena and I'm loving it, but it's also quite nice for Commander. Modal spells are handy, and each mode will be useful at different times. Also, it's better than kicker since it triggers when it enters the battlefield, so blinking or reanimating it will give you the opportunity to "kick" it again. And if you have enough mana, you can pick two or all three abilities!
Urborg Scavengers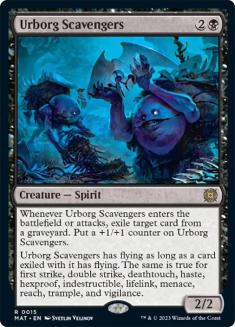 One of my all-time favorite cards is Necrotic Ooze, and Urborg Scavengers gives me those vibes. I love that, at its floor, Urborg Scavengers is nice graveyard hate, slowly but surely munching the graveyard from an opponent that might be trying to stock up their graveyard. But where the card kicks into gear is when it exiles a creature with nearly any sort of keyword, letting you build a better Scavengers along the way.
How good is it going to feel to drop this onto the battlefield and exile someone's Atraxa, Grand Unifier they'd hoped to reanimate the next turn? Why yes, I'll take my 3/3 Urborg Scavengers with flying, vigilance, deathtouch, and lifelink that will grow each time I attack with it!
Vesuvan Drifter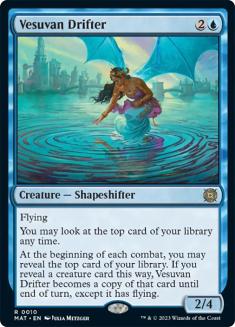 Vesuvan Drifter is obviously going to be bonkers in conjunction with a variety of ways to manipulate the top of your deck – think Scroll Rack, Brainstorm, Sensei's Divining Top, and Sylvan Library. But even if you don't have that going on currently, it's still a 2/4 flyer for just three mana that lets you see what card is coming from your library. That just seems like a solid floor to a card with a potentially bonkers ceiling!
What cards are you most excited about playing from March of the Machine: The Aftermath? Is there something that I overlooked?
Talk to Me
Do me a solid and follow me on Twitter! I run polls and get conversations started about Commander all the time, so get in on the fun! You can also find my LinkTree on my profile page there with links to all my content.
I'd also love it if you followed my Twitch channel TheCompleteCommander, where I do Commander, Brawl and sometimes other Magic-related streams when I can. If you can't join me live, the videos are available on demand for a few weeks on Twitch, but I also upload them to my YouTube channel. You can also find the lists for my paper decks over on Archidekt if you want to dig into how I put together my own decks and brews.
And lastly, I just want to say: let us love each other and stay healthy and happy.