Have you ever looked at a card and went, 'Huh, this looks familiar.'? Odds are you have, but why? Well, Magic: The Gathering has been around for 30 years, so it makes sense that we should see pairs of cards with similar abilities crop up now and then. From pieces like Kodama's Reach and Cultivate to Sol Ring and Sisay's Ring, it's not odd for us to see this happen.
This got my brain jogging. Are there other similarities amongst other iconic Magic cards? Probably, and what could be more iconic than Lightning Bolt? I mean, while these cards aren't technically Lightning Bolt, they're just Lightning Bolt with extra steps!
Magmatic Force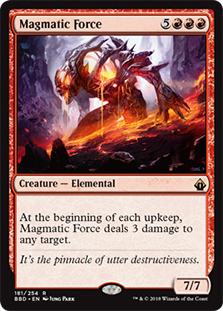 Okay, so why not start off with an intense one? Magmatic Force is about as far away as you can get from Lightning Bolt. Force is a hefty eight mana, which is a far cry from the iconic Bolt's one mana, and yet they do the same thing…except Force does it better. What makes me so attracted to Force is the fact that it triggers each upkeep. That's right. Read that again. Each upkeep. Not just yours, but each opponent's as well. A repeatable Bolt every upkeep is just too alluring for me not to consider. Who knows? Maybe this card will have a place in my Chandra Commander deck in the near future.
Kamahl, Pit Fighter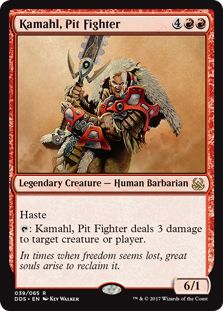 Moving on, we have another hefty piece: Kamahl, Pit Fighter. Sometimes you find a card that just makes you chuckle with a form of giddiness. Kamahl did exactly that to me. This Human is an oldie but a goodie, as his activated ability is in fact a Lightning Bolt. The fact that he has haste also makes this card insanely fun. My only gripe with this card is that he has one toughness. C'mon, Kamahl, you know better than to skip leg day!
Collateral Damage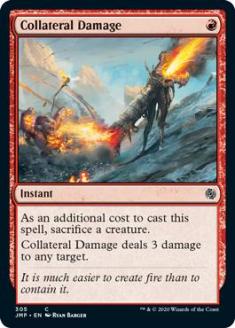 What if I told you that you could cast Lightning Bolt, but you have to sacrifice a creature in order to do so? Well, now you can with Collateral Damage! Now, I want to highlight that this isn't a bad card. It's just different. Some decks like sacrificing creatures, and this card could really shine in the proper place. Remember: different isn't always bad. Personally, I like to think of these cards as different flavors of Coke. It's all Coke to me!
Fateful End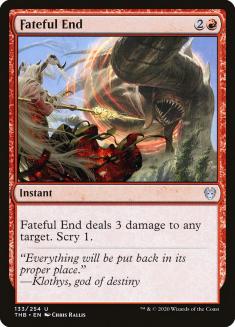 Fateful End is one of the newer additions to the Lightning Bolt family. It's an incredibly simple piece with the added benefit of a single scry. It's definitely one of the more subtle pieces on this list, but I can't deny the power of a simple scry. Red needs all the help it can get.
Chain Lightning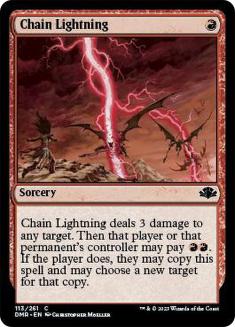 If you're not thinking about Lightning Bolt, then you're probably thinking about Chain Lightning. It's an oldie and a goodie for sure because it gives games of Magic some much-needed interaction. So long as someone pays two red, they can copy the spell and create a chain of lightning. Get it? 'Cause it's the card's name and is also flavorful? Hehe.
Burn Trail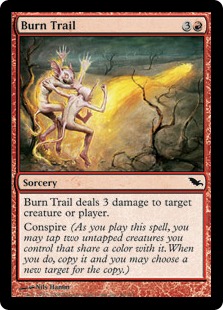 Let's cha cha slide into our next Lightning Bolt-adjacent card. Coming from one of my favorite planes of all time is Burn Trail. This particular piece sheds the skin of being an instant in favor of being a sorcery. It, of course, does the same Lightning Bolt things that Bolts typically do, but what makes me so keen on this card is the fact that you can also conspire it! Tapping your creatures gives you a copy of the spell upon casting it. I personally enjoy the conspire ability and wish we would see a return of it in the future. It makes some otherwise lackluster spells incredibly exciting to play!
Annihilating Fire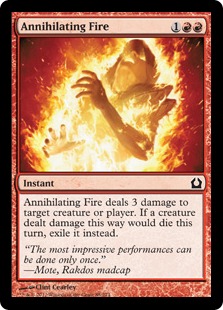 I looooooove Annihilating Fire! Ideally I shouldn't, but there is an undeniable charm to this card that can't quite pinpoint. I think the charm comes from the fact that this spell gives you the possibility to exile the creature dealt damage this way if it would die. It's a small benefit, but one that I find well worthwhile. Sure, it's more expensive than the original, but I find it to be an even trade.
Irencrag Pyromancer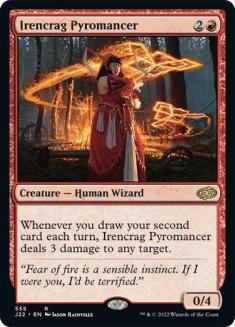 Huzzah! We've got another creature! It's Irencrag Pyromancer. Aside from me being absolutely obsessed with the art on this card (I will forever be a Jason Rainville stan), I like how cheeky this card can be. The fact that it only Bolts when you draw your second card each turn feels like a mini-game to me. It makes me want to figure out how to hit this threshold during multiple turns. Red has access to such interesting forms of card advantage, and I like how this creature plays into that.
Skewer the Critics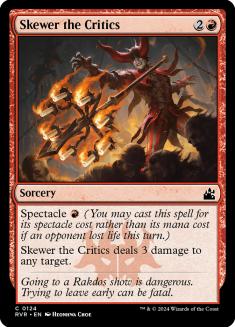 Skewer the Critics will forever live near the top of my list as one of my favorite Lightning Bolt relatives. There was a brief moment in time when I decided to play Standard (it was a dark time in my life), and I was obsessed with the red deck where this spell resided. In my honest opinion, this was peak Standard! While the spell is three mana, you would almost always be able to cast it for its spectacle cost. I am 100% blinded by nostalgia when it comes to this card. I love it so much.
Volt Charge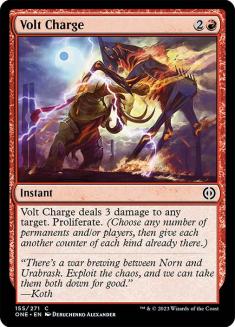 Finally, we've come to my favorite Lightning Bolt variant of all time: Volt Charge. As a lover of all things planeswalker, this card soothes my tender soul. Alongside the stereotypical Bolt shenanigans, this card also lets you proliferate! Whether you're choosing loyalty counters like me or poison counters like others, I find this spell to be a powerhouse whenever I play it. Maybe it's my bias seeping through, but don't knock it until you try it!
Live, Laugh, Lightning Bolt
I find it fascinating to take a peek at how certain card designs evolve and yet somehow stay the same over the course of time. Each variation can be viewed as a stepping stone towards something new and exciting, or perhaps grander than the original. Regardless of how many cousins it has, though, nothing will ever top the original. Live, Laugh, Lightning Bolt, deckbuilders!