A collection of Magic: The Gathering Gamma playtest cards appeared in a segment of the latest episode of Pawn Stars, showing off some of the game's earliest cards on the popular History Channel program.
A seller, who was featured on the newest episode of the show that aired on June 25, found the cards in a box that belonged to their uncle and was looking to get around $25,000 for the 27 playtest cards. The cards match the specifics of the Gamma playtest cards that were created in 1992 and given out to roughly 40 people to use in some of the earliest testing of the game. An LGS owner in Las Vegas looked over the cards and confirmed they were the first round of playtest cards that resembled what actual MTG cards would end up looking like.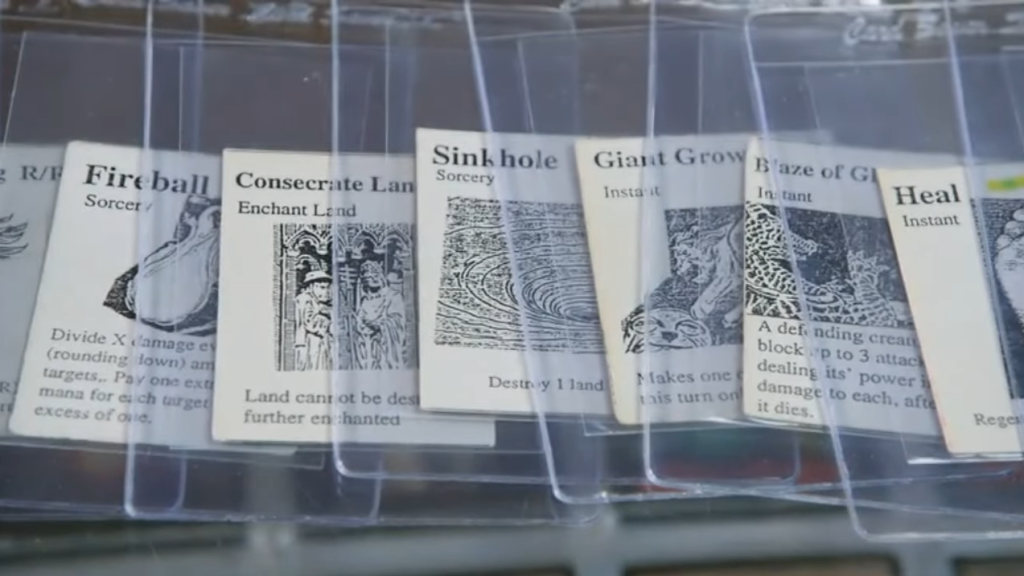 The collection contained playtest versions of some popular cards like Fireball, Giant Growth, and Sinkhole, but lacked any of the most desired cards like the Power 9. The LGS owner said they did appear to be authentic, but suggested that each card was only worth around $400 dollars despite them being incredibly rare.
Chumlee and Rick of Pawn Stars initially offered $6,200 for the collection, though the estimated $400 per card would put the total at $10,800. The seller declined and requested $10,500, which was less than half of the original goal of $25,000, but Rick said that total "makes no sense." Chumlee raised the offer to $7,500, but the seller stood firm and kept the cards.
Star City Games General Manager Ben Bleiweiss watched the clip and said the pricing was pretty low, stating that if the seller got the cards graded they could go for much higher if they were of adequate condition.
"The cards featured on Pawn Stars were ungraded. The $400 price would be the lowest price that an ungraded, medium-condition Gamma card would sell for – and even that is probably a titch too low. The more desirable cards from this batch (such as Sinkhole or Giant Growth) would be more in the thousand-dollar range," Bleweiss said. "If these were to get graded an authenticated, they'd likely pull $1,000 minimum for the bad cards and several thousand for the good ones, assuming the grades came back at a 7 or higher!"
For more information on Magic: The Gathering playtest cards, check out The Magic Librarities Forum.