Double Masters has an interesting mix of 25 legends, and while many of them aren't all that fun to play in Commander, there are a few that are fun to build around. I did a write-up of Arixmethes, Slumbering Isle a couple weeks back, and last week you can find how I'd build Braids, Conjurer Adept. This week, I make a return to my favorite color combination Golgari and shine the black light on Mazirek, Kraul Death Priest! This was originally printed in Commander 2015, and in the past year the price had crept up north of $10, so a reprint is most welcome for those who haven't yet picked up a copy.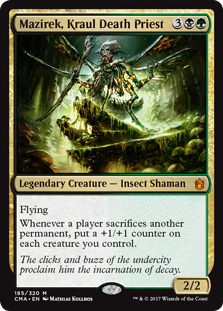 That is super-creepy artwork, and definitely captures the flavor of Ravnica's The Swarm guild. So does the mechanics of the card, taking anyone's cast-offs and building a stronger army with it. The problem with this card as I see it though is the phrase "whenever a player sacrifices a permanent" because it pushes a deckbuilder down a miserable path towards Grave Pact and its ilk. What do I have against Grave Pact? Well, two years ago I wrote an article laying out my case that effects like Grave Pact are bad for casual games of Commander (Golgari Sacrifice: The Fun Way), featuring a newly printed Izoni, Thousand-Eyed, which contained a built-in sacrifice engine. Boiled down, the reason is this: Pretty much every time I've ever played Commander where one person sets up some sort of repeatable way to make everyone sacrifice creatures, the game slows to a crawl and multiple players are just shut out of playing any creatures. I fundamentally believe that the best games of Commander are the ones where everyone gets to play their cards and "do the thing," and I build my decks to focus on the "we" rather than the "me."
Mazirek presents an interesting deckbuilding challenge: to leverage its ability while not being oppressive to all the other players. I believe the best way to approach this is to eschew permanent-based sacrifice engines and instead have single-spell cards that cause opponents to sacrifice things, while also having plenty of self-sacrificing for fun and profit.
Ok, let's get brewing!
1. Awakening Zone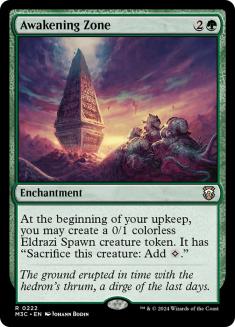 When searching for creatures that self-sacrifice for fun and profit, I ran across the 0/1 Eldrazi Spawn and the 1/1 Eldrazi Scion token creatures. You can sacrifice them for free at any point to give you a colorless mana, and if you have Mazirek on the battlefield, each sacrifice adds a +1/+1 counter to each of your other creatures. There are a fair number of cards that churn out these sac' able critters at a faster clip, but I give Awakening Zone the nod here since if you cast it on turn three it sets you up for casting your commander on turn four. Plus, since it's not exactly a high-priority threat, barring mass removal it's likely to stick around for a good long time, cranking out free creatures that have a ton of utility in this deck. With Mazirek leading the way, each little Eldrazi token can sacrifice to grow all the other ones.
All that said, I'm still going to find room for all the other ones too:
2. Aerie Ouphes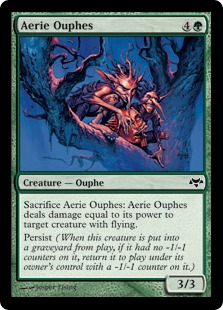 Clearly Mazirek was born to pair up with persist creatures. So long as a creature with persist doesn't have a -1/-1 counter on it, when it dies it returns to the battlefield with a -1/-1 counter. Whenever Mazirek triggers, it puts a +1/+1 counter on all your other creatures, and if there's both types of counters on one creature you remove one of each. And then the creature gets to take advantage of persist again.
What makes Aerie Ouphes so awesome is that its got a built-in sacrifice ability, so when you sacrifice it you can stack its persist trigger and Mazirek's trigger so that Aerie Ouphes comes back from the graveyard and the +1/+1 counter will knock off the -1/-1 counter. Which basically means you can kill just about any flier on the battlefield while simultaneously growing your entire army.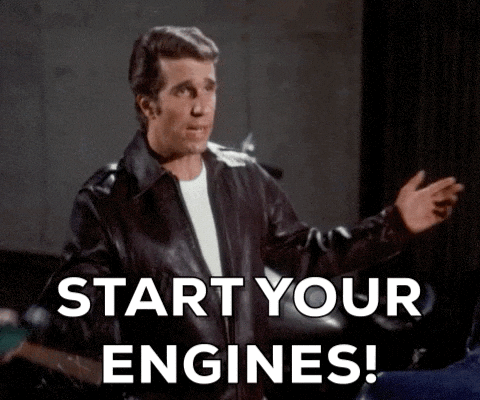 And yes—while this is a bit oppressive to people who might play nothing but fliers, this combination should end the game in a hurry, especially since you could target your own commander who happens to fly.
I'm including some other creatures that sacrifice for fun and profit:
3. Wave of Vitriol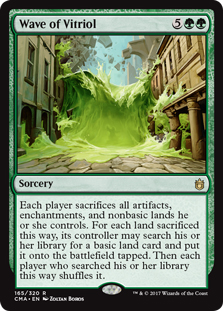 Cards that say "each player sacrifices" are going to get a lot of bang for your buck if you have Mazirek on the battlefield, but none more than Wave of Vitriol. This potent spell is likely going to hit some of your own artifacts, enchantments, and nonbasic lands along with those your opponents control, but that's perfectly in keeping with the Golgari Way—when the dust settles, your army will be gigantic and ready to rumble.
I'm including a few more similar but slightly less dramatic spells:
4. Workhorse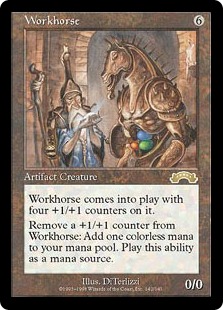 If you're an old-timer like me, you might be smiling seeing Workhorse pop up in an article. Believe it or not, Workhorse was a crucial part of a weird Recurring Nightmare/Earthcraft deck that could gain a bunch of life, draw a bunch of cards, create a bunch of 1/1 token creatures and if necessary ping your opponent to death one Mogg Fanatic animated with Corpse Dance with buyback sacrifice at a time. Randy Buehler and Mike Turian played this wild "Horsecraft" deck in the block portion of Worlds 1998, and Aaron Forsythe wrote about it here on the website for Wizards of the Coast (WotC).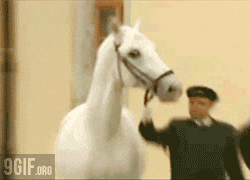 With a Workhorse on the battlefield, each Mazirek trigger provides you with an additional colorless mana on tap whenever you need it. Among other things, this can be quite handy for paying commander tax if your opponents wisely try and keep your commander off the battlefield.
Speaking of extra mana, since we're a green deck we get to take advantage of the best mana ramp in the format and I've included a lot of it here:
5. Smothering Abomination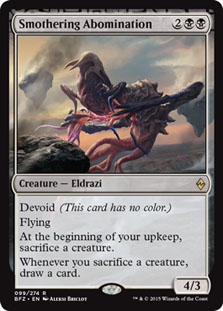 Between Eldrazi tokens, Workhorse, and green ramp spells we should have all the mana we could need so now we need cards to use it on—and lots of them! One of the best for our deck is Smothering Abomination—look at that, yet another Eldrazi! Each time you sacrifice a creature you get to draw a card, and in this deck that will often add up to having a full grip and lots of lots of options.
I'm including a lot of other ways to keep the cards flowing too:
6. Cauldron of Souls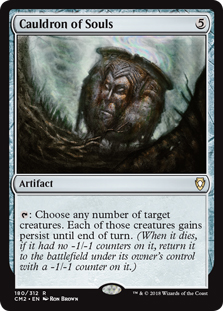 If we're going to be sacrificing our own stuff, I want to have ways to being them back and one of the best ways is Cauldron of Souls. Remember when we talked about Aerie Ouphes above? Well, we can do the same trick en-masse giving any number of creatures persist while we have Mazirek on the battlefield.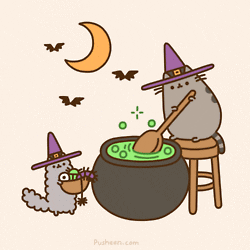 This gives us nice resistance to many of the most frequently played mass removal spells.
I'm including some other graveyard recursion too:
Bloodsoaked Champion, Reassembling Skeleton, and Nether Traitor provide a steady stream of sacrificial fodder that keeps coming back from the graveyard. Salvager of Ruin brings us back something crucial that our opponents might have destroyed, and since we're playing a fair number of artifacts and we're Golgari, I've found room for Glissa, the Traitor. Adding +1/+1 counters to Glissa with her first strike ability sounds amazing!
7. Clackbridge Troll
Mazirek is going to be a magnet for pinpoint removal, so I want to include a fair number of other Golgari good stuff creatures. Clackbridge Troll doesn't make too many Commander decklists, but I think it's going to do a bunch of work here.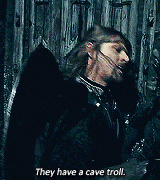 It starts off as an 8/8 with trample and haste, and if you opponent sacrifices a creature to tap it at the beginning of your combat, you get to gain life, draw a card, and if Mazirek is on the battlefield, grow your team. All while leaving Clackbridge Troll right there on the battlefield for next turn.
I'm including a fair number of other creatures that your opponents will want to deal with, especially when in tandem with Mazirek:
8. Woodfall Primus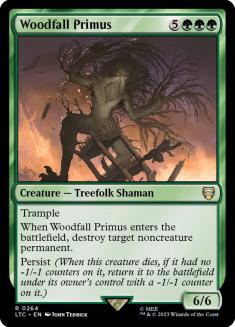 Speaking of dealing with stuff, we're going to want to have our own removal spells for our opponents' shenanigans. Woodfall Primus is one of the best, and since it has persist, it can Mazirek's triggers will keep it coming back over and over with the persist ability. It even has trample so with enough Mazirek triggers it can do massive damage to an opponent's life totals even over blockers.
Golgari has a lot of removal options and I've included some of them here:
Seal of Primordium and Sylvok Replica get extra leverage in this deck because they sacrifice for effect and potentially pump the team with Mazirek.
9. Claws of Gix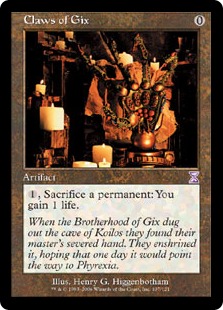 There are a fair number of other non-creature cards that sacrifice for small edges, and I really like Claws of Gix in our Mazirek deck. It costs no mana to cast, is very cheap to activate, and can sacrifice any permanent your opponents might be trying to neutralize to benefit your team with Mazirek on the battlefield. If need be to secure victory, you could sacrifice lands to give all your creatures enough +1/+1 counters to finish the job.
Salvaging Station is an old favorite and I love to pair it up with Mishra's Bauble and other cheap artifacts you can sacrifice (like Claws of Gix), but when you're also growing your team with Mazirek it's all gravy!
I'm including one of my favorite cards, Mirrorpool—which sacrifices for effect! Just remember that if you copy Mazirek, the "legend rule" doesn't force a sacrifice, you choose to put one in the graveyard due to the rules.
10. Swarmyard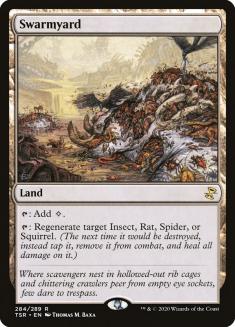 We'll want to make room for some interaction with our opponents, and one nice pick-up here is Swarmyard since our commander is an Insect. Since Swarmyard taps to regenerate our commander, it can put some pressure on any destroy or damage-based removal our opponents may have.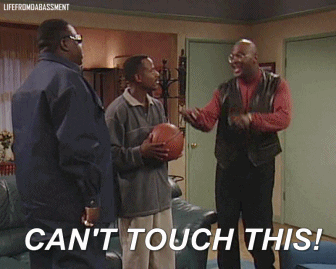 The last few slots go to a bunch of great cards that can help handle a wide variety of common situations in Commander:
Okay, so here's how the deck ended up:
Creatures (33)
Lands (39) Here's how the deck looks graphically, thanks to our friends at Archidekt: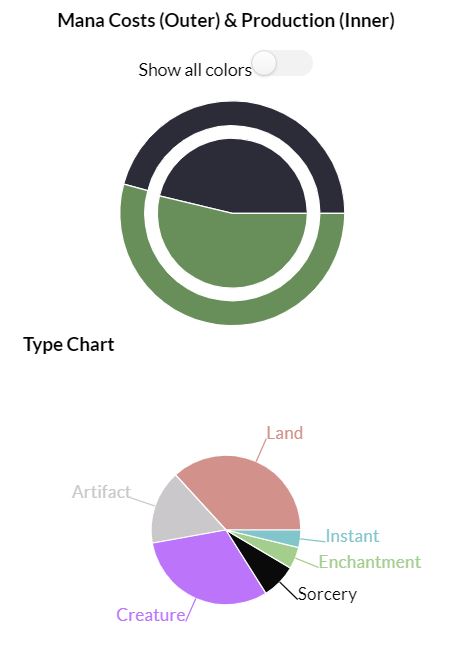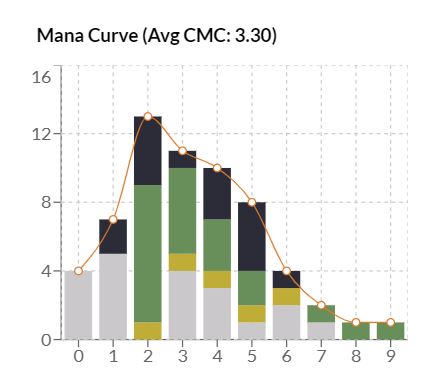 What do you think? Are there any cards I've overlooked? If you see any new cards from Jumpstart or Double Masters that should find a home here, let me know!
Do me a solid and follow me on Twitter! I run polls and get conversations started about Commander all the time, so get in on the fun! I'd also love it if you followed my Twitch channel TheCompleteCommander, where I do a deckbuilding stream every Monday evening, and pepper in some other Commander-related streams when I can. If you can join me live, the videos are available on demand for a few weeks on Twitch, but I also upload them to my YouTube channel.
And lastly, I just want to say: let us love each other and stay healthy and happy.