I can't say I was expecting to see Faithless Looting back in a major competitive format so soon. After sitting atop the Modern throne for years, Hogaak Summer™ was finally enough for it to meet the ban hammer, and these days it seems Wizards of the Coast (WotC) is wary of giving us access to this level of card selection and graveyard enabling at such a cheap rate.
But it also seems like anything goes in Historic these days. Arbitrary assortments of cards get added to the format every few months, without any clear rhyme or reason as to what shape the format is going to take. The Mystical Archive in Strixhaven is just the latest example after a year of Historic Anthologies and Jumpstart sets that have left everyone largely unaware of what cards are exactly in the format.
But I promise you no one is going to forget Faithless Looting. The card is already finding its way into numerous archetypes, from combo decks to Rakdos Arcanist. That said, today I'll be focusing on the card's most obvious home, Izzet Phoenix.
I know I'm normally one to stay away from Izzet decks filled with cheap spells, but the synergy between Faithless Looting and Arclight Phoenix is too much to pass up. Arclight Phoenix decks have had some success in Historic already, and adding Looting as well as Brainstorm should be enough for them to level up. However, I'm seeing a lot of mistakes in deckbuilding from the early lists, so I'm going to identify five such mistakes so that you don't fall into the same traps.
At its core, Arclight Phoenix is a payoff card for a deck that's powered by a cantrip engine, and you absolutely need to be playing the most efficient engine possible in order to succeed. The more efficient your engine, the faster you'll be when you need to race, and the more resilient you'll be to interaction. So let's look at the areas where the stock lists can improve.
1. Too Many Two-Mana Spells
This mistake comes down to what I call deckbuilding inertia. Before the Mystical Archive, there weren't enough playable one-mana cantrips to fill out the deck, so you had to move on to the next-best and play a pile of two-mana spells like Strategic Planning and Chart a Course. This curve made cards like Goblin Electromancer a good addition, similar to how the deck played in Standard.
What happens is that players get attached to the cards they were playing before, and rather than reimagine the deck from the ground up, they simply trim enough cards around the edges to find room for their new additions. Strategic Planning and Chart a Course have obvious synergy with Arclight Phoenix, so cutting them can seem strange, but the fact that these decks play cards like Goblin Electromancer when they have too many twos in their curve makes it clear how valuable loading up on one-mana spells is.
Every extra mana you require to get to three spells is an extra turn before you recur Arclight Phoenixes. It's an extra turn for your opponent to race or find graveyard interaction. When you draw multiple copies of Strategic Planning, you're now behind multiple turns. So you should aim to play as few as possible. Thus, with enough one-mana cantrips to fill out the deck, you should only look at two-mana spells that serve some other necessary function.
With Faithless Looting, you don't need Chart a Course as a discard outlet. Strategic Planning hitting Arclight Phoenix is a nice bonus, but hardly necessary. If Brainstorm and Faithless Looting had existed at the beginning of Historic, you never would've seen Chart or Planning in the deck in such high numbers, but it takes a while for us as humans to accept such radical change. We're stubborn and stick with what's familiar for too long.
Play the lowest curve of cantrips you possibly can. Faithless Looting got most of the press during Izzet Phoenix's heyday in Modern, but I always maintained Manamorphose was the best card in the deck. The free cantrip supercharged so many of the deck's draws because it took this principle to the extreme. We don't have access to free spells in Historic, but the same principle still applies.
2. Too Many Basic Lands
When we think of difficult mana requirements, we think of spells that have lots of colored symbols (Cryptic Command and Emergent Ultimatum come to mind). So for a deck like Izzet Phoenix, with only two colors and few, if any, double-colored mana costs, it's easy to overlook the importance of the manabase.
But Izzet Phoenix has tougher mana requirements than may appear on paper, because of how the deck curves. The goal is to cast three instants and/or sorceries on Turn 3 to recur your Arclight Phoenixes, and you want to achieve that goal consistently. That means you need to consistently have the mana to cast whichever cheap spells you've drawn. Some games, that means casting three Opts and Brainstorms. Some games, it means Opt, Shock, and Faithless Looting. And getting stuck with only one red mana when you need two is often game-losing.
Under this lens, Izzet Phoenix acts more like a deck that's filled with three-mana cards with heavy color requirements. Anyone building a list with Archmage's Charm and Goblin Chainwhirler would be very concerned about their mana, and while Izzet Phoenix isn't quite so extreme, you should be concerned too.
Your manabase should have as many dual lands as possible without having a bunch of lands that enter the battlefield tapped, since a tapped land on Turn 3 can't cast any spells. Steam Vents, Riverglide Pathway, and Spirebluff Canal are automatic four-ofs, and then it's a question of how many Sulfur Falls or Fabled Passages you can afford. You'll want to minimize your number of basic lands, since they lead to the nightmare scenario of not being able to cast three spells in a turn.
3. No Stormwing Entity
Thing in the Ice isn't legal in Historic, and I doubt it would perform well without access to Manamorphose anyway, so the threat base beyond Arclight Phoenix in these decks is wide open. I've seen everything from Crackling Drake to Magmatic Channeler to Dreadhorde Arcanist to Brazen Borrower, but the one I've been most impressed with is Stormwing Entity.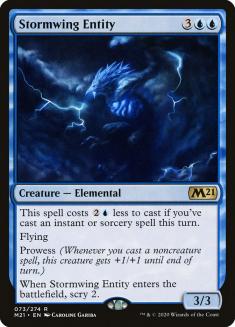 Like Thing in the Ice, Entity suffers from the lack of Manamorphose, but it's still a great Turn 3 play alongside any one-mana cantrip or Turn 4 play as a follow-up to your Arclight Phoenix turn. I suspect it has looked worse to players who are still clinging to their Strategic Plannings and Chart a Courses, but once you commit to a lower curve, the power of Stormwing Entity comes through quite clearly.
That power is particularly clear when you play with it and see just how much other decks struggle to remove it from the battlefield. Historic may not have Manamorphose like Modern does, but it also doesn't have Lightning Bolt or Path to Exile, the two most common removal spells that can answer Stormwing Entity. Instead, Historic players lean more heavily toward Fatal Push, which never answers it. Skyclave Apparition misses as well, and Drown in the Loch may come online too late.
I'm still not set on the entire threat base for my Izzet Phoenix list, but I know that it starts with four Phoenix and four Stormwing Entity. No other threat has matched the card's combination of speed, efficiency, consistency, and resiliency.
4. Too Many Interactive Spells
Awkward lands and too high of a curve are the most common choke points that prevent you from casting three spells for Arclight Phoenix, but the other is having spells you can't cast because you don't have a target. Having Lightning Bolt in the Modern variant was hugely important because you could always send it at your opponent's face if necessary, and that's still going to be important in Historic.
So you're going to want to use burn spells as the base of your removal suite, even if you may be concerned about creatures those threats don't answer. You can play a few straight removal spells to cover those gaps, especially ones like Lightning Axe that have synergy with Arclight Phoenix, but those spells should be minimized.
Of course, you'll want to minimize the interaction in the deck to begin with since you'd rather recur Arclight Phoenix with cantrips so you can keep recurring it as the game goes on. The more you interact with your opponent, the more you strip each player's resources away, and the less effective Arclight Phoenix will be.
This is why I've never liked the Grixis Phoenix lists that splash for seemingly better removal like Fatal Push as well as discard spells. On the surface, it looks like you're upgrading the deck's power level while still maintaining the same high density of one-mana spells, but those black cards don't play well with Arclight Phoenix. If you need more interaction, you should look to hang back with your Arclight Phoenixes and trade in combat, not add more removal to your deck.
As I noted earlier, Arclight Phoenix is an engine card, and cards like Thoughtseize are engine killers, not just for the targeted player but for the caster as well. You need to prioritize space for the threats and cantrips to make your engine work, and then play whatever interaction you have room for.
5. Leaning Into Graveyard Hate
One of the big level-up moments for the Modern build of Izzet Phoenix was moving off Bedlam Reveler in favor of Crackling Drake. Reveler read as the more powerful threat, but it made your opponent's graveyard hate too effective. With just Arclight Phoenix in the deck, opposing copies of Rest in Peace and Tormod's Crypt were actively bad, and it took months for players to figure that out because it was so counterintuitive.
Once players did, a window opened for Izzet Phoenix players to capitalize with more graveyard-centric threats like Pyromancer Ascension, leading to an interesting cat-and-mouse game. If Izzet Phoenix becomes as popular in Historic as it was in Modern, I suspect that game will emerge again, but right now Phoenix is getting a lot of press and the graveyard hate is out in force.
That means I'm not interested in any threats that use the graveyard except for Phoenix. The most common offender I see is Dreadhorde Arcanist, which is a powerful card but plays awkwardly with Arclight Phoenix and looks terrible in the face of hate. But I also see Ox of Agonas and lists with too many copies of Finale of Promise.
One of the best things you can do in Magic is to make sideboarding difficult for your opponent. And when you lean hard into the graveyard when you don't have to, you're giving up an opportunity to do that. Make your opponents fret over whether or not to bring in Leyline of the Void. Don't give them a slam dunk.
My Current List
With these pitfalls in mind, here's my current Izzet Phoenix list for Historic:
Creatures (12)
Lands (20)
Spells (28) Right now I'm on Crackling Drake as the third threat since it's the best late-game topdeck and offers some card advantage for removal-heavy matchups. I could see Sprite Dragon in this slot to take a more aggressive tack, but one thing I've settled on is having only flying creatures, since plenty of decks are good at blocking and you don't have Awoken Horror to move them all out of the way. That means no Magmatic Channelers here.
The move to Crackling Drake made me want to try a single Maximize Velocity for the combo potential, but I'm not married to it since it's another spell that can get stranded without a target. Outside of that, I just have the two Lightning Axes since they work well in the deck and let you kill larger creatures.
For graveyard cards, I'm just on one Finale of Promise since it's too powerful to cut entirely. The one Finale did affect my removal split though. Since you're most often targeting an instant-speed cantrip, I wanted most of my removal to be sorcery-speed, but I wanted a mix in case I need to target two removal spells, so a 3-1 split of Pillar of Flame and Shock made the most sense.
The sideboard is still in flux, but with Emergent Ultimatum and Mizzix's Mastery decks rising in popularity, Test of Talents gets a lot better. Normally I'd be more afraid of Torrential Gearhulk and want Mystical Dispute or Disdainful Stroke, but with a threat base of all flyers, you never have to worry about it ambushing an attacker in combat.
Without Manamorphose I don't see Izzet Phoenix reaching the heights it did in Modern, but when built properly, it's still a powerful deck and likely the best home for Faithless Looting. The Mystical Archive is going to reshape Historic as we know it and that means rebuilding every deck from scratch. Avoid these common mistakes when you're building your list and Arclight Phoenix will treat you well.