As part of an ongoing series of weekly changes, Wizards of the Coast (WotC) has announced the updates and changes for Week 9 of Kamigawa: Neon Dynasty on Magic Online.
Mardu Cube
The Mardu Cube features "engines, removal, and none of those pesky blue or green cards!" This cube will be available beginning April 6 and will run through April 13. You can learn more and view the full card list here.
All-Access Tokens Enter Final Week
Players will be able to purchase All-Access tokens on Magic Online through April 6. The tokens allow players to play with almost any card on the client for just $25.
Last Chance to Experience Super Jump!
Similar to Jump Start events on MTG Arena, Super Jump! brings the same gameplay experience to Magic Online. Players jump in the queue and draft two 20-card packs from a selection of three, jam them together, and battle other players who did the same for three best-of-one matches. Cards from the packs will not go to players' collections. Each entry will cost five event tickets or 50 play points. The event runs through April 6.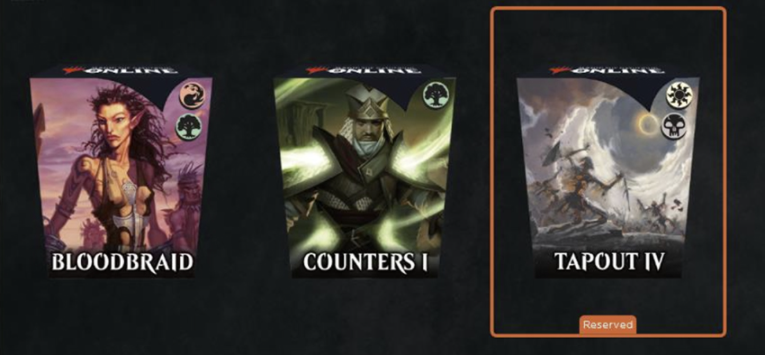 Take a look at all 75 Super Jump packs in the article from WotC.
MOCS Season 1 Last Chance Events
Tomorrow is the last day to play in MOCS Season 1 events. These events "cost either 30 Event Tickets plus 40 Qualifier Points, or 300 Play Points plus 40 QPs to enter. If you win all five matches, you will earn an Entry Token good for that format's Showcase Qualifier later this month."
MOCS Season 1 QPs Expire April 6
MOCS Season 1 QPs will expire at 10 AM PT on April 6. Events will offer Season 2 QPs instead at that time.
Format Challenges
Format Challenges are scheduled to run every weekend for the foreseeable future and are the first step to qualifying for Premier Play. The schedule for upcoming Format Challenges can be found below:
| Time (PT) | Saturday | Sunday |
| --- | --- | --- |
| 12:00 AM | | Vintage Challenge |
| 2:00 AM | Pauper Challenge | |
| 4:00 AM | 32-Player Legacy Challenge | Modern Challenge |
| 6:00 AM | Standard Challenge | Pioneer Challenge |
| 8:00 AM | Modern Challenge | Legacy Challenge |
| 10:00 AM | Vintage Challenge | Pauper Challenge |
| 2:00 PM | Pioneer Challenge | Standard Challenge |
Pauper and Standard Challenges are never pre-empted.
Saturday Legacy Challenges require 32 players and give prizes to Top 32.
Sunday Legacy Challenges require 64 players and give prizes to Top 64
Next Downtime
The next scheduled downtime is set for 9 AM on April 27 for the release of Streets of New Capenna.
Read the original article from WotC.