Shares of Hasbro dropped almost nine percent today following a report from Bank of America that claims the company is hurting the long-term value of Magic: The Gathering by overproducing cards.
The article references the dramatic increase in MTG products being released, most of which are declining in value, as the main reason players and stores are losing confidence in the game. Hasbro's third quarter 2022 report from October stated that Magic became its first billion-dollar brand despite net revenues dropping. Notably, the Bank of America report downgraded Hasbro's rating down to "underperform" from "buy."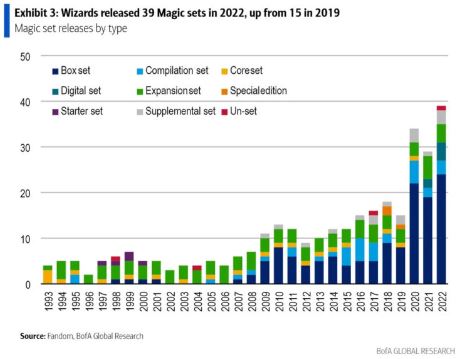 While MTG's salary nearly doubled during the COVID-19 pandemic, the report says Hasbro's overproducing cards propped up recent results, but is damaging the value of the brand. Card prices are now falling, game stores are losing money, and even collectors are liquidating their collections. Magic's 30th Anniversary Edition product was a major sore spot, with the $999 price for four packs of non-tournament legal cards exemplifying Hasbro's current direction of excessively high pricing.
Content creators weighed in on the report on Twitter, many of whom have already lamented the prices of products like 30th Anniversary Edition and the ongoing product fatigue from Wizards of the Coast (WotC).