The first The Lord of the Rings movie came out when I was five years old, the second movie when I was six, and the third when I was seven. Did I possibly make your joints hurt, and your bones turn to dust? Possibly! [Copy Editor's Note: Yes.] But the real reason why I bring this up is because The Lord of the Rings was a large part of my childhood. I grew up on those movies and begrudgingly read the books when I was in middle school. I remember laughing at my mother who admitted to me that she had a crush on Legolas and the eye-rolls it elicited from my father on family movie night.
So when I discovered we were going to get a real-deal The Lord of the Rings set in Magic, I was excited. While I am by no means a die-hard Tolkien fan, I have been enamored with many of the cards we have seen previewed, and I thought it would be exciting to share with y'all some of my favorite previews so far and a few cards I think synergize well with them for Commander.
Gandalf the White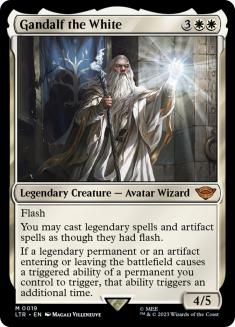 My jaw dropped when I first laid eyes on this beast of a card. Gandalf the White is one of my top picks for commander in The Lord of the Rings: Tales of Middle-earth. While this card is indeed a legendary creature, I find him more fitting as a part of the 99. Gandalf the White belongs in decks like Cadric, Soul Kindler and Elesh Norn, Mother of Machines.
Flash plus "enters-the-battlefield matters" is an insane interaction that could pose many problems in your pods. Pieces like Conjurer's Closest and Teleportation Circle are great ways to get repeatable enters-the-battlefield effects for your legendary creatures! Loran of the Third Path gets you double artifact or enchantment removal, and The Mightstone and Weakstone gets you half a new hand or removes a huge creature. Gandalf the White seeks to maximize the value you have already baked into your decks, and I love it!
Orcish Bowmasters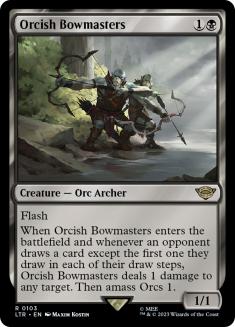 I'm pretty sure you've already seen this card be the talk of the town on Twitter and in YouTube videos, and with good reason. Orcish Bowmasters is an incredibly impressive card. People have been whispering about this impacting formats like cEDH and Legacy, and I can see why. When cast at the right moment, this flashy two-mana spell can practically kill an opponent or wipe their whole battlefield. Wheel decks hate this card (it's me, I'm Wheel decks).
When I write about cards from new sets, I always try to recommend decks to run it in or cards with high synergies, but I must say that this should go in any black deck you have. If you wanna go for extra spiciness, slap this piece in a Nekusar, the Mindrazer deck to really make your Commander pod hate you.
Samwise Gamgee
Next we have another legendary creature! I'm sorry, y'all, but it can't be helped; I'm a Commander player at heart and I have to call out what I love! I've always found Food tokens to be a novel concept. While I thought the art was cute, I saw very little value in actually cracking them. Samwise Gamgee is inspiring me to reevaluate my opinion.
Maybe it's because I used to have an Emiel deck back in the day, but to me, Samwise is screaming Flicker / blink. There is power in this little Hobbit; I can feel it. I wanna jam-pack a Commander deck like this with pieces like Academy Manufactor; Mondrak, Glory Dominus; and Jaheira, Friend of the Forest. You wanna make as many tokens as you can and use them as you see fit, whether it's for mana or life! Altar of the Brood can kill your opponents out when you make your tokens, and Emiel the Blessed and Eldrazi Displacer help make it so that you can blink again and again. See? Selesnya can be evil…it just needs to be hangry first!
Mirkwood Bats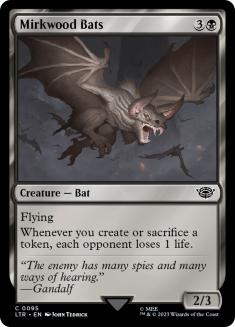 Mirkwood Bats is the sole reason I regret taking apart my Grixis Treasures deck. This card just seems so dang good no matter where you slot it. Treasures, Squirrels, Clues, Food, even Blood! Chatterfang, Squirrel General loves this. Kalain, Reclusive Painter loves this. Eloise, Nephalia Sleuth loves this!
Mirkwood Bats is like the better, hotter older brother of cards like Nadier's Nightblade and Disciple of the Vault. In my opinion, any token deck that is black should run some combination of all of these (Disciple being the artifact exception). I feel as though people will be turned off by this card or turn a blind eye to it because of the mana value and rarity, but sometimes powerful things come in small packages.
Last March of the Ents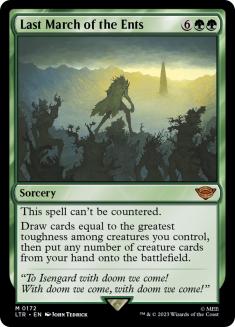 Lastly, we have Last March of the Ents (pun not intended). I have recently embarked on a journey of self-discovery by brewing my least favorite color ever: green. Through this exercise, I have become a teensy bit fond of the color. After all, green is notorious for its insanely high-mana-value spells, and what is commander if not the format for crazy mana values?
Last March of the Ents falls into this fun category for me. It's eight mana, draws you plenty of cards, and gets you as many free creatures as you want! This card definitely has a place in my Zopandrel, Hunger Dominus deck because of how consistently huge my creatures get. I also see this having homes in decks like Doran, the Siege Tower or Arcades, the Strategist. Regardless of the home, the value comes from big booties, and I think this is a lesson we should take from Magic and apply to our real lives.
Party of Five
In all honesty, it was a bit hard to just choose five cards; however, if I went with ten, then we would be talking about legendary creatures exclusively, and that just isn't fun. That being said, The Lord of the Rings: Tales of Middle-earth is looking to be a phenomenal set that is sparking a lot of joy and excitement in community members. Whether you're a diehard Tolkien fan or not, it looks like this set will be a smashing success.