Welcome to Deck of the Week, where I'll pop the hood on one of my paper decks and show you all the gory details. This week I'll share my current list for Rafiq of the Many!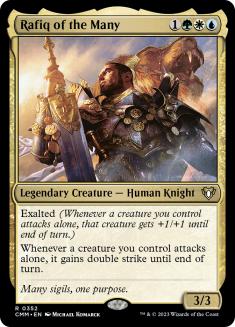 I've always liked Rafiq ever since I played with it when it was legal in Standard. When I built an EDH deck with it (pre-Commander), I had a lot of fun, but early in the format it was a bit of a boogeyman and would often get hated on with all the removal your opponents could throw at it. Eventually I took it apart, though I'd occasionally slip it into the 99 of other decks.
Recently, two things happened that made me decide to bring it back. First was the release of Commander Legends: Battle for Baldur's Gate and all the cool new initiative cards. I quickly smashed all the dungeon-delving and initiative cards into a new Sefris of the Hidden Ways Commander deck and had a great time venturing through various dungeons and Undercity. But one thing bothered me: what about all the cool green dungeon delving and initiative cards?
Into this quandary stepped the Streets of New Capenna frame treatment and new artwork for Rafiq that looked sweet and was quite a bit cheaper than the original!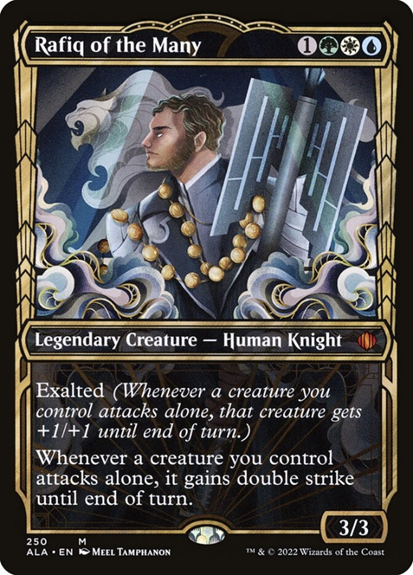 When I saw it, everything clicked into place: a combat-oriented Bant commander was perfect for what I wanted. Not only could I use the nifty green dungeon and initiative cards, but I also had access to so many great supporting cards for that with white and blue. It all came together remarkably well, so here's a breakdown of everything that made the cut.
Venture into the Dungeon
Here are all the original dungeon goodies from Adventures in the Forgotten Realms and the associated Commander decks. It was particularly nice to include Varis, Silverymoon Ranger and Ellywick Tumblestrum, who have not seen the inside of a Commander deck box in the year since I got them. And Yuan-Ti Malison plays fantastically with Rafiq's exalted abilities, unblockable, and hitting for three points of damage twice to venture into the dungeon twice.
Take the Initiative
I also got to add in the new initiative hotness, especially Undermountain Adventurer! Even if you haven't completed a dungeon, tapping for two green mana is solid, but once a dungeon is completed – which should be super-easy with this deck – it taps for a whopping six green mana, wow! I've played Tomb of Horrors Adventurer, and it really is quite powerful, being able to copy any spell is sweet, especially if the second spell you cast is a creature you get a token copy, or two of them if you've completed a dungeon. And I'm really looking forward to seeing the cool things Sarevok's Tome can do.
Cares About Initiative/Dungeon
I've got a couple of these dungeon support cards that do nifty things too. I like that Imoen will draw you a card, even if you don't currently have initiative, if you've completed a dungeon.
Double Strike
Other than dungeon and initiative shenanigans, I also want to lean into Rafiq's exalted ability and slot in creatures that really love double strike. The new Dragons, Ancient Bronze Dragon and Ancient Gold Dragon, will go bananas here if one is allowed to attack with Rafiq on the battlefield. In particular, Ancient Bronze Dragon will get a trigger for first strike damage to potentially grow itself by a significant amount for when it deals regular damage. Mighty Servant of Leuk-o has impressed me already in other decks, but in this one, where Rafiq only wants one attacker, it'll shine even more.
And it wouldn't be a Rafiq deck without Finest Hour. Wow, is this a bonkers card—getting an extra combat step outside of red is amazing! Just imagine any of the Dragons in the list hitting twice with double strike!
Recursion
Since so many of the dungeon delving and initiative creatures trigger from entering the battlefield, I wanted to include ways to trigger them again and again. Either bringing them back from the dead with Adarkar Valkyrie, Sun Titan or Othelm, or blinking them with Soulherder or Teleportation Circle.
Removal
Any good Commander deck needs to have removal spells, and Bant offers a wide variety to choose from. Swords to Plowshares, Reality Shift, and Contraband Livestock are cheap exile creature removal when you just need to remove the biggest threat, and Supreme Verdict sweeps the battlefield when you need everything dead and don't want to worry about counterspells. Knight of Autumn offers a variety of options and works nicely with the recursion package.
Interaction
Bant offers a ton of awesome interaction spells, and I've got some great ones here. The three blue counterspells give me the ability to stop an opponent's game-winning combo or protect my battlefield from an untimely battlefield sweeper. Cards like Mother of Runes and Spellskite help protect key creatures from pinpoint removal. I also really like Blind Obedience more and more these days; so many decks try to combo off with Treasures, and forcing them to enter the battlefield tapped means they can't use them until their next untap step, which might be all the time you need to finish them off.
Card Draw
All the dungeon and initiative cards provide "card draw" of some sort, either small incremental advantages or actual cards drawn, but I did want to include a few other ways to draw more cards in the deck. Since I'm playing so many creatures, Skullclamp is a slam-dunk. I also tossed in Pull from Tomorrow for a huge infusion of cards when you need to refuel the gas tank.
Ramp
Last but not least, a handful of ramp spells. Since my deck is looking to grind value from the various dungeons, I'm not really trying to end the game as quickly as possible, so most of my ramp is here for color-fixing early on.
The List
Here's the total decklist:
Creatures (32)
Planeswalkers (1)
Lands (39) Here are the deck stats from our friends at Archidekt: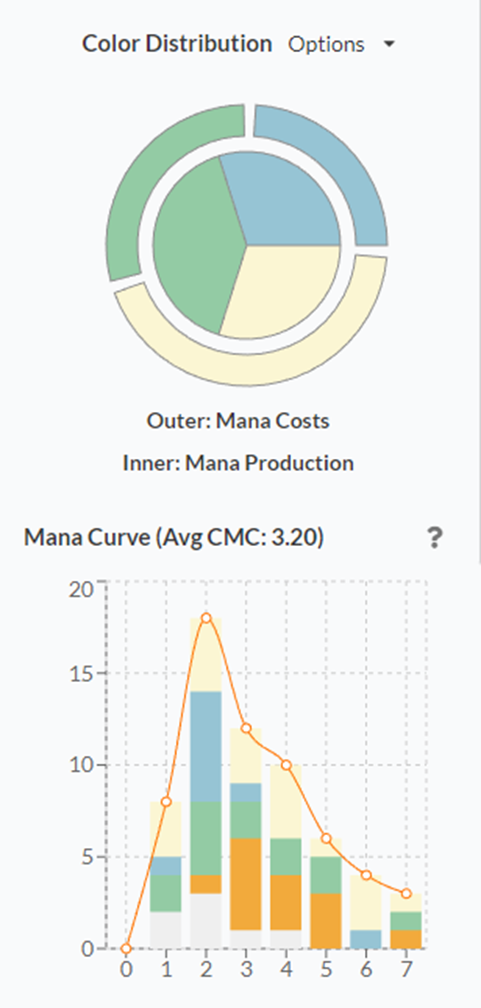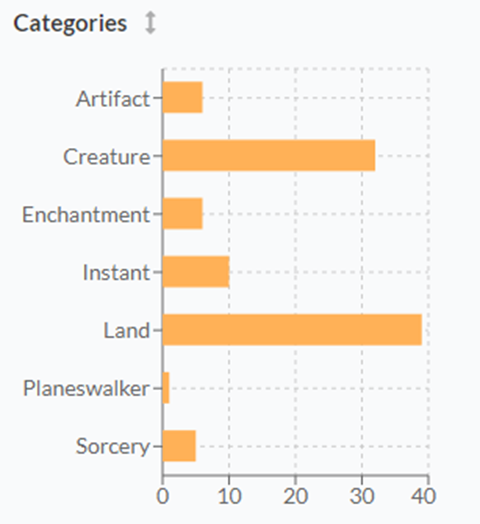 What would you put in a dungeon-centric Rafiq of the Many deck that I've missed here?
Talk to Me
Do me a solid and follow me on Twitter! I run polls and start conversations about Commander all the time, so get in on the fun! You can also find my LinkTree on my profile page there with links to all my content.
I'd also love it if you followed my Twitch channel TheCompleteCommander, where I do Commander, Brawl and sometimes other Magic-related streams when I can. If you can't join me live, the videos are available on demand for a few weeks on Twitch, but I also upload them to my YouTube channel. You can also find the lists for my paper decks over on Archidekt if you want to dig into how I put together my own decks and brews.
And lastly, I just want to say: let us love each other and stay healthy and happy.