Howdy, gamers! I hope that everyone is excited for The Lost Caverns of Ixalan Prerelease this weekend! I'll be publishing my list of the Top 10 most Cubeable cards from the set next week, but for now, the Magic Arena team has blessed us with a week of digital Cubing while we wait to get our hands on the new cards. As such, today I'll be breaking down the updated list of Chromatic Cube that will be running from November 7-14!
Historically, we've seen pretty massive changes to the Arena Cubes from one run to another, but this run features the smallest update that I can remember. The list is shrinking from 560 to 540 cards, with 68 new cards making their way in over 88 cuts. That's still a significant change, though much smaller than the 200+ card overhaul we saw for the Cube's previous run.
My previous articles on this Cube have done a good job on highlighting the fundamentals of approaching the format, and I don't see the fundamental aspects of this Cube changing with this update. You still want to go big in this Cube, probably play eighteen lands, and plan on your opponent doing the same. As such, I'll be focusing on the specific ins and outs today and highlighting the highest impact cards entering the Cube. I've ported the list over to Cube Cobra to make it easier to follow along as I do. One quick note is that for some reason I couldn't add the Arena nerfed Hullbreaker Horror, so just keep in mind that the card will be counterable in this Cube. That in mind, let's break down the update by color!
White
Out:
In:
There's not a lot to miss in the cuts here, given that Welcoming Vampire is still in the list and tends to perform better in 2023 than Mentor of the Meek anyway. Werefox Bodyguard is generally a lateral shift with Brutal Cathar, with flash offering upside in a lot of spots.
Giver of Runes is a pretty strong addition to the Cube when you consider that a fair amount of the removal looks like Stroke of Midnight. A lot of the gameplay in Chromatic Cube centers around haymakers and sweepers, but in matchups where you can dodge sweepers, the protection for your haymakers can be quite valuable.
The Magic 2011 Titan cycle is making its way into the Cube with this update, with Sun Titan being the least remarkable of the lot. The Virtue cycle from Wilds of Eldraine enters as well, and Virtue of Loyalty is among the best members of that cycle. The early body won't do a ton for you in this environment, but the card is very good at turning any threat into a giant threat as the game progresses, and all of the token makers and the propensity for games to go long make it a high pick here.
Blue
Out:
In:
The Reality Chip had a very high ceiling and The Mirari Conjecture is among the cooler theoretical build-arounds, but there's not much else to report regarding blue cards leaving the Cube. There's still a good spread of Clones available, and cheap blue creatures are rarely missed in 540-card Cubes.
That said, I do like the look of both Ingenious Prodigy and A-Thousand-Faced Shadow. Ingenious Prodigy is something of an updated Aeon Chronicler that is more charming than powerful, but you should have the time to make it shine in this environment. It's one of the better enablers for A-Thousand-Faced Shadow, too, which can reset Ingenious Prodigy's counters or rebuy the enters-the-battlefield ability of a different creature while doubling up another.
Brainstorm is not terribly powerful when you can't reset the top of your library, and this is doubly true when you don't generally want to stop making land drops and you have to dig for both lands and spells. Cyclonic Rift is on the weak side in two-player games as well, but this Cube lets you more reliably kick it, at which point it can be back-breaking. Extraordinary Journey was a little slow for Wilds of Eldraine Limited, but you'll have more time to make it work here, and I can see it performing quite well. Horned Loch-Whale, on the other hand, isn't quite so meaningful in a format that's so much less about attacking and blocking. It's more of a middle-of-the-pack card here.
Virtue of Knowledge looks like a fun build-around, but it's the sort of inefficient card that I avoid completely when I'm trying to win. I'm much more interested in Elesh Norn, Mother of Machines for this sort of effect. Frost Titan, on the other hand, is much more powerful than Sun Titan and is among my favorite creatures to copy and completely lock my opponent out of the game. Even just casting Frost Titan on turn six and tapping a land is likely to meaningfully slow your opponent down in a Cube with this high of a mana curve.
Lastly, A-Hullbreaker Horror is a house. It's difficult to imagine losing if you can get a repeatable bounce effect going on five-plus-mana cards. Going into this week, I have it lower than Sublime Epiphany specifically because it's the nerfed and counterable version, but it's close and I could see this order reversing in practice.
Black
Out:
In:
All of the black cards on the outs are on the weak side, and all of the cards making their way in are strong! Well, Concealing Curtains is a little inefficient and Lord Skitter is kind of small-ball for what we're trying to do here, but it does pack enough punch to get under a lot of what's going on in this Cube and easily crush your opponent with the aid of some kind of Anthem.
Locthwain Scorn is weaker here than it is in most Cubes, but it will help prevent the occasional opponent trying to go under you while you set up for Virtue of Persistence, which is likely the most powerful of the Virtues. Grave Titan is also no slouch in the Titan department, a six-drop that can easily run away with a game. Black remains a middle-of-the-pack color in the Cube, but the new additions are reasonably high picks as individual cards.
Red
Out:
In:
There sure are a lot of forgettable cards entering and exiting the Cube in red! In fairness, Redcap Gutter-Dweller is pretty strong here, even if it doesn't crack the top of the list for powerful red four-drops in Cube. It just doesn't break any records on rate, and in a Cube that's about going big, middling four- and five-drops are no way to get ahead! I can see Voldaren Thrillseeker ending games out of nowhere, and I'll look to pair it with Magda, Brazen Outlaw and Captain Lannery Storm when trying to go under my opponent.
Skitterbeam Battalion does offer enough punch that I think you could realistically close a game with it here, mostly by virtue (of loyalty) of pairing it with an Anthem effect. Capricious Hellraiser is actually pretty strong when you can cast it, and if anything, the triple red will be the barrier to doing so. Six mana is a totally reasonably cost in Chromatic Cube, but red is a middle-of-the-pack color.
I find Tribal Flames very charming, but there's rarely proper incentive to play an aggressive deck when you're playing all five colors. I suppose it is a fine removal spell, but a sorcery-speed one-for-one that can't handle many of the Cube's most relevant cards isn't where I want to be.
Inferno Titan, on the other hand, is exactly where I want to be. It's the best Titan for getting the opponent dead, and blinking and copying it can really add up in this regard, too.
Green
Out:
In:
Seeing Gilded Goose cut from a Cube will always make me happy. It makes sense to me to cut Somberwald Sage when you're adding the Titan cycle, but that cut along with Harrow is a notable hit to green. To be fair, green is really strong in a Cube that's all about casting big spells, so turning that power down a little makes sense. Titania's Command was a great enabler for Field of the Dead, but I have a feeling that Primeval Titan will do the trick just fine.
A few of the cards being added are in that space of inefficient enablers that I make an effort not to run. Doubling Season is a solid Commander card, but I'll be avoiding casting it and Virtue of Strength here. Tooth and Nail does have an immediate impact on the battlefield, and I expect it to close a lot of games; I would just caution that a deck can only bear so many seven- to nine-drops, so I'm not picking it as a high priority.
Bramble Familiar is an awesome ramp spell and payoff split card, one that I expect to pick quite highly. I also see Fight Rigging as having absurd upside. When I play against the card in Standard, I really only have success in games where I can go under it, which is quite difficult to do here! Pumping threats and giving you a free spell in a Cube with such a high mana curve is really powerful, and I absolutely see Fight Rigging as a first-pickable card.
Gold
Out:
In:
It's pretty funny to me to see Voice of Resurgence make its way in to the "cast big spells" Cube, but then again, it's always funny to me to see Voice of Resurgence anywhere. Gotta love those Selesnya cards!
There aren't a ton of gold cards entering or exiting the Cube that deserve much attention, so I mostly want to take this opportunity to say that gold cards are mostly interchangeable with mono-color cards as far as pick orders go in a Cube where the games go long and you can expect to play a lot of colors. This isn't so much true for Nicol Bolas, Dragon-God because that card has some really daunting color requirements, but Emergent Ultimatum is enough of a game-winner that I'm not shying away from it.
The Goose Mother is both a strong card and in the two most powerful colors in the Cube, so I'm all about picking it up as early as possible. I'm also pretty big on Decadent Dragon. Anything can happen casting Expensive Taste, not all of it especially good, but making Treasures on attacks is actually just a big deal on a four-drop in a Cube where you'll want to cast a lot of stuff for six or more mana.
Colorless
Out:
In: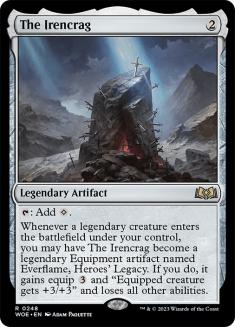 Fiddly stuff out, The Irencrag in! The Irencrag is definitely weaker than Mind Stone, but I'll play every two-mana rock I can get in this Cube. You just want to get busy casting your big spells as swiftly as possible here, and while I don't imagine I'll be turning it into an Equipment often, that is at least a theoretical upside on an effect that I always want anyway.
Lands
Out:
In:
The shift from fastlands to Horizon lands is amusing to me. On the one hand, games are going long, so your Botanical Sanctum is going to enter the battlefield tapped with some regularity. On the other hand, I don't especially want to sacrifice any of my lands or take damage every turn from my Waterlogged Grove! I do love Horizon lands, but they're low-priority mana-fixing for me in this environment. The colorless lands are okay options as your eighteenth (or nineteenth…) land, but they're even lower-priority cards.
I'm liking the look of the new Chromatic Cube list, and I'm also just happy to see less churn from run to run. It's nice to come back to a familiar environment with minimal additional reading, and I'm especially happy to see cards like the Titan cycle show up to ground this Cube to have a little more in common with the world of Cube at large. Happy drafting!