Flesh and Blood introduced the new Assassin hero, Arakni Huntsman, this weekend, bringing with him a whole onslaught of new class cards. Courtesy of Legend Story Studios, check out a majestic Assassin attack action card — Leave No Witnesses!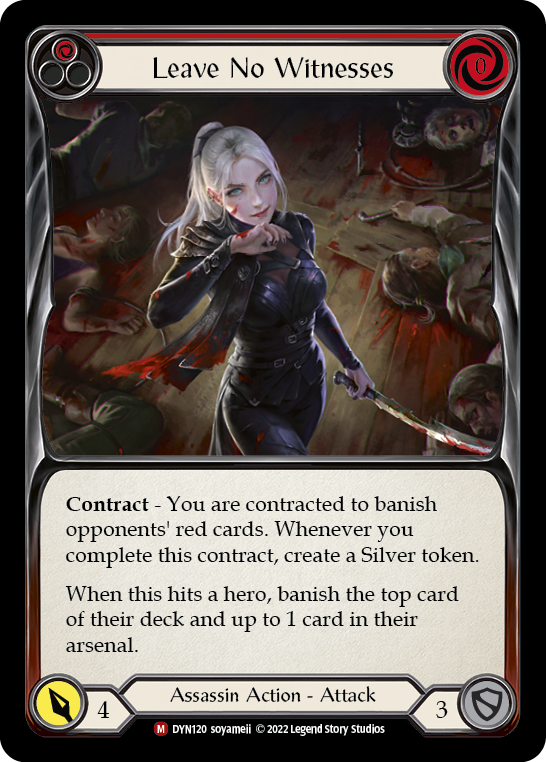 Leave No Witnesses is an attack action for the new Assassin class, featuring the new contract ability. For no resources, you get a four-power attack with a contract that asks you to banish opponents' red cards. To complete this contract, Leave No Witnesses lets you banish the top card of a hero's deck and a card from their arsenal if it hits.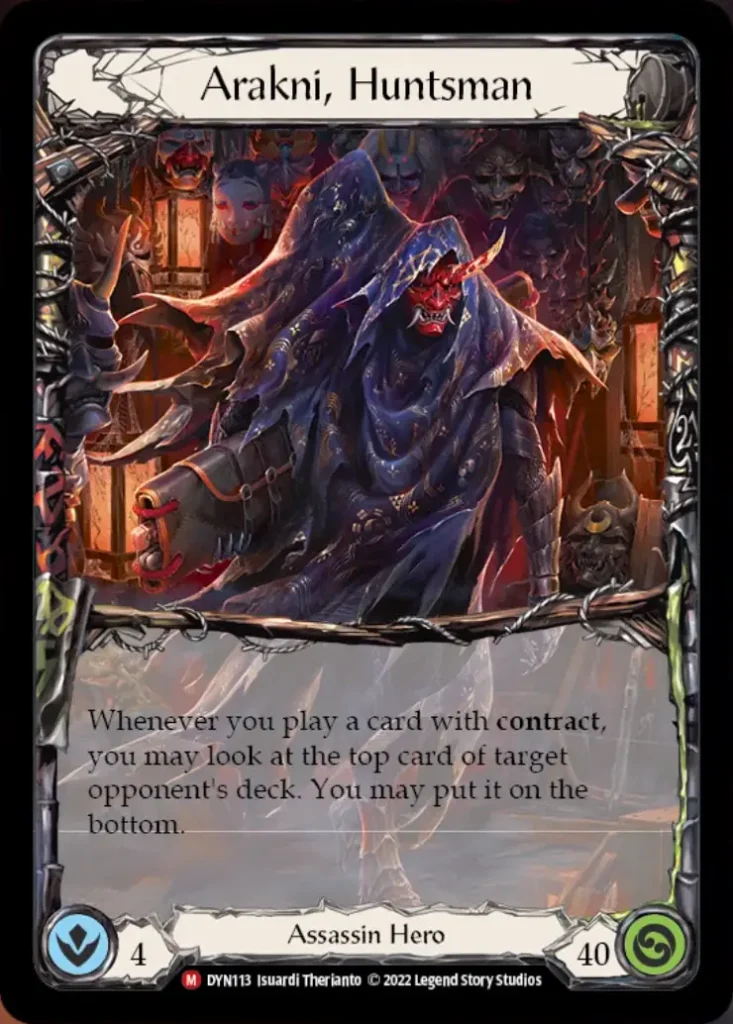 The Assassin class looks to be all about completing contracts and reaping the rewards for carrying them out. Spider's Bite lets you soften up the target, upping the chances that the attack action with contract hits the opponent. Contracts ask you to complete tasks in the form of banishing cards of a specific type. Some care about their pitch value, like Leave No Witnesses, while others care about card text, like if a card has go again.
According to James White, the creator of Flesh and Blood, contract is a continuous effect that is active for the duration that it is on the combat chain. If you complete the contract on that chain link, you get the contract effect. If you continue your combat chain by giving it go again and you complete the contract on a later chain link then you would do the contract effect. You can have multiple contracts active on the same combat chain.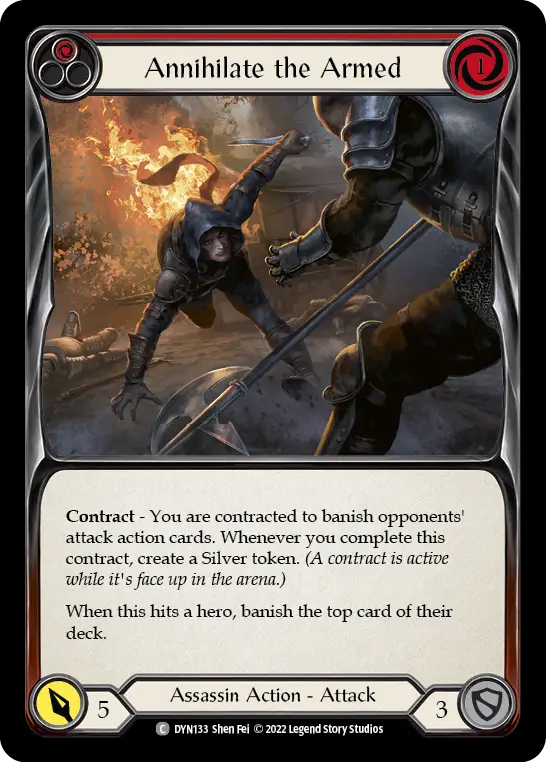 While all the cards in Dynasty with contract will be attack actions, White said that could change in later sets.
"In the future we will probably make contracts that aren't attached to an attack action," White said. "For example, an item. Here is this piece of paper contract item sitting next to your hero that you are trying to complete. That is something we looked at and will probably do in the future."
Despite being in the works since 2015, the Assassin class is making its debut now. Assassin was originally going to be in Arcane Rising, but the class posed a challenge for limited play, resulting in it getting scrapped late in the development process. Arcane Rising has multiple classes and heroes that care about the top of the deck:
Dash cares about boosting away Mechanologist cards off the top of the deck
Kano cares about activating his ability to flip Wizard cards of the top of the deck
Azalea cares about activating her ability to put an arrow from the top of her deck into her arsenal
The assassin cares about the top of the deck, but not his, he cares about the top of the opponent's deck.
"We tried very hard to get him into Arcane Rising. We did a huge amount of constructive development for assassin, but we couldn't quite get it to gel for limited, so it got binned off quite late in the pipeline," White said. "It was very pleasing to be able to bring this hero back that has been in the design bank since literally 2015 and find the perfect home for him. At this point and time there is only one assassin hero, but it's a class we are committed to and you will see quite a lot in the space over time."
For fans who have been looking forward to the Assassin class for years, Dynasty will offer them plenty of cards to build a deck right away. The set will have roughly 40 Assassin cards, which White said should be more than enough to put together an Assassin deck and for it to be quite good.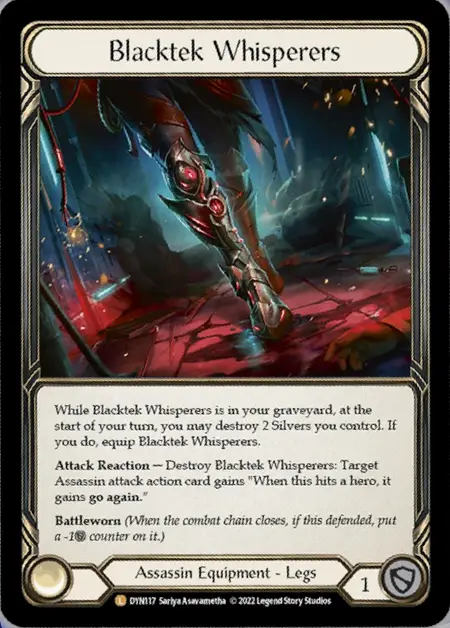 "This product is unlike the previous two expansion sets that we have done, Crucible of War and Everfest. Dynasty has what we refer to as a complete class map in it," White said. "It has the equivalent number of Assassin cards in it that you would expect a class to have in a standalone booster set, for example."
Leave No Witnesses will also be the featured art for the exclusive playmat from Star City Games. Customers who buy a Dynasty booster case for $351.99 will also get the playmat shown below with art by soyameii.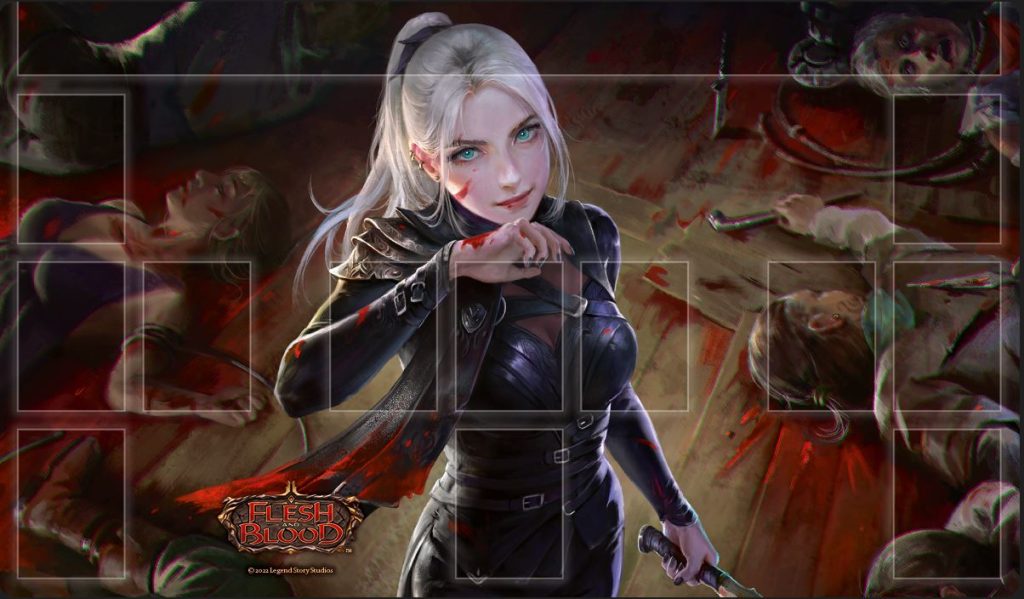 Preorder your Dynasty case today and show off your Leave No Witnesses playmat in style!