Courtesy of Legend Story Studios, take a look at the new Mechanologist token coming full steam to Flesh and Blood in the upcoming set — Bright Lights.
Get up to speed with Hyper Driver!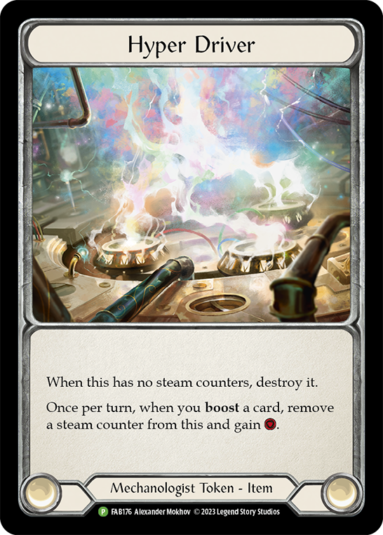 Maxx Nitro, the latest hero to be previewed from Bright Lights, creates these tokens. Check out the hero reveal video for Maxx Nitro from Three Floating below.
We're excited to announce that Star City Games will be the ONLY place that you can get your hands on a COLD FOIL version of the card!
Preorder a booster case of Bright Lights from Star City Games TODAY to receive your SCG-exclusive COLD FOIL Hyper Driver token while they last… because once they're gone, they're gone forever!
As always, Star City Games GUARANTEES 100% fulfillment on all preorders, so preorder with confidence!
* Legend Story Studios reserves the right to print a Rainbow Foil version of Hyper Driver at some point in the future.