Elder Dragon Highlander (EDH) is currently being tested on MTGO. I have been converting my favorite EDH decks from paper to online. That requires some changes — MTGO does not yet have most of the cards from Tempest, Urza's Saga, or Masques blocks, or from sets before Mirage. That requires some adjustments. I'll talk about converting my Starke of Rath deck — per request — I'll include the original list.
Quick basics: EDH is a highlander format, meaning no more than one copy of any card (except basic lands.) Decks must be exactly 100 cards. You choose a Legendary creature as your general — the centerpiece of your deck. The colors of your general define the colors of your deck: the cards must be artifacts, lands, or share colors with your general. Lands, like City of Brass, only tap for the colors of your general. In choosing Starke, I am basically deciding to run a Mono-Red deck.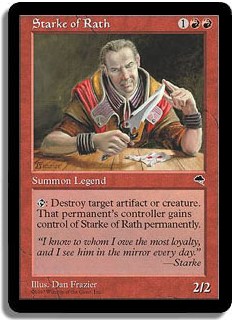 Starke of Rath is not a particularly good general. One of the win conditions in EDH is dealing 21 damage with your general to a particular opponent. Starke takes 11 turns of unblocked attacking to accomplish that. That isn't going to happen. However, life totals in EDH start at either 200 divided by the number of players or 40, depending on how old-school the players are. You kill the other players through other means.
Dealing damage is not the purpose of playing Starke, of course. Stark's ability allows you to destroy one creature or artifact. That can be useful, but only occasionally. The downside is that Starke then changes control, and can destroy something you have. The trick to using Starke is to play a very low-key deck that slowly builds up a manabase while the other players spend their resources against each other. Starke can play into that resource waste — when two players both have important permanents on the board, use Starke to kill the permanent of the player that will untap first, and that player will use Starke to off the other threat as well.
I have adopted Starke's "let everyone play with me" effect as a general theme for the deck. I have included a number of such effects. Howling Mine and Wheel of Fortune are obvious examples of group help, but cards like Emberwilde Caliph and Goblin Festival actually change controllers frequently. I always make sure to mention that theme to my opponents — politics is everything in EDH.
I do not run much direct damage or many offensive creatures in the deck. My whole point is to look non-threatening, then kill everyone at once. Politics, once again.
One main strategy for winning is to whittle everyone down a bit, then drop a huge Earthquake to kill them all. I have a lot of Mountains, several cards (like Gauntlet of Might) to pump mountainous mana production, and a few tricks to keep my life total higher than that of my opponents.
Glacial Chasm is one option — but I should stress that the biggest method of keeping my life total high is to look non-threatening and to rely on politics. My life total stays high because people attack other people.
Here's the deck:
Lands:
35 Mountain
1 Shivan Gorge
1 Glacial Chasm
1 Thawing Glaciers
Mana Artifacts:
1 Ruby Medallion
1 Fire Diamond
1 Sol Ring
1 Journeyer's Kite
1 Wayfarer's Bauble
1 Gauntlet of Might
1 Gauntlet of Power
Board Control:
1 Nevinyrral's Disk
1 Apocalypse
1 Ruination
1 Blood Moon
1 Mogg Infestation
1 Blood Frenzy
1 Grab the Reins
Card Draw, Utility, and Life Gain:
1 Howling Mine
1 Wheel of Fortune
1 Final Fortune
1 Gamble
1 Sensei's Divining Top
1 Sun Droplet
1 Sword of Light and Shadow
Creatures:
1 Anger
1 Bottle Gnomes
1 Bloodfire Colossus
1 Shard Phoenix
1 Viashino Heretic
1 Subterranean Spirit
1 Emberwilde Djinn
1 Hivis of the Scale
1 Mogg Maniac
1 Akki Lavarunner
1 Starke of Rath
1 Crater Hellion
1 Heartless Hidetsugu
1 Ryusei, the Falling Star
1 Platinum Angel
1 Solemn Simulacrum

1 Wall of Heat
Global damage:
1 Earthquake
1 Fault Line
1 Furnace of Rath
1 Molten Disaster
1 Sizzle
1 Inferno
1 Manabarbs
1 Power Surge
1 Price of Progress
1 Radiate
1 Fork
1 Spellshock
1 Pyrohemia
1 Storm World
1 Goblin Festival
1 Citadel of Pain
1 KABOOM!
1 Ancient Ruins
1 Sulfuric Vortex
1 Sulfurous Blast
1 Sulfuric Vapors
1 Repercussion
1 Acidic Soil
1 Price of Glory
1 Insurrection
I should probably modify the deck a little. I haven't done that for a while, but as I was listing the deck, I noted some marginal cards. I also noted a few cards that were not present. I probably want add cards like Memory Jar, and think about running fetch lands to combine with Sensei's Divining Top. My single biggest single omission was Ruination — it is missing from the paper deck at the moment. It is a marginal card from a political standpoint: it annoys a lot of people without winning the game outright, but since I have so many basics, and so many opponents run almost no non-basics, it might be worth reconsidering.
I don't know why I don't have a Duplicant in the deck. He is an answer to a lot of opposing generals and problem cards. I would like to include a couple of other cards in the mix, but I have not had room. Some others stay because of political considerations. For example, Blood Frenzy is +4/+0 to target attacking or blocking creature, destroy that creature EoT. There are better options for killing creatures, but Blood Frenzy also deals a couple extra damage to some opponent, and usually gets people a bit less bothered.
I skipped a couple cards that were devastating against a single opponent, but not good enough for the political downside in multiplayer. Chandra Nalaar is an excellent example: at best, it will deal a dozen-odd damage to one player — and may wipe out that player's forces. On the other hand, it will have to be in play for a few turns beforehand, during which time it will make you a conspicuous target. Not worth it.
I have also been intending to add a copy of Heat Shimmer to the deck. It is a cheap way to answer opposing generals, as well as working well with cards like Bloodfire Colossus. However, the legend rule applies differently in online EDH, and that change may be applied to paper EDH as well. The online rule says that if a general and another copy of the legend are both in play, the other copy dies, but the general lives. That makes my old paper trick for offing generals — Corpse Dance with buyback and Clone — is not as useful anymore.
Of course, Corpse Dance is not yet available online, but it is still a good trick in paper — unless the rules change.
The deck needs some modification to play online. For one thing, I need a new general. Starke is not yet available on MTGO.
Let's look at some possible generals, keeping to the Mono-Red theme.
Akroma, Angel of Fury is a possible contender. She hits hard, and can definitely deal 21 points of damage quickly. In theory, you should even be able to play her face down from the RFG zone, if mana is a problem. (This should work, but I haven't tried it.) About the only downside is that she is not exactly subtle.
Heartless Hidetsugu is another possibility. If he lives long enough to activate, especially several times, you should be in good shape. He might be worth playing in conjunction with Rings of Brighthearth. I'll have to think about that.
Rorix Bladewing is a strong contender: a general with haste is especially good in a format with as much mass removal as EDH. About the only downside is that I do not own one online. I might go buy one… (I did.)
Ryusei, the Falling Star, seems good as well. It can do a nice job of clearing the board, especially with Furnace of Rath in play. I do own one — but it is not all that impressive.
Ashling, the Pilgrim, was a bomb at one point, before the powers that be decided that only combat damage counted towards the 21 damage from a single general rule. He is still a solid option, and can be cast early and often (special EDH rule: generals start RFG, and can be cast from that zone. If your general dies, you can choose to RFG it instead of going to the graveyard. If RFGed, it can be cast again, with a penalty of +2 casting cost per time.) I suspect that he will be my initial general.
Adamaro, First to Desire, is a nice solid general in EDH. If nothing else, he is generally at least a 4/4 for three in EDH, and generally bigger. He is also quite cheap, making him easy to cast early.
I'll play them all, for now — but Ashling will probably be my general. He / she / it fits the theme.
Legends:
1 Adamaro, First to Desire
1 Akroma, Angel of Fury
1 Ashling the Pilgrim
1 Rorix Bladewing
1 Ryusei, the Falling Star
Next, let's work on lands and mana. This deck is mana intensive, so I want a lot of lands, and some mana artifacts. I want some storage lands, and cycling land to add some card drawing (these will eventually be added to my paper deck.) Sol Ring is not (yet) an option, so Mind Stone and/or Fire Diamond will have to fill in.
Lands:
1 Bloodstained Mire
1 Forgotten Cave
1 Fungal Reaches

1 Kher Keep
1 Molten Slagheap
30 Mountain
1 Desert
1 Mikokoro, Center of the Sea
1 Spinerock Knoll
1 Thawing Glaciers
1 Gauntlet of Power
1 Gilded Lotus
1 Journeyer's Kite
1 Mind Stone
Desert is questionable. That slot was originally Quicksand, but sacrificing lands might not be a good option. I'll have to see whether Desert is of any value. It might become a Mountain again. Spinerock Knoll seems good — Spinerock triggers any time any opponent deals damage to an opponent, not just me. That should happen.
Card Drawing:
1 Bottled Cloister
1 Candles of Leng
1 Howling Mine
1 Mangara's Tome
1 Mind's Eye
1 Sensei's Divining Top (premium)
1 Sword of Fire and Ice
1 Sword of Light and Shadow
EDH is a long, slow format — and games are often decided on who draws the most cards. Howling Mine is a questionable, but often good politics. Candles of Leng is insane in singleton formats. Top is good — and better with Thawing Glaciers or Journeyer's Kite. Mind's Eye is amazing in multiplayer, late game. Mangara's Tome is something I will need to try, but it was good in Five-Color back in the day. Thran Tome might also be good, but I don't have one online, and Weatherlight prices are high at the moment. I'll wait, for now.
The Sword of Fire and Ice has two functions. First, it draws cards. That is huge. Equally importantly, it keeps your creatures alive through Pyrohemia, Earthquake, and Molten Disaster. I have even been reduced to making a Kobold token off Kher Keep, and equipping it, just to draw a card. Sword of Light and Shadow is also quite good in this deck, since both life gain and graveyard recursion is not readily available in Red.
Stopping the opponents:
1 Aether Flash
1 Blood Moon
1 Flowstone Slide
1 Grab the Reins
1 Nevinyrral's Disk
1 Oblivion Stone
1 Radiate
All of these are intended to stop the opponents from imposing their game plans. Blood Moon is probably better in paper than it is online. Online, players don't seem to have as many non-basics. In paper EDH, at Pro Tours and Worlds, I have often seen decks with no basics at all. Blood Moon can destroy those decks.
Aether Flash is in the mix mainly because of one favorite iteration. I once played a Varchild's War Riders / Aether Flash / Repercussion deck in a Vintage tournament. Here, I have Aether Flash, War Riders, and Dingus Staff. Sure, the combo is unlikely, but Dingus Staff is pretty useful in a deck with this many global burn spells, and Aether Flash is still good at stopping potent weenies. Another plus — Aether Flash only kills a couple of my guys, and even fewer if I have Gauntlet of Power set to Red.
1 Akroma's Memorial
1 Lightning Greaves
1 Loxodon Warhammer
1 Pariah's Shield
1 Sun Droplet
1 Vedalken Orrery
I am trying Akroma's Memorial in this deck. I haven't cast it, yet, but it should be good. I am running a lot more creatures in the online build, and both pro-Red and vigilance are huge. Flying is quite a plus, too.
Lightning Greaves duplicates part of Akroma's Memorial, but it is cheaper, and shroud is really nice at times. Loxodon Warhammer and Sun Droplet provide some lifegain.
My current wet dream is to have Pariah Shield on Stuffy Doll, then drop Furnace of Rath and Pyrohemia.
The next batch of cards are intended to do damage to opponents and to opponent's creatures. Some are obvious, like Earthquake. Some are just funny, like Fizzle — er, Sizzle. Rough / Tumble is questionable, but it does kill the larger flying Legends. It also kills Gaddock Teeg, which can be a problem.
1 Dingus Staff
1 Earthquake
1 Furnace of Rath
1 Inferno
1 Insurrection
1 Jinxed Choker
1 Manabarbs
1 Molten Disaster
1 Pyrohemia
1 Rough/Tumble
1 Sizzle
1 Sulfuric Vortex
1 Sulfurous Blast
Some of these cards do their job of slowly whittling down an opponent's life total, like Manabarbs, but they also annoy everyone. Playing a solid blocker might be a better option — Wall of Stone is a possibility, since a lot of players seem to be running Doran, the Siege Tower decks, or Junktroller, which can be marginally useful against reanimator and dredge decks.
Creatures:
1 Akki Lavarunner
1 Anger
1 Bloodfire Colossus
1 Bottle Gnomes
1 Darksteel Gargoyle
1 Duplicant
1 Emberwilde Djinn
1 Hamletback Goliath
1 Heartless Hidetsugu
1 Martyr of Ashes
1 Platinum Angel
1 Shard Phoenix
1 Solemn Simulacrum
1 Stuffy Doll
1 Subterranean Spirit
1 Sundering Titan
1 Varchild's War-Riders
Most of the creatures are pretty self-evident. Some are pro-Red, some are just good. Darksteel Gargoyle is my new answer to enemy generals — especially the flying kind. I hope I don't see any opponents playing them. My only answers to the Gargoyle, or Stuffy Doll for that matter, are Flowstone Slide and Duplicant.
Most of these creatures are useful, but can also attack. They all get a lot better, of course, with Akroma's Memorial in play. Speaking of which, I don't have any means of destroying artifacts in this deck — other than Nev's Disk and Oblivion Stone. One shot artifact kill is less than exciting, because games often have multiple targets. Cards like Ancient Grudge are good, but I can't generate Green for the flashback. The most tempting cards are Ingot Chewer (which dodges Gaddock Teeg), Yuki-Onna (although I only have three spirits in the deck) and Icefall. Icefall is also an answer to annoying lands, like Maze of Ith. Of course, Maze of Ith is not yet available online — but it is coming.
When you start working on an EDH deck, 100 cards seems very generous. Before you know it, though, you have 105 cards in the deck, and have couple more good ideas you haven't yet fit in. Here are some of the last cards I cut.
Orcish Settlers: The settlers are a great means of smashing problem lands. However, the number of problem lands in the format is pretty limited. Maze of Ith is not around, ditto Tolarian Academy, The Tabernacle at Pendrell Vale, etc. Orcish Settlers is also amazing with Corpse Dance, but I don't really want to start people down the Armageddon path. I did that once — my EDH deck was very good, and very unfun. I'm leaning towards fun decks, instead of the annoying combo/control decks I have played.
Reiterate & Wild Ricochet: Fork has been very good in paper EDH. Reiterate is Fork with buyback, and I am really tempted to swap it for Manabarbs. The only downside is that — online — I have been seeing far fewer instants and sorceries being played. That should change, as people develop their decks, but for now Reiterate is dead far too often. Wild Ricochet can change the initial target, but the buyback is better in the long run.
Ankh of Mishra: I have been very close to playing Ankh in this deck, but it just is too annoying, while doing too little. Ankh is better in a fast, aggressive deck that does not care about laying multiple lands. However, this deck really wants to draw thawing Glaciers, and Thaw and Ankh is not a combo.
Phyrexian Colossus: I have always liked Phyrexian Colossus — especially as a big, fat blocker. Many, many players forget that you can untap it at any time you could play an instant. It is even better with Akroma's Memorial in play. In this deck, any undercosted fattie is highly desirable because they combine well with the mass removal, like Earthquake and Flowstone Slide. However, Colossus does have a downside. It's still on the bubble.
Pyroblast: I would play this, except that I have seen very few people playing Blue. I suspect that's because so many people have the cards for Doran decks, and the like. That could just be my experience, but Pyroblast is just narrow enough that I am not willing to squeeze it in, until I see a metagame change.
Pillage: I have not seen enough artifacts or lands that need killing. In any case, I think Icefall may be better. I should be able to reuse Icefall.
Breath of Darigaaz & Pyroclasm: I have Shard Phoenix and Rough / Tumble to wipe out weenies. Breath and Pyroclasm are solid, but I don't have room.
Ornate Kanzashi: I love this card, but the odds of removing a card I can play — given my mono-colored deck – are just too low. The other use for this card is to help deck someone — but I won't be doing that with a Mono-Red deck in EDH.
Chandra Nalaar: I mentioned this before. Chandra is really good in a duel, but probably not in a format with multiple players that can attack you to off Chandra, and where you really want cards that will kill everyone, not just pick on one player.
Heat Shimmer: I discussed this above. The change to the Legends rule makes this far less exciting. However, Heat Shimmer can still be useful in copying Sundering Titan, Phyrexian Colossus and so forth. It just isn't good enough to maindeck if it cannot kill generals.
I wanted to write up some testing match results for this deck, but I am spending the Christmas holidays at Ingrid's folks, then New Year's weekend with my parents. Neither of them live in an area where broadband services are available, and playing over dialup (hogging their phone line for hours) is not really an option. That means I am limited to playing for a couple days in between — and I have a number of draft sets to use up while the NIX TIX queues are open. I'll play EDH in 2008… when, hopefully, it'll be released as an MTGO format proper.
PRJ
"one million words" on MTGO