Eldrazi Tron has been my deck of choice over the last two weekends on the SCG Tour, and with it being a newer deck as far as Modern is concerned, I've been getting a lot of questions about it. One of the most common ones is if it replaces Bant Eldrazi as the best Eldrazi deck in the format, because Bant Eldrazi is one of the most popular decks and its pilots are wondering if they should make the jump over to Eldrazi Tron.
My answer to this question would actually be "no," as I think the two decks have different strengths and weaknesses in matchups throughout the format, but they are both very good deck choices. Two weekends ago at #SCGBALT I had the best run I've ever had with Eldrazi Tron, winning my first seventeen matches on the weekend before losing in the semifinals of the Modern Classic. This past weekend at #SCGINDY, Dan Musser had a deep run with Bant Eldrazi, being the number one seed going into the Top 8 and finishing the weekend with a 14-2 record in matches played.
So today I'm going to compare Eldrazi Tron and Bant Eldrazi in some of the most popular matchups in Modern so you can better choose which Eldrazi deck is best for you to play either on a specific weekend or for your local store. When talking about the matchups I'm going to be using the Eldrazi Tron decklist I played last weekend and the Bant Eldrazi decklist Dan Musser played as my guide. For reference, here they are:
Creatures (19)
Planeswalkers (2)
Lands (24)
Spells (15) Creatures (25)
Lands (24)
Spells (11) Before going in to the matchups, I wanted to touch on something from Dan's decklist that I really like, the maindeck Blessed Alliance. It was not only a perfect card to have access to Game 1 against Death's Shadow, but it was also a nice hedge card against Burn, which can be a tough matchup for Bant Eldrazi. It replaced a Dismember, which would be better in some situations of course, but for the metagame right now I think Blessed Alliance was a great choice to have in the maindeck.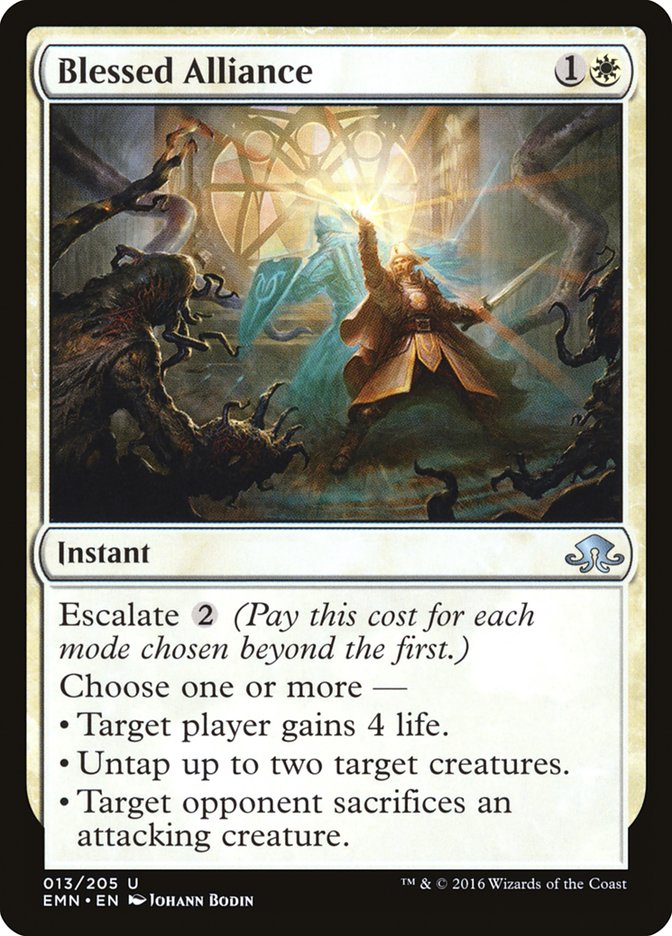 All right, so for the following matchups, the numbers that I'm going to use will be my best estimation of the expected matchup win percentage based upon the numerous games I've played with each deck. Of course the numbers won't be exactly perfect, but it should help you make an informed decision on which Eldrazi deck you want to play at your local store or for a larger tournament coming up such as #SCGDFW in two weekends. If you're not used to looking about matchup percentages, I'm listing how many matches out of 100 that I believe each deck could expect to win.
Jund/Abzan
Eldrazi Tron:Favored 80-20
Bant Eldrazi: Even 50-50
I'm lumping these two matchups together because they play out similarly, but these midrange decks are the biggest pull to playing Eldrazi Tron over Bant Eldrazi. I have the matchup listed as Eldrazi Tron being an 80-20 favorite, which is the largest gap I believe possible in matchups. As far as Bant Eldrazi is concerned, I used to think Bant was a favorite, but I've struggled with these two matchups for a little while now while playing Bant, which has me put it closer to 50-50. If your local area has tons of Jund and Abzan, then Eldrazi Tron is probably the deck for you.
Death's Shadow
Eldrazi Tron: Underdog 40-60
Bant Eldrazi: Favored 60-40
I believe Bant Eldrazi to be a much better deck against Death's Shadow than Eldrazi Tron, which means I probably should have switched decks for this past weekend. It's hard to put a deck down after the results I had in Baltimore, though, and I don't regret running it back. Anyway, Death's Shadow matches up well against Eldrazi Tron with the wealth of disruption and artifact destruction. Basilisk Collar and Chalice of the Void are two of the best cards in the matchup from the Eldrazi Tron side, and Death's Shadow has the ability to handle them without too much trouble. All Is Dust is in a similar position. It's great when I'm able to cast it, but between Thoughtseize and Fulminator Mage it isn't reliable.
Bant Eldrazi has many more quality tools in the matchup, starting with Eldrazi Displacer and Drowner of Hope, which are the best in the business at winning combat battles. Blessed Alliance and Rest in Peace are also ideal sideboard options to fight Death's Shadow, making the matchup favorable from the Bant Eldrazi side of the table.
Burn
Eldrazi Tron: Underdog 45-55
Bant Eldrazi: Underdog 45-55
This matchup is basically a wash, as both versions of the Eldrazi deck are underdogs to Burn. Eldrazi Tron has a pain-free manabase and has Basilisk Collar and Batterskull to be able to gain life, as well as Chalice of the Void post-sideboard, but also has a higher curve and Dismember as the primary removal spell. It's best to wait to put Chalice on two post-sideboard instead of one because stopping the gold cards, including Destructive Revelry, is more important in the mid-game than stopping the one-mana spells.
While Bant Eldrazi has a more painful manabase, it has more reliable lifegain cards in Blessed Alliance and Thragtusk, and Path to Exile is a better one-mana removal spell than Dismember. Also, Negate is an underrated card for the matchup because Burn almost always finishes the game with spells because the battlefield will get bogged down, and having access to a key counterspell can steal games.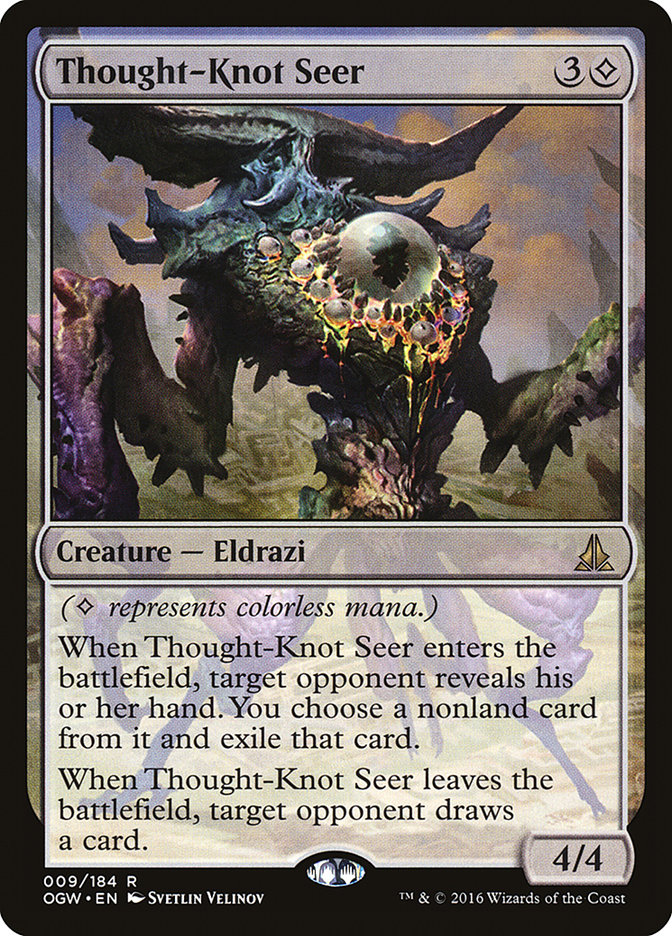 No matter which version you play, the best card in this matchup is Thought-Knot Seer, and casting one on turn 2 or 3 is the best thing you can do. Take that under consideration when deciding whether to mulligan or not in the matchup.
G/X Tron
Eldrazi Tron: Underdog 40-60
Bant Eldrazi: Favored 60-40
The Eldrazi Tron vs. G/X Tron matchup, at least with the list that I play, has completely different games pre- and post-sideboard. It is extremely hard for Eldrazi Tron to win Game 1, but the post-sideboard games are quite favorable due to the four Surgical Extractions and the Crucible of Worlds. Still, G/X Tron is definitely favored overall because of the extreme Game 1 win percentage.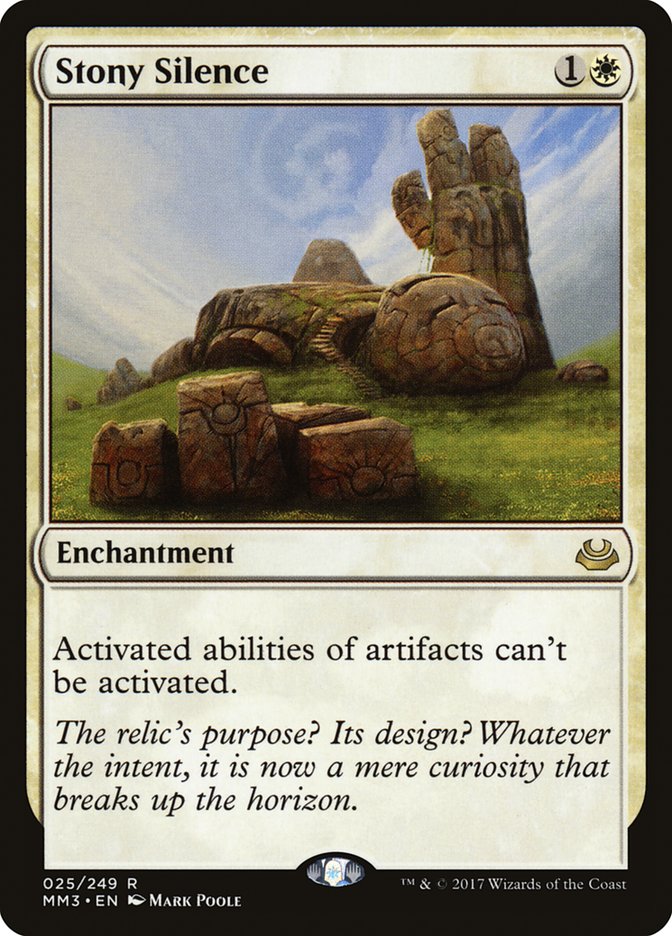 Bant Eldrazi on the other hand has a much better matchup against G/X Tron, thanks to having a better Game 1 as well as a better sideboard. Eldrazi Displacer plus Thought-Knot Seer present a lock that is difficult for G/X Tron to beat, while Stony Silence is probably the best sideboard card in the format against the deck. Add in some counterspells and Bant Eldrazi has a favorable matchup here, unlike Eldrazi Tron.
Affinity
Eldrazi Tron: Favored 55-45
Bant Eldrazi: Favored 60-40
I believe both Eldrazi decks to be favored over Affinity, with Bant Eldrazi having a slightly better matchup. Walking Ballista really added a ton for Eldrazi Tron here, and it's the most important card to draw. Basilisk Collar is another important piece, not only to be able to attach to Walking Ballista but also for the lifelink to race with your other creatures. Four Ghost Quarters help keep the creature-lands, especially Inkmoth Nexus, at bay.
Bant Eldrazi again has access to Stony Silence, which of course is a haymaker against Affinity. Also Eldrazi Displacer and Drowner of Hope make it difficult for Affinity to win the damage race, even with their creatures having evasion. Engineered Explosives and Ratchet Bomb are both quality cards for the Eldrazi decks as well.
Grixis Control
Eldrazi Tron: Favored 70-30
Bant Eldrazi: Favored 70-30
Both Eldrazi decks are significantly favored against Grixis Control, and so either one you choose should be just fine. Both Thought-Knot Seer and Reality Smasher are wonderful threats in the matchup that Grixis Control struggles with. Eldrazi Tron has access to some even better high-end cards, such as Karn Liberated, Walking Ballista, and Endbringer, while Bant Eldrazi has multiple Cavern of Souls to invalidate any counterspells as well as Rest in Peace in the sideboard to shut off Grixis Control's value engine. I like sideboarding in a couple of Surgical Extractions with Eldrazi Tron for this same reason. If you can exile your opponent's Snapcaster Mages or Cryptic Commands they will really struggle to be able to win. If you're piloting Grixis Control, no matter which Eldrazi deck you face, you're going to have a bad time.
Merfolk
Eldrazi Tron: Favored 55-45
Bant Eldrazi: Underdog 45-55
Overall this is a pretty close matchup either way for both sides, but I would prefer to be on the Eldrazi Tron side of the three. All Is Dust is the best card, and resolving one almost assuredly ends the game on the spot, and having access to them in the maindeck is a big deal here. Walking Ballista is also a powerhouse in the matchup, especially if you can get a Basilisk Collar attached to the Construct.
Over on the Bant Eldrazi side the matchup is somewhat difficult, but Engineered Explosives is similar to All Is Dust with it being able to swing games. It's nice that Dan has access to two Explosives in the maindeck, because games without Explosives are difficult to win. Sure, you have your normal Eldrazi Displacer and Drowner of Hope games, but Merfolk is usually a little too fast for them.
Eldrazi Tron: Underdog 35-65
Bant Eldrazi: Underdog 45-55
Ad Nauseam attacks from an angle that's very difficult for the colorless Eldrazi deck to fight against, making Ad Nauseam probably the second-worst matchup for Eldrazi Tron overall. Chalice of the Void is the best sideboard card and can counter an Angel's Grace despite it having split second, but it usually isn't enough. Both decks have access to Thought-Knot Seer, which again is the best card in the maindeck for either version. Bant Eldrazi has some more tools to help swing the post-sideboard games in their favor, with Stony Silence helping to shut down the mana accelerators as well as various counterspells, which are extremely important to have access to.
G/R Through the Breach/Scapeshift
Eldrazi Tron: Underdog 20-80
Bant Eldrazi: Underdog 45-55
Speaking of poor matchups for Eldrazi Tron, this one is absolutely the worst. A Primeval Titan hitting the battlefield is almost always game-ending, and Eldrazi Tron doesn't have the interaction to stop it from happening. Sometimes you have the games where an early Thought-Knot Seer takes their only threat in their hand and Reality Smasher closes the game out quickly, but those games don't happen too often. Bant Eldrazi has a somewhat similar Game 1, but Eldrazi Displacer is wonderful in the matchup to flicker Thought-Knot Seer during each of your opponent's draw steps and take their Scapeshift or Primeval Titan from their hand. This plan is obviously worse if they have Through the Breach available, but hopefully you exiled that the first time Thought-Knot Seer entered. After board having access to the counterspells, especially Disdainful Stroke, is critical to be able to counter the big threat.
The "Mirror"
Eldrazi Tron: Underdog 45-55
Bant Eldrazi: Favored 55-45
How about when Eldrazi Tron and Bant Eldrazi face each other? Well, I think Bant Eldrazi is favored in the matchup, but it's pretty close. From the Eldrazi Tron side, you have two absolute dead cards in Game 1 in the two All is Dust, well, I guess unless you need to discard a card for their Reality Smasher trigger, and the cards you have to bring in aren't the best. Bant Eldrazi doesn't disrupt your manabase, though, so casting Karn Liberated or a large Walking Ballista is Plan A.
From Bant Eldrazi's side, Eldrazi Displacer and Drowner of Hope again are key cards to fight through the midrange battle. Stony Silence is the best sideboard card to bring in, as it shuts off Walking Ballista, Basilisk Collar, Mind Stone, Expedition Map, and Batterskull. This makes Bant Eldrazi a vastly superior deck with Stony Silence out, making them the favorite in the matchup overall. Either side can steal wins with an early Thought-Knot Seer and Reality Smasher, but the late games are favored for Bant Eldrazi.
Quick Hits
Those are probably the ten most popular matchups you'll face, but here's my estimate on the numbers for ten more matchups to give you more perspective:
Abzan Company
Eldrazi Tron: Favored 60-40
Bant Eldrazi: Underdog 40-60
Lantern Control
Eldrazi Tron: Underdog 45-55
Bant Eldrazi: Underdog 45-55
G/W Hexproof
Eldrazi Tron: Underdog 45-55
Bant Eldrazi: Favored 55-45
Dredge
Eldrazi Tron: Favored 60-40
Bant Eldrazi: Even 50-50
Infect
Eldrazi Tron: Favored 55-45
Bant Eldrazi: Favored 55-45
Elves
Eldrazi Tron: Even 50-50
Bant Eldrazi: Underdog 40-60
U/R Gifts Storm
Eldrazi Tron: Favored 60-40
Bant Eldrazi: Underdog 40-60
Eldrazi Tron: Favored 60-40
Bant Eldrazi: Underdog 45-55
Revolt Zoo
Eldrazi Tron: Underdog 40-60
Bant Eldrazi: Even 50-50
8-Rack
Eldrazi Tron: Favored 55-45
Bant Eldrazi: Favored 55-45
Conclusion
Just to say it again, these are the expected results that I would estimate for each matchup. Hopefully it gives you some good perspective for deciding which of the two main Eldrazi decks you should play for a given tournament or at your local store. Do you have tons of Valakut and Tron decks? Then play Bant Eldrazi. How about Jund and Abzan? Looks like Eldrazi Tron is the choice for you. And so on.
You can also tweak your sideboard to help with matchups that may be slightly unfavorable if you think you have good matchups elsewhere or don't mind completely abandoning some highly unfavorable matchups. For example, if you don't mind losing to Tron and Valakut, which are already poor matchups, the four Surgical Extractions in the Eldrazi Tron sideboard could turn in to two more Relic of Progenitus, helping with Death's Shadow, and a couple more Batterskulls to similar lifegain cards to help the Burn matchup.
The decklists that Dan and I used were solid choices to cover the entire metagame, but each deck can be precisely tuned to beat a certain part of the metagame. The SCG Tour is taking the weekend off, but next weekend is #SCGDFW, a Modern Open in my hometown, and I'll be ready for it.