Now that the full card image gallery of Throne of Eldraine is out, it's time to get down and dirty with the new cards. How would you navigate this draft?
The Pack:
The Pick:
Vantress Gargoyle could range from unplayable to a powerful rare. The stats are unprecedented on a cheap blue creature, but there's good reason: Vantress Gargoyle is basically a conditional creature with layers of granularity based on the clauses that determine whether it can attack or block. For the majority of games, Vantress Gargoyle is a defender in the early-game and a finisher that can't block in the late-game. I imagine there will be a significant amount of tension in the mid-game between playing spells if you would not be able to attack or block with the Gargoyle. Overall, it's a hard card to evaluate and I wouldn't be surprised if it was one of the better rares in the set or not very impressive.
Clockwork Servant is an awesome-card to first pick. A three-mana 2/3 is not great stats, but it can fill that point of the curve in any deck that needs it. Furthermore, most two-color decks should be able to turn on adamant by the late-game, which is when the 2/3 body would be least impressive. Hence I imagine this is just a very solid creature for any deck.
Scorching Dragonfire is likely one of the best commons in the set. Lightning Strike that can't hit players is not significantly worse, and Lightning Strike is often one of the best uncommons. Searing Barrage is the other red removal spell in this pack, and while it kills more things with a higher ceiling thanks to adamant, the efficiency of Scorching Dragonfire takes the cheaper spell to a different league.
I could see any of the above three cards as the pick, and wouldn't fault anybody for taking any of them. I think it's likely that the best pick is Scorching Dragonfire because it asks the least of you, but I am going to take Vantress Gargoyle because it's a rare that I want experience playing with. I always lean on the side of taking the card with the higher rarity at the beginning of a Draft format.
Pack 1, Pick 2
The Picks So Far: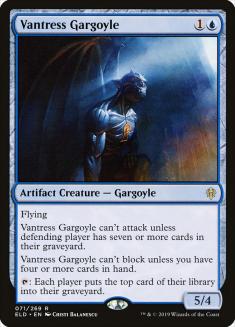 The Pack:
The Pick:
Any land with a low opportunity cost that has the potential to influence the outcome of the game is a high pick in my book. I think all of the Castles are better than almost every common because they simply make every deck better without asking for much at all. Bake into a Pie is a great removal spell, but I'm not going to take it over the Castle, especially when my first pick is a blue rare.
Heraldic Banner is an interesting card. Many decks that are interested in the Anthem effect are not interested in ramp. However, there will be decks that maximize each end of the card. Near-monocolored decks with tokens or a variety of expensive creatures will happily play the card. It's not really in contention here, but I wanted to mention it.
Deathless Knight is extremely powerful. Recursive creatures that block well are scary and always should raise an eyebrow. Keep in mind that Vantress Gargoyle can provide card advantage by milling the Deathless Knight. Overall, the cost is steep, and while there's a lot to do with the card, the probability it makes my deck isn't incredibly high thanks to the mana cost.
Maybe it's boring, but I don't intend on passing the Castles very often. Castle Vantress is my pick.
Pack 1, Pick 3
The Picks So Far:
The Pack:
The Pick:
While there are many different options in this pack, I think the pick is only between Foulmire Knight and Bake into a Pie. If you find yourself wanting to take Wishful Merfolk or Witching Well to complement your current blue cards, I think you're being nearsighted. It's important to stay open, and while the blue cards in the pool can be strong, they aren't worth giving up the power of the great black cards in this pack.
So what's the pick between an adventure creature and a removal spell? Personally, I think removal is overvalued by most players. Don't get me wrong, it's important to have interaction. Creatures that provide substantial value, like Cloudkin Seer, are almost always better picks than removal spells early in a draft. While Foulmire Knight is likely worse than Cloudkin Seer, I think the comparison is apt and the Knight is the correct pick out of this pack.
Pack 1, Pick 4
The Picks So Far:
The Pack:
The Pick:
Prophet of the Peak is an interesting card. Artifacts are prevalent in Throne of Eldraine, because it helps an artifact theme as well as monocolored decks. I'm not usually interested in paying six mana for a 5/5, but scry 2 is a nice ability on a late-game card, and the near-mono-blue start brings the Prophet into consideration for me. I don't think it's better than the other options, but I thought it was an important note. In general, I can't justify taking a six-mana card this early in a draft unless it is very strong.
Didn't Say Please is the best card name in the entire set. Cancel variants tend to be poor in Limited, but the specific pool of cards I have brings it into consideration. I have a lot to do at instant speed, and milling my opponent is relevant thanks to Vantress Gargoyle. I think it should be pretty easy to pick up Didn't Say Please, so I'll pass on it for now, but it's better than it looks at first glance.
This leaves So Tiny. This card is fine, but nothing special. The pack is overall unexciting, and so I would rather just take the best card in my colors. Furthermore, there is an enchantment theme in the format, and thus So Tiny could have some additional applications.