I used to wait until I knew about all the cards in a new set before I started seriously putting ideas and concepts to the test. Things are a bit different now though, as there's a good shot that I'll be at the StarCityGames.com Open Series in Cincinnati the weekend Journey into Nyx comes out. This means that I need to get started earlier than usual and do my best to come up with something that gives me the best shot at winning the tournament.
At the tail end of Born of the Gods Standard, I've been jamming Patrick Sullivan's Mono-Red Aggro deck to reasonable performances, including some 4-0s and a ninth place finish at one of the most stacked Invitational Qualifiers I've ever seen, featuring ringers like Kevin Jones, Rudy Briksza, Gerard Fabiano, Alex Bertoncini, and Christian Calcano among many others (and as of this writing, I'm 2-0 in another IQ featuring almost all the same players).
I really like how the deck is so good at punishing even the slightest stumble from your opponent. It is relentless, has a great amount of reach, and can slam the door shut on attempts to stabilize. My plan has been to dodge Mono-Blue Devotion and its variants, as I was sure that the best players in these IQs would be playing Mono-Black Devotion and U/W Control variants. While that didn't exactly hold up throughout all the events I played in, I've been very lucky to have dodged the unexpected surge in Mono-Blue Devotion and G/R Monsters variants in my area.
If recent history has taught us anything, it is that Mono-Red Aggro is always a force to be reckoned with at the beginning of rotating or expanding formats. As I mentioned in last week's article, the "Mono-Red Factor" will be very real in the first week of Journey into Nyx Standard. Everyone is going to be trying to abuse cards like Mana Confluence; Atheros, God of Passage; and other cute expensive cards that the current suite of red decks can easily get under if allowed.
Or are they?
(Please note that we're only focusing on red-based aggressive decks for this exercise.)
Before we do anything, let's look at what I think are the different levels of the week 1 Standard format. Looking at this is important because it tells us where we may want to be on a week-by-week basis. If you get a good jump on the format in the beginning and do well, you're in prime position to continue to stay ahead from that point forward.
The first thing I expect on the weekend of the release of a new set is an abundance of hyped cards. This means Athreos, God of Passage and Mana Confluence are the frontrunners. Card availability is most certainly a thing, so I don't think we'll see the full potential of Mana Confluence right off the bat. It will be played some, but not in the big numbers I'm expecting in, say, week 3 or 4.
In both of these cases, Thoughtseize is a good place to be. The card is probably at its best when everyone's trying to do these snowball-like (devotion) or singular high-powered things (G/R Monsters, Naya Hexproof). This plan is a bit soft to super redundant strategies, such as most hyperaggressive decks and heavy control decks. This is where things get interesting.
If being as redundant as possible is the plan, then how do we position ourselves against shiny new toys like this?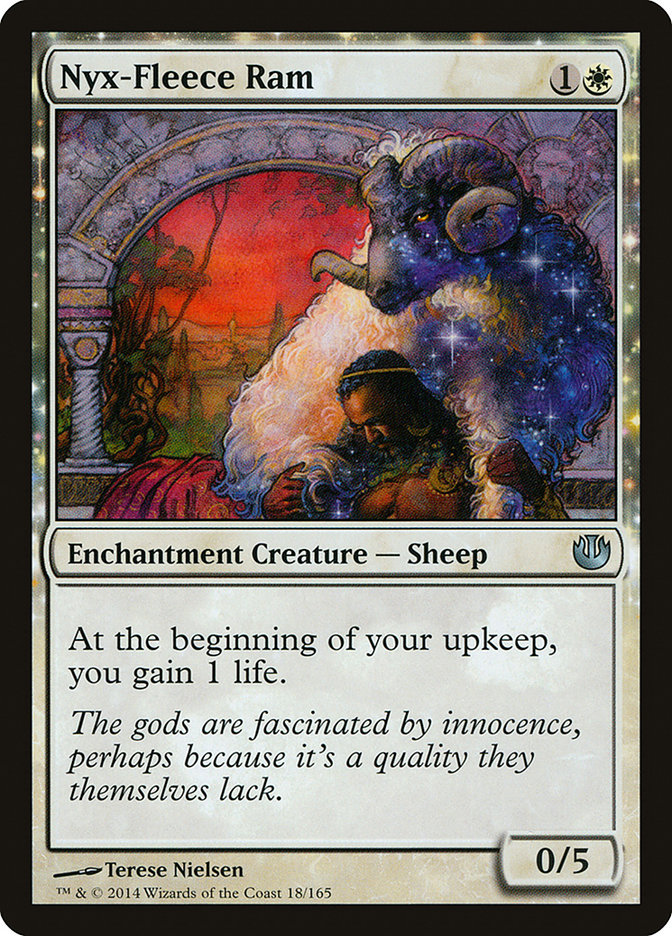 Innocent as it may look, this is one of the major speed bumps that you absolutely must be prepared to push through early in the format, even if the card doesn't wind up being good. And if it doesn't, you now have an inherent strength against other brick walls of the format, like Polukranos, World Eater and possibly Master of the Feast.
The hyperaggressive decks now reach a fork in the road when it comes to how they're built. Do you stay monocolored or go into a second or maybe even third color with all these points considered?
"Well, why wouldn't you splash a color? It's so easy now!"
Mostly because you get an edge against other aggressive decks trying to splash a color. Being a half a turn behind due to Temples or advantaged in the life race due to Mana Confluence is expected to be a very real thing. Being monocolored also allows you to maximize time-sensitive cards like Foundry-Street Denizen. Any sort of land tension with Mutavault is basically nonexistent, and you don't get punished by effects such as Burning Earth if the format ever gets to a point where that card becomes relevant against aggressive decks (which could very well happen given the mere presence of Mana Confluence).
The benefits to a second color vary depending on the color, but the leading candidates are R/B, R/W, and R/G in that order. I'm not really interested in R/U because of the lack of high-impact cards compared to the other color combinations, so I'm willing to rule it out for the time being.
R/B has the most unassisted low-end power in Spike Jester and gets the most out of Mana Confluence because of it. It has access to the most haste creatures at every point on the curve with the aforementioned Spike Jester plus Rakdos Shred-Freak; Chandra's Phoenix / Mogis's Marauder; Exava, Rakdos Blood Witch; and Stormbreath Dragon to top things off. You also gain Thoughtseize, which is obviously good but can completely steal games when coupled with pressure and is this color combination's way of dealing with problem enchantments and other noncreature permanents.
You gain a powerful sniper in Rakdos's Return, which is great after a Supreme Verdict or at dealing with troublesome planeswalkers like Elspeth, Sun's Champion; Jace, Architect of Thought; or Ajani, Mentor of Heroes. You're also at a sweet spot in terms of your creatures' printed power, as many of them can stress or completely dodge Last Breath and Reprisal.
While you're the best at utilizing Mana Confluence, you're also the softest to decks trying to be just as aggressive as you because of it. You're pretty much forced to max out on your lands so you can reliably cast these high-powered threats on time, but if they keep pace with you, you're going to fall behind if you wind up paying life or being forced to play a land tapped. This is going to be true with all of the multicolored aggressive decks, but it's amplified here.
If you choose to play any removal spells, they start feeling lackluster when you lose one life in the process and will eventually wear you down as the game goes on. Your opening hands become much more of a challenge as well, and you'll find yourself in a losing position more often than not when your only lands cost you life and your 3/1s are easily tradable. As base red, there really isn't much you can do to mitigate the effects of losing life over the course of the game, so I'm more interested in just pushing and pushing hard.
The Boros Legion not only feels the effect of playing with Mana Confluence the least, but it's also great at removing the aforementioned problem cards. If the life loss from Mana Confluence does become an issue, cards like Warleader's Helix and maybe even Spark Trooper can prove useful in the right setting, as they give you a decent enough cushion while still progressing your game plan. Nyx-Fleece Ram is also a consideration if you really want to force their hand.
A powerful mid to late game option in Assemble the Legion is another selling point, as it will win the game if given enough time. Lastly, against large creature decks Chained to the Rocks is your go-to removal spell, though it does get weaker after game 1. Boros Charm also gives you incredible reach along with some solid protection against Supreme Verdict and Anger of the Gods, a card that I expect to pick up in popularity.
(Note that the Ram does not have defender so it can still attack for reasons such as battalion triggers.)
R/W is not without its problems though. While you're very strong, possibly the strongest color combination against both hyperaggressive decks and attrition decks, you don't have room to completely cover both. It won't be uncommon for players to predict one strategy and get blown out by the other. Chained to the Rocks is downright embarrassing against control, but you also aren't going to impress anyone by registering Skullcrack in your maindeck against a field full of Rakdos Cackler and Burning-Tree Emissary.
You also lack any sort of instant noncreature pressure in the early game. Black has Thoughtseize to strip the opponent's best option, and green has Domri Rade as a form of card advantage, a clock, and pressure all in one. White's best option is a red card, Chandra, Pyromaster, and it's hard to count a four-mana planeswalker that takes a turn to truly come online as an early game threat in this context.
Next we have green, which is filled with noncreature threats, uncounterable reach, and strong synergy all around. You are excellent at screwing up combat math, as Ghor-Clan Rampager is easily the best pump spell (and has been for as long as it's been Standard legal). You also have a bit more staying power against Mono-Red and R/B Aggro due to Ghor-Clan Rampager and Fanatic of Xenagos, and you're the least likely to even need Mana Confluence since Burning-Tree Emissary also functions as a mana fixer here. With the multitude of tramplers and inherent evasion at your disposal, Mogis's Warhound is at its best, giving you even more reach.
With all of this reach, I wouldn't blame you if you find it hard to believe that R/G can easily be crippled by Thoughtseize and any sort if stumbling, but when you're a little slower out the gates and a bit more reliant on scrying to get to the cards that give you said reach, it starts to make sense. You also have very little protection against sweepers—no Boros Charm, Thoughtseize, or flash effect outside of Skylasher—so overextending can be disastrous. Mutavault helps, but now you're putting a strain on the very mana base that's good enough not to use Mana Confluence.
The tension is real.
Finally, we have three-color combinations. I'm honestly not sure which three colors are best, but I'm most interested in Naya. You have access to all of the upside of R/G and R/W—Ghor-Clan Rampager and Boros Charm for reach, Domri Rade for sustainability, Chained to the Rocks for semi-hard removal, and too many good sideboard cards to fit into fifteen slots.
While the upsides are pretty immense and the tools you have access to are so broad, you're the most reliant on both Mana Confluence and Temples. If you stumble, you're in big trouble against almost everything, and the multiple stints of life loss from your lands will catch up to you. This problem extends to even the control decks, as a resolved Sphinx's Revelation or an out of control Pack Rat can capitalize off of it much more handily than in two-color strategies.
Which color combination is the best for the first week of Journey into Nyx Standard? It greatly depends on how a given tournament decides to attack these decks and where you feel most comfortable being. All of these choices are perfectly reasonable, and one will probably wind up better than the others in different environments, which begs the question:
If you're going with a red-based aggressive deck, what will your other colors be if you want any at all?