Hello everybody, and welcome to a very special Eventide preview. This week I get the pleasure of debuting Creakwood Liege for you. Watch the special spoiler video inside, and stay tuned for my reaction in tomorrow's show!
I figured I'd try something new…
…
…
…
…
…
…
(Scroll down for the text spoiler)
…
…
…
…
…
…
…
…
…
…
For the stats: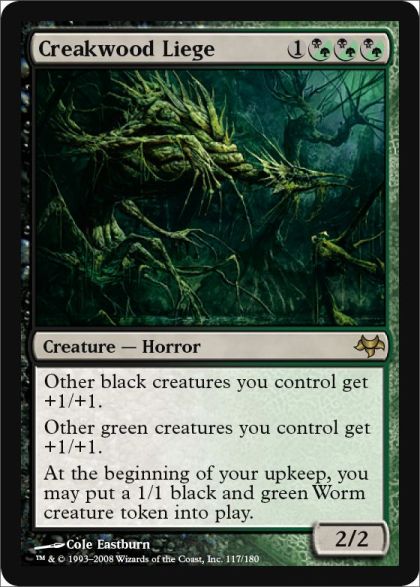 Creakwood Liege
1G/B G/B G/B
Rare
Creature – Horror
Other black creatures you control get +1/+1.
Other green creatures you control get +1/+1.
At the beginning of your upkeep, you may put a 1/1 black and green Worm creature token into play.
2/2
Evan "misterorange" Erwin
eerwin +at+ gmail +dot+ com
dubya dubya dubya dot misterorange dot com
Written after debating whether or not to stick the strategy text onto the article. I think it'd be better to wait until tomorrow.