The fifth annual Hunter Burton Memorial Open takes place on Sunday, February 25th, 2018, at the Hurst Conference Center near the Dallas/Fort Worth International Airport. This charity event has grown every year in scope, attendance, and prizes, now with a cash purse of $10,000. The winner takes home nearly $2000 cash and a luxury Movado wristwatch valued over $1000. If that wasn't enough, the event will also award StarCityGames.com Season One Invitational seats to the Top 8 finishers.

The Hunter Burton Memorial Open event has become a favorite for the Texas Magic community. With a massive cash payout Modern main event, a Standard PPTQ $1000 side event, and a Legacy Constructed cash tournament, there's competitive play for all types. We didn't forget about Casual and Limited players, either. Other side tournaments include a Theros block Prerelease kit Sealed event for $15, Commander pods, Masters drafts, and more!
The 2018 event will offer a VIP registration package that offers exclusive items for the player and a general preregistration that offers a discount on the entry fee. All proceeds benefit the non-profit, which spreads awareness for suicide prevention through community involvement and gaming.
You can preregister at: https://squareup.com/store/hunter-burton-memorial-open/
Live streaming coverage: https://www.twitch.tv/hunterburtonmemorialopen
Additional information: www.HunterBurtonMemorialOpen.com
Top 8 players receive the following:
StarCityGames.com Season One Invitational Qualification
Retro 51 Stealth Pen (Black) (retail value around $30)
Custom SCG Top 8 Playmat
Custom Darkhound Studios Top 8 Playmat
Name Engraved on HBMO Trophy
Custom HBMO 2018 six-sided die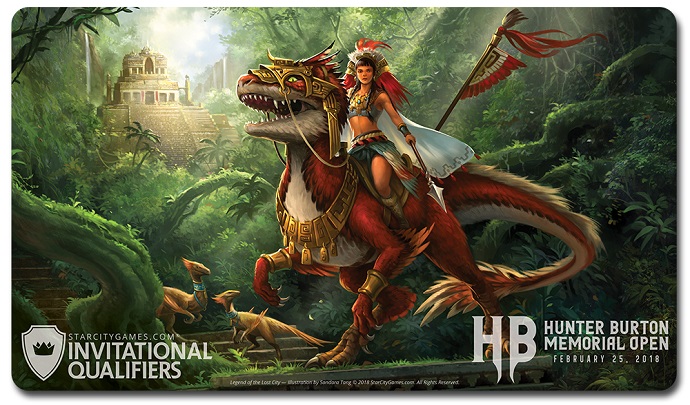 Prizes:
1st – $1800 cash, Movado wristwatch (retail value over $1,000)
2nd – $1000 cash
3/4th – $800 cash
5/8th – $600 cash
9/16th – $200 cash
17/32nd – $100 cash
33/64th – pack prizes
About Hunter Burton and the Memorial Open
In 2009, Hunter Burton was the top Magic player in Texas. In fact, when he finished fourth at Pro Tour Austin that year, Hunter was statistically among the top five players in the world. Hunter's Pro Tour career started in 2006 at Pro Tour Charleston. From there Hunter competed at Pro Tour Kobe later in 2006 and then again at Pro Tour Geneva in 2007. His first Top 8 in a major event came in 2008 at Grand Prix Denver. After his Top 4 appearance at Pro Tour Austin, Hunter competed in two more Pro Tour events in 2010, in San Diego and Amsterdam. All the while, Hunter was collecting prize checks from one Grand Prix after another. He became well-known around the country and beyond as a funny, plain-spoken Texan with a tremendous talent for the game of Magic. A few years later, in 2013, personal problems seemed insurmountable for Hunter and he took his own life.
Soon after the loss of their son, Hunter's parents decided that the way they wanted to commemorate their son's life was to create an annual Magic tournament in his name. That's when I entered the picture and got to know Hunter's parents, Greg and Dona, and his sister Casey. I had been judging since Pro Tour Dallas in 1995. I had already run a hundred Pro Tour Qualifiers over a space of twelve years.
What kind of event did Hunter's parents have in mind? Their vision, right from the start, was to create the kind of big-time tournament that players would enjoy, the kind that would have been attractive to their son. "Doing it the way Hunter would like it" became our guiding influence. The Burtons didn't know much of anything about Magic or Magic events, but they knew Hunter, and they knew that he liked to do things big.
Hunter chased big cash tournaments, so the Burtons proposed a $5,000 cash prize for the first event. They raised it to $7,500 for the second year and raised it again to $8,500 for the third year. Last year they raised the prize money to its current level: $10,000 awarded to the Top 32 finishers, all in cash. Hunter favored big, extravagant watches, so Hunter's sister Casey picks out a watch worth at least a thousand dollars for each event. Then there's the trophy, a gleaming silver cup over three feet high. Each year, the names of the Top 8 finishers are added to the base. After four events, only one player has managed to get his name on the trophy two times: Robert Berni, the Hunter Burton Memorial Open's first champion. Winning the HBMO is apparently good luck for your Magic career, as a month later, Robert Berni was crowned champion at Grand Prix Phoenix.
Beyond being a great competitive event in their son's memory, the Burtons also insisted that the Hunter Burton Memorial Open do something useful for the community as well. Each year, the Hunter Burton Memorial Open benefits an area charity. The first year, it was Easter Seals. Beginning with the second year of the event and continuing to the present, the event charitably benefits suicide awareness and prevention. While it is obviously true that suicide affects all of society, Magic players, and people in the gaming community in general, have been touched by suicide very often. The Hunter Burton Memorial Open wants to shine a light on suicide and on the kinds of depression that play a part when a person chooses to end their own life.
Hunter used to tell me that the reason he had made friends with so many international players was because he smoked cigarettes and therefore had to hang around outside of tournament venues to smoke. This is where all the European players and many Asian players would end up as well. "All of them smoke," Hunter said.
It was in this way, in February, 2007, at Grand Prix Dallas, that Hunter met and became friends with Tomoharu Saitou. At the time, Saitou was one of Japan's greatest players. Tomoharu was working hard on his English skills, but didn't have a very large vocabulary yet. Still, he listened to Hunter yak about all kinds of things for half an hour at a time. Saitou listened like he could understand everything; he was quite fascinated with Hunter. Hunter only called his new friend "Saitou." Tomoharu only called his new friend by the name "Texas." Hunter liked that a lot.
Whether you were a close friend of Hunter's, as I was lucky to be, or even if you never met him, the Hunter Burton Memorial Open is an opportunity to enjoy a top-notch Magic event and help a good cause at the same time. After five years, this has become one of Texas's favorite Magic events. We hope it will become one of your favorites as well.