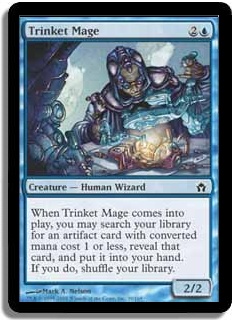 In the last few years, Cube Draft has quickly become about as commonplace as Commander, attracting Pro Tour competitors and kitchen table enthusiasts alike. I find myself needing to give the Cube introduction and elevator pitch less and less these days. Instead of questions like "What is Cube?" we instead are asked about more specific attributes of Cube such as what archetypes and strategies are good or whether or not a particular card is run. Today's cubes come in a number of colorful varieties including:Â  powered, unpowered, common/uncommon, pauper, variant, and themed. Cubing is a nice diversion from traditional Magic and allows us design and fine-tune our own format. As cube designers, we get to decide which cards are broken or not good enough. We can decide how our players will draft and construct their decks. We can push strategies which allow cards that may have had no application in any other formats and turn them into a crucial part of the cube's drafting strategy.
I host a weekly Limited night at my house, and we typically get between 8-12 people. In most cases we draft my cube or whatever the current block set is. If we're not drafting, we'll playtest any relevant formats, but I also like to offer alternate formats like Block Battles or even something like 1996 Standard. In my first foray into theme cubing, I explored the idea of constructing an artifact cube. My group was very receptive to the idea, and we enjoyed several hundred drafts with it over the course of the year. I later went on to construct a tribal cube which highlighted combat above all other strategies as well as a Momir Vig cube, which is a spiced up version of the popular Magic Online format.
Offering a diverse range of cubes to my drafters keeps things new and exciting and allows me to really flex my cube building muscles. It's especially fun when I can take all of my testing data from the group, refine a list, and show it off at a PTQ.
A few years ago I picked up a collection from a friend that included some fun Vintage cards including a Mana Crypt and a Beta Fastbond. I run an unpowered list and knew neither of these cards would find their way into my cube. I define power as traditional power cards like Mox Sapphire, Ancestral Recall, and Black Lotus, and more subtle cards like Mana Drain or Mind Twist. After my cool pickup, I debated simply adding power to my cube and mixing things up a bit with my group. After running the idea of a 'Power Expansion Pack'—in which I add 20-30 cards to the cube to make it 'powered'—by my team, they told me they would rather play in an unpowered environment. I decided to see if there was a possibility to take all the cards which were essentially 'banned' and create a smaller and very finely tuned 360-card cube list for when we feel like drafting more powerful and explosive decks. Several members of the group seemed to be more receptive to this idea.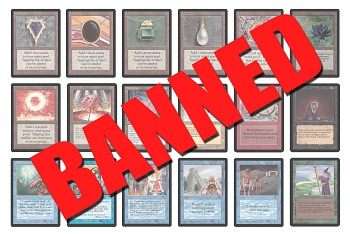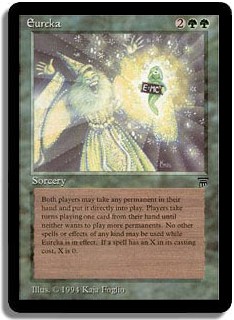 As I began jotting the list down for this cube, I noticed my color-curve weighting heavily in the artifact and blue sections. I also noticed that every time I wanted to add a big card effect to the list, it was fighting against aggro cards. My solution? No aggro cards. I decided that only big and broken decks doing big and broken things need apply.
When I was finished, I ended up with a clunky 500-card mess with numerous subpar choices in red, green, and white in order maintain the color balance. I noticed several cards that were pretty awful outside of a dedicated combo deck, which meant drafting this list could suffer. I then had a "Eureka" moment. What if I played Eureka in the green section instead of Rampant Growth? What if I played Show and Tell and Emrakul instead of Keiga, the Tide Star and Meloku, the Clouded Mirror? What if you were too busy doing broken things to worry about the combat step? I excitedly pulled up an Excel document and began scribbling every possible two-card combo I could to see if it would even be possible to create a cube that could abuse these otherwise terrible cube cards.
In the end, my list was even more jumbled and chaotic than before. How in the world was I going to resolve a Fork and a Necropotence in the same deck? Would every pack have to have a City of Brass? Would that detract from my drafting strategy? Then it hit me. Why not just eliminate the need to draft fixing altogether? Enter Utopias.
I decided for this cube that I would use 'Utopias' for my lands. Utopias are used in formats like Mental Magic and play out as lands that can tap for any color of mana. Depending on who you play with, they also count as all basic land types. In my case, they would count as basic and non-basic lands to allow cards like Early Harvest and Gush to work. I was careful not go overboard by including cards like Active Volcano, Blood Moon, Boil, or Price of Progress which aren't in the spirit of what combo decks typically do. My rule of thumb for the Utopias after having drafted the combo cube for some time now is if you have a question as to whether or not a card positively interacts with a Utopia, it does! I had a pretty big stack of Rainbow Vales sitting in my junk box, so I decided to use them as my Utopia proxies.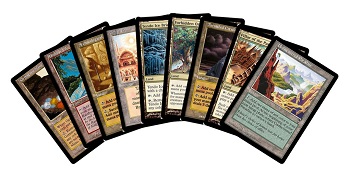 The idea of removing mana fixing (lands and Signets) from the cube draft helped free a lot of slots. I was able to cut cards like Rampant Growth, Signets, and other various mana fixing and replace them with more powerful spells. This also allowed me to pay otherwise impossible mana costs in the same deck, which meant we would have only the most powerful decks sitting on each side of the table. This also helps the draft portion immensely as players aren't conflicted as to whether they take the dual land to make sure they can reliably cast their spells or the archetype enabler.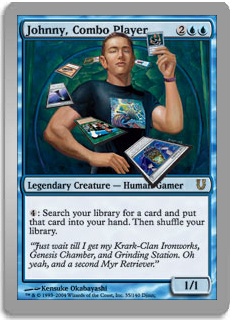 In my first draft of the cube, I listed every possible two-card combination from combo decks of Magic's past. The initial list was about 200 cards, but many of the combos just didn't work well with the rest of the list. I also found that there was a significant focus on simply playing combos and not enough emphasis on drafting dynamic and broken archetypes beyond simply storm and two-card combos. This meant that the drafts were very polarizing. After several spreadsheets and test drafts, I ended up adding themes for Reanimation, artifacts, and combo hate to help the drafting experience feel more like drafting rather than a glorified sealed deck. These strategies, after all, are certainly in the spirit of what combo decks do or have to face in tournament play. My final list is about 275 cards, which is just enough to support a six-man. I wouldn't suggest going much higher than this. I could see going up to 360 as a way to support eight-man drafts, but this wasn't designed with that format in mind. If you were to take it in this direction, I would suggest doubling up on cantrips and fitting as many fringe-playable combos in as possible to keep the critical mass of combo enablers.
Now that I've provided some background information on the cube, I'd like to share the list with you. Given the nature of how differently the cube plays out, I have it sorted two different ways. I have it first sorted by color to give you an idea of what the basic makeup of the cube looks like. Following that, I have provided the spells broken down by function to help illustrate what the various combo pieces and draft archetypes look like.
The Combo Cube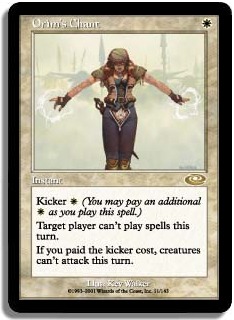 White
Abeyance
Abolish
Academy Rector
Angel's Grace
Auriok Salvagers
Balance
Balancing Act
Curse of Exhaustion
Enlightened Tutor
Ethersworn Canonist
Gilded Light
Grand Abolisher
Iona, Shield of Emeria
Land Tax
Leyline of Sanctity
Orim's Chant
Silence
Solitary Confinement
Thalia, Guardian of Thraben
True Believer
Blue
Ambassador Laquatus
Ancestral Recall
Arcane Denial
Blue Sun's Zenith
Brain Freeze
Braingeyser
Brainstorm
Capsize
Capture of Jingzhou
Careful Study
Chain of Vapor
Daze
Diminishing Returns
Dispel
Divert
Dream Halls
Erayo, Soratami Ascendant
Fact or Fiction
Flash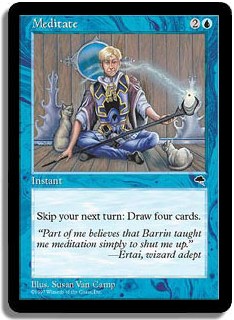 Flusterstorm
Foil
Force of Will
Frantic Search
Future Sight
Gifts Ungiven
Gitaxian Probe
Gush
High Tide
Ideas Unbound
Impulse
Inkwell Leviathan
Into the Roil
Intuition
Jace, the Mind Sculptor
Johnny, Combo Player
Magus of the Future
Magus of the Jar
Mana Drain
Mana Severance
Meditate
Mental Misstep
Merchant Scroll
Mind Over Matter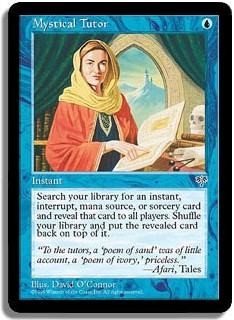 Mind's Desire
Mindbreak Trap
Misdirection
Muddle the Mixture
Mystic Remora
Mystical Teachings
Mystical Tutor
Omniscience
Opt
Pact of Negation
Palinchron
Peek
Personal Tutor
Phyrexian Metamorph
Plagiarize
Ponder
Portent
Power Artifact
Preordain
Psychic Possession
Quicken
Read the Runes
Remand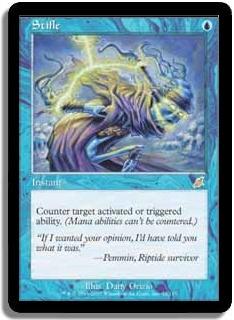 Repeal
Rootwater Thief
Rushing River
See Beyond
Serum Visions
Show and Tell
Sleight of Hand
Snapcaster Mage
Spell Pierce
Stifle
Strategic Planning
Stroke of Genius
Tezzeret the Seeker
Thwart
Tidespout Tyrant
Time Spiral
Time Walk
Timetwister
Tinker
Trickbind
Trinket Mage
Turnabout
Upheaval
Vendilion Clique
Walk the Aeons
Windfall
Wipe Away
Worldly Counsel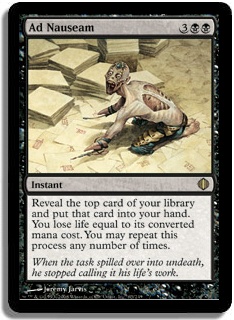 Black
Ad Nauseam
Animate Dead
Body Snatcher
Bubbling Muck
Cabal Ritual
Cruel Bargain
Dance of the Dead
Dark Confidant
Dark Ritual
Demonic Tutor
Doomsday
Duress
Entomb
Grim Tutor
Griselbrand
Ill-Gotten Gains
Imperial Seal
Infernal Contract
Inquisition of Kozilek
Insidious Dreams
Megrim
Mind Twist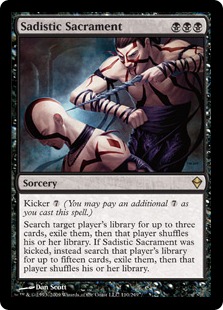 Necromancy
Necropotence
Night's Whisper
Plunge into Darkness
Praetor's Grasp
Reanimate
Sadistic Sacrament
Sign in Blood
Skeletal Scrying
Tainted Pact
Tendrils of Agony
Thoughtseize
Underworld Dreams
Vampiric Tutor
Yawgmoth's Bargain
Yawgmoth's Will
Red
Bogardan Hellkite
Chandra, the Firebrand
Desperate Ritual
Empty the Warrens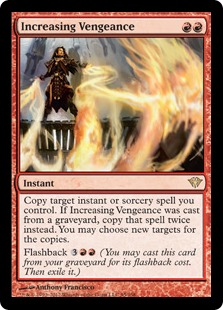 Faithless Looting
Final Fortune
Fork
Gamble
Geosurge
Goblin Welder
Grapeshot
Greater Gargadon
Increasing Vengeance
Ignite Memories
Kaervek's Torch
Mana Flare
Mindclaw Shaman
Overmaster
Past in Flames
Pyretic Ritual
Pyroblast
Pyrostatic Pillar
Recoup
Red Elemental Blast
Rite of Flame
Seething Song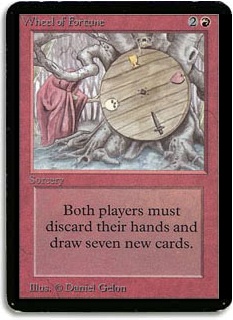 Seismic Assault
Simian Spirit Guide
Sneak Attack
Spikeshot Elder
Squee, Goblin Nabob
Storm Entity
Through the Breach
Wheel of Fortune
Words of War
Worldgorger Dragon
Zealous Conscripts
Green
Biorhythm
Channel
Channel the Suns
Crop Rotation
Early Harvest
Elvish Piper
Elvish Spirit Guide
Eternal Witness
Eureka
Exploration
Explore
Fastbond
Gaea's Blessing
Gamekeeper
Heartbeat of Spring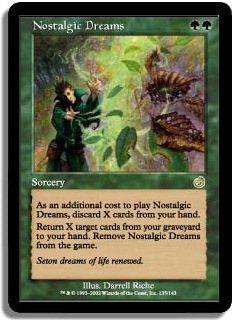 Holistic Wisdom
Hunting Pack
Magus of the Candelabra
Nature's Claim
Nostalgic Dreams
Noxious Revival
Oath of Druids
Oracle of Mul Daya
Regrowth
Restock
Rites of Flourishing
Rofellos, Llanowar Emissary
Sylvan Library
Terastodon
Tinder Wall
Vernal Bloom
Xantid Swarm
Multicolor
Cadaverous Bloom
Cruel Ultimatum
Invoke the Firemind
Izzet Guildmage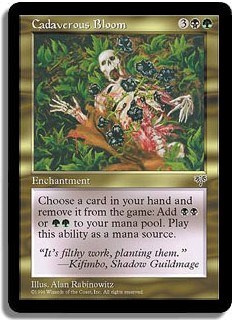 Lim-Dul's Vault
Manamorphose
Mirari's Wake
Oona, Queen of the Fae
Progenitus
Simic Sky Swallower
Sphinx of the Steel Wind
Swans of Bryn Argoll
Tidehollow Sculler
Vedalken Heretic
Who / What / When / Where / Why
Land
Academy Ruins
Alchemist's Refuge
Ancient Tomb
Bazaar of Baghdad
Boseiju, Who Shelters All
City of Traitors
Desolate Lighthouse
Forbidden Orchard
Gemstone Caverns
Library of Alexandria
Mikokoro, Center of the Sea
Mishra's Workshop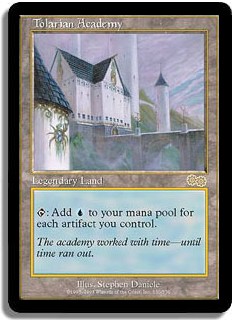 Phyrexian Tower
Shelldock Isle
Tolarian Academy
Artifact
Basalt Monolith
Blightsteel Colossus
Black Lotus
Candelabra of Tawnos
Chromatic Star
Chrome Mox
Cloud Key
Conjurer's Bauble
Emrakul, the Aeons Torn
Expedition Map
Gauntlet of Might
Gilded Lotus
Goblin Charbelcher
Grim Monolith
Grindstone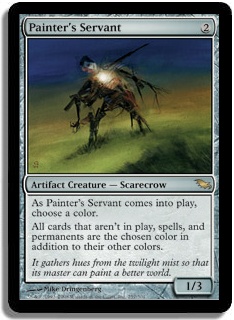 Helm of Awakening
Horn of Greed
Isochron Scepter
Jack-in-the-Mox
Jester's Cap
Lion's Eye Diamond
Lotus Bloom
Lotus Petal
Mana Crypt
Mana Vault
Memory Jar
Metalworker
Mindslaver
Mishra's Bauble
Mox Diamond
Mox Emerald
Mox Jet
Mox Lotus
Mox Opal
Mox Pearl
Mox Ruby
Mox Sapphire
Myr Battlesphere
Nihil Spellbomb
Painter's Servant
Platinum Angel
Scroll Rack
Sensei's Divining Top
Sol Ring
Staff of Domination
Sundering Titan
Sundial of the Infinite
Thran Dynamo
Time Vault
Trinisphere
Voltaic Key
Witchbane Orb
Cards by Function
Combo Engines
These are the bread and butter of the cube. These help enable big mana, provide card advantage, and in some cases are a part of a two-card kill. These are easy to pass over in favor of more flashy cards, but you should be careful not to pass them without seriously considering them. They often have no cards which are adequate substitutions.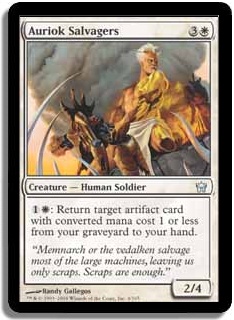 Auriok Salvagers
Balance
Balancing Act
Bazaar of Baghdad
Bubbling Muck
Cadaverous Bloom
Candelabra of Tawnos
Cloud Key
Dream Halls
Early Harvest
Exploration
Forbidden Orchard
Gauntlet of Might
Goblin Welder
Heartbeat of Spring
Helm of Awakening
High Tide
Horn of Greed
Isochron Scepter
Izzet Guildmage
Land Tax
Magus of the Candelabra
Mana Flare
Mana Severance
Mind Over Matter
Mind's Desire
Mirari's Wake
Mox Lotus
Oath of Druids
Omniscience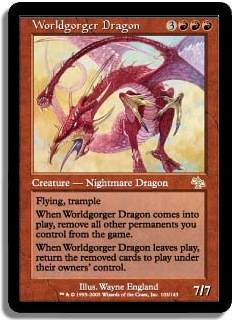 Oracle of Mul Daya
Painter's Servant
Palinchron
Phyrexian Metamorph
Phyrexian Tower
Power Artifact
Rites of Flourishing
Sneak Attack
Squee, Goblin Nabob
Staff of Domination
Swans of Bryn Argoll
Tezzeret the Seeker
Through the Breach
Time Vault
Turnabout
Vernal Bloom
Voltaic Key
Worldgorger Dragon
Kill Conditions
Need something to do with all that mana or all those cards? Look no further than here.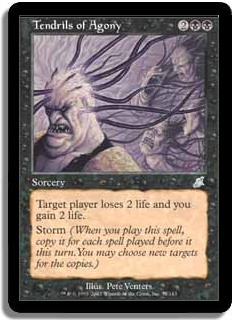 Brain Freeze
Cruel Ultimatum
Empty the Warrens
Goblin Charbelcher
Grapeshot
Grindstone
Hunting Pack
Ignite Memories
Invoke the Firemind
Jace, the Mind Sculptor
Jester's Cap
Kaervek's Torch
Megrim
Oona, Queen of the Fae
Progenitus
Seismic Assault
Spikeshot Elder
Storm Entity
Tendrils of Agony
Underworld Dreams
Words of War
Hate Bears
Sometimes you just need to say no. You have ten turns to find an answer, go!
Erayo, Soratami Ascendant
Ethersworn Canonist
Grand Abolisher
Rootwater Thief
Thalia, Guardian of Thraben
Tidehollow Sculler
True Believer
Vedalken Heretic
Vendilion Clique
Fatties
These are critical in the Reanimation and big cheats strategies. There's nothing quite like resolving Emrakul in a cube draft.
Bogardan Hellkite
Emrakul, the Aeons Torn
Greater Gargadon
Griselbrand
Inkwell Leviathan
Iona, Shield of Emeria
Myr Battlesphere
Platinum Angel
Simic Sky Swallower
Sphinx of the Steel Wind
Sundering Titan
Terastodon
Tidespout Tyrant
Zealous Conscripts
Draw 7s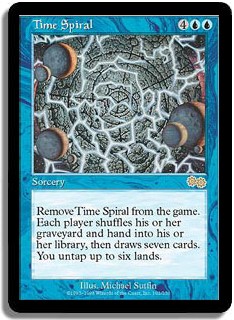 These are few in number, so be careful not to pass them too soon. These do big work in this cube.
Diminishing Returns
Memory Jar
Time Spiral
Timetwister
Wheel of Fortune
Windfall
Rituals
Critical for Storm-based combo and for hitting the ever-crucial turn 1 Necropotence.
Cabal Ritual
Channel the Suns
Dark Ritual
Desperate Ritual
Elvish Spirit Guide
Geosurge
Manamorphose
Pyretic Ritual
Rite of Flame
Seething Song
Simian Spirit Guide
Tinder Wall
Cantrips, Card Draw, and Card Quality
Ever wonder why Wizards bans/restricts cards like Ponder, Brainstorm, and Preordain? It's because they're wolves in sheep's clothing. Cantrips do the real work in combo decks, and they're no different here.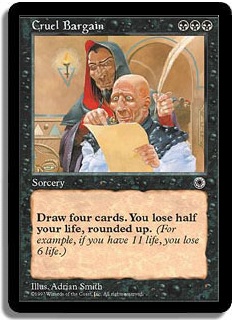 Ad Nauseam
Ancestral Recall
Blue Sun's Zenith
Braingeyser
Brainstorm
Careful Study
Chromatic Star
Conjurer's Bauble
Cruel Bargain
Dark Confidant
Desolate Lighthouse
Explore
Fact or Fiction
Faithless Looting
Frantic Search
Future Sight
Gaea's Blessing
Gitaxian Probe
Gush
Ideas Unbound
Impulse
Infernal Contract
Johnny, Combo Player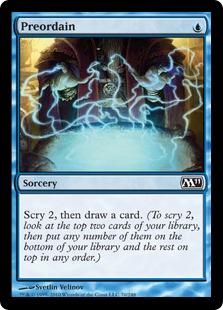 Library of Alexandria
Magus of the Future
Magus of the Jar
Meditate
Mikokoro, Center of the Sea
Mishra's Bauble
Necropotence
Night's Whisper
Opt
Overmaster
Peek
Plagiarize
Plunge into Darkness
Ponder
Portent
Preordain
Psychic Possession
Quicken
Read the Runes
Scroll Rack
See Beyond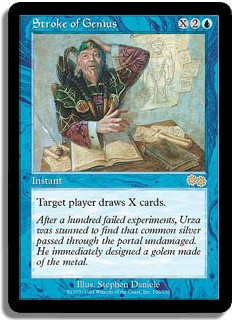 Sensei's Divining Top
Serum Visions
Sign in Blood
Skeletal Scrying
Sleight of Hand
Strategic Planning
Stroke of Genius
Sylvan Library
Worldly Counsel
Yawgmoth's Bargain
Tutors
You may notice there are a few more banned/restricted cards on this list. Yet more fuel to help otherwise unassuming combo decks.
Crop Rotation
Demonic Tutor
Doomsday
Enlightened Tutor
Entomb
Expedition Map
Gamble
Gifts Ungiven
Grim Tutor
Imperial Seal
Insidious Dreams
Intuition
Lim-Dul's Vault
Merchant Scroll
Muddle the Mixture
Mystical Teachings
Mystical Tutor
Personal Tutor
Praetor's Grasp
Tainted Pact
Trinket Mage
Vampiric Tutor
Manafacts, Big Mana, and Land
Combo decks thrive in an environment with free mana. It allows you to maximize the effectiveness of your draw 7s and power out big threats and engines as early as possible.
Ancient Tomb
Basalt Monolith
Black Lotus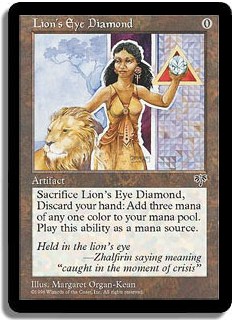 Chrome Mox
City of Traitors
Gemstone Caverns
Gilded Lotus
Grim Monolith
Jack-in-the-Mox
Lion's Eye Diamond
Lotus Bloom
Lotus Petal
Mana Crypt
Mana Vault
Metalworker
Mishra's Workshop
Mox Diamond
Mox Emerald
Mox Jet
Mox Opal
Mox Pearl
Mox Ruby
Mox Sapphire
Rofellos, Llanowar Emissary
Sol Ring
Thran Dynamo
Tolarian Academy
I'll be honest: half the time these are just used to bring back a Time Walk, but they're also great alongside cards like Gifts or to get back that critical combo piece your opponent countered.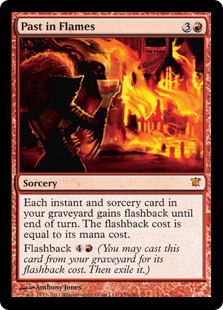 Academy Ruins
Eternal Witness
Holistic Wisdom
Nostalgic Dreams
Noxious Revival
Past in Flames
Recoup
Regrowth
Restock
Snapcaster Mage
Discard
Clear the way and get information so you can combo your opponent out of the game. There are very few of these effects, so pick them up as early as possible.
Duress
Mind Twist
Inquisition of Kozilek
Thoughtseize
Protection/Disruption
Every deck should have access to these cards. They help you stop your opponent from comboing off and help buy you time to set up your kill.
Abeyance
Abolish
Angel's Grace
Boseiju, Who Shelters All
Capsize
Chain of Vapor
Curse of Exhaustion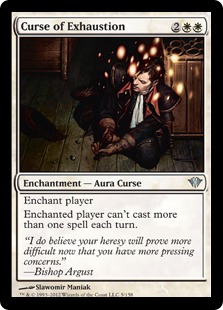 Gilded Light
Into the Roil
Leyline of Sanctity
Mystic Remora
Nature's Claim
Nihil Spellbomb
Orim's Chant
Pyroblast
Pyrostatic Pillar
Red Elemental Blast
Repeal
Rushing River
Sadistic Sacrament
Silence
Solitary Confinement
Stifle
Trickbind
Trinisphere
Wipe Away
Witchbane Orb
Xantid Swarm
Big Cheats
These are the kinds of cards Wizards doesn't print anymore, and for good reason. There is really no other way to describe these cards other than big cheats. These seek to put cards into play for free, add insane amounts of mana for very little cost, or take extra turns.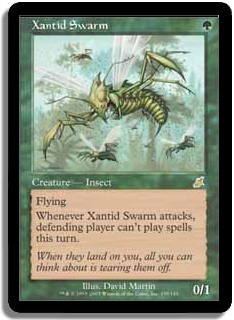 Academy Rector
Alchemist's Refuge
Capture of Jingzhou
Chandra, the Firebrand
Channel
Elvish Piper
Eureka
Fastbond
Final Fortune
Flash
Fork
Gamekeeper
Ill-Gotten Gains
Increasing Vengeance
Mindclaw Shaman
Mindslaver
Shelldock Isle
Show and Tell
Sundial of the Infinite
Time Walk
Tinker
Upheaval
Walk the Aeons
Who / What / When / Where / Why
Yawgmoth's Will
Reanimation
There are plenty of ways to cheat fatties into play in the combo cube, but none are as effective as the Reanimation spells. Don't forget that these can target your opponent's creatures as well!
Animate Dead
Body Snatcher
Dance of the Dead
Necromancy
Reanimate
What good combo deck is complete without a good way to stop your opponent's tricks? Ranging from fair to broken in half, these are great for any non-storm deck in the cube.
Arcane Denial
Daze
Dispel
Divert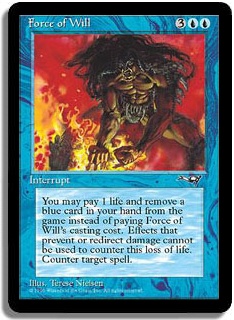 Flusterstorm
Foil
Force of Will
Mana Drain
Mental Misstep
Mindbreak Trap
Misdirection
Pact of Negation
Remand
Spell Pierce
Thwart
Combo Cube Archetypes
Storm
Just like Legacy/Vintage Storm decks, in the combo cube you will want to draft all the Rituals and cantrips you can get your hands on as well as one to two big finishers like Tendrils of Agony or Empty the Warrens. This also lends well to Hail Mary strategies like Belcher. This is the riskiest deck to draft as there is no guarantee that you will get the Storm finisher, but when you do, it's among the most powerful decks in the cube.
The Artifact Deck
Usually revolving around artifacts like Time Vault, Mindslaver, Metalworker, or Goblin Charbelcher, the Artifact deck is the trump to the Storm deck. Running cards like Trinisphere and Sundering Titan (yes, this can kill five of your opponent's lands), it can completely stop your opponent from developing their combo and should give you more than enough time to land a giant artifact creature.
Hatebears.dec
For every combo deck, there's a hate bear. Occasionally it's best to just draft all the good discard and counterspells and just beat your opponents down with an Ethersworn Canonist or Vendilion Clique. Be careful: two-card combo decks are rarely affected by these creatures. Be sure to have a backup plan or secondary combo in the main deck.
Draw 7s
This deck is probably my favorite deck to draft. Snag all the High Tide / Mana Flare and Ritual effects you can and chain draw 7s like Timetwister and Windfall until you hit your opponent with a giant Kaervek's Torch. Other options include dropping Seismic Assault and then drawing your deck and cycling through lands with each draw 7.
Reanimator
Sometimes you just want to resolve fatties. Pick up some disruption, three to five big guys, and a few discard/Reanimation spells and kill your opponent in a couple turns.
Turboland
Horn of Greed, Fastbond, Gush, Exploration, Oracle of Mul Daya; need I say more?
The Draft Environment
The combo cube is built to be played with four to six players. For normal drafts use four packs of eleven or five packs of nine for up to six players. Given that you don't have to worry about fixing, you will be surprised at how many maindeck options you have after the draft has concluded.
Among my favorite formats with this list is four-man Rochester. We usually do sixteen face up cards and take turns picking cards until the last person wheels. Depending on how we're feeling and how much time we have, matches are best of five just because they go by so quickly, but for bigger groups we just keep it to best of three.
Two-man Winston draft should have 90-100 cards. You want to make sure you see as many cards as possible so that you can enable more archetypes. Unlike normal cubing, you don't have the benefit of running fringe splash cards if your deck doesn't quite cut the mustard. If you get stuck with half a combo, you're going to have a hard time killing your opponents.
Draft Tips
In Constructed, many decks are cold to certain combos and hate cards in game 1. The combo cube is no different. If you drafted a Repeal or Chain of Vapor, you should consider having access to it in your maindeck so you can deal with pesky hate cards or combos to which you have no answer.
In traditional drafts you typically want to play sixteen to eighteen land. In the combo cube, however, you have access to numerous cantrips, draw 7s, and manafacts like the Moxen. I've seen some decks run as little as ten land! It's also important to remember that every land you have taps for any color of mana, meaning that those awkward mana hands you would have typically mulliganed don't happen here. If you have four to six cantrips or some artifact mana, you shouldn't have an issue running fourteen to fifteen Utopias.
You will quickly find some combos to be more powerful than others. This can help you fine-tune your list to deal with them. If you find a particular combo is too watered down, then there are plenty of other two card combos that you can rotate in. Some great combos that I haven't included for the final iteration of my cube are:
Be on the lookout for unassuming combos. You will quickly find that there are cards that have synergy beyond their dedicated combos. Examples of this include Mana Severance + Shelldock Isle or Painter's Servant + Red Elemental Blast. I find something new every time I draft it. Veteran drafters of my list have found similar interactions, which leads to some very interesting drafts!
I hope you have enjoyed my introduction to the combo cube. If you have any questions or comments about this list, please drop a comment here or hit me up on Twitter. I am always up for talking all things cube!
Until next time, happy cubing!
Matt "Kranny" Kranstuber
@kstube on Twitter