I'm extremely excited for the Mythic Championship tomorrow. The best in the world are about to showcase this new format and I'm curious how much my expectations and evaluations will turn out to be true. For now, let's just jump into another draft!
Pack 1, Pick 1
The Pack:
The Pick:
The value of Angrath's Rampage will depend on the relevance and power of "Target player sacrifices a planeswalker." Edict effects have historically been bad in Limited, but ones like Doomfall that provide additional utility are better. Using a sorcery-speed removal spell on a planeswalker means the opponent has already gotten some value, but you do what you have to. I don't expect Angrath's Rampage to be a high pick, but I think it'll be much better than Liliana's Triumph. Still, this pack has better cards.
Kronch Wrangler is a powerful two-drop. There aren't many two-drops in Magic with the ability to attack for four. It's not the easiest to set up, but Kronch Wrangler has quite the ceiling. Furthermore, I think this format will be all about battlefield presence, which increases the importance of two-drop creatures. Given that there aren't many good ones in War of the Spark, the ones that are good become even more premium. However, I think both the rare and planeswalker in this pack are better cards to first-pick.
Ob Nixilis, the Hate-Twisted is a powerful card. It doesn't do anything particularly well, but it provides a tier of versatility that is unparalleled, as it can draw cards, kill creatures, and act as a win condition. I think it's possible that he's too clunky, but I'm expecting him to be better than a lot of the uncommons in the set. I wouldn't fault anybody for taking him.
If you've read my content at the beginning of a format before, you know I strongly bias towards the rare when I haven't played with it. I'll play with and against all the commons and uncommons within the first week of the format. The same can't be said about the rares. I won't go out of my way to take a rare I think is poor, but I think Karn's Bastion is strong. Proliferate looked extremely powerful during the streamer event on Tuesday, and I think it's in my best interest to try out Karn's Bastion, even if it might not be as good of a card as other options in this pack.
Pack 1, Pick 2
The Picks So Far: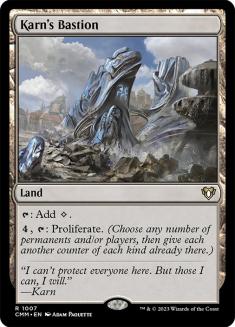 The Pack:
The Pick:
Spark Harvest is a solid removal spell. Bone Splinters is a playable removal spell in specific decks, and with amass in black, it looks like it will line up well. And being castable without the additional cost from Bone Splinters is a huge upgrade. Not even to mention that Spark Harvest can kill planeswalkers. It's a solid common, but both uncommons in this pack are a full tier more powerful.
Elite Guardmage is a phenomenal card. It'll be the first pick out of many packs, but not this one because early in a draft, it's important to prioritize flexibility. Elite Guardmage goes in only one archetype unless you can splash it, but Angrath, Captain of Chaos naturally fits into seven. And Angrath isn't even necessarily of lower power. Add in the awesome proliferate synergy with Karn's Bastion, and I think Angrath is the pick here by a reasonable margin.
Pack 1, Pick 3
The Picks So Far:
The Pack:
The Pick:
Flux Channeler is a powerful proliferate card, but a 2/2 for three isn't an acceptable stat line. This is a card I have my eye on, but I think it will be a bit too hard to get the ball rolling. Many cards that make +1/+1 counters are instants and sorceries. That's nice with Flux Channeler, but it's also annoying that it doesn't work with the first spell you cast. Relentless Advance is still 3/3 worth of stats until you cast another instant or sorcery with Flux Channeler out. Overall, I'm excited to see what this card can do, but I'm also skeptical. If I were to take a blue card, I think Aven Eternal is more bang for your buck.
Pollenbright Druid is certainly in the top three green commons, and it's in discussion for the best green common. As I mentioned earlier, this format both lacks good two-drops and has them at a premium. Pollenbright Druid is one of the best two-drops because of how well it scales into the game.
Law-Rune Enforcer is a solid interactive creature. The Enforcer can't answer a Zombie Army, but it'll be solid nonetheless. In order to play both Law-Rune Enforcer and Angrath, Karn's Bastion wouldn't be at its best, but that's only a tie-breaker. And I don't think a tie-breaker is necessary here.
This whole pack pales in comparison to Paradise Druid. I expect this card to be one of the best uncommons. A ramp spell that can attack planeswalkers is awesome in this format and that's the role Paradise Druid always plays. Many games, this card will put a planeswalker onto the battlefield on Turn 3 and just bury the opponent in that advantage.
Pack 1, Pick 4
The Picks So Far:
The Pack:
The Pick:
Between Tibalt's Rager and Heartfire, I think the Rager is the better pick. The theme of the day is that two-drops are paramount to success in War of the Spark. While I think Heartfire is a solid removal spell, you can't play too many of them, and so early in a draft I'm less inclined to prioritize Heartfire.
Tamiyo's Epiphany is an incredibly powerful common. Earlier this week I was concerned that there wasn't enough time to cast Tamiyo's Epiphany in this format. After watching the card cast a bunch during the Tuesday streamer event, I'm higher on it. Sealed will be slower than Draft, but scry 4 really is just incredibly powerful. Unfortunately, I don't think decks will be able to play too many of these, and for similar reasons to Heartfire, I don't think it's correct to take here.
This means the pick is between Tibalt's Rager and Centaur Nurturer. I think this pick will be clear in about a week depending on how good the multicolor ramp decks are. While my gut is inclined to take Tibalt's Rager as a good and proactive, cheap play, I think it's in my best interest to take Centaur Nurturer. Discovering the architecture of the multicolor archetype is extremely valuable, and with Paradise Druid in my pool already, pursuing that is reasonable. I would take Centaur Nurturer.